Stay at a Japanese Capsule Hotel For A Low Price
Visitors to Japan can stay at capsule hotels. While simple, these unique facilities are a cheap alternative to regular hotels. Find all ypu need to know about the amenities of capsule hotels and what to expect when staying at one!
Stay At A Capsule Hotel For Cheap Lodging
Picture from Lodging In The "Ninja Capsules" Of Business Inn New City
If you want to keep your lodging costs down while also staying at a safe place, we recommend using a capsule hotel. Fully equipped with televisions and amenities, you can have a surprisingly comfortable stay.
With their simple facilities, capsule hotels were originally designed for single-night stays, but these days there are also hotels with unique themes such as samurai and ninjas. Neither regular hotels nor traditional inns, the minuscule capsule hotels were created by the needs of modern Japanese society, and staying at one has a favorable reputation with visitors from overseas as a quintessentially Japanese experience.
Average Prices At Capsule Hotels
A night's stay at a capsule hotel typically runs from 2,000 to 5,000 yen, and you can usually expect to pay around 3,000 yen. Every guest gets their own little room, so capsule hotels are good for people who don't like to stay in dormitory-style accommodations.
Capsule Hotel Facilities
Picture from Capsule Hotel "Anshin Oyado" Feels Like A Bali Resort
Capsule hotel rooms are not very big. Each room has an extremely small space, the exact amount of room for one person to sleep. To compensate for this fact, most capsule hotels have large public baths and saunas, so you can use them to ease your fatigue.
Capsule Hotel Rooms
Each room has towels and pajamas, as well as a TV and a power outlet, everything you need for a comfortable night.
Capsule Hotel Amenities
Most capsule hotel bathroom facilities are furnished with soap, shampoo and other basic necessities, as well as toothbrushes and hairdryers for a comfortable stay.
Capsule Hotel Internet Access
The number of capsule hotels equipped with Wi-Fi has increased in recent years, but you should check the capsule hotel website beforehand to see whether or not there is Wi-Fi available.
Capsule Hotel Meals
Most capsule hotels do not have meal service, so you should eat out or pick something up at a convenience store or supermarket. In some cases, capsule hotel buildings are also linked to restaurants.
Capsule Hotel Services
Capsule hotels may not offer the same level of finely-honed service that you can get at a ryokan or another hotel, but if you don't understand something or have a problem, feel free to ask the staff for help.
Things To Note At A Capsule Hotel
When staying at a capsule hotel, take note of the following.
Some Capsule Hotels Are For Male Customers Only
There are some capsule hotels in Japan which only accept male customers.
This is due to the fact that many capsule hotels were originally designed for businessmen on work trips, and are not equipped with bathroom facilities for women.
If you're a lady making a reservation at a capsule hotel, check beforehand to make sure it's not a men-only hotel. However, for women who are interested in staying at a capsule hotel,
female-only capsule hotels have recently appeared on the scene.
Get Your Luggage Stored In A Coin Locker
In addition, each capsule has a door and Japanese-style noren curtain at its entrance, but do not have locks. For this reason, many capsule hotels have coin lockers set up. For peace of mind, put your larger belongings in a locker, or ask the front desk to store them for you.
People Who Should Use Capsule Hotels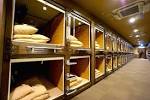 Picture from Capsule Hotel "Anshin Oyado" Feels Like A Bali Resort

Cheap and easily accessible from major stations, capsule hotels are appealing to the solo traveler who wants to be able to relax.

The information presented in this article is based on the time it was written. Note that there may be changes in the merchandise, services, and prices that have occurred after this article was published. Please contact the facility or facilities in this article directly before visiting.