Tsutenkaku Tower, Osaka - 7 Fun Activities And Area Guide
Tsutenkaku Tower is one of the symbols of Osaka. This article introduces the features of Tsutenkaku, as well as activities that can be enjoyed at and around the tower in the Shinsekai area.
Tsutenkaku Tower - A Symbol of Osaka
Picture courtesy of Tsutenkaku Kanko Co., Ltd.
Osaka boasts numerous famous locations such as Osaka Castle or Dotonbori but Tsutenkaku Tower would surely come to mind as a "symbol of Osaka." This magnificent observation tower is 103 meters high, offering breathtaking views of the city.
Tsutenkaku is located near Shinsekai, an area that is fun to visit at any time of the year. It is easy to reach both Namba and Shinsaibashi from Shinsekai. It takes about fifteen minutes by train, so it's convenient to visit these three locations in one day.
Below we introduce seven exciting things to do at Tsutenkaku Tower, along with the features of the facility.
1. Climb the Tsutenkaku Tower
The entrance to Tsutenkaku Observatory Deck. Picture courtesy of Tsutenkaku Kanko Co., Ltd.
The first thing we suggest doing when visiting the area is, of course, climbing the tower itself!
The path leading to the observatory deck of Tsutenkaku Tower is a little unusual. You'll notice a sign marking the observatory deck entrance. Please go to the basement first to buy an admission ticket. As of April 2020, the tickets are 800 yen for adults and 400 yen for children five years or older. After you paid the admission, go to the observatory deck by using the elevator.
This is the observatory deck located 88 meters above the ground. You can see the entire city of Osaka from here.
The tall building pictured in the center is Abeno Harukas.
From here, you can even catch a glimpse of the highest skyscraper in Japan, Abeno Harukas. The green area is Tennoji Park and Tennoji Zoo. Both are located at about ten minutes' walk away from the building.
Picture courtesy of Tsutenkaku Kanko Co., Ltd.
If you pay an extra 500 yen, you can go up to the open-air observatory deck, Tenbo Paradise.
The whole floor of Tembo Paradise can be rented privately. It costs 10,000 yen and a reservation has to be made at least seven days in advance. If you want to surprise your partner with a special marriage proposal, consider the Tembo Paradise and its breathtaking view.
2. Touch Billiken for Good Luck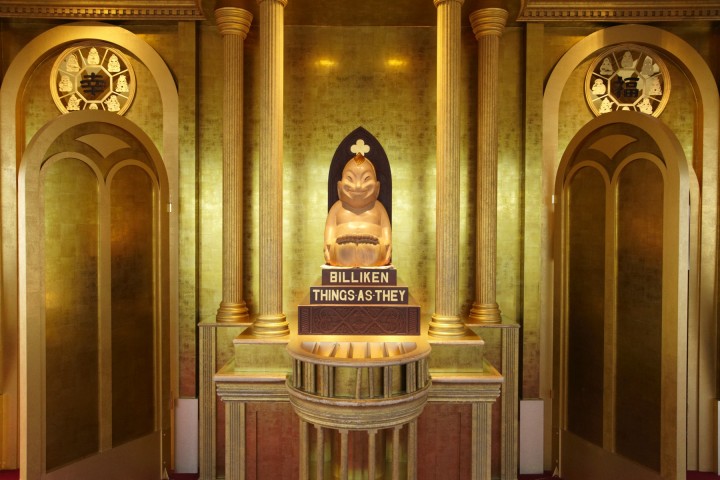 Picture courtesy of Tsutenkaku Kanko Co., Ltd.
Stop by the Billiken statue on the fifth floor of the observatory while at Tenkaku Tower. Billiken has a wide grin on his face. He is sitting with his legs pointing forward. These golden legs are said to bring luck to people. It is said that touching his feet brings good fortune.
Billiken has fans all over Japan but he is originally from the United States of America. He was created in 1908 by American illustrator Florence Pretz. The creator said that Billiken was a god he saw in a dream.
Picture courtesy of Tsutenkaku Kanko Co., Ltd.
It is said that in 1912, the Luna Park, a theme park built as an addition to Tsutenkaku Tower, had the first statue of Billiken on display. In the beginning, he was celebrated as the protector of families and guardian of business in Japan.
The one displayed on the observatory floor of the tower is the third Billiken statue. Every day there is a line of people waiting to touch his feet to get their share of good luck.
3. Indulge in a Tsutenkaku Parfait
Picture courtesy of Tsutenkaku Kanko Co., Ltd.
A dish you will need to try when visiting the tower is the Tsutenkaku parfait (700 yen after tax). It is an exclusive, one-of-a-kind dessert you can savor only at the Café de Luna Park on the third floor of the tower.
Don't be surprised when you see the size of this parfait. It is supposed to portray the tower itself with its magnificent twenty-one centimeters in height!
The first layer is made out of mixed fruit jelly topped with cornflakes and a sponge cake layer, which is then finished with a generous amount of soft-serve ice cream. There are cute petite cream puffs decorating the sides of this lovely dessert.
At the Café de Luna Park, you can also try some of Osaka's famous mixed juice drinks, a mixture of rejuvenating fruits and fresh milk or yogurt as well as other local drinks listed on their menu. For those who are really hungry, they also offer dishes like pasta.
4. Learn about the History of Tsutenkaku Tower
Picture courtesy of Tsutenkaku Kanko Co., Ltd.
The Tsutenkaku Tower area used to be a lively area, buzzing with people visiting the surrounding Luna Park, theaters, and shopping malls. The tower used to be the centerpiece of the lively area.
Tsutenkaku was modeled after the Eiffel Tower in France. You can even find the Arc de Triomphe on the first floor of the building. It used to be a flashy monument befitting Osaka's character, but the original tower was devastated by fires and war. Tsutenkaku Tower as we know it today is the second installment of the tower, built in 1956.
Picture courtesy of Tsutenkaku Kanko Co., Ltd.
This diorama, photographs, and materials on Luna Park are displayed on the same floor as the Café du Luna Park. This collection will leave you amazed at how different the Tsutenkaku and the Shinsekai area, as well as the Luna Park, looked just over a hundred years ago.
5. Find Original Osaka Souvenirs
Picture courtesy of Tsutenkaku Kanko Co., Ltd.
If you're looking for souvenirs, go up to the second floor of Tsutenkaku Tower.
The character on the right is Kinnikuman. Picture courtesy of Tsutenkaku Kanko Co., Ltd.
Here you can find merchandise of the popular manga and anime character Kinnikuman as well as Tsutenkaku- and Osaka-exclusive goods. It's a great place to stock up on some gifts!
Picture courtesy of Tsutenkaku Kanko Co., Ltd.
On the first basement floor, you will find shops handling famous sweets and snacks of Osaka. These shops are filled with delicious, cute souvenirs. At the storefronts, you will be welcomed by characters such as Kyorochan, the Glico Man and Hiyokochan (the popular ramen chicken mascot).
6. See the Weather Forecast at Tsutenkaku Tower
Picture courtesy of Tsutenkaku Kanko Co., Ltd.
If you visit Tsutenkaku Tower at night, make sure to look up! You'll see a round neon light twinkling on top of the tower. If you know how to read the color of the light, it will tell you the weather forecast for the following day.
This color means that tomorrow the weather will be sunny, then cloudy, or sunny and partially cloudy. Picture courtesy of Tsutenkaku Kanko Co., Ltd.
White means sunny, orange stands for cloudy, and blue signifies rain. Sometimes you will see two colors shining down on you. For example, if the upper color is white, and the bottom color is orange, it either means it will be sunny in the first half of the day and then cloudy, or sunny but partially cloudy.
You can learn all about the next day's weather by carefully checking the partition of the colors. If you are at Tsutenkaku at night, be sure to check the weather with the help of these neon lights.
7. Stroll Around Shinsekai and Tennoji Park
The townscape of Shinsekai
While visiting Tsutenkaku Tower, we suggest taking a walk around Shinsekai. Discover great souvenirs and try local food at the shops lining the streets while enjoying the energetic local atmosphere.
When trying to describe the distinctive atmosphere of Osaka in Japanese, many people use the term "kote kote," which roughly means "energetic, chaotic." Shinsekai is overflowing with this energy and is the perfect area to describe as kote kote.
Around the entrance to the Shinseikai area is a narrow street called Janjan Alley (Janjan Yokocho in Japanese). It is lined with shops selling kushikatsu (deep-fried skewers of meat or vegetables) and izakayas, or Japanese pubs.
Games including go and shogi have been also quite popular in this area for many years. Even today, you can see people playing shogi through the house and store windows.
East of the Tsutenkaku Tower lies Tennoji Park, where visitors can take a break in the heart of nature.
The nearby areas around Shin Imamiya Station and Dobutsuen Mae Station have seen more backpackers and tourists recently, leading to a rapid increase in the number of affordable accommodations. This makes it a great place to stay, as well as a suitable starting point for sightseeing in Osaka.
Please note that the area is considered slightly unsafe and shady by the locals so be careful when walking around at night.
How to Get to Tsutenkaku Tower
There are several stations you can use to get to Tsutenkaku Tower. If you head there from JR Osaka Station or Umeda Station (*1), as well as from Namba or Shinsaibashi, ride the Midosuji Subway Line from Umeda Station bound for Tennoji Nakamozu.
Get off at Dobutsuen Mae Station. It will take about fifteen minutes from Osaka or Umeda Station, six minutes from Shinsaibashi Station, and four minutes from Namba Station.
To reach the tower it will only take about ten minutes on foot from Dobutsuen Mae Station. We suggest taking this as an opportunity to stroll around the Janjan Alley and the Shinsekai area.
*1: Osaka Station and Umeda Station are connected. Be careful not to get lost at Umeda Station, as the station serves many different train lines.
Explore Tsutenkaku Tower
Visitors to Osaka have the chance to see and climb Tsutenkaku Tower. If you had your fill of other neighborhoods in Osaka, we suggest heading to this popular local area.
Tsutenkaku Tower and the surrounding Shinsekai area have a unique charm compared to Dotonbori and other popular areas. They overflow with the vibrant atmosphere of Osaka.
The author of the original article: Hitoshi Kinoshita (Japanese)
This article is an updated version of an article published on June 4t, 2014.

The information presented in this article is based on the time it was written. Note that there may be changes in the merchandise, services, and prices that have occurred after this article was published. Please contact the facility or facilities in this article directly before visiting.