Tsutenkaku Tower In Osaka - 7 Fun Activities And Area Guide
Tsutenkaku is a high tower standing tall over the city of Osaka. This article serves as a guide to Tsutenkaku Tower, with everything you need to know about this symbolic structure and how to enjoy sightseeing in the Shinsekai area.
Tsutenkaku Tower, a Symbol of Osaka
Picture courtesy of Tsutenkaku Kanko Co., Ltd.
Although there are numerous famous locations in Osaka, such as Osaka Castle and Dotonbori, Tsutenkaku Tower would surely come to the mind of many people if asked about the "symbol of Osaka." With its 103 meters in height, it is a magnificent observation tower.
Tsutenkaku Tower is located near Shinsekai (New World in English), an interesting sightseeing area. It is possible to reach both Namba and Shinsaibashi from Shinsekai. It takes about 15 minutes by train, so travelers can visit all three of these famous spots in just one day.
Below we will introduce the features of Tsutenkaku and 7 entertaining things to do here.
1. Climbing Tsutenkaku Tower
The entrance to Tsutenkaku Observatory Deck
Picture courtesy of Tsutenkaku Kanko Co., Ltd.
The first thing to do is, of course, climbing the tower itself!
The path that leads to the observatory deck of Tsutenkaku Tower is a little unusual. You'll notice the sign "the observatory deck entrance" when you head downstairs (see picture above). Please head down here first to buy your admission ticket.
Afterwards, go to the observatory deck using the elevator to get to the 4th or the 5th floor.
Just imagine the view from the 88-meter high observatory deck – you can see all of Osaka fit into the palm of your hand.
The tall building pictured in the center is Abeno Harukas.
You can even catch a glimpse of the highest skyscraper in Japan, Abeno Harukas. The greenery you can see spreading down below is Tennoji Park and Tennoji Zoo, approximately a 10 minute walk from the building.
Tenbo Paradise
Picture courtesy of Tsutenkaku Kanko Co., Ltd.
If you pay extra an 500 yen, you can go up one more floor to the open-air observatory deck, Tenbo Paradise. Furthermore, you can rent the whole floor for yourself, for an extra 10,000 yen with a reservation at least 7 days in advance. We heard there are some couples who use this floor to propose marriage.
2. Touch Mr. Billiken for Some Happiness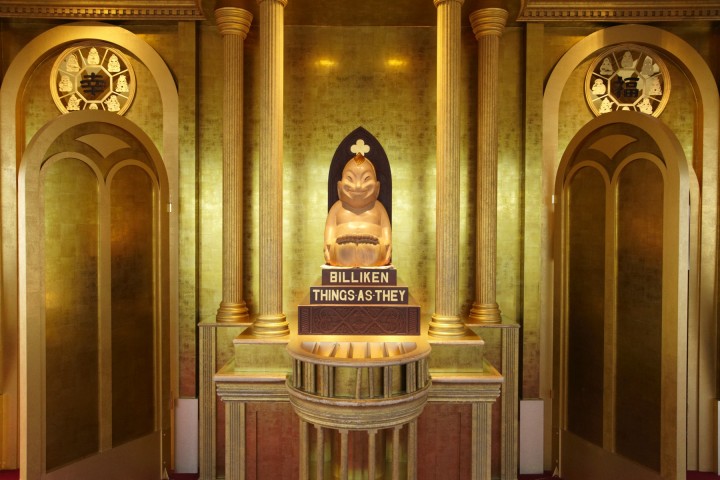 Mr.Billiken
Picture courtesy of Tsutenkaku Kanko Co., Ltd.
Checking out Mr. Billiken on the 5th, observatory, floor is another must-do at Tenkaku Tower. In case you haven't heard of this charming figure, Mr. Billiken is a statue with a wide smile on his face, and his both legs spread forward.
His legs are said to bring luck to people – just touch the back of his feet and get ready for the good fortune to come your way.
Although Billiken has fans all over Japan, his origins actually lie in America. He was created in 1908 by American illustrator Florence Pretz, who said that "it is a god he saw in a dream."
Picture courtesy of Tsutenkaku Kanko Co., Ltd.
It is said that in 1912 at Luna Park, an theme park built as an addition to Tsutenkaku Tower, already had a statue of Mr. Biliken displayed. In the beginning, he was celebrated as the protector of families and the benefactor of business in Japan. The one sitting on the top observatory floor of the tower is the third Billiken statue. Every day there is a line of people waiting to touch his feet to get their share of luck.
3. Indulge in a Tsutenkaku Parfait
Picture courtesy of Tsutenkaku Kanko Co., Ltd.
A dish you will need to try when you visit Tsutenkaku Tower is a Tsutenkaku parfait (700 yen after tax). It is an exclusive, one-of-a-kind dessert you can savor only at Café de Luna Park on the 3rd floor of the tower.
Don't be too surprised when you see the size of this parfait, as it is supposed to portray the tower itself, with its magnificent 21 centimeters! The first layer is made out of mixed fruit jelly, on top of cornflakes and a sponge cake layer, which is then topped with a generous amount of soft-serve ice cream. There are also the cutest petite cream puffs decorating the sides of this lovely dessert.
At Café de Luna Park, you can also try some of Osaka's famous mixed juice drinks, a mixture of rejuvenating fruits and fresh milk  from a farm, yogurt, and other drinks listed on their menu. If you're hungry for a meal, there are also other dishes like pasta.
4. Learn About the History of Tsutenkaku Tower
Picture courtesy of Tsutenkaku Kanko Co., Ltd.
Where Tsutenkaku Tower stands today used to be a lively area, buzzing with people visiting Luna Park, theaters, and shopping malls. The structure positioned in the center was the Tsutenkaku.
The model for Tsutenkaku Tower was the Eiffel Tower in France. You can also find the Arc de Triomphe on the first floor of the building. It was a flashy monument, fitting of Osaka's character as a city, but was devastated by fires and wars.
Tsutenkaku Tower we know of today is the second version was built in 1956.
The Luna Park diorama
Picture courtesy of Tsutenkaku Kanko Co., Ltd.
There is a space displaying this diorama, photographs, and materials on Luna Park on the same floor as the Café du Luna Park. We are sure the collection will leave you in awe, when you think about the different scenery 100 years ago with Tsutenkaku and the Shinsekai area, as well as Luna Park.
5. Obtain Osaka Souvenirs
The character on the right is Kinnikuman
Picture courtesy of Tsutenkaku Kanko Co., Ltd.
Picture courtesy of Tsutenkaku Kanko Co., Ltd.
If you're looking to buy some souvenirs, go up to the second floor, where you can find merchandise for the popular manga and anime character Kinnikuman, manga pictures at the archives corner, and Tsutenkaku- and Osaka-exclusive goods. It's a great place to stock up on some gifts!
Picture courtesy of Tsutenkaku Kanko Co., Ltd.
On the first basement floor, you will find shops from major sweets and snack companies, and even may want to buy some as souvenirs. You'll be welcomed by characters including Kyorochan and the Glico Doll.
6. See the Weather Forecast at Tsutenkaku Tower
Picture courtesy of Tsutenkaku Kanko Co., Ltd.
If you decide to visit Tsutenkaku Tower at night, be sure to look up! You'll see a round neon light twinkling on top of the tower. Depending on the color of the light, you can find out the weather forecast for the following day.
Tomorrow the weather will be sunny, then cloudy, or sunny and partially cloudy.
Picture courtesy of Tsutenkaku Kanko Co., Ltd.
White is for sunny, orange is for cloudy, and blue signifies rain. Sometimes you will see two colors shining down on you. For example, if the upper color is white, and there is orange down below it, it means tomorrow will be first sunny and then cloudy, or sunny but partially cloudy. You can learn about the next day's weather depending on the partition of the colors.
If you are at Tsutenkaku at night, be sure to check the weather with the help of the neon lights.
7. Stroll Around Tsutenkaku Tower
The townscape of Shinsekai
While you're visiting Tsutenkaku Tower, we suggest taking a walk around Shinsekai. Visitors here can find great souvenirs and try local gourmet food at the shops lining the streets while enjoying the energetic atmosphere. There is a term referring to something "Osaka-like" in Japanese, is "kote-kote." Shinsekai is overflowing with this energy, and is the perfect area to call kote-kote Osaka.
Around the entrance of the Shinseikai area, there is a narrow street called Janjan Alley (Janjan-Yokocho in Japanese). Here you'll discover a world of shops selling kushikatsu (deep-fried skewers of meat or vegetables), and izakaya, or Japanese pubs.
Games including go and shogi have been quite popular in this area for many years. Even today, you can see people playing shogi through the house and store windows.
Mount Chausu inside of the Tennoji Park
East of Tsutenkaku Tower lies the Japanese garden, Tennoji Park, where visitors can take a break surrounded by nature. The vicinities of Shin-Imamiya Station and Dobutsuen-Mae Station have seen more backpackers and tourists recently, leading to a rapid increase in the number of affordable accommodations. We think this could be a good starting point for sightseeing.
However, as this area is located south from the stations, it is considered a bit unsafe at times. Please be careful walking around at night.
Accessibility
There are several stations you can use to get to Tsutenkaku Tower. If you head from JR Osaka Station and Umeda Station (*1) areas, ride the subway on the Midosuji Line from Umeda Station, bound for Tennoji-Nakamozu. Get off at Dobutsuen-Mae Station after approximately 15 minutes (230 yen).
If you plan on heading to the tower from Namba or Shinsaibashi areas, get on the Midosuji Subway Line from Shinsaibashi Station or Namba Station, bound for Tennoji-Nakamozu. Get off the subway at Dobutsuen-Mae Station. It will take you around 6 minutes from Shinsaibashi Station (230 yen), and 4 minutes from Namba Station (180 yen).
To reach the tower it will take about 10 minutes on foot from Dobutsuen-Mae Station. We suggest taking this as an opportunity to stroll around Janjan Alley and the Shinsekai area.
*1: Osaka Station and Umeda Station are connected. Take care not to get lost at Umeda Station, as there are many different trains and train lines here.
Venture to Tsutenkaku Tower
Visitors coming to Osaka have a unique chance to see and climb Tsutenkaku Tower. If you have had your fill of other neighborhoods in Osaka, we suggest heading to this neighborhood. Tsutenkaku Tower and the surrounding Shinsekai areas are unique compared to Dotonbori and other popular areas, and overflow with the vibrancy of Osaka.
The writer of the original article: Hitoshi Kinoshita (Japanese)
This article is a rewritten version of an article published on June 4th, 2014.
The information presented in this article is based on the time it was written. Note that there may be changes in the merchandise, services, and prices that have occurred after this article was published. Please contact the facility or facilities in this article directly before visiting.