The Largest In Japan! Onitsuka Tiger Opens In Namba, Osaka
A new Onitsuka Tiger store will open in Namba, Osaka's busiest shopping district, on March 10th, 2018! We'll introduce new recommended products, how to access this new shop, and how to buy these products at a discount, so don't miss out!
Osaka is the metropolis of the Kansai region. This area, which draws numerous visitors for its charming tourist attractions, including Osaka Castle, Universal Studios Japan, and Kaiyukan, as well as delicious foods like okonomiyaki (a savory Japanese pancake-like dish) and kushikatsu (skewered fried meats and vegetables), is where a new famous shop will be open its doors on March 10th, 2018 (Saturday).
Onitsuka Tiger Namba will be a new location for the representative Japanese sports fashion brand, Onitsuka Tiger. Following the Shinsaibashi shop, a feature of the Namba shop, which will be the second location to open in Osaka, is that it will be the largest Onitsuka Tiger shop in Japan!
With a selection of products more abundant than any other shop in the country, you won't have to worry about missing out on buying that special item you've been eyeing. This is also the place where you can find the perfect gift for those who want to purchase souvenirs for friends and family from Onitsuka Tiger.
In this article, we'll introduce how to access the Namba shop, new recommended products, as well as how to purchase these products at a great value with a discount only available in Japan.
Access to Onitsuka Tiger Namba: Near Shinsaibashi and Dotonbori!
The shop has been established in the high-end Osaka shopping district of Namba, which is a popular district among international visitors. An advantage of its location is its great access from both Shinsaibashi, Osaka's largest shopping area, and Dotonbori, an area lined with restaurants where you can taste delicious foods.
For example, it's a ten minute walk to Onitsuka Tiger Namba from Shinsaibashi Station, while it's a four minute walk from Namba Station, the closest station to Dotonbori, on the Osaka Municipal Subway. This is a very convenient place to shop!
From "Dotonbori – Enjoy The Unique And Energetic Osaka Atmosphere!"
The Dotonbori Glico Sign, a popular photo spot, is also about a three minute walk from the shop. You can take your time selecting products at the shop after enjoying sightseeing, shopping, and food nearby!
A Spacious Interior – Enjoy Shopping to Your Heart's Content!
The Namba shop is built on two levels above ground. The interior is designed to be stylish with both a vintage and futuristic vibe that conveys the Onitsuka Tiger brand image. By coming here, you can immerse yourself in a world unique to Onitsuka Tiger.
On the first floor, all kinds of Onitsuka Tiger shoes are gathered together. The sales area has a large area and sofa for trying on shoes in Japan's most spacious shop interior. With this layout, you'll be able to try on and find a product that you're happy with for sure!
On the second floor, products made in collaboration with ANDREA POMPILIO, an Italian fashion brand, are displayed in rows.
Here, you can find shoes in novel colors and sportswear that shine with fastidious details. These products, which will make you really stand out, are perfect not only for yourself, but also as souvenirs for friends and family that are invested in fashion!
A Must See! The New CALIFORNIA 78 EX
CALIFORNIA 78 EX/10,000 yen + tax * International visitors to Japan can purchase these shoes at a reduced price!
CALIFORNIA 78 EX, a new shoe that will be released in the same period as the opening of the shop, is a product that we want you to definitely check out at the Namba shop. This shoe is a model of the legendary CALIFORNIA 78 shoes, which caused a jogging boom in Japan 30 years ago, that has evolved into a newer design.
The shoes are available in four colors – cream/classic blue (upper left in the photo), paprika/glacier grey (bottom left), peacoat/ash rose (upper right), and stone grey/glacier grey (bottom right).
As these are all basic colors, there's no doubt that they'll do spectacularly in both the in and off seasons!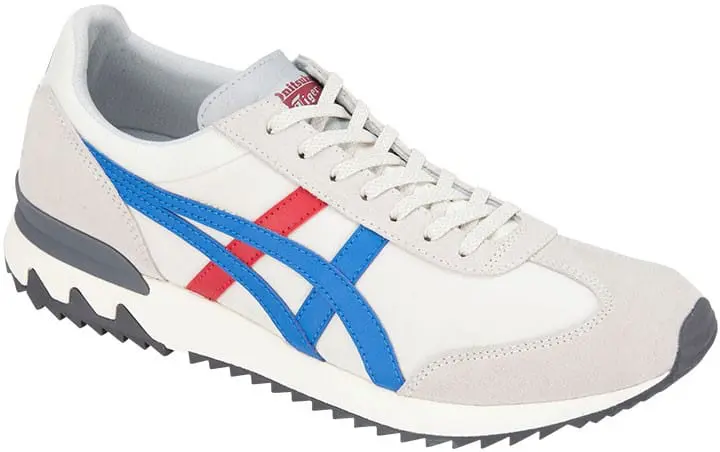 CALIFORNIA 78 EX (CREAM/CLASSIC BLUE)/ 10,000 yen + tax * International tourists can purchase these shoes at a reduced price
The CALIFORNIA 78 EX has not only upgraded its looks, but also its functionality.
The insole, for example. In addition to excelling in breathability and shock absorption, this shoe uses a material called OrthoLite from which you can expect effective mold and odor resistance, making the shoes much more comfortable to wear.
You won't feel fatigue, even on days when you're walking around sightseeing, if you wear these shoes. On top of that, you won't have to worry about any odors from wearing it continuously, so they're sure to be the perfect pair of shoes for your Japan trip!
For a Limited Time! NIPPON MADE Custom Order
A custom order service for NIPPON MADE, Onitsuka Tiger's high-end line, will be held for a limited time of two days on March 10th and 11th, 2018 at Onitsuka Tiger Namba.
Why not take this chance to get your hands on your own custom pair of shoes through this custom order service?
For details on NIPPON MADE, please read "Entirely Made In Japan! Onitsuka Tiger NIPPON MADE Shop Opens In Tokyo".
The Onitsuka Tiger Discount Service For International Visitors
When purchasing Onitsuka Tiger products in Japan, don't forget to use the discount services available for international tourists!

You will receive tax exemption when you make a purchase over 5000 yen at Onitsuka Tiger shops in Japan. Additionally, you can receive an extra 5% discount on top of your tax exempt total when you show your passport at the register. These are both great services, so there's no reason not to use them!

Please get your hands on the refined ANDREA POMPILIO collaboration products and the new CALIFORNIA 78 EX at a great value on your Osaka trip!

Onitsuka Tiger Shinsaibashi is also located nearby the Namba location. If you're visiting Osaka, then be sure to also stop by here!

* If you would like to read other articles on Onitsuka Tiger, then we recommend checking out our page for the brand here!

Onitsuka Tiger's official website: https://www.onitsukatigermagazine.com/?lang=en


* This article introduces tax exemption and discount services for visitors to Japan. These discount services are not available for Japanese nationals and non-Japanese residents of Japan. We appreciate your understanding and cooperation.

Photos courtesy of ASICS Corporation.
Sponsored by ASICS corporation.

The information presented in this article is based on the time it was written. Note that there may be changes in the merchandise, services, and prices that have occurred after this article was published. Please contact the facility or facilities in this article directly before visiting.