Entirely Made In Japan! Onitsuka Tiger NIPPON MADE Shop Opens In Tokyo
The first shop for NIPPON MADE, Onitsuka Tiger's high-end line, has been built in Omotesando, Tokyo. You can only get these special Japan made shoes at a discount in Japan! We'll also introduce how to custom order your very own original shoes.
Onitsuka Tiger is a sports fashion brand from Japan that has been gathering popularity from sneaker fans from all over the world. NIPPON MADE was created in 2008 as the high-end line of this very brand.
Just as its name NIPPON MADE, or made in Japan, suggests, these shoes are so special because the entire process of creating the shoes, from the sewing to the dyeing of the leather and all the final touches, are carried out in Japan.
Meanwhile, this is a sneaker series that is given particular attention until the end of the process with each pair manufactured by the hands of artisans.
These shoes were carefully made using high-quality materials, so another of their charms is the fact that, with care and proper maintenance, these shoes can last for a very long time. If you're buying shoes from a Japanese brand, then wouldn't you like to have shoes that have been made with great care by artisans known for their high-level techniques in Japan?
High-quality shoes made in Japan are a perfect reward for yourself. If you purchase these shoes in commemoration of your trip to Japan, then there's no doubt that they'll become a pair that you'll boast about!
In this article, we will introduce the world's first NIPPON MADE specialty shop that has opened in Omotesando, Tokyo, its products, and the custom order service where you can create your own original shoes. We'll also introduce how to purchase these special shoes at a reduced price at shops in Japan, so don't miss a thing!
Introducing the Refined NIPPON MADE Sneakers!
MEXICO 66 DELUXE (NIPPON MADE) Left: 22,000 yen + tax, middle and right: 21,000 yen + tax *International tourists can purchase these shoes at a reduced price!
NIPPON MADE shoes are made while pursuing precision and delicacy in its "genuine Japan" concept. As such, the shoes are reputed to be exceptionally comfortable to wear.
A feature of their design is that it is both retro and yet feels high-end. These shoes have a refined appearance and can be worn anywhere from the office to restaurants.
There are products within the lineup that have been made using traditional Japanese dyeing technology as well as items made in collaboration with prominent designers. There are also products sold for a limited time, so be sure to check the official website so you don't miss out on any products!
The NIPPON MADE series not only includes sneakers, but also fashion items such as denim jeans and T-shirts. If you'd like to wear higher quality fashion items, then we recommend these products to you.
Built on the Brand Street of Omotesando, Tokyo
The NIPPON MADE specialty shop is built the area of Omotesando that is especially known among the districts of Tokyo for its fashionable atmosphere. The shop has been added to the brand shop-lined main street and is located in a convenient area for both shopping and sightseeing.
The shop is located at the back of Omotesando Hills, a landmark of the area, so you won't get lost if you use the landmark as a guide.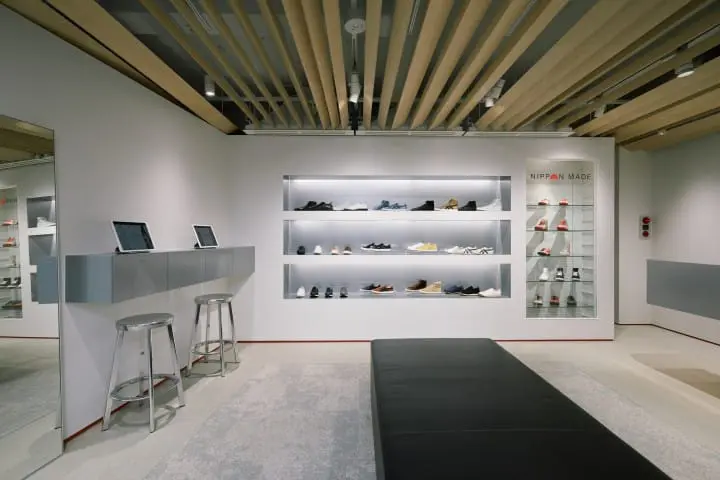 The interior, constructed with a modern Japanese-style concept, is the only place in the world where you can experience the world of NIPPON MADE.
The inside of the shop is not only lined with shoes, but also clothes and accessories. Here you can look at and examine various NIPPON MADE products all in one place.
A Custom Order Service Has Been Developed!
The NIPPON MADE Custom Order service, which began being offered on January 23rd, 2018, is only available at Onitsuka Tiger Omotesando NIPPON MADE.
Believe it or not, you can even make your own original shoes designed to your preferences for 40,000 yen (plus tax) using the tablet terminal installed inside the shop!
You can customize your shoes using MEXICO 66 DELUXE pictured in the photo above, the shoe that represents the NIPPON MADE line, as a base to choose the upper that covers your shoes, stripes, shoelaces, the color of your soles, and the materials. You can also embroider your initials or a message into your shoes!
You'll be able to create shoes that are the only pair of their kind in the world via this unique custom service!
The tablet terminal provides support not only in Japanese, but also in English and anyone can easily use the tablet with the help of the staff. The sizes available for custom order are 25.0 – 28.0cm and 29.0cm in men's sizes and 23.0 – 25.0cm in women's sizes.
You will receive your custom ordered shoes after six to seven weeks as they are manufactured in Onitsuka Tiger's own factory in Japan. You can have the shoes shipped overseas, so all you have to do is wait for them to arrive once you've placed your order! It'll become something to look forward to after your trip to Japan!
Onitsuka Tiger Omotesando Is Just Next Door! Get Discounts at Both Shops
The NIPPON MADE specialty shop is located right next to the brand's largest Japan flagship shop, Onitsuka Tiger Omotesando. You can visit both Onitsuka Tiger shops in one visit if you come to Omotesando, so we recommend those that want to effectively use their limited time in Japan to do so!

Not only can you receive an 8% tax exemption when you make a purchase over 5000 yen, you can also receive an extra 5% discount when you show your passport at the register at both Onitsuka Tiger Omotesando NIPPON MADE and Onitsuka Tiger Omotesando. If you're visiting the shops, definitely be sure to bring your passport and don't forget to show it at the register!

It's because you're in Japan that you can purchase the NIPPON MADE line, the most high-end line of Onitsuka Tiger, at a reduced price! If you're visiting Japan, then definitely please experience the splendor of shoes made in Japan at NIPPON MADE!


Onitsuka Tiger's official website: https://www.onitsukatigermagazine.com/?lang=en

* If you would like to read other articles on Onitsuka Tiger, then we recommend checking out our page for the brand here!

* NIPPON MADE Custom Order shoes are only subject to the tax exemption service and are excluded from the additional discount given when presenting your passport. * This article introduces tax exemption and discount services for visitors to Japan. These discount services are not available for Japanese nationals and non-Japanese residents of Japan. We appreciate your understanding and cooperation.

NIPPON MADE store photos courtesy of ASICS Corporation.
Omotesando store and product photos by Junichi Higashiyama.
Sponsored by ASICS corporation.

The information presented in this article is based on the time it was written. Note that there may be changes in the merchandise, services, and prices that have occurred after this article was published. Please contact the facility or facilities in this article directly before visiting.