Onitsuka Tiger Sneakers At A Discount - The New Fall Version!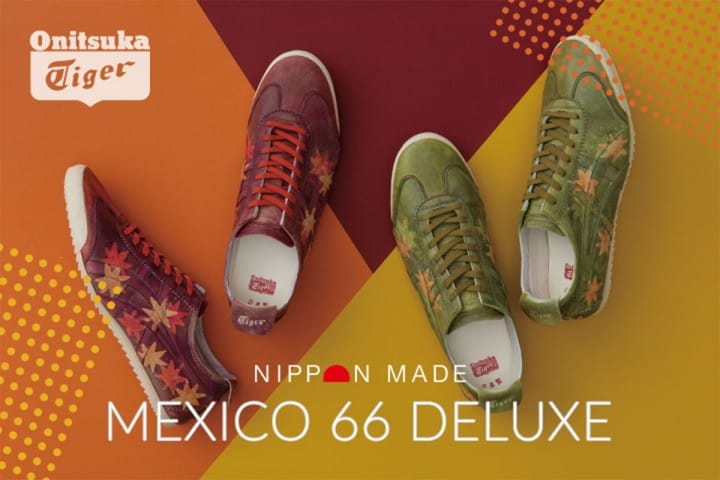 Onitsuka Tiger has announced a new sneaker in their NIPPON MADE series that is perfect for fall. Read to learn about the new MEXICO 66 DELUXE, made with dyeing techniques used for kimonos. If you are visiting Japan you can receive a discount!
Autumn Colors in Japan!
From Hiroshima's 5 Most Beautiful Fall Foliage Spots - 2018 Edition
Japan's fall season is synonymous with gorgeous autumn leaves.
The colors of forests and valleys change into deep red, and historical architecture throughout the country becomes illuminated with lovely autumn leaves. Many visitors travel to see these stunning landscapes.
This fall, this foliage is also making an appearance in the fashion. On October 20, 2018, Onitsuka Tiger, a famous sports fashion brand in Japan, will introduce stylish, brand-new merchandise featuring an autumn leaves motif.
This article is also about the special discount for visitors to Japan who go to Onitsuka Tiger store locations. This is your chance to buy these new models!
A Limited Edition Fall Design
MEXICO 66 DELUXE/29,000 yen plus tax *This model can be bought in Japan at a discounted price.
Color: FIRERY RED/SANDSTORM(left), HUNTER GREEN/SANDSTORM (right)
Size (for both men and women, in US inches): 4H - 6H, 7H - 10, 11, 11H
This autumn, Onitsuka Tiger is introducing a new color version of NIPPON MADE, a lineup of items emphasizing Japanese craftsmanship, designed and created domestically.
The popular MEXICO 66 DELUXE model uses the traditional dyeing technique of Daisen Yuzen Zome, making a fantastic pattern inspired by the autumn leaves.
Daisen Yuzen Zome originated in Tottori Prefecture, the birthplace of the founder of Onitsuka Tiger. The dyeing process is done repeatedly for different colors, resulting in a unique, deep hue.
The new models use Daisen Yuzen Zome, as well as the batik method, (*1) to draw the maple leaves. Each pair of shoes will be slightly different, as they are handcrafted by artisans.
These rare shoes are available only during the 2018 fall season, so your chance to buy them is now! If you are interested, we recommend visiting a store soon.
*1 Batik method: A traditional dyeing method that uses wax.
Omotesando and Namba
Onitsuka Tiger Omotesando NIPPON MADE Shop
The new models will be sold at two locations in Omotesando and Namba.
Onitsuka Tiger Omotesando NIPPON MADE celebrated its first anniversary in September 2018. This is the only NIPPON MADE shop in Japan. Yoyogi Park, known for its beautiful autumn scenery, is located nearby so you can visit the shop after sightseeing.
For more information on the Omotesando location, read Entirely Made In Japan! Onitsuka Tiger NIPPON MADE Shop Opens In Tokyo. For more information about the Namba location, check The Largest In Japan! Onitsuka Tiger Opens In Namba, Osaka.
Red and Green-Colored Options!
The new MEXICO 66 DELUXE with autumn leaves motifs comes in two colors. Compare the colors, and choose your favorite shoes.
Late Autumn - Dramatic Crimson
From Autumn In Japan 2018 – How To Enjoy The Fall Foliage Season
We recommend the FIRERY RED/SANDSTORM version for people who like the deep red foliage of late fall.
MEXICO 66 DELUXE/29,000 yen plus tax *This model can be purchased in Japan for a discount price.
Color: FIRERY RED/SANDSTORM
Size (for both men and women, in US inches): 4H - 6H, 7H - 10, 11, 11H
The dark red base is accented with orange and yellow maple leaves. This design goes well with the trending colors of mustard, wine, and olive green colors.
This gorgeous shoes will give you a stylish appearance.
Early Fall - Green and Refreshing
From Autumn In Japan 2018 – How To Enjoy The Fall Foliage Season
The HUNTER GREEN/SANDSTORM version is green, reminiscent of the leaves starting to change colors in early fall.
MEXICO 66 DELUXE/29,000 yen plus tax *This model can be purchased in Japan at a discounted price.
Color: HUNTER GREEN/SANDSTORM
Size (for both men and women, in US inches): 4H - 6H, 7H - 10, 11, 11H
This version pairs well with black, gray, and navy colors. Pair the shoes with some simple clothing to create an interesting outfit.
It might be hard to choose between these two fashionable options, so be sure to compare them while you are at the store!
Discount Service for Visitors in Japan
Visitors in Japan are eligible for a special discount service at shops directly managed by Onitsuka Tiger.

A tax-free service will be applied to purchases of 5,000 yen or more. By presenting your passport, you can receive an additional five percent discount.

This service is valid for the NIPPON MADE series as well as other standard Onitsuka Tiger models.

Use this discount service and purchase the MEXICO 66 DELUXE autumn leaves shoes, FIRERY RED/SANDSTORM or HUNTER GREEN/SANDSTORM while you are in Japan.

* For more articles on Onitsuka Tiger, refer to this page.

Onitsuka Tiger Official Site: OT Magazine

* The tax-free/discount services mentioned in this article applies only to visitors from abroad. Please note that these services will not be applied to Japanese citizens and foreign nationals residing in Japan.

Photographs courtesy of ASICS Corporation.
Sponsored by ASICS Corporation.

The information presented in this article is based on the time it was written. Note that there may be changes in the merchandise, services, and prices that have occurred after this article was published. Please contact the facility or facilities in this article directly before visiting.