The Imperial Palace Run: Route Guide And ASICS RUN TOKYO MARUNOUCHI
The Imperial Palace Run is every runner's dream. Stop by ASICS RUN TOKYO MARUNOUCHI empty-handed to rent and get all you need for a satisfying run! Learn about the run station, how to run the route, and the beautiful Tokyo scenery you can see.
Go on the Imperial Palace Run
For people who run as part of their daily routine, an overseas trip is an exciting opportunity to explore a new course. The route that circles the Imperial Palace is one of the most popular running routes in Tokyo. It is one that international runners and residents who run long to try at least once.
We took it upon ourselves to jog this course well-known to runners to introduce it in this article.
The Popularity of the Imperial Palace Run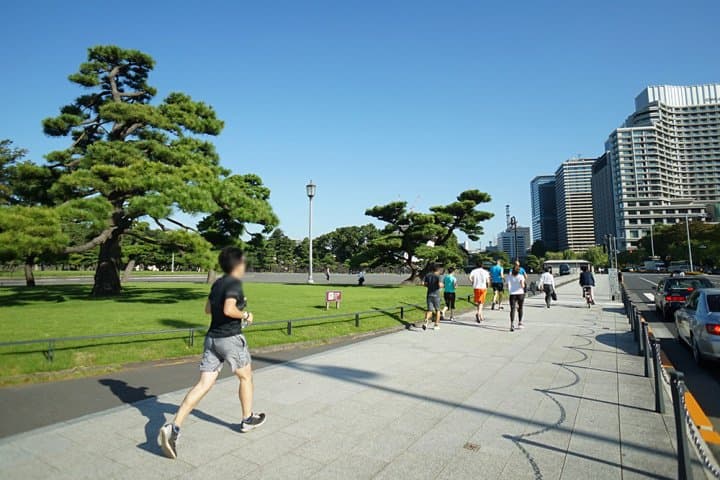 One of the best things about running around the Imperial Palace is the fact that you admire Tokyo's urban scenery. To one side, you'll find the Imperial Palace surrounded by stone walls, an inner moat, wooden bridge, and the quiet of nature. Look to the other and you'll find rows of high-rise buildings symbolic of a modern metropolis. You won't feel bored running in between these two remarkable, contrasting sights divided by a single path.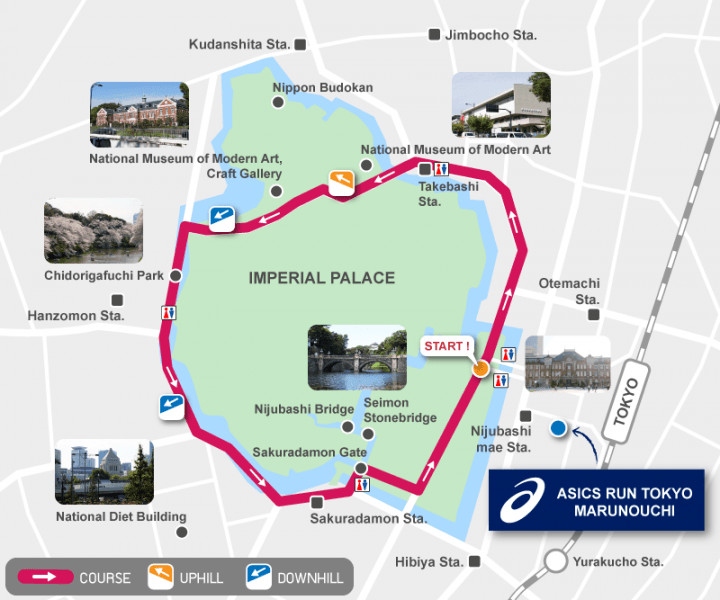 Great Access
There are subway, metro, and train stations around the route, so there is no need to travel far to start your run. The course is easy to get to, so you can start soon after getting off the train. There are also several interesting buildings and structures along the run to enjoy (introduced later).
One Lap is Five Kilometers (3.1 miles)
The distance of the route is just the right length for running. The path is also beautifully paved and there are no traffic lights at intersections, so you can run without breaking your pace. There are slight hills in about three sections of the course. These moderate ups and downs will create a satisfying change of pace during your run.
Imperial Palace Run Manners
1. Run in a counterclockwise direction. Face the Imperial Palace and run counterclockwise.
2. Run on the left side of the path. This leaves the pathway partially clear so that others going at a faster pace can pass you.
3. Run single-file when the pathway is narrow. Avoid blocking the path with two or more people to not create obstacles for others.
Please note that the Imperial Palace pathway is a public sidewalk and is not a route exclusively for runners. Rather than running your fastest, aim for a leisurely jogging pace and be cautious when there are pedestrians. When the road narrows, run at a reduced speed for your safety.
Run While Enjoying the Scenery
The spot we chose as our starting point is near Otemon Gate in front of Tokyo Station. The iconic red brick station building, surrounded by modern buildings, stands at the end of the wide, straight road leading to the gate. It's a beautiful place to begin a run.
Look down at your feet and you'll see flower plaques installed along the route on the sidewalk. This is known as the Circle of Flowers, a line of all 47 prefectural flowers in the country, from Hokkaido in the north to Okinawa in the south.
Pictured is Fukushima's prefectural flower, Rhododendron brachycarpum, a type of azalea. There is no information printed in English, but the gorgeous plaques can be enjoyed even just by looking at it. You might even find a flower that you know!
There are several bridges you'll see along the course that extend over the moat. All have different designs. What you see above is the bridge to Otemon Gate, which is the entrance to the Imperial Palace's East Gardens.
The ruins of Edo Castle and the Museum of Imperial Collections, where valuable artworks owned by the Imperial family are exhibited, are located here. Entering the gardens is free.
There are restrooms and small parks where you can take a break under the shade throughout the route. When you feel tired, take a break and gaze at the lovely scenery. You'll quickly feel the energy to run again.
Picured above is Craft Gallery of The National Museum of Modern Art. It may look like a Western-style building, but this structure was designed by a Japanese engineer. In 1972, the entrance and stairway hall were designated as Important Cultural Properties.
The art museum and crafts gallery are located inside Kitanomaru Park. The park is pleasant and has plenty of shade, making it a perfect spot to stop by for a break. The Nippon Budokan, also located here, was used as the judo competition venue for the 1964 Tokyo Olympics. It is now also used as a concert venue for many famous artists.
The moat around Chidorigafuchi is popular as a spot to view cherry blossoms. Once you've seen this moat, you've reached the halfway point of the course.
Slightly past Chidorigafuchi, you'll see the National Diet Building to your right. It has an impressive presence among the surrounding modern steel-frame buildings with its granite exterior and grand appearance. The building can be toured for free on days when the Diet is not in session.
Run for a while, turn left, and then cross the bridge to Sakuradamon Gate. Go through the gate and you'll start to see the stone bridge connecting to the entrance to the Imperial Palace. This is a great place for taking photos. The other bridge of the Imperial Palace is Nijubashi Bridge. Behind the bridge is the Fushimi Turret, a part of the existing Edo Castle ruins.
Once you've come this far, you will have run an entire lap around the Imperial Palace.
Recommended Running Times
The timeframe in between early morning and mid-morning is most recommended for the Imperial Palace Run. Not many people are there and you can jog together with those who run before they head to work.
Once it's around noon to mid-afternoon, pedestrian traffic will worsen with passersby and people that come to sightsee the Imperial Palace. It is best to avoid this time slot.
The evening and night brings crowds of people who come to run after work, and may be slightly congested. However, you can run while admiring the beautiful night view of the office buildings at this time.
Picture from Experience Stunning Cherry Blossoms In Central Tokyo - Chidorigafuchi
As expected, the recommended season is around the time when the cherry blossoms are blooming. Every year, you can run while admiring the cherry blossoms around late March to early April.
The roads, however, will be immensely crowded with people coming to view the cherry blossoms so caution is necessary. It's best to go running early in the morning. It will still be chilly in the mornings during late winter and early spring, so be sure to wear plenty of layers. Put on a jacket, too, to protect yourself against the wind.
ASICS RUN TOKYO MARUNOUCHI – A Station for Imperial Palace Runners
Want to do the Imperial Palace Run but are concerned about having too much luggage with sportswear and shoes? A visit to ASICS RUN TOKYO MARUNOUCHI run by ASICS makes it so you don't have to worry.
This facility offers rental sportswear and shoes for all runners. The run station is also fully furnished with locker rooms and showers. The store is open from 6:30 in the morning, making it possible for runners to visit without bringing their gear. You can also shower and fix your makeup so you're ready to go out right away after running.
You can even put on the ASICS shoes you've purchased at the store to head directly into town.
Follow the following procedures to use the services at ASICS RUN TOKYO MARUNOUCHI.
Register First
If you're visiting the store for the first time, please speak with the staff at the counter to go through the membership registration process (English applications are also available). For your first time, you will be charged a membership registration fee of 550 yen.
Usage fee is 880 yen with tax every time you use the facility. After paying the fee, you will be able to access the locker and shower rooms.
Come Empty-Handed! Rent Sportswear and Shoes
ASICS RUN TOKYO MARUNOUCHI also has a convenient rental service for those who don't want to carry around their sportswear and shoes. It is possible to rent sportswear, towels, and running shoes for 220 yen with tax per each item.
Shoes can be rented in a variety of models. This time, we wore the GLIDERIDE, their latest model, in a cool crimson color.
The other items we rented were a T-shirt, jacket, leggings, pants, and shoes. It costed a total of 1,100 yen with tax for five items.
Change after you finish paying at the counter. There are 66 lockers in the spacious and clean locker rooms, so you can use them without worrying about the crowd (the women's locker room has 54 lockers). In the locker, there is space at the bottom for your shoes and a wide space at the top for your backpack. It's very easy to use.
Once you've changed, get ready to run.
Start Your Run in Front of the Imperial Palace!
Leave the store and turn left. Cross the road, then walk for about five minutes to arrive in front of the Imperial Palace.
We spotted people running on this path. We're also starting our run here.
After Your Run, Return to Shower
After your run, refresh yourself with a shower. There are six shower rooms at the back of the locker room. Towels are located in front of the shower room. Body soap and shampoo are also provided.
The powder room is well-stocked with amenities such as hairdryers, cotton swabs, and skin toner.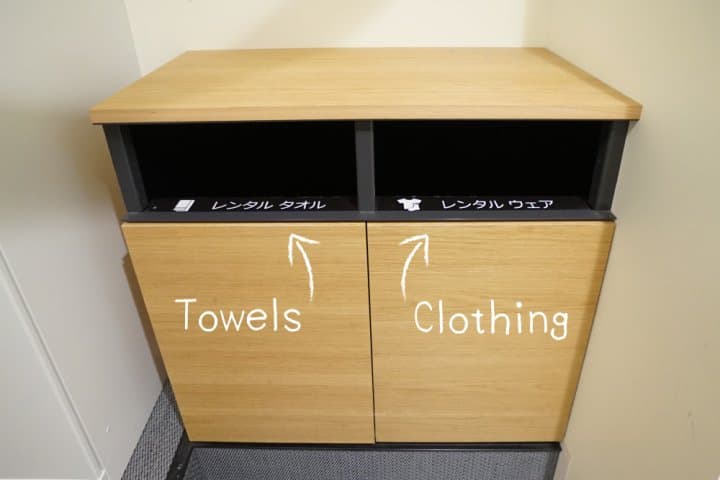 Please return rented clothing and towels in the boxes by the exit. The left box is for towels and the right return box is for sportswear. Shoes are to be returned together with your locker key to the staff at the counter.
Shop for ASICS Merchandise
If you like a shoe model after running while wearing them yourself, then you can also purchase them at the store. The store carries various models from popular collections, like GEL-KAYANO and GEL-NIMBUS, to the latest models like METARIDE and GLIDERIDE.
If you can't make up your mind on which shoe model you should try, speak with a staff member to use the ASICS FOOT ID. The machine will scan your foot and recommend shoes that are the most suitable for you.
In addition to running wear and shoes, the store also carries T-shirts ideal for exercising or going out, bags, and other lifestyle goods.
■ ASICS RUN TOKYO MARUNOUCHI
Address: Tokyo, Chiyoda, Marunouchi 2-5-2 Mitsubishi Building B1F Map
Run Station Hours:
Weekdays 6:30 – 22:00 (final entry 21:00)
Weekends and Holidays 7:30 – 20:00 (final entry 19:00)
Store Hours:
Weekdays 11:00 – 21:00
Weekends and Holidays 9:00 – 20:00
Access:
- Immediately outside Exit M3 of Tokyo Metro Marunouchi Line Tokyo Station
- 2-minute walk from Exit 5a of Tokyo Metro Chiyoda Line Nijubashimae Station
Sightsee Nearby Stores
Tokyo Station is a short walk from ASICS RUN TOKYO MARUNOUCHI. There are several shops around the station area like KITTE, a shopping mall. Visiting Yaesu Shopping Mall and Ramen Street are also recommended, as both have rows of restaurants with delicious-looking food. You can also go to Ginza by foot. Several major train lines travel service this station, which makes it convenient for traveling to other places via public transportation.
Do you want to try running in Tokyo without going out of your way to find a trail? Be sure to stop by ASICS RUN TOKYO MARUNOUCHI to try the iconic Imperial Palace Run.
Pictures courtesy of ASICS Corporation
Sponsored by ASICS Corporation

The information presented in this article is based on the time it was written. Note that there may be changes in the merchandise, services, and prices that have occurred after this article was published. Please contact the facility or facilities in this article directly before visiting.