Visiting Tokyo In February-March? Enjoy Early Cherry Blossom Viewing!
Certain types of cherry blossoms go into bloom as early as mid-February! We introduce three places in Tokyo where you can enjoy cherry blossom viewing in February-March 2020.
It may go without saying, but the centerpiece of sightseeing in Japan in the spring is getting to view the cherry blossoms, or sakura. This is Japan's most beautiful time of the year, when everything seems to be dyed pink by the cherry blossoms.
Do you think that viewing the cherry blossoms can only be enjoyed from the end of March until around the beginning of April?
Actually, depending on the cherry tree type, there are cherry blossoms that bloom earlier than what's considered to be the cherry blossom season. We'd like to share with you the types of cherry blossoms that bloom earlier, as well as the places around Tokyo where you can enjoy these flowers from mid-February to around mid-March.
What Type of Cherry Blossoms Bloom in February and March?
As many Japanophiles may already know, there are various types of cherry blossoms. The ones that bloom during the regular 'cherry blossom season' are the Somei Yoshino cherry blossoms.
Believe it or not, there are actually cherry blossoms that also bloom from February to March. Among them, the kawazu-zakura are well known.
The kawazu-zakura were given their name after being discovered in the city of Kawazu in Shizuoka Prefecture. The southern area of Izu is also famous for its kawazu-zakura. From the beginning of February to the beginning of March there's even an early sakura festival that takes place in this region.
There are also places in Tokyo where you can view the kawazu-zakura. Of course, it depends on the location and weather, but these flowers bloom a little bit later than they do in the city of Kawazu and in southern Izu. You can enjoy these cherry blossoms in Tokyo for about one month, from about mid-February until about halfway through March.
1. Cherry Blossoms and TOKYO SKYTREE! Kawazu-Zakura along Kyunaka River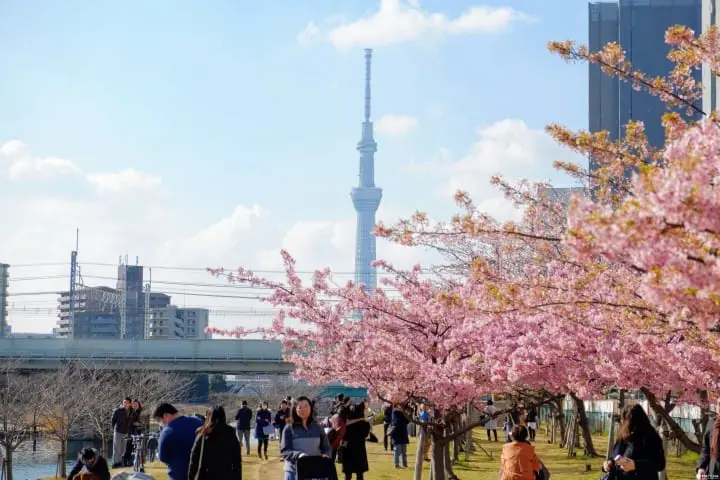 The area along Kyunaka River in eastern Tokyo is where you can enjoy viewing early cherry blossoms with TOKYO SKYTREE in the background.
There are about 30 trees growing along the promenade of Kyunaka River. They bear kawazu-zakura and okan-zakura. There aren't too many cherry trees in this area, but the good part is that anyone can enjoy the sakura at leisure while walking along the river. This is also a great spot for train lovers as trains pass by upon the iron bridge over the river.
The closest stations to this river are Hirai Station on the JR Sobu line and Kameido-Suijin Station on the Tobu Kameido line. From both stations it's about a 10-15 minute walk to the promenade.
It takes about 20 minutes to get to Hirai Station from Tokyo Station with one transfer. From Shinjuku Station, you can get there in about 30 minutes without having to transfer trains.
The place might be a little bit difficult to find. Search for the Fureaibashi Bridge that goes over Kyunaka River on Google Maps and you shouldn't have trouble getting to this area.
2. Kawazu-Zakura at Shinjuku Gyoen National Garden
Shinjuku Gyoen is a popular and well-known area for viewing the cherry blossoms in the spring.
The garden also has a number of trees bearing kawazu-zakura, which can be enjoyed in February and March. The kawazu-zakura can be found inside the British-style garden.
Along with the kawazu-zakura, at Shinjuku Gyoen you can also view kan-zakura, kanhi-zakura, tsubakikan-zakura, and a number of other cherry blossoms that bloom earlier than other types.
Believe it or not, there are even cherry blossoms here that bloom as early as the end of January. For those who'd like to view the cherry blossoms a little bit earlier than what's considered the 'cherry blossom season', we highly recommend visiting Shinjuku Gyoen.
Shinjuku Gyoen is about a 10-minute walk from the south exit of Shinjuku Station. You can also access it by using the Tokyo Metro Marunouchi Line. It's about a 5-minute walk from Shinjuku-Gyoenmae Station.
3. Kawazu-Zakura in Kiba Park - Easy Access from Tokyo Station
To those searching for a spot to view the cherry blossoms near Tokyo Station, we recommend Kiba Park along Oyoko River. This is another quiet area with a promenade along the riverside with a row of trees bearing kawazu-zakura. The area is quiet, so if you're lucky you may be able to see mejiro (*1) birds among the blossoms too.

The closest station to Kiba Park is Kiba Station, which can be reached by riding the Tokyo Metro Tozai Line from Otemachi Station. Otemachi is near the north exit of JR Tokyo Station. It takes about 7 minutes and you don't need to transfer trains.

Near Kiba Park is the Tokyo Museum of Contemporary Art, as well as Monzen-Nakacho, an area where you can feel the old town culture of Tokyo. There are a number of sightseeing spots here such as Kiyosumi-Shirawaka, which is an area with a large number of cafes, so you can add this to your list of places to visit when coming to view the cherry blossoms.

*1 Mejiro: a type of bird smaller than a tree sparrow that has green wings. This bird lives in areas from East Asia to South-East Asia.


If you'd like to view the cherry blossoms earlier than usual, use this article as a guide and visit the areas listed above.

The information presented in this article is based on the time it was written. Note that there may be changes in the merchandise, services, and prices that have occurred after this article was published. Please contact the facility or facilities in this article directly before visiting.