AIN SOPH. GINZA - Eat Jewel-Like Meals At A Vegan Friendly Restaurant!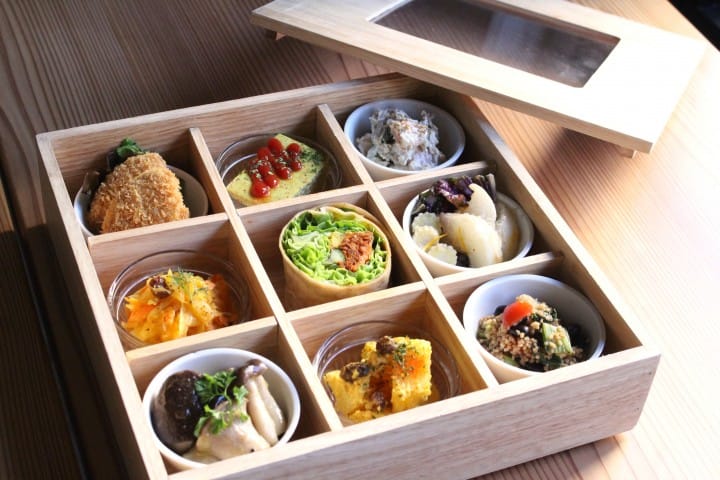 There are still very few restaurants where you can eat vegan and vegetarian cuisine in Japan. Let's take a look at a vegan and vegetarian specialty restaurant in Ginza that is also highly regarded worldwide!
AIN SOPH. GINZA is located just under a minute away from the Kabukiza theater, a popular tourist destination in Ginza. It is a restaurant that serves original vegan cuisine.
A vegan is considered a "complete vegetarian" among other vegetarians that do not consume meat or fish. They never consume animal products including eggs and dairy products.
Eggs, dairy products, and animal products are not used in the cuisine offered at AIN SOPH. GINZA, making it perfect if you want to enjoy vegan cuisine. A portion of the dishes are also gluten-free.
Though the interior may feel Japanese, the menu includes several multinational dishes. The restaurant is also busy with many customers both from overseas and from Japan.
A Japanese x Vegan Design
AIN SOPH. has established a total of four locations in the city, which include its Shinjuku and Ikebukuro locations. The Ginza location in particular has a calming, high-class atmosphere that is Japanese themed.
The restaurant is a spacious and comforting space that covers the first to fourth floors of the building, with the fourth floor being a Japanese-style room. Eating your meal on a tatami mat is another exceptional part of this location.
* It is possible to reserve the Japanese room. Reservations can be made for eight people and above. Reservations are necessary, so please make your reservations via the phone number listed in the information at the end of this article.
Plants are grown by the window frames thanks to the owner's wishes of "wanting customers to experience nature". The space feels tranquil even in a city such as Ginza.
AIN SOPH. GINZA's Original Food Menu
A spirit of hospitality can be experienced in the cuisine offered at the restaurant. Let's take a look at AIN SOPH. GINZA's original menu.
You'll Want This For Lunch! The Fukurokuju BENTO
A popular menu item available only during lunch is the Fukurokuju BENTO (weekdays: 3150 yen before tax, weekends: 3450 yen before tax). It is a set of three types of dishes: a salad with seasonal vegetables, delicatessen dishes that change every day, brown rice, and tomato soup.
The name Fukurokuju is taken from one of the Shichifukujin (*1). Fukurokuju is a god that governs over the three virtues composed of luck, longevity, and property. The three types of dishes respectively represent the three virtues using the auspicious colors of yellow, red, and green.
The fresh, yellow Spanish Omelette (top left in the photo), which will be the first dish to jump out at you, is made with tofu and organic potatoes. The tofu is incredibly soft but has a firm texture due to the addition of potatoes which give the dish a heartier taste.
You would expect the deep-fried dish next to it to be chicken, but it is instead a veggie meat made with soybeans. You'll be surprised at how similar the texture and flavor are to actual meat. The soy sauce used is also gluten-free.
The green curry is made with spinach and has a mild spicy flavor. This is one of AIN SOPH's popular dishes.
*1 Shichifukujin: the general term for the seven lucky gods that are comprised of Daikokuten, BIshamonten, Ebisuten, Jurojin, Fukurokuju, Benzaiten, and Hoteison.
The salad, which consists of fresh, seasonal vegetables, is eaten with a walnut dip. The rich flavor of walnuts match well with the crisp vegetables. A majority of the vegetables used in the dish are organic.
The tomato soup is owner Ms. Shirai's original dish.
Ms. Shirai encountered vegan food for the first time during her home stay while she was studying abroad in Canada. She was unable to forget the deliciousness of the vegan food that she had experienced along with the flavor of the tomato soup that was on the table during every meal. Since then, she dreamed of creating a restaurant in Japan that would serve vegan food.
The tomato soup in the Fukurokuju BENTO is filled with Ms. Shirai's thoughts and wishes.
The Kissho Box Will Make You Sigh Happily
We recommend the Kissho Box for those that come during dinner time. It has the concept of being a "goddess' jewelry box".
When you open the lid, you will find nine types of dishes made using a variety of ingredients. You'll be enveloped with an exciting emotion, almost as if you were opening a jewelry box.
The contents of the box change every day, so what will be in the box is something you'll look forward to on the day itself. On the day we visited, the box had a variety of staple Japanese foods such as a salad with white sesame, tofu, and miso sauce along with a veggie meat cutlet. There were also creative foods such as couscous coupled with a carrot and raisin marinade.
By the way, the dishes in both the Fukurokuju BENTO and Kissho Box are placed inside a bento box-like container. A bento box is a box that Japanese people use to store their food when eating outside.
The fact that the food is served in a bento box is not just to give it a Japanese quality. This box both keeps the food warm, and adds a touch of present-like anticipation to its arrival at your table.
An Original Dessert Menu
Photo courtesy of: AIN SOPH. GINZA
Our recommendations from their original desserts are the Vegan Pudding Set and the Vegan Tiramisu Set pictured in the photo (each 1450 yen before tax). The ingredients of both desserts do not include egg or dairy products.
Both the pudding and the tiramisu sets come with a drink. The variety of drinks available are also abundant; your choices include organic coffee, soy latte, matcha green tea soy latte, tea latte (black tea or hojicha), black tea, matcha and hojicha tea, and Japanese tea.
The drink we recommend is definitely the matcha and hojicha tea pictured in the photo. You'll be able to enjoy two types of teas at the same time. The matcha green tea made in the restaurant is very fragrant and has perfect compatibility with sweets.
The pudding is available in the staple vanilla pudding flavor or a seasonal pudding flavor. The seasonal pudding at the time of our visit was the chocolate flavored W Chocola Pudding.
The Staple Heavenly Vegan Pancakes
The Heavenly Vegan Pancakes, a staple dessert at AIN SOPH., can be eaten at any location, so be sure to try it.
Bring A Raisin Sandwich Home As A Gift
Photo courtesy of: AIN SOPH. GINZA
Limited to take-out only is their popular Raisin Sandwich.
The crunchy cookies are handmade from scratch. The sandwich has an airy sweetness that comes from beet sugar and maple syrup that will spread in your mouth. The raisins are organic and the perfectly balanced flavor of this cookie draws many repeat customers.
Photo courtesy of: AIN SOPH. GINZA
A travel box perfect for the fashionable district of Ginza has also been prepared too, making it an ideal gift for a loved one too!
Haven't Tried Vegan Food? Please Visit!
What AIN SOPH. GINZA offers is "a place for you to return to your natural self." A beautiful meal that is delicious, even without the use of meat or dairy products, and healthy, is waiting for you. Surely a surprising experience that will change your way of thinking towards conventional foods is what awaits you.

How about separating yourself briefly from your busy life and coming to eat food that will make both your heart and body energized?

Made in cooperation with: AIN SOPH. GINZA

 

The information presented in this article is based on the time it was written. Note that there may be changes in the merchandise, services, and prices that have occurred after this article was published. Please contact the facility or facilities in this article directly before visiting.