7 Great Vegan Restaurants In Osaka: Okonomiyaki, Sushi, And Local Dishes
Where can you savor vegan okonomiyaki in Osaka? How about plant-based sushi? Learn where to go to eat local Osaka food that's vegan-friendly and delicious. This article covers seven recommended places to dine at with flavorful vegan food and dessert options.
Where to Eat Vegan Food in Osaka: 7 Recommended Restaurants and Cafes
Osaka is known as one of Japan's food capitals for its unique and flavorful food culture, and actually has vegetarian and vegan-friendly restaurants. Prepared visitors can dine on excellent plant-based versions of local food, from okonomiyaki to sushi and Japanese meal sets and desserts.
Lacking meat, fish, and dairy, but none of the taste, the seven restaurants below have something satisfying for everyone, including non-vegans. These eateries all have English menus and are close to major sightseeing areas, making it easy to enjoy a vegan meal in Osaka.
1. Paprika Shokudo: Picture-Perfect and Delicious Meals
Picture from Paprika Shokudo, Osaka: Take A Break With Vegan Food

Paprika Shokudo is a well-known vegan restaurant conveniently near the major shopping area of Shinsaibashi. The restaurant has a varied menu full of choices, from fried soy meat karaage, pasta, and salads, to daily specials. Open for lunch and dinner with tables and counter seats, Paprika Shokudo is ideal for small and larger parties, as well as solo diners. The white and soft colors of the interior make any visit pleasant and calm.
Picture from Paprika Shokudo, Osaka: Take A Break With Vegan Food

Pictured above is the vegan cheese Loco Moco (1,440 yen), an Okinawan-inspired dish with soy meat and plant-based cheese, fresh vegetables, and brown rice. It is a well-balanced dish, with creamy, savory, and refreshing flavors from all the different components.
Organic ingredients are used in several dishes, and there is even organic wine to enjoy.
There are also soy ice cream parfaits, cakes, and other sweet treats to indulge in if you have a sweet tooth. The soy ice cream with berry sauce (540 yen) is perfect for treating yourself.
*Prices listed are without tax.
2. Megumi: Nourishing Okonomiyaki, Ramen, and Desserts
Megumi is a charming restaurant located on a quiet street near the famous Osaka Tenmangu Shrine. The owner started a vegan diet for health reasons, so all dishes are made with high-quality, often organic ingredients, and are balanced in nutrition and flavor.
You'll find a large variety of delights to indulge in, like gluten-free okonomiyaki made from buckwheat flour (1,600 yen) and brown rice ramen (1,400 yen). There are also course meals with delightful names like "Happiness," "Rich," and "Dream" that would make a special evening meal.
Megumi is also a great choice if you are eating gluten-free or avoiding certain ingredients. Be sure to tell the owner if you have any allergies or food sensitivities to get a specially-prepared dish full of flavor. She will even make a special sauce for the okonomiyaki, suitable for those with wheat allergies.
Don't forget to try desserts, like the house-made dragonfruit tofu ice cream (left; 530 yen) and a creamy, rich tofu cake (right; 630 yen). Both are sweetened with dates. You'll be delighted by the flavor and mild sweetness of these treats.
With mainly counter seating, this intimate restaurant is ideal for small parties or single diners looking for a quiet, calming evening. There are also vegan products for sale at the front of the shop.
*Prices listed are without tax.
3. Sushi Roll Double Quotation IKI: Tasty Vegan Sushi Made by a Friendly Chef
If you're in the mood for sushi in Osaka, there's no better place to stop by than Sushi Roll Double Quotation IKI. A small sushi bar located just outside of Tenjinbashisuji Rokuchome Station, visit here for a memorable evening of vegan and vegetarian-friendly California roll-style sushi.
Run by an outgoing sushi chef who used to live in the United States, diners can enjoy vegetable, natto, tofu, and soy meat varieties of California rolls. If you aren't sure what to order, get the IKI plate (1,100 yen with tax) and you will receive rolls based on what the owner thinks you'll enjoy.
There are also vegan-friendly appetizers and even plant-based Japanese hot pot on the menu, which can be a delicious addition if you're hungry. Non-alcoholic and adult drinks and vegan-friendly desserts are also available.
Non-vegetarian and vegan rolls are also on the menu, making it a great place to go with a friend who doesn't share the same dietary preferences. The owner speaks fluent English and is happy to give travel tips and fun facts about Osaka during your meal, too. You will leave satisfied with a smile from the tasty sushi and welcoming attitude of the owner.

4. Babel Cafe: Vegan Lunch and Sweets Made with Care
Babel Cafe is a charming, must-visit vegan cafe close to the stylish Nakazakicho area. It is located along Tenjinbashisuji, the longest shotengai, or traditional shopping street in Japan. The closest stations are Tenman Station on the JR Osaka Loop line or Nakazakicho Station on the Tanimachi line on the Osaka Metro. Diners can enjoy seasonal dishes, drinks, and desserts here while relaxing inside.
Made with whole ingredients that are often organic, every bite is delicious. Each plate is presented beautifully and made with love by the owner, and every bite tastes as good as it looks.
Pictured above is the Daily Babel plate (1,500 yen), containing a main dish, rice, side dishes, and a soup. All dishes are made with seasonal ingredients, so diners have something new to look forward to every time they visit. Beverages like green smoothies, beer, and organic wine are also available.
For dessert or teatime, enjoy some of the homebaked vegan sweets. Many options are gluten-free. Above is a dessert plate (850 yen for two sweets selections) with a gluten-free azuki spice cake (right) and caramel nut cake (left). Pair it with a soymilk spice chai latte (680 yen).
Stay for a while to appreciate the adorable decorations inside. Art is displayed at the cafe, and the owner regularly holds community events. Check on Facebook to learn when they are, and the business hours of Babel (the posts are usually in Japanese).
After enjoying lunch or teatime at Babel, be sure to explore the small, independent shops in the surrounding area on the shopping street or in Nakazakicho. The area is generally quiet, which is a nice contrast to the bustling Umeda and Osaka Station areas.
*Prices listed are without tax.
5. UPGRADE Plant based kitchen: Casual Dining in Shinsaibashi
For food that is almost too delicious to believe, try UPGRADE Plant based kitchen. Conveniently located on the second basement level of Daimaru Shinsaibashi, a major department store, this restaurant is part of a casual food hall with other eateries and shops.
Diners here can choose from a rotating selection of main dishes and side dishes, like fried soy chicken (karaage-style) and lasagna using a creamy soy milk-based cheese. Other options include a spiced curry, soymilk dan dan noodles, and desserts. All are entirely plant-based.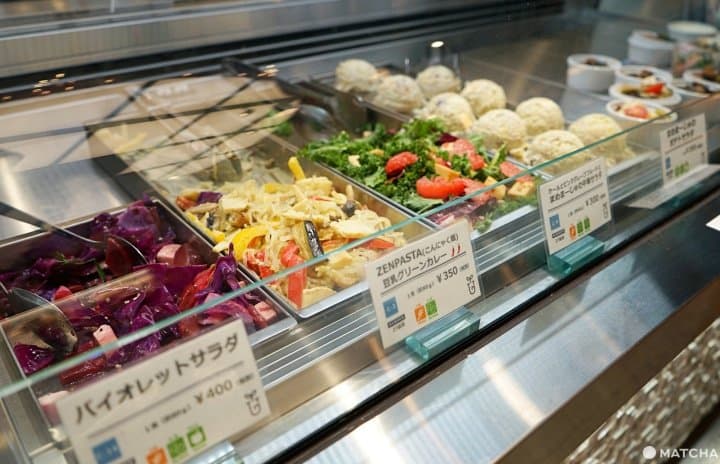 Please note that some ingredients used in the dishes here are processed in the same factory as animal-derived products, like dairy. Those with allergies or food sensitivities are encouraged to refer to the pictograms displayed on the price cards at the counter or listed on the menu.
Pictured is the 4-dish menu (1,150 yen with tax), a meal set that comes with a choice of two main dishes, two sides, soup-of-the-day, and bread or rice. For example, the set above contains fried soy chicken (karaage), soy lasagna with a soymilk-based cheese, sea vegetable salad with tofu and avocado, and a violet salad with beets and other vegetables.
The flavor and texture of the soy meat and plant-based cheese dishes here closely resemble meat and dairy, due to the preparation of the soybeans. UPGRADE's offerings will please all tastebuds, making it an ideal place even for your non-vegans and vegetarian friends.
UPGRADE is on a mission to create delicious, healthy, and environmentally-friendly alternatives to meat and animal products and tries to cater to customers of all dietary preferences. The restaurant is open from 10:00 to 23:00 (last order at 22:00), so you can come by and be amazed by the food any time of day. Take out is available as well for most menu items.
6. Okonomiyaki OKO: Healthy and Delicious Vegan Okonomiyaki
No stay in Osaka is complete without okonomiyaki. Okonomiyaki OKO makes it possible for vegans and vegetarians to enjoy this savory pancake-like dish without egg, dairy, seafood, and meat. All the okonomiyaki here is wheat-free and made with okara powder* instead, making it free of gluten. Please ask for the vegan and vegetarian menu, as there is also okonomiyaki that contains seafood, meat, and animal-derived products.
The portions here are voluminous, so be sure to come with a friend or two. Pictured above is a large size vegan okonomiyaki (2,200 yen with tax). Diners can choose five vegetable toppings to make it completely satisfying.
Put eggless mayonnaise on top to finish off this savory Osaka treat.
The restaurant operates exclusively at night and stays open until the early morning, making it possible to savor okonomiyaki after an evening of fun in the Dotonbori and Namba areas. Beverages here, ranging from beer to cocktails and soft drinks, all cost 180 yen.
*Okara is a soy product.
7. Cafe Neu: A Shelter Cat Cafe with a Vegan Menu
Picture from For Animal Lovers! Osaka's Vegan Rescue Cat Cafe, Neu
Animal lovers can enjoy an afternoon of delicious vegan food and play with cats at CAT&VEGAN neu, an ethical cat cafe in Osaka. Started by a vegan, cat-loving owner on a mission to match abandoned felines with loving homes, the cafe provides an opportunity to play with cats, then order food and desserts in a relaxing space.
Picture from For Animal Lovers! Osaka's Vegan Rescue Cat Cafe, Neu
Enjoy dishes using plant-based, seasonal ingredients like the sweet and sour soy meat plate (1,200 yen with tax). It comes with sides, salad, and soup, giving the entire dish a balance of flavor and nutrition.
Picture from For Animal Lovers! Osaka's Vegan Rescue Cat Cafe, Neu
After your meal, go downstairs, and you will fall in love with the endearing cats. Some are playful, some are sleepy, and some may even want to sit in your lap. Be sure to be gentle and take pictures (do not use flash).
Osaka's Vegan Food will Satisfy All!
Osaka is a food capital of Japan––even for those adhering to a plant-based diet. From local Japanese soul food like okonomiyaki and ramen, to vegan sushi and sweets, there is so much to savor. Put the above restaurants and cafes on your must-visit list for a delicious, one-of-a-kind experience in this friendly Kansai metropolis.
In cooperation with Paprika Shokudo, Megumi, Sushi Roll Double Quotation IKI, Babel Cafe, UPGRADE Plant based kitchen, Asoberu Okonomiyaki OKO, CAT&VEGAN neu

The information presented in this article is based on the time it was written. Note that there may be changes in the merchandise, services, and prices that have occurred after this article was published. Please contact the facility or facilities in this article directly before visiting.