Lunch And Tea Inside A Cave! Vegan Treats In Himeji At TEEDA CAFE
TEEDA CAFE is a cave-themed vegetarian and vegan restaurant in Himeji. Serving delicious and nutritious plant based-lunches, drinks, and desserts, this is an ideal and one-of-a-kind spot where all diners can enjoy a meal and teatime.
TEEDA CAFE, Himeji - Enjoy Vegetarian and Vegan Food in a Cave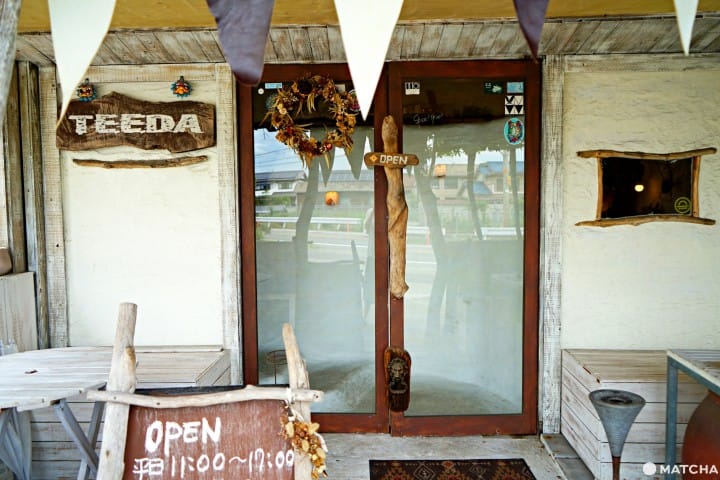 Located in Himeji, TEEDA CAFE is a unique cafe with a cavern-like appearance, situated slightly away from Himeji Station. This hidden cafe is the ideal place for respite while sightseeing major areas in Himeji, like Himeji Castle, Engyoji Temple, and Koko-en, a traditional Japanese garden.
A meal or teatime here will transport guests to a different place and time, with its soothing, fairytale-like atmosphere.
In addition to its extraordinary appearance, TEEDA CAFE serves creative vegetarian and vegan food that will please all. From lunch to desserts and beverages, drop in before or after sightseeing in Himeji for a healthful, satisfying, and relaxing meal.
Healthy and Delicious Food Served at a One-of-a-Kind Space
TEEDA CAFE opened in 2014 with a simple mission: to provide nutritious and flavorful food in Himeji. The cafe owner and staff care about diners' needs and therefore utilize organic and local ingredients to ensure safe and tasty dishes that all can enjoy.
The cafe receives non-Japanese guests regularly and is friendly to international diners. There is English on the menu, and depending on the day, English-speaking staff will be at the cafe.
All the menu items at TEEDA are vegetarian, and nearly all can be made into vegan options. The cafe also offers desserts, including different varieties of cakes and satisfying muffins. It is one of just a couple eateries in Himeji with vegetarian and vegan food.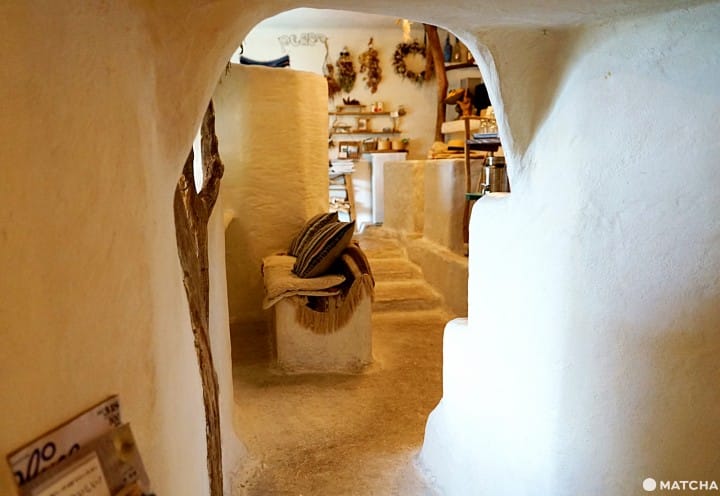 The cave-like interior of the cafe is truly unique and very shareable on social media. Diners can sit in caverns and get comfy with cushions and blankets inside each seating area.
There are also seats outdoors for when the weather is nice.
Lunch and Desserts Made with Local, Seasonal Ingredients
As one of the few eateries offering vegetarian and vegan-friendly fare in Himeji, TEEDA a must-visit if you are traveling with anyone with dietary restrictions or allergies. The chef and staff put care into the appearance and taste of each dish so that guests all can enjoy delicious, healthful food.
Pictured above the cafe's soy meat and falafel rice bowl (1,150 yen with tax), a lunch choice recommended for those craving something different. The portion is generous and ideal for those with a large appetite.
The bowl comes with seasonal vegetables, like Japanese pumpkin, and fresh tomato and beets. Fried soy meat (Japanese karaage-style) and falafel pieces add texture and savory flavors that tie the dish together. To eat, mix the ingredients and enjoy!
This dish comes with seasonal soup on the side; the soup above is a refreshing gazpacho. The gazpacho is light but flavorful, made with fresh tomato, cucumber, and herbs.
TEEDA offers two other choices for lunch: vegan taco rice and organic penne pasta with soymilk gratin. The vegan taco rice is a plant based-version of popular taco rice, a dish with ground meat, salad, and slightly-spicy seasoning often found in Okinawa cuisine. The gratin can be made with vegan cheese or with dairy cheese to fit diners' needs.
Save Room for Dessert! Vegan Drinks and Sweets
The warm cave-like atmosphere of TEEDA CAFE is cozy, so be sure to stay for after-meal beverages and desserts.
Guests can choose from a variety of drinks, from coffee to chai and original lattes. Soymilk is available as a dairy milk substitute, and you will get 100 yen off if you order a beverage with a meal.
An English menu is also available at TEEDA CAFE.
For sweets, there are cakes and muffins to enjoy. The ingredients used at TEEDA CAFE are seasonal, so the selection varies. The desserts that are vegan-friendly are clearly labeled.
Pictured above is a dark chocolate soy cake (500 yen with tax), which was moist and the ideal amount of sweetness. It was topped with a plant-based cream and raspberry jam. The drink on the side is an iced Assam milk tea (530 yen with tax). Iced beverages come with eco-friendly paper straws. The milk tea was not too sweet and provided the perfect balance to the rich cake.
How to Get to TEEDA CAFE
TEEDA is located away from the major landmarks in Himeji and train stations, so riding the bus or taking a car is required. By bus, it takes around 22 minutes from Himeji Station. It takes about 11 minutes via taxi or car.
If you ride via public transportation, take the #96 bus that leaves from Platform 22 of JR Himeji Station. The platform is right outside of the south exit, in the direction opposite from the castle. The bus will be bound for JR Aboshi Station; ride until Nishicho Tsubo, and then walk for about 1 minute to get to the restaurant. TEEDA CAFE will be on your left and has a white exterior with plants covering the walls (pictured above).
Buses leave once per hour, so be sure to confirm the schedule before heading to the cafe. Due to this, visiting via car is the most convenient option, so be sure to consider using a taxi or renting a vehicle.
Relax in Himeji at TEEDA CAFE
TEEDA CAFE is one of the best places in Himeji to enjoy a relaxing meal or tea time with friends and family. The plant-based menu allows even those with allergies or food restrictions to savor tasty vegetarian and vegan food and desserts in a truly unique environment that will reveal a different, laid-back side of Japan. Be sure to stop by when you visit Himeji!
In cooperation with TEEDA CAFE
The information presented in this article is based on the time it was written. Note that there may be changes in the merchandise, services, and prices that have occurred after this article was published. Please contact the facility or facilities in this article directly before visiting.