Himeji Day Trip - Travel To A Castle Town With Nature And Temples
Himeji is famous for the World Heritage Site-designated Himeji Castle. Learn a day trip itinerary from Osaka with lesser-known areas, like Engyoji Temple in the mountains, and Kokoen, a garden next to the castle. Avoid crowds and enjoy the best of this serene city filled with tradition.
Himeji - Enjoy Kansai's Quiet Side at a Mountain Temple and Historical Castle Town
Himeji is a city in Hyogo Prefecture in Japan's western Kansai region. Most known for its white castle originally constructed during the Edo Period (1603 - 1868), it is a popular day trip from Kyoto, Osaka, and Kobe.
This thriving castle town is filled with things to do and a traditional Japanese atmosphere, similar to areas in Kyoto. However, it is a serene area with relatively few travelers, and there are many hidden spots to discover. This article introduces a day trip itinerary with more than just Himeji Castle. Continue reading to get ideas for a day trip filled with history, nature, while avoiding large crowds.
Getting to and Around Himeji
Himeji has a Shinkansen stop and JR rapid service trains connected to the Osaka and Kyoto areas. It is very convenient to get to Himeji via train when traveling from other Kansai areas. If you hold a JR pass, take advantage of the free Shinkansen rides as it is faster and more comfortable.
From Osaka Station, it takes around one hour via JR rapid service train and costs 1,490 yen. Riding the Shinkansen from Shin-Osaka Station, it will take 30 minutes and costs 3,950 yen.
For travelers coming from Kyoto Station, the JR rapid service train takes around one and a half hours for 2,270 yen. The Shinkansen ride is 54 minutes and costs 5,270 yen.
A bus is helpful for navigating around Himeji, but the area between Himeji Station and the castle is walkable and pleasant during nice weather.
10:00 - Start from Himeji Station! Ride the Ropeway to Mt. Shosha
Head first to Mt. Shosha, a 371-meter (1,217 feet)-tall mountain, to experience the great outdoors and history in Himeji. The mountain can be climbed up or ridden up via ropeway. Riding the ropeway provides gorgeous views of Himeji and even the Seto Inland Sea on a clear day.
Use the Mt. Shosha Ropeway and bus ticket (1,400 yen; shown above) to save money. You can purchase it at the Shinki Bus Information Center next to Sanyo Himeji Station. Limited English support is available.
Take the #8 bus that leaves from platform 10 of the north side of JR Himeji Station. The last stop of the bus is the Shosha Ropeway, where you will get off. The ride is about 30 minutes. Please note buses only leave twice an hour, so check the schedule before you prepare for departure.
The ropeway ride is only 4 minutes long, taking you to the summit quickly. If you choose to hike up the mountain, it takes around an hour.
10:10 - 12:10 - Shoshazan Engyoji - Explore A Temple Encompassed in Nature
The Maniden of Shoshazan Engyoji Temple was originally constructed in 970.
Shoshazan Engyoji is a Buddhist temple of the Tendai sect, located on Mt. Shosha. It is thought to have been established over 1,000 years ago. It boasts numerous important cultural properties that date back to the Heian period (794 - 1185), including the temple structures themselves, statues, and artifacts. Many visitors are drawn to this history, as well as pilgrims on the Saigoku Kannon Pilgrimage.*
To get to the main temple buildings from the ropeway platform, proceed straight. There will be a small admission gate where you purchase a ticket enter the temple grounds. Admission is 500 yen. Pamphlets, which include a map of the grounds, are available in English, French, and Japanese.
To get around Engyoji, you can either walk or ride a bus that will take you to the main temple buildings (the bus is additional 500 yen for a round-trip). It takes around 20 minutes to walk to the main buildings or 5 minutes via bus.
If you have the time and stamina, it is recommended you walk. Proceed past the bell tower (upper-right) and continue straight. The trail provides picturesque views of the Himeji area, and numerous Buddha statues line the path.
Signs will point you in the direction that leads towards the main temple quarters. As the path is uneven and uphill in places, be sure to wear comfortable shoes and clothing.
The Niomon gate is thought to have been constructed during the Edo period.
The Niomon gate (pictured above) designates the east entrance into the main area. Step through and continue walking to get to the other areas of the temple.
*Saigoku Kannon Pilgrimage in Kansai similar to Shikoku's with 88 temples, where people travel around to different temples, praying and receiving for goshuin, or stamps and calligraphy from priests as a spiritual practice. It starts in Wakayama Prefecture and ends in Gifu Prefecture.
Things To Do at Engyoji - Historic Artifacts and Vegetarian Buddhist Cuisine
The view during summer from the Maniden
With so much to explore on the temple grounds, plan to spend around two hours here to see the main structures. The trails that lead through the grounds reveal Mt. Shosha's gorgeous flora and little details that create an even more sacred-feeling, magical atmosphere, like statues and small shrines.
Signs in English and Japanese will guide you from one landmark to the next, and there is also an English-speaking guide to help you if you get lost.
Jikido was a filming location for the "Last Samurai"
Many visitors also come to Engyoji to see Jikido and its neighboring structures, as they served as a filming location in the "Last Samurai" and numerous other Japanese historical period television dramas.
Make sure to go inside Jikido as well, where you will find two floors of artifacts on display, with many designated culturally important for their age and significance. Visitors can also practice copying sutras on the first floor when there are workshops.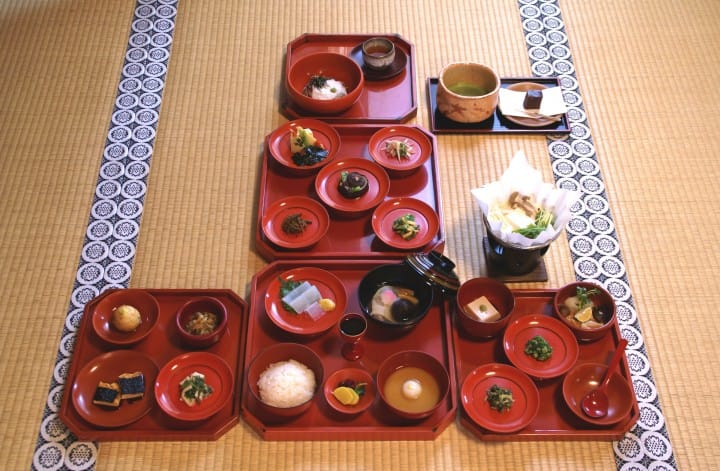 Picture courtesy of Shoshazan Engyoji Temple
For lunch, vegetarian Buddhist cuisine, or shojin ryori at Juryoin is also available. An advance reservation, which can be made over the phone, is required to try in this traditional, carefully-prepared cuisine consisting of vegetables and tofu. There is also Hazuki Cafe, a small dining establishment on the temple grounds by Maniden, serving snacks and light meals like udon.
After taking your time to explore the temple, head back down via ropeway. After coming down the mountain, there is a small shop close by that sells delicious grilled dango. Stop by while waiting for the bus back to the main Himeji area if you are hungry.
13:00 - 14:00 Koko-en - Visit a Tranquil Garden Next to Himeji Castle
Koko-en, or Himeji Castle Nishi-Oyashiki-Ato Garden, is a traditional garden built on the grounds of Edo-era samurai quarters. The garden is designed so that visitors can view next-door Himeji Castle while enjoying a stroll through its nine charming sections. In addition to its gardens, there is a restaurant overlooking the grounds, as well as a tea house where visitors can relax with authentic matcha and seasonal wagashi.
Admission into the garden is 300 yen for adults and 150 yen for minors (elementary- through high-school age). Buy your ticket at the vending machines at the entrance.
Gorgeous in Every Season - Classic Japanese Landscaping with Edo Era Plants and Bamboo
There is much to see at these serene gardens year-round. Visitors can see the seasonal changes within the immaculately-landscaped gardens with the flora here. During summer, the flora is a bright green, and hydrangeas and lotuses bloom. Fall is especially famous for the golden and crimson leaves that illuminate the entire area with a warm glow. The gardens also are popular during cherry blossom season.
Pictured above is a view of Oyashiki-no-niwa, the largest garden at Koko-en, in the summer. It was built in the image of the nearby Seto Inland Sea. Around 250 colorful carp swim along in the pond's clear waters. The combination of the clear water and the bright greenery is incredibly relaxing and calming to view.
At Nae-no-niwa, you can see small plants grown during the Edo era, as well as other flowering plants.
The last garden on the path is the bamboo grove, which contains around twenty different varieties of bamboo, from big stocks to rare colored plants, to tiny, grass-like bamboo.
While strolling through, try to take notice of the differences for yourself.
14:00 - 14:30 Stroll Around Himeji Castle
First-time visitors to Himeji shouldn't miss a chance to pass up seeing the UNESCO World Heritage Site, Himeji Castle. This six-story castle built during the Muromachi period (1333 - 1568) and played a large role in western Japan's history up until around the Edo period.
It is also entertaining to just walk around the premises outside and take photos. There is also a small souvenir shop on the grounds outside to check out for shopping and snacks.
Pictured above is a coin purse in the shape of the mascot of Himeji Castle. You can also find traditional snacks like mochi, as well as Japanese-style cakes and cookies.
14:40 - 16:00 Shop for Souvenirs on Miyuki Dori
For shopping and browsing for gifts and food, be sure to walk down Miyuki Dori, a traditional shotengai, or shopping street. Keep your eye out for cats, which are often spotted in this part of Himeji.
You will find local shops of all types, selling clothing and Japanese souvenirs. There are also many restaurants offering local specialties, like freshwater fish sushi and oden, as well as cafes making almond toast.
There are also Japanese sweets for sale along the street, including wagashi in adorable shapes, as well as taiyaki (a red bean paste-filled pastry). Pictured above are traditional seasonal sweets made with red bean paste, usually enjoyed with matcha.
16:00 - Head Back or Enjoy Local Dining in Himeji
After a day of adventure in Himeji, you can either head back to Osaka or your lodging area for dinner. However, Himeji has many cafes and restaurants where you can enjoy an early dinner or teatime. As mentioned above, Miyuki Dori is an ideal spot to find one-of-a-kind restaurants. Below are a couple of suggestions on where to eat:
KOBA & MORE
KOBA & MORE is a small, six-seat ramen restaurant located along Miyuki Dori. The charismatic owner can speak English and is eager to please diners with delicious food. There are vegetarian options on the menu.
Address: Hyogo, Himeji, Gofuku Machi 59
Website: https://www.facebook.com/kobaandmore/
Rikimaru Sushi
For visitors wanting to try local seafood, head to Rikimaru for conveyor belt sushi. This local chain restaurant is known for its high-quality sushi. Conger eel sushi, in particular, is a specialty here. Customers order with touchpad menus equipped with multi-language options so international visitors can feel at ease, as well as non-fish sushi options.
Address: Hyogo, Himeji, Tofumachi 222 Piole 3
Website: https://kaiten-sushi.net/ (Japanese)
Fall in Love with Himeji
Himeji, a thriving area offering much to travelers with its castle, historic landmarks, and nature. However, it is a relatively lesser-known destination in Kansai in comparison to Kyoto and Osaka, making it is an ideal destination for those wanting to avoid crowds.
Take the train to Himeji and enjoy a day of relaxation and fun!
In cooperation with Shoshazan Engyoji Temple and Koko-en

The information presented in this article is based on the time it was written. Note that there may be changes in the merchandise, services, and prices that have occurred after this article was published. Please contact the facility or facilities in this article directly before visiting.