DESTINATIONS
10 Itinerary Suggestions For A One-Day Trip From Kyōto
We have selected ten places where you can have uniquely Japanese cultural experiences on a one day trip from Kyōto.
The city of Kyōto is beloved by foreign visitors and Japanese people alike.
Kyōto, which was the nation's capital for over a thousand years, offers a number of uniquely Japanese cultural experiences for tourists; the city has many temples, shrines, and UNESCO World Heritage sites, to name a few.
You could spend days, or weeks, just in Kyōto, and have a great time. However, if you want to stretch your legs a bit, you can enjoy totally different scenes in other wonderful areas near Kyōto. This time, we will introduce 10 places around Kyōto to visit on a day trip.
1. Ōsaka

Views from the Floating Garden Observatory in the Ōsaka Sky Building (MATCHA article, Japanese)
Along with Kyōto, Ōsaka is an integral part of the Kansai region. A total change of pace from the calm atmosphere in Kyōto, with its shrines and temples, the lively streets of Ōsaka are bustling with activity. Ōsaka has an abundance of great food and sightseeing spots, and Ōsaka Station is a mere 30 minutes away from Kyōto Station.
Read also:
Ride the Tempozan Ferris Wheel For a Sky-High View of Ōsaka
How to Reach the Umeda Sky Building from Ōsaka Station

2. Kōbe

Dash Through the Streets of Kobe With the Cyclo Taxi! 
With an international atmosphere, the port city of Kōbe is home to places like the former foreign settlers' residences, or ijinkan (異人館), the Chinese shopping district of Nankinmachi, and the Ikuta Shrine. In Kōbe, Japanese traditions harmonize with foreign influences to create a new side of Japan for you to discover.

Read also:
What to See, Eat and Do in the Fascinating City of Kōbe
3. Nara

Is it true that there are deer everywhere in Nara Park?  
Nara is famous for sights like the Tōdaiji Buddha, which is registered as a World Heritage Site. The history of Nara is even longer than Kyōto's, and the city has a peaceful atmosphere which is very alluring. You can play with deer in Nara Park, and the sight of deer using the pedestrian crossings around the park will leave a definite impression!
Read also:
The Allure of Mysterious and Historical Nara, The Nation's Former Capital
Visit The Buddha That Transcends Time at Todaiji in Nara
4. Himeji
More to Love: 7 Must-See Spots in Himeji Castle
Himeji is most famous for its gleaming white castle, which is a national treasure. In addition, Himeji Castle was the first landmark to be registered as a Japanese World Heritage Site. You can get an amazing view of the city from the castle keep.
Read also:
Sightseeing Places and Cuisine of Himeji as Seen by a Thai Student
5 Famous Castles in Japan for Castle Lovers
5. Ine

When You've Conquered the Usual Tourist Spots, Visit the Kyōto Sea (MATCHA article, Japanese)
Did you know that Kyōto Prefecture is linked to the sea? (*1) The small port town of Ine (伊根) is located on the northern side of the prefecture. Along the coast, the sight of rows of traditional funa-ya (舟屋) residences, built above their boat docks, will leave a strong impression on you.
1: When most tourists imagine "Kyōto", they think of Kyōto City, which is inside the prefecture.

Read also:
Six MATCHA Articles You Must Read If You're Visiting Kyōto (MATCHA article, Japanese)
Quiet Solace by the Seaside at Ine Town in Kyōto
6. Amanohashidate

A Short Trip to Amanohashidate, One of Japan's Three Sights 
Amanohashidate (天橋立) has one of Japan's three most wonderful landscapes. Located in northern Kyōto, the island "bridge" looks as though it's holding the gulf at bay. Take the cable car to the top, where you can bear witness to the spectacular combination of beautiful pine forests, mountains, the deep blue seas, and the open skies.
Read also:
A Short Trip to Amanohashidate, One of Japan's Three Sights
7. Nagoya
High in the Nagoya Sky: Oasis 21, the Glass Plaza!
After Tōkyō and Ōsaka, the city of Nagoya is said to be one of Japan's three great metropolises. Nagoya is famous for the impressive Nagoya Castle, adorned by golden shachihoko statues, as well as the eel dish hitsumabushi, and has plenty of other attractions.
Read also:
Visit Nagoya Castle for the Golden Shachihoko Statues, Symbols of the City (Matcha article, Japanese)
The Three Ways To Enjoy Nagoya's Famous Hitsumabushi
8. Tottori

Japanese Encyclopedia: The Chugoku Region 
The sand dunes of Tottori, stretching along the coast of the Sea of Japan, are very well-known as a national natural monument. The patterns drawn in the sand by the swirling winds seem like art created by nature itself.
Read also:
9 Fantastic Cherry Blossom Night Time Illuminations!
9. Kanazawa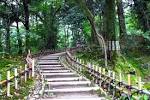 Kanazawa's Kenrokuen: One of the Three Great Gardens of Japan
Kanazawa is called "little Kyōto" for its atmosphere that reminds one of the old capital. Kenrokuen - one of Japan's three great gardens - and the elegant townscape will make you forget the aches and pains you've picked up during your travels.
Read also:
[Ishikawa] Four Things To Do When in Historic Kanazawa (Matcha article, Japanese)
An Elegant Townscape With A 1300 Year-Old History: Ishikawa's "Yamanaka Onsen" (Matcha article, Japanese)
10. Ise

[Mie] Visit Ise Grand Shrine, The Home Of The Japanese Soul 
Ise is located in Mie Prefecture, at the center of the long Japanese archipelago. We recommend paying a visit to the Ise Jingū shrine, beloved by the Japanese people. After that, if you're hungry, head to Okage Yokochō (*1) and try out the food at various restaurants in the area.

*1… A street with Japanese buildings from the Edo era through the Meiji period, with rows of souvenir shops and places to eat.
Read also:
Five Famous Shrines That You Should Visit In Japan
Best Souvenirs from Okage Yokochō, Nearby Ise Grand Shrine
In Conclusion
We have introduced sightseeing areas which can be visited on a one day trip from Kyōto. If your schedule is limited, use your time effectively so that you can explore the many charms Japan has to offer.