15 Top Day Trip Destinations From Kyoto
Venture outside of Kyoto on day trips to see what lies near the ancient capital. From bustling Osaka and Kobe to Nara and rural villages with ancient relics, the surroundings of Kyoto will reveal a new side of Japan for an unforgettable vacation. Read to learn about 15 recommended places.
Day Trips from Kyoto - Experience Rich Kansai Culture
The city of Kyoto is an internationally popular destination in Japan. It was the national capital for over a thousand years, and offers uniquely Japanese cultural experiences for all, boasting temples, shrines, and UNESCO World Heritage sites. You could spend days, or weeks, just in Kyoto, and have a great time.
However, it is also recommended to experience different places near Kyoto. Take day trips, or, spend a night exploring the surrounding areas. This time, we will introduce 15 places around Kyoto to visit on a day trip.
Go To Travel Booking Websites
HIS、JTB、AirTrip、Ikyu.com、J-Trip、Kinki Nippon Tourist、Japan Travel、Yahoo! Travel
1. Osaka
Osaka is an integral part of the Kansai region and is a great metropolis providing a stark contrast from the calm atmosphere in Kyoto. The lively streets of Osaka are bustling with activity. Known for major sightseeing spots like Osaka Castle, Universal Studios, and Umeda Sky Building, you will want at least a full day in this fun city.
Be sure to visit Dotonbori and Namba for shopping and a taste of Osaka food culture (try the takoyaki and okonomiyaki).
Osaka and Kyoto are just around thirty minutes away from each other. Ride the JR Tokaido main line from Kyoto Station to Osaka Station, or use the Hankyu line to get from Kyoto Kawaramachi Station (near downtown Kyoto and Gion) to Osaka (Umeda) Station.
2. Kobe
Picture from Kobe Port Tower - The Red Symbol Of The City Sparkling In The Sky

The international port city of Kobe is full of things to experience, from former foreign settlers' residences to Nankinmachi Chinatown, Ikuta Shrine, Motomachi shopping district, and gorgeous Mt. Rokko. Kobe is also famous for its high-quality wagyu---be sure to savor an authentic Kobe beef bowl.
There is an ideal mix of traditional and contemporary in Kobe, making it easy to explore even for first-time visitors. Like Osaka, there is so much to explore and something everyone can enjoy.
To get to Kobe from Kyoto, ride the Tokaido main line from JR Kyoto Station to Sannomiya Station (51 minutes, 1,100 yen). Sannomiya is the downtown area of Kobe, and is closest to major shopping, restaurants, and sightseeing.
3. Nara
Nara is one of the first capitals of Japan (around 710 - 794) and boasts ancient historical sights like the giant Buddha at Todaiji Temple, Kasuga Shrine, and adorable deer at Nara Park. After a day of seeing different landmarks, take time to play with deer in Nara Park.
It is recommended to take the train to Nara from Kyoto. From JR Kyoto Station, ride the Nara Line for around 45 minutes to Nara Station (720 yen one-way). Please be aware that JR Nara Station is located away from major spots. For those wanting to be closer, take the Kintetsu line at Kyoto Station (Kintetsu Kyoto Station) to Kintetsu Nara Station (46 minutes, 1,160 yen one-way).
4. Asuka
Photo by Pixta
Asuka is a village in Nara known for its ancient relics and structures dating 1,400 years, back to the Asuka Period. The village provides an excellent chance to encounter life in Japan before modern inventions and trade flourished. There are museums where you can learn about these artifacts, and you can also see them around the town. Be sure to enjoy the rice paddies and hilly village scenery as well for a heart-warming view.
From Kintetsu Kyoto Station, take the train bound for Kashibarajingu-mae. From Kashibarajingu-mae, transfer to the Yoshino line bound for Yoshino. Get off at Asuka Station (1 hour, 9 minutes total, 1,900 yen one-way).
5. Himeji
Himeji is most famous for its gleaming white castle, which was the first landmark to be registered as a World Heritage Site in Japan. You can get an amazing view of the city from the castle keep. After seeing Himeji Castle, be sure to walk around the town's charming shotengai (traditional shopping streets) for a glimpse into everyday life. Other special sites include Shoshazan Engyoji, a mountainside temple famous for "The Last Samurai," Koko-en, a Japanese garden next to the castle.
To get to Himeji from Kyoto, take the Shinkansen (5,690 yen, 44 minutes). This is a great option if you have the Japan Rail Pass. Another option is riding the rapid service train (1.5 hours, 2,310 yen).
6. Arashiyama and Kameoka
Photo by Pixta
Arashiyama, known for its bamboo grove and Iwatayama Monkey Park, and Kameoka, a nature-filled destination with temples and hot springs, are two ideal options for taking a day trip very close by to Kyoto. Both are quickly and easily accessible from central Kyoto and boast enough sights to take a full day.
In Arashiyama, take pictures by the Togetsu Bridge, enjoy the traditional townscape, and visit Tenryuji Temple. To get to Kameoka, you can take a scenic train ride through the woods or boat down the river. In Kameoka, see Anaoji Temple and the remains of Kameyama Castle, and enjoy sake tasting or hot springs.
To get from JR Kyoto Station to Arashiyama, take the San'in/Sagano Main Line for Kameoka or Sonobe and get off at Saga Arashiyama Station. It takes 17 minutes on the local train and 11 minutes if you are on a rapid train. The fare is 240 yen one-way.
7. Ine
Picture from Discover A New Kyoto! 5 Things To Do At Kyoto By The Sea
Kyoto Prefecture has a stunning northern coast that reaches the Sea of Japan. One must-visit destination is the small port town of Ine. Travelers will be greeted by the picturesque sight of rows of traditional funa-ya residences that appear to float in the water. In addition to the scenery, one can experience a number of cultural activities, from homestays at farms to local food. Ine reveals a peaceful, rural side of Kyoto that many have not seen before.
It takes around three hours to reach Ine from Kyoto Station. The travel requires train and bus. First, take the Hashidate Express going towards Amanohashidate (ride for 2 hours). Get off at Miyazu Station and take the bus bound for Ine (around 1 hour). In total, it costs around 5,090 yen one-way.
8. Amanohashidate
Picture from Amanohashidate Travel Guide - Enjoy A Day Trip From Kyoto With Beautiful Views
Amanohashidate is famous for its stunning island views, and is regarded as one of Japan's three most wonderful landscapes. Located in northern Kyoto, the island "bridge" looks as though it's holding the gulf at bay. Take the cable car to the top, where you can see the spectacular combination of pine forests, mountains, deep blue seas, and the sky.
Take the Hashidate Express from Kyoto Station and stay on for a little over 2 hours. Get off at Amanohashidate Station (4,790 yen one-way).
9. Tamba-Sasayama
Located just west of Kyoto is the small city of Tamba-Sasayama, which prospered as a castle town in the 17th century. It is also home to one Tamba ware, with a history of over 800 years, making it one of the oldest traditional ceramics in Japan. Visitors here can tour the castle and the surrounding town, and spend an afternoon learning about pottery.
Tanba-Sasayama is a lesser-known destination in Kansai. The lack of people and being surrounded by nature will make for a relaxing, memorable day.
To get to Tanba-Sasayama, ride the Tokaido Main line from JR Kyoto Station to Osaka Station. Transfer to the Fukuchiyama Line bound for Sasayamaguchi and get off at the last stop (Sasayamaguchi Station).
10. Kinosaki Onsen
Picture from Kinosaki Onsen - Visit Outdoor Hot Springs And Try Tasty Local Snacks

Kinosaki is a picturesque hot springs town that is ideal for anyone looking for a relaxing day of baths, delicious food, and pictures in yukata (lightweight kimono). Located northwest of Kyoto, this charming onsen town boasts over 1,000 years of history for its soothing springs. Purchase a one-day pass for unlimited use of the seven different famous baths here. In between soaking in the waters, snack and enjoy meals at one of the many restaurants and cafes.
To get to Kinosaki Onsen from Kyoto Station, ride the JR express train bound for Kinosaki. In around 2.5 hours, you will arrive at Kinosaki Onsen Station (around 4,930 yen).
11. Kurashiki
Kurashiki in Okayama Prefecture is famous for its traditional townscapes and gorgeous canal that flows through the middle of shops, restaurants, and museums. This area is known as the Bikan Historical Quarter, and provides travelers the chance to stroll through charming stores and sample Japanese sweets like kibi dango (skewered mochi covered in soybean flour). A trip to Ohara Museum of Art is another must, with an impressive collection of western art.
First, take the Shinkansen from Kyoto Station to Okayama Station. Then, transfer to Sanyo Main line (bound for Fukuyama) and ride for 16 minutes until Kurashiki Station (around 2.5 hours total, 8,320 yen).
12. Hikone
Hikone is a small castle town on the coast of Lake Biwa. Located just east of Kyoto in Shiga Prefecture, Hikone is the ideal destination for an easy-to-reach day trip. Spend a day seeing the castle and touring around its vicinity.
To get to Hikone from Kyoto, take the Tokaido Main line towards Maebara or Nagahama. After about 45 minutes, get off at Hikone Station (1,170 yen).
13. Nagoya
Photo by Pixta
After Tokyo and Osaka, the city of Nagoya is one of Japan's largest metropolises. Nagoya is famous for the impressive Nagoya Castle, adorned by golden shachihoko statues. Nagoya Television Tower is also part of the city's majestic skyline.
Stroll down the shopping district of Sakae to get a glimpse of local life. Be sure to have a "morning set," or toast and coffee, at one of the many local cafes to experience Nagoya's breakfast culture.
It is easiest to take the Shinkansen to Nagoya from Kyoto. Ride for 35 minutes (5,910 yen one-way) to get to Nagoya Station.
14. Kanazawa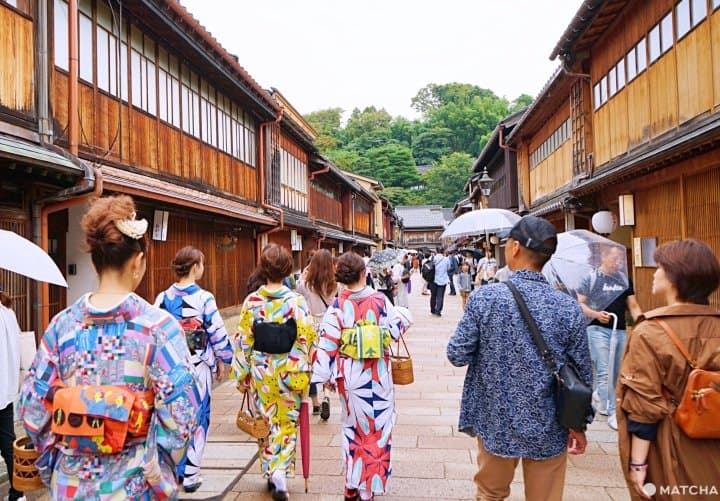 Kanazawa is called "little Kyoto" for its atmosphere that reminds one of the old capital. Highlights include Kenrokuen, a stunning traditional garden renowned in Japan, and the elegant townscape of Higashi Chayamachi, filled with teahouses. Kanazawa is also full of stunning modern visuals--be sure to visit the 21st Century Museum of Contemporary Art to see one-of-a-kind pieces by Japanese and international artists.
From Kyoto Station, take the Thunderbird bound for Kanazawa, an express JR train. Get off at JR Kanazawa Station (2 hours, 15 minutes for 7,020 yen).
15. Ise
Ise is located in Mie Prefecture, at the center of the long Japanese archipelago. Most people visit Ise Jingu shrine, one of the most prominent Shinto shrines in all of Japan. You can also see the Meoto Iwa, a pair of rocks in the water with a torii gate, wedded by a rope. After that, if you're hungry, head to Okage Yokocho where you can try some of Ise's most famous cuisine: seafood.
It takes around 2.5 hours to get to Ise from Kyoto Station. For convenience, ride the Shinkansen first to Nagoya. At Nagoya, switch to the Kintetsu Nagoya Station and get on the Limited Express train (paid, reserved seats) bound for Toba. Get off at Iseshi Station. Buses going to major sightseeing areas leave from the station.
Explore Beyond Kyoto! Kansai Day Trips
Kyoto is full of sights and things to do, but a trip outside of Japan's cultural capital will reveal different aspects of the country, from its rural charm to ancient history and unique cuisine. The fifteen destinations mentioned above are ideal for anyone looking for a new and exciting experience for the day.

The information presented in this article is based on the time it was written. Note that there may be changes in the merchandise, services, and prices that have occurred after this article was published. Please contact the facility or facilities in this article directly before visiting.