Kanazawa Solo Trip Guide - Things To Do, Souvenirs, And Tips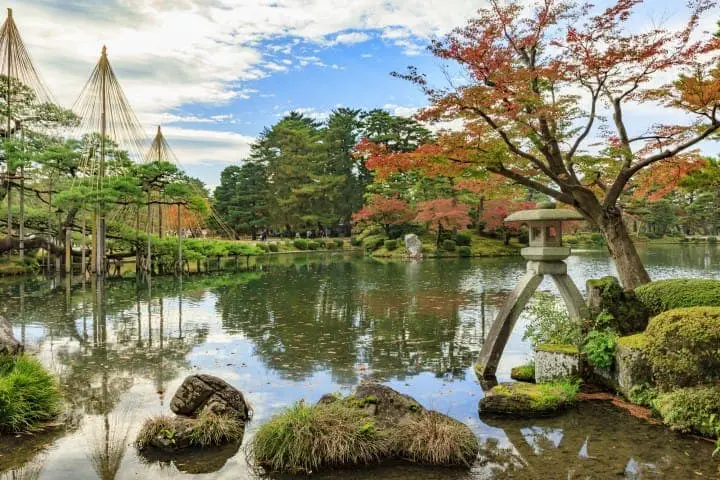 Kanazawa is a destination boasting both traditional and new Japan. From Kenrokuen Garden to the 21st Century Museum of Contemporary of Art and historic tea houses, it is great to experience even when traveling alone. Read for day trip ideas and tips for a memorable time by yourself.
Solo Travel in Kanazawa - Traditional Edo Gardens, Cafes, and Relaxation
Kanazawa is a popular travel destination located in Ishikawa Prefecture. The city flourished as a castle town in the Edo period (1868–1912) and is filled with a mix of tradition and modernity. Reminders of history can be seen in many places, from Kanazawa Castle to the districts of old samurai residences and tea houses.
Kanazawa is also home to the internationally-renowned 21st Century Museum of Contemporary Art, and Kanazawa Station, known for its impressive contemporary art-like architecture. With so much to do and see, a solo trip is ideal for experiencing the historical and artistic, modern sights in-depth.
Continue reading to learn about tips, how to get to and around Kanazawa, and a 1-day trip itinerary enjoyable for those traveling alone.

Tips for Traveling Alone in Kanazawa
Photo by Pixta
Kanazawa is a mid-sized city that boasts many sightseeing spots, historic areas, and delicious food options. It offers solo travelers a chance to explore an elegant city that blends both modern and traditional elements together.
As Kanazawa is a popular travel spot, most large facilities also offer English and other foreign language support. Communication is not a challenge, and you probably will not feel lonely with the number of people around you.
Traveling alone here will give you plenty of time for sightseeing and taking pictures. Ideally, spend two days or more in Kanazawa to fully enjoy the city. One day is enough to see major spots, but you may not have enough time for workshops, tours, and shopping.
One Day Trip Itinerary in Kanazawa
It can be difficult to decide which activities to do in Kanazawa as the city offers so many different options. Below is an example of one day of fun in Kanazawa.
10:00 - Head to Kenrokuen Garden from Kanazawa Station
If you are coming from Tokyo or Osaka in the morning, take an early Shinkansen (departing around 7:00) to arrive in Kanazawa around 10:00 to enjoy an activity-filled day. A great morning destination is Kenrokuen, a traditional garden considered to be one of the best in Japan due to its beauty and historical prominence.
To get there, you can ride the bus, a bicycle, or walk from JR Kanazawa Station. No matter which transportation method you choose, be sure to start from the east exit of Kanazawa Station.
When traveling via bus, you can ride the Kenrokuen Shuttle or the Kanazawa Loop Bus. The bus stops are in front of the east exit of Kanazawa station. It will take around 20 to 30 minutes to get to Kenrokuen Garden no matter which method you choose.
To walk to the garden, proceed straight down the main street. After about 15 minutes, you will come to the area marking Omicho Market (pictured above), the famous fish and food market in Kanazawa. Pass through this market and look for signs for Kanazawa Castle Park and Kenrokuen Garden.
10:30 - 12:00 - Stroll Through Kenrokuen and Enjoy Some Matcha
Kenrokuen Garden is a traditional Edo era-style garden. It was originally constructed and landscaped as a strolling garden for the feudal lords and nobility. Today it is open to the public.
The garden will take your breath away with its stunning scenery, as it is designated as a National Site of Scenic Beauty. Some of Kenrokuen's most famous landmarks are its karamatsu pine trees.
After exploring the gardens, be sure to stop for teatime. Shiguretei Tea House offers guests a matcha and Japanese confectionery set for 720 yen (separate fee from admission).*
You will receive your tea in a room exclusively for those partaking in the matcha service. You can walk around in the private room and get a hidden view of another part of the garden.
Close by is Kanazawa Castle Park, which houses some of the remaining structures of the castle complex. Visitors are free to walk around and relax in the open green spaces surrounding the garden. It is a popular spot for viewing cherry blossoms in the spring.
*The matcha and sweets set is only available at certain times. Visit the tea house and check times in advance.
12:30 - 13:30 - Savor Kanazawa Curry for Lunch
Kanazawa is known for its fresh seafood because of its ideal location by the Sea of Japan. However, curry in Kanazawa is another popular choice, often enjoyed by locals. KANAZAWA NANAHOSHI CURRY (Nana Hoshi Curry) offers flavorful and refined curry, full of vegetables and nutrition. The menu even includes vegetarian and vegan curry.
Their curries are delicious and unique, with seasonal, inventive options. All curries are free of flour and sugar, making it a great choice for those trying to avoid certain ingredients.
Nana Hoshi Curry is down the street from the 21st Century Museum of Contemporary Art. It is located on the second floor of the Nakamura Building. Look for the sign above and climb the stairs to enter the cozy restaurant.
Nana Hoshi Curry has a welcoming atmosphere, with a stylish wooden interior and counter seats by the windows. First, order at the counter. A popular choice is the curry set. It comes with rice, two curries of your choice as well as two toppings of your choice. A nut-based soup (vegetarian and vegan-friendly), pickles, and a dessert are also part of the set. They offer an English menu.
Pictured above is the curry set (1,000 yen without tax) with vegan bean curry and ratatouille-style vegetable curry (also vegan-friendly). The rice is topped with raisins and fried onions. The bean curry (right) is flavorful, containing four type of beans, and various herbs and spices. The gazpacho-like ratatouille-style curry (left) is chilled and was available in summer 2019.
After trying the curry without toppings, mix in the extra ingredients to try different flavor combinations.
The creamy nut soup on the side and the refreshing pickles offer a tasty accent to the meal. The dessert is made with honey instead of white sugar (vegan customers should ask for substitutions). It adds a final sweet accent to the hearty meal.
After your meal, head to Higashi Chaya District for an afternoon of exploring and visiting tea houses. To get there, it is most convenient to take the bus from the 21st Century Museum of Contemporary Art.
14:00 - 16:00 - Explore Tea Houses in the Higashi Chaya District
Higashi Chaya District is a preserved area in Kanazawa that has thrived since around 1820 during the Edo period. Samurai would come here for amusement, dining, and drinking. As you meander through this district, rouge-colored historic buildings and stone-cobbled paths will seem to tell stories of the past.
At the gold occupy Higashi Chaya (Eastern Chaya District), you can get your fill of traditional sweets and unique desserts, like soy-sauce ice cream and soft serve topped with golden flakes. For those looking for a one-of-a-kind souvenir, try a gold gilding workshop. Here you can make a small gold plated memento. Hakuichi (Main store, Hakukoan) offers workshops with English support.
To learn about the history and what you can do in the area, be sure to stop by the Higashi Chaya Information Center. You can pick up maps and the volunteers at the center will be happy to show you around the neighborhood.
Enjoy Gold-Covered Japanese Sweets at Kaikaro
Take a break from walking and step inside the Teahouse KAIKARO (Kaikaro), located in the largest Edo-era building in the Higashi Chaya District. Kaikaro is special, as guests here can tour the gorgeous teahouse and its upstairs rooms, used today for geisha performances. Other teahouses in the area generally do not allow public viewings of these areas.
In the cafe area, savor an elegant traditional dessert before or after viewing the teahouse. The menu features many items topped with edible gold flakes and gold sheets, ideal for a unique and luxurious teatime.
Pictured above is the Ohgon Kudzukiri (1,840 yen with the tour). The left bowl contains noodles made of kudzu starch, which the diner is supposed to dip into delicate brown sugar syrup, topped with a layer of gold.
There is also a souvenir shop inside of Kaikaro which shouldn't be missed. They offer a variety of gold products, from regional Kutani ceramics with gold accents, to skincare, to coffee infused with gold flakes. Pictured above is instant coffee infused with gold flakes. The gold flakes add a subtle sparkle for a special start in the morning.
Kaikaro holds geisha performances in English. Performances are held from 18:00 to 19:30 on Mondays, Wednesdays, and Fridays between October 7 and November 15, 2019. See the official event website for more booking information.
16:30 - Shopping and Dinner at Kanazawa Station
Photo by Pixta
After exploring Higashi Chaya District, head back to Kanazawa Station to shop for souvenirs and an evening meal. You will find an extensive selection of local specialties, like rare Japanese sweets, gold items, and Kutani ceramics.
Two major stores are located inside the station building: Anto and Omiyage Dokoro. Anto is filled with counters of major local confectioneries and shops. Here you will find Japanese sweets of all types, western-style confectionery, and local sake.
There are also souvenir shops selling ceramics, gold-plated accessories, and even bathing salts infused with gold flecks (above).
Character merchandise with Hello Kitty, Rilakkuma (above), and Hyakuman-san, a mascot of Kanazawa can also be found here.
Omiyage Dokoro carries a wide variety of Kanazawa products, such as sweets, sake, beer, and special seasonings.
After shopping, head to dinner near Kanazawa Station. Kanazawa is known for its high-quality seafood and sushi is offered at a reasonable price. Mori Mori Sushi on the sixth floor of the shopping mall Kanazawa Forus is a comfortable spot for solo diners. Customers can order on a touchpad in English. Counter seating is available. Local specialties and non-seafood options are also on the menu.
Access To and Around Kanazawa
The most convenient way to get to Kanazawa is by Shinkansen or overnight bus. A convenient and comfortable option is riding the Shinkansen, which is free for Japan Rail Pass holders. It takes around three hours from Tokyo Station to Kanazawa Station. A Shinkansen ticket from Tokyo Station will cost around 15,000 yen (one-way, with designated seating). Overnight buses take around eleven hours and usually cost around 5,000 yen.
Getting to Kanazawa from Osaka takes around three hours (leaving from JR Osaka Station). Ride the Thunderbird, an express JR train. A one-way ticket costs around 7,800 yen. It is an ideal option for those with the Japan Rail Pass.
Getting Around Kanazawa
Kanazawa is a walkable city, with many areas pleasant for strolls. However, buses are also convenient, especially with the use of a discount pass. The Kanazawa Loop Bus is a great choice for going to Kenrokuen Garden and Kanazawa Castle Park, Higashi Chaya, and other major sightseeing spots. Pick up a 1-day ticket at the Hokutetsu Bus Ticketing Office by Kanazawa Station for around 500 yen.
You can also rent a bicycle. Machi Nori is a bicycle rental service in Kanazawa. this is another reasonable option as it can cost as little as 200 yen for the entire day. There is a port with bicycles to the right of the east exit of JR Kanazawa Station

Be Charmed by Kanazawa
The trip itinerary above mentions just a few must-visit spots in Kanazawa. Spend a second day visiting the 21st Century Museum of Contemporary Art, the Kanazawa Noh Museum, Myoruji Temple, and Omicho Market. There are hotels and guesthouses close to JR Kanazawa Station.

After visiting Kanazawa, exploring the coast and mountainous regions outside of the city, in areas like Kaga and Komatsu, will reveal even more history, traditional crafts, and incredibly soothing hot springs.

Kanazawa is a fantastic choice for travel, filled with history, culture, and unique experiences. All of this can be done solo, in an environment that is friendly and convenient for all travelers.


Main image by Pixta.
In cooperation with Kenrokuen, Kaikaro, and Nana Hoshi Curry

The information presented in this article is based on the time it was written. Note that there may be changes in the merchandise, services, and prices that have occurred after this article was published. Please contact the facility or facilities in this article directly before visiting. Some of our articles contain affiliate links. We kindly ask our readers to exercise careful judgement when making a purchase or booking a service online.