Captivating Art! The 21st Century Museum Of Contemporary Art, Kanazawa
The 21st Century Museum of Contemporary Art in Kanazawa welcomes more than 2.5 million visitors annually. Let's find out what all the buzz is about!
Collections of Captivating Art at the 21st Century Museum of Contemporary Art, Kanazawa
Located in Kanazawa in Ishikawa prefecture, an area known for traditional handicrafts, the 21st Century Museum of Contemporary Art in Kanazawa boasts an annual visitor count of 2.5 million people, and since opening in 2004, the museum has continued to pull in the crowds. In this article, we will introduce five particularly interesting things about the museum.
1. Fully Enjoy the Charms of a Building That Opens Out to the Neighborhood!
Photos courtesy of: 21st Century Museum of Contemporary Art, Kanazawa Photographer: Shu Watanabe
Located in central Kanazawa, the 21st Century Museum of Contemporary Art was designed by a unit of famous architects, Kazuyo Sejima, Ryue Nishizawa and SANAA. It is a unique building that attracts visits not just from art fans but from architecture fans, as well.
Photos courtesy of: 21st Century Museum of Contemporary Art, Kanazawa Photographer: Shu Watanabe
The building is round, with entrances located in all directions, and there is no concept of "front" or "back." The building is surrounded by an open glass facade, so you can enjoy the greenery and the outdoorsy vibe even from indoors. The architectural concept is a park-like art museum that is open to the town.
Let's introduce some of the works on display, starting with the permanent installations that made this museum famous overnight.
2. Enjoy a Swimming Pool Through the Eyes of a Child!
Go through the Honda-dori entrance (on the east side), and there will be a general information guide and ticket counter on your left-hand side.
As you continue towards the ticket counter, you will see a crowd of people in a central courtyard, fenced off by glass...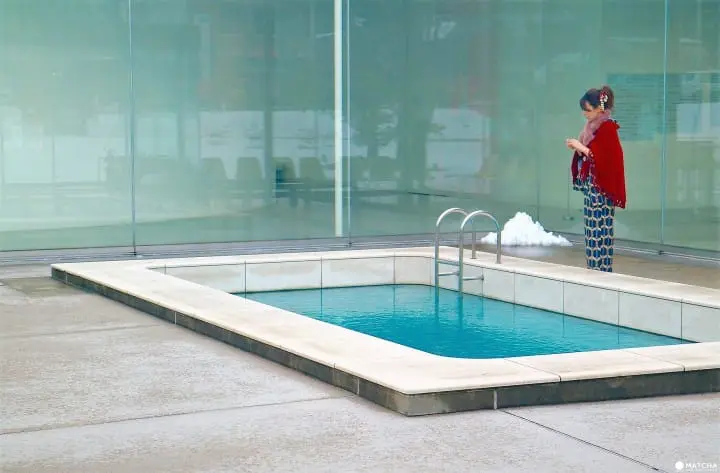 The museum visitors are staring curiously into the pool, which is four meters wide and seven meters long, and many of them are taking photos. What secret lies below the surface?
Approach the edge and you will be able to see human figures in the pool, not walking, but swimming… how mysterious!
The secret is below the pool, accessible from a different route (exhibition room 6). It is a simple trick; up to ten centimeters of water has been poured atop a glass pane, with a water tank below which has been painted light blue. Interestingly, the impression it gives off changes according to the seasons and the weather. Looking at the pool from above is free, but you have to pay to go into the pool (360 yen for adults, 280 yen for university students, free for high school students and below).
The name of the work is Swimming Pool (installed in 2004), produced by Argentinian artist Leandro Erlich. This is the view of the surface from below. Mutual strangers meet at the Swimming Pool, putting smiles on their faces, which they want to share with someone else. This artwork seems as though it will bring about a new type of communication between visitors.
3. You Can Check Out Various Permanent Exhibits and Special Displays!
Besides the Swimming Pool, there are also many other permanent exhibits, with artwork that can be seen for free, as well as pieces that can be photographed. Use the museum guide and signposts to check where you're going, and take whatever path you prefer. The above photo is of the Belgian artist Jan Fabre's 1998 piece, The Man Who Measures the Clouds. It is on the roof of the central structure.
Photos courtesy of: 21st Century Museum of Contemporary Art, Kanazawa
Located in the paid admission zone, the Green Bridge is a 2004 piece by the French artist Patrick Blanc. The surface of a 14-cm thick wall is concealed by 100 plant species that are suitable for Kanazawa's climate. This living artwork gives a different impression depending on the seasons. There are too many permanent exhibits to name at the museum, including the American artist James Turrell's Blue Planet Sky, the Icelandic artist Olafur Eliasson's Color Activity House, and many more for you to enjoy. Other than the permanent exhibits, there are many other special exhibits held in the museum thanks to fabulous curation. Check the homepage to find out what you can see on your visit.
4. Take a Breather at the Museum Cafe!
In between bouts of art appreciation, how about taking a break at Fusion21? Its white-based modern interior is one of its highlights. Pictured is the Kanazawa Bijin Plate Set (680 yen), which comes with a small slice of cake. You can choose from Japanese tea, herb tea or jasmine tea for your drink.
5. Enjoy Browsing at the Museum Shop!
There are two fenced-in museum shops shaped like circles.
Shop 1 sells exhibit catalogs, art books, original merchandise, postcards, and various Kanazawa-related items.
The most popular book is the official museum guide (1200 yen), which contains English text alongside the Japanese.
The Museum's Convenient Facilities and Multilingual Initiatives
The museum has wheelchairs, coin lockers and other amenities available. For families with children, there are baby strollers and nursing rooms, as well as child-oriented workshops and programs in the kids' studio (Japanese only) and an admission-paid daycare room. The strollers and wheelchairs are available at the general information counter, the city hall entrance and the underground entrance, and you can borrow them freely. The entire museum is set up so that anyone can enjoy the art with peace of mind.
In addition to Japanese, museum guides are available in English, French, Spanish, Chinese (Traditional and Simplified) and Korean. Many of the actual exhibit explanations are also in English.
The Museum's Direction and its Future Course of Action
Left: Ms. Sakamoto Right: Mr. Ochiai, PR chief
During our visit, we asked Mr. Ochiai and Ms. Sakamoto, who work at the 21st Century Museum of Contemporary Art, to talk about the future of the museum, the attitudes of international visitors, and more.
― What is the role of an art museum that centers on modern art in Kanazawa, a city famed for traditional crafts?
Mr. Ochiai: We think that it's necessary to continue to pass on the modern art of the 2000s to future generations. This museum opened with the twin goals of creating a new culture and generating new prosperity for the city. Since the Edo period, the city of Kanazawa has not been damaged in wartime. Since the most excellent artwork from those eras has always been passed down to the future generation, we want to bear that same responsibility going forward.
― We got the impression that there were many children in the art museum. What sort of initiatives are you doing to attract young visitors?
Mr. Ochiai: We have a kids' studio that holds programs and workshops for young visitors, and a "museum cruise" where we invite fourth-graders from elementary schools in Kanazawa to come visit, among other things. We're helping to nurture students' sense of art through experiences at the museum While the programs are in Japanese, we invite international visitors to join, as well.
― Tell us about any things we should be aware of when visiting.
Mr. Ochiai: Sometimes there are visitors who speak loudly inside the museum, and try to take pictures in no-photography areas. We'd like people to be considerate of the people around them, so that everyone can enjoy their time at the museum.
― And, a message to visitors coming from overseas.
Mr. Ochiai: Possibly because Kanazawa is a stopover port for cruises, we are delighted to receive many visitors from abroad. By all means, please enjoy your time with us.
Appreciating Art in Kanazawa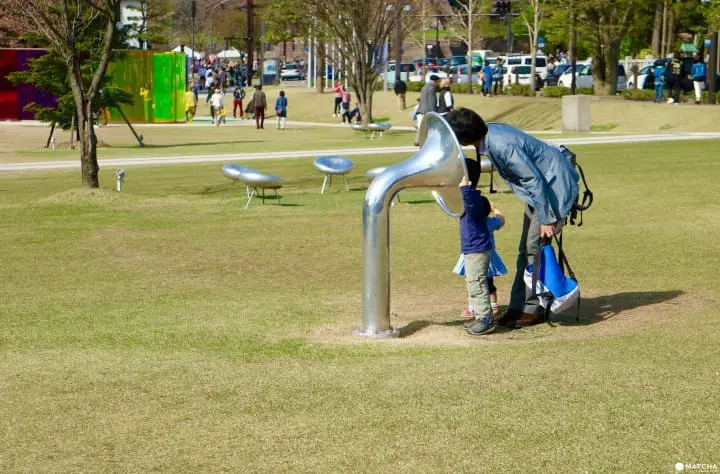 The 21st Century Museum of Contemporary Art in Kanazawa is packed with modern art masterpieces, and there are many places where you can take great photos. How about spending some time appreciating art at a museum that is accessible to everyone?


In cooperation with: 21st Century Museum of Contemporary Art, Kanazawa

The information presented in this article is based on the time it was written. Note that there may be changes in the merchandise, services, and prices that have occurred after this article was published. Please contact the facility or facilities in this article directly before visiting.