[Accommodation in Kanazawa] Hotel "LINNAS Kanazawa" where you can choose from 10 room types, 2 minutes on foot from Omicho Market!
This service includes sponsored advertisements.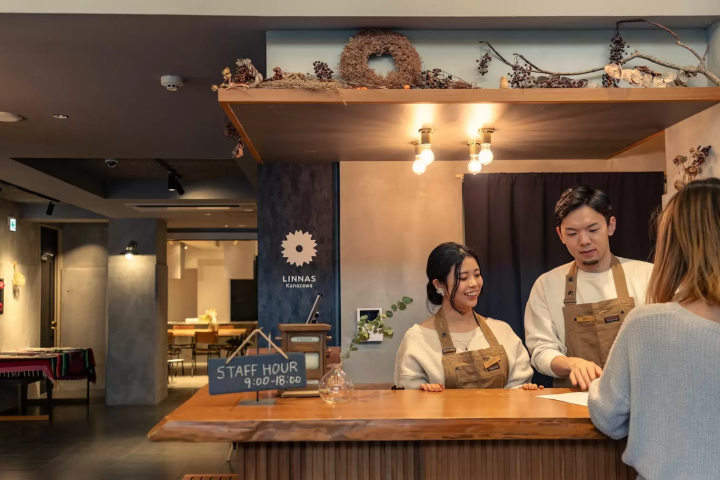 LINNAS Kanazawa, a lifestyle hotel located a 2-minute walk from Omicho Market in Kanazawa, is not just a hotel for staying. It is a place where you can find opportunities to realize "happiness in life" by comprehensively proposing the lifestyle of the present age [clothing, food, housing, work, and ...
LINNAS Kanazawa, which is conveniently located just a 2-minute walk from Kanazawa's famous tourist spot "Omicho Ichiba" and a 4-minute walk from "Kanazawa Castle Park", is the perfect base for your trip! In addition to sightseeing, you can also enjoy living in Kanazawa while mixing with the locals.
▶︎▶︎LINNAS Kanazawa Official Website: https://www.linnashotels.com/
The concept is "HYGGE"
Do you know the word "HYGGE"? "HYGGE" means "comfortable" or "relaxing time" in Danish, or the feeling of happiness and fulfillment that comes naturally from creating such time. It may be similar to the word "hokkori suru".
Here in "LINNAS Kanazawa", there is a "HYGGE" space that can only be felt in Kanazawa. Kanazawa is a laid-back and warm "HYGGE" city with a cultural and climatic background somewhat similar to that of Northern Europe. I'm sure you can re-recognize the happiness in your life.
Substantial public space
The hotel has a full range of facilities for guests. You can interact with other guests and locals, relax alone, or work. You can spend comfortably according to your travel style.
Spacious shared kitchen
There is a large open shared kitchen on the first floor. It's like a living room. You can cook using the ingredients you bought at the nearby market, and talk with other guests during your stay. A delicious and fun time connects people with each other.
There are also outlets, so many guests use it as a workspace.
Refreshing "Private Sauna"
There is a private sauna and jacuzzi room for hotel guests that can be used by up to 4 people. A Finnish-style sauna room (maximum of 2 people) where you can enjoy self-roasting, and a Jacuzzi with cold water. There is also a terrace for outdoor bathing. You can enjoy it with your friends, family or lovers.
In addition, the room comes with a lory extract made from local twig tea. Enjoy the heat of the sauna and the scent of the twig tea, and relax to your heart's content. *Advance reservations are required for use by hotel guests only.
Guest lounge
Especially recommended at night is the "guest lounge" on the second floor. There are Kanazawa guidebooks and books related to the concept "HYGGE". You can spend your time slowly in a quiet space.
Breakfast is delicious at the attached restaurant!
At the restaurant "Kemuri and Kaori" on the 1st floor, a hearty and delicious Western breakfast (1430 yen per meal) is served. If requested in advance, it is possible to change to a vegetarian or vegan menu. All reservations are required in advance.
We are also open for lunch and dinner. Smoked and charcoal-grilled dishes using local ingredients are very popular! English menu is also available. Please check the official Instagram for business hours.
▶︎▶︎Kanazawa charcoal grill Kemuri and Kaori https://www.instagram.com/kemuri.to.kaori/
10 room types to choose from according to your travel style
LINNAS Kanazawa has a total of 10 types of rooms! Please choose according to your travel style, such as a workation or an anniversary trip. Here are some of our most popular rooms.
"Single room" perfect for traveling alone
The compact single rooms have bunk beds. Large luggage can be conveniently spread out under the bed. It also has a desk, so it's perfect for workcations.
Double room recommended for couples
This room is recommended for couples traveling together. A simple, functional and comfortable double room.
"Comfort Group Room" for group and family trips
A connecting room with a separate living room and bedroom. The bedroom has a unit bath. Unique and suitable for large groups.
Spacious "Superior Loft Room"
From the top floor by elevator, there is only one room at the end of a small staircase. This little space creates a calm time. Perfect for guests who want to relax in a spacious room.
Travelers and townspeople mingle! Various events not to be missed
LINNAS Kanazawa holds various events every month.
We have yoga classes in the morning on weekends. In addition, once a month we hold plogging (a new type of sports involving picking up trash and jogging).
We have had similar events in the past!
・Fashion Swap Meet
・LINNAS Artist in Residence (Artists stay at the hotel for a certain period of time to create works. Workshops and public productions are held during the period.)
・Social cafe (a coffee shop in the city opens a store in the LINNAS Kanazawa shared kitchen)
↑Plogging
All events are open to local residents as well as hotel guests. Interaction between nature and people is born, and comfortable and rich activities are carried out. Feel free to join us if the timing is right! Event information will be sent from time to time on the official Instagram of LINNAS Kanazawa.
▶︎▶︎𝐋𝐈𝐍𝐍𝐀𝐒 𝐊𝐚𝐧𝐚𝐳𝐚𝐰𝐚 https://www.instagram.com/linnas.kanazawa/
Feel free to ask at the front desk for recommended spots in Kanazawa.
And finally, I would like to introduce the biggest attraction of LINNAS Kanazawa! It's the front crew. They are city guides. And your friend in Kanazawa!
Please feel free to ask them for advice on your trip. If you ask for recommended shops or sightseeing spots, they will be happy to tell you the place that meets your request.
"I'm looking forward to meeting you all!"
▶︎▶︎LINNAS Kanazawa Official Website: https://www.linnashotels.com/
Written by
We are a community development company that creates and produces local HUBs. Based on hotel management, we will provide a comfortable and rich daily life = "The And Place"where people outside and inside the city connect beyond the boundaries. In Kanazawa, we operate a lifestyle hotel, LINNAS Kanazawa. The local hotel staff are experts in traveling to Kanazawa! We will dig deep into the charm of the region and introduce you to popular tourist spots and hidden famous shops that even the locals don't know about.

The information presented in this article is based on the time it was written. Note that there may be changes in the merchandise, services, and prices that have occurred after this article was published. Please contact the facility or facilities in this article directly before visiting. Some of our articles contain affiliate links. We kindly ask our readers to exercise careful judgement when making a purchase or booking a service online.

The contents on this page may partially contain automatic translation.
Top Articles
There are no articles in this section.