Solo Travel In Japan - Tips On Where To Go, Things To Do, And Safety
Traveling alone in Japan is one of the best ways to encounter the country's culture, food, and nature. From Kyoto to Kanazawa, there are many solo traveler-friendly spots with memories waiting to be made. Learn about how to plan your trip and safety tips for a great vacation.
A Guide to Traveling Alone in Japan
Streets of Gion, Kyoto. Photo by Pixta
Solo travel offers freedom, convenience, and a lot to experience--all for yourself. Japan is one of the best places to explore solo for its historic landmarks, delicious food, and gorgeous nature in a safe environment.
However, traveling alone may be difficult even imagine, from what to do to to how lonely you may feel. This article covers easy-to-navigate destinations in Japan, activities, safety precautions, and practical tips for solo travelers.
Solo Trips in Japan
Recommended Places
1. Kyoto
2. Osaka
3. Kanazawa
4. Matsumoto
5. Seto Inland Sea
Suggested Activities
6. Temples and Shrines
7. Museums
8. Workshops and Tours
9. Shopping
10. Restaurants and Cafes
Tips
11. Things to Pack
12. Where to Stay
13. Safety Tips
14. Advice During the Trip
Kyoto - Lose Yourself in Deep Traditions
Photo by Pixta
Temple and museum-filled Kyoto is an excellent choice for solo visitors. This ancient capital contains so much to see and do, from shrines to food stall streets and charming cafes. All types of travelers will easily find enough to keep their itineraries full for several days or longer.
Kyoto contains a mix of popular and lesser-known destinations. For example, after a morning at Kiyomizudera Temple or Kinkakuji, explore by the Kamogawa River Delta or see the Kyoto Confectionery Museum to learn about traditional sweets.
Picture from Kyoto's Gion Matsuri - Highlights Of Japan's Greatest Festival
Festivals are held year-round in Kyoto, like the Gion Festival in July and Daimonji Festival in August, where giant characters are burned onto the hill.
Kyoto is renowned for its stunning cherry blossoms in spring and fall foliage, so you can enjoy the seasons as well.
Picture from Kyoto's Kitchen Nishiki Market - Top 10 Things To Try And Where To Go
The food in Kyoto exquisite and meant to be savored--with fresh vegetables, yuba (tofu skin), and a huge selection of matcha and Japanese sweets, being alone means you can truly appreciate your meals and snacking here.
Getting Around Kyoto
Kyoto is serviced by JR, private railways, a municipal subway, and numerous bus lines and companies. Due to this, it is very easy to get around Kyoto's city center.
Use budget tickets for the bus and combination passes for the bus and subway to save money on transportation. They come in one and two-day options and make visiting further-out landmarks like Kinkakuji Temple easier.
Some buses run in Kyoto for limited hours, so plan in advance. Try to avoid riding in the evenings and nights, when they are less frequent or may stop service.
Kyoto is also a very walkable city. In particular, the Gion, Higashiyama, and Kawaramachi areas are very pleasant to explore on foot.
↑ Return to the top of article.
Osaka - Encounter Citylife in Japan
Photo by Pixta
Osaka is an ideal city to explore by yourself, famous for its food and casual, fun atmosphere. Its large size and amenities will give travelers a city experience without the dizzying complexities of Tokyo.
The locals here are also known for being social, giving solo travelers more chances for interaction and conversation. Spend at least two days in Osaka to see the sights and try local food.
Picture from Everything You Need To Know About Osaka Castle, The Symbol Of Osaka!
Like Kyoto, Osaka has its share of major landmarks, like Osaka Castle and Dotonbori, as well as lesser-known, hidden gems.
Adventure to slightly further-out areas, like the Open Air Museum of Old Japanese Farm Houses, an outdoor museum with traditional homes, or spend an afternoon browsing at the National Museum of Art, Osaka in the city center. For a quieter neighborhood, head to Nakazakicho for handmade crafts and quaint cafes.
Picture from Top 5 Local Osaka Foods You Should Try In Dotonbori
Osaka is also known as Japan's kitchen--don't hold back when it comes to trying local foods, like takoyaki, okonomiyaki, and kushi katsu (deep-fried, skewered vegetables and ingredients). There are many food stalls and casual restaurants you will feel comfortable at even if you're alone.
If you're a fan of Osaka food, there are many unique souvenirs and snacks you can take back with you, from takoyaki-infused Pringles to soy sauce-flavored cookies.
Getting Around Osaka
As the largest metropolis in western Japan, Osaka is very easy to navigate; JR trains, private railways, and the Osaka Metro link the city, major sightseeing and entertainment areas, and its suburban areas.
To get to areas like Shinsaibashi, Namba, and Osaka Castle, it is most convenient to use the metro. Be sure to purchase a one-day metro and bus pass (800 yen on weekdays, 600 yen on weekends) if you plan to use the subway to visit multiple spots in one day.
↑ Return to the top of article.
Kanazawa - Enjoy Art and History in a Sophisticated City
Picture from Ishikawa Travel Guide: Must-Visit Places, Fine Food, And Activities
Kanazawa is an elegant city where the modern fuses seamlessly with the past, located in Japan's Hokuriku area on the eastern coast. Home to gardens, castles, and traditional townscape from the Edo era, Kanazawa has a similar atmosphere to that of Kyoto. You can also enjoy great shopping and fresh seafood, architecture, and public art. Spend at least one day here at the museums and historical areas.
Photo by Pixta (Ishikawa Travel Guide: Must-Visit Places, Fine Food, And Activities)
The Edo era Kenrokuen (above), one of Japan's most prominent traditional gardens, the Higashi Chaya district with a classic tea house townscape, and the 21st Century Museum of Contemporary Art are major destinations that will delight visitors.
Kanazawa is also home to traditional samurai neighborhood you can stroll through, and Omicho Market, a seafood market where you can try the local specialty of kaisen don (fresh seafood piled high on rice). For cultural experiences, head to the Kanazawa Noh Museum and be sure to see Kanazawa Castle.
Thoroughly explore the Higashi Chaya area, which has a number of traditional sweets shops. Chayu sells various decadent desserts, such as soy sauce-flavored gelato. CAFE DUMBO, located near the 21st Century Museum of Contemporary Art offers lattes and baked goods ideal for breakfast or an afternoon pick-me-up.
Photo by Pixta
Another thing you will notice is Kanazawa's emphasis on gold, as the city's Japanese name includes the character for this precious metal. The city sell's gold-plated keychains and even soft serve topped with gold flakes.
Getting Around Kanazawa
Main sightseeing spots in Kanazawa are located within around two kilometers of JR Kanazawa Station, so it is recommended to use a bus or walk when exploring.
Another great option is renting a bicycle, which costs just around 200 yen for a day of use.
↑ Return to the top of article.
Matsumoto - Explore a Castle Town in the Mountains
Matsumoto, located in nature-filled Nagano Prefecture, is a classic castle town in Japan that charms all who visit. Most known for its castle, a dramatic backdrop of the Japanese Alps, and delicious buckwheat noodles, solo visitors will feel at home adventuring in the city and nature here for two days.
Matsumoto Castle is around a 20-minute walk from Matsumoto Station, surrounded by a moat and park. A designated national treasure, this castle has one of the oldest remaining main keeps in Japan, constructed around the 17th century. The view from the keep reveals the city and the mountains.
Photo by Pixta
After a castle visit, walk around the cobblestone roads of Nakamachi and Nawate to find small shops, cafes, and eateries.
Soba (buckwheat noodles) is a prefecture specialty, so be head to one of the many restaurants offering this delicacy. Other foods to look for is oyaki, a grilled wheat bun filled with ingredients of all types.
The exterior of the Matsumoto City Museum of Art. Photo by Pixta
As the hometown of acclaimed artist Yayoi Kusama, the Matsumoto City Museum of Art boasts a permanent collection of her colorful and eccentric pieces. The exterior of the museum is also adorned with Kusama's works. The museum also collaborated with the city to make the Town Sneaker, a bus covered with Kusama-inspired polka dots.
Picture from Nagano Travel Guide: Sightseeing, Ski Resorts, Local Food And More!
As Matsumoto is so close to the mountains, it is easy to take a day trip to neighboring areas for hikes and nature exploration. Kamikochi (above) is a particularly famous highland resort area with trails.
For something different, visit the Daio Wasabi Farm, just outside of Matsumoto, where you can see this indispensable crop being grown, harvested, and learn about its history. There are also restaurants on the grounds offering dishes with farm-fresh wasabi, including horse radish-topped soba noodles and even wasabi-flavored sweets.
Getting Around Matsumoto
While the castle area of Matsumoto is walkable, the art museum and other further-out sightseeing areas may require the use of a bus. From JR Matsumoto Station, it is around a 15 to 20-minute walk to Matsumoto Castle. The Town Sneaker, the city bus, runs at 30-minute intervals (20 minutes on weekends and holidays) and goes to areas like the castle and Nakamachi. The Town Sneaker has a 1-day pass that you can use for unlimited rides.
Bicycle is also another convenient way of getting around. Free rental bikes are available around the city and can be used if you plan and time it well. (Please note that the bikes may be all rented out on weekends; see the official Japanese website for details).
↑ Return to the top of article.
Seto Inland Sea - Island Hop Around Art and Relish Slow Life
Picture from Stunning Art! Setouchi Triennale 2019 - Highlights, Access, And Ticket Information
Home to the Setouchi Triennale, the Seto Inland Sea and its tiny islands are another spot ideal for solo travel. Surrounded by Shikoku and the southern coasts of Hiroshima, Okayama, and Hyogo prefectures, this is a remote area where the charms of rural Japan shine through. Plan a couple of days for island hopping and an extra day for exploring the surrounding coastal areas.
Photo by Pixta
Naoshima, Japan's art island, is just one of the many islands with unique exhibits built into the townscape and nature here; visitors can also visit Teshima, Shodoshima, Megijima, and other areas filled with museums and visual surprises.
For example, Teshima is home to the Teshima Art Museum, known for its innovative architecture and thought-provoking works. Animal lovers should head to Ogishima, one of Japan's cat islands.
Picture from A Gorgeous Sunset! 5 Ways To Enjoy Chichibugahama Beach In Kagawa
After island hopping, there is plenty to do on the coast of Kagawa Prefecture; be sure to make time to visit Takamatsu and Mitoyo, in particular.
In Takamatsu, you can visit Ritsurin Garden and try freshly-made udon noodles by Takamatsu Station. Mitoyo is famous for Chichibugahama Beach, which has one of the best sunsets in the country.
Getting Around the Seto Inland Sea
The main form of transportation around the Seto Inland Sea and its islands is ferry. For navigating the islands themselves, be sure to rent a bicycle--preferably an electric-powered one, as there can be hilly roads. For spots on Shikoku, trains are available, but they run fairly infrequently, so be sure to look up schedules in advance.
↑ Return to the top of article.
Temples and Shrines
Picture from Bring Home A Souvenir Fox From Kyoto's Fushimi Inari Shrine!
Buddhist temples and Shinto shrines are found in every prefecture of Japan, and exploring them by yourself allows you to take the time to relax and soak in the serene, otherworldly atmosphere present at so many.
Please note that you do not have to be Buddhist or consider yourself spiritual to visit or see the grounds. Anyone visit a shrine and participate in traditional customs, like making an offering or pulling an omikuji (paper fortune). You can also buy little good luck charms called omamori, which are unique to the temple or shrine you bought them from.
If you plan on visiting many temples and shrines, try goshuin, or stamp collecting. Each shrine and temple has its own signature calligraphy that a priest will draw for you.
Kyoto is known for its famous temples and shrines, like Kinkakuji, Kiyomizudera, and Kodaiji. However, as mentioned above, they are found everywhere in Japan. Osaka is famous for its Tenjin Shrine, and Kanazawa has Myoryuji Temple, which dates back to the 16th century.
Near Matsumoto Castle is the quiet Yohashira Shrine, and there are shrines and temples scattered about in the Seto area, like the bridge-only accessible Tsushima Shrine.
↑ Return to the top of article.
Museums
Museums are not an activity exclusive to Japan, but there are many unique facilities to be enjoyed here. They are very easy to visit alone, and you will likely be able to absorb more knowledge, too.
In Kyoto, be sure to see the Kyoto Railway Museum, where you can learn about Shinkansen and the history of the railroads in Japan. Other notable facilities are the International Manga Museum and the Kyoto Kyocera Art Museum.
Osaka has many museums that will fit different interests. For a cultured experience, try the National Museum of Art, Osaka. For more background on the city's development, head to the Osaka Museum of History.
For Kanazawa, the 21st Century Museum of Contemporary Art is popular and has a great permanent collection and interesting seasonal works. The Kanazawa Noh Museum will be the perfect entertainment for those interested in traditional performing arts.
In Matsumoto, the Matsumoto City Art Museum with its special Yayoi Kusama exhibition should not be missed. There is also the Japan Ukiyo-e Museum, which boasts the largest private collection of woodblock prints in the world.
As the site of the Seto Triennale, the Seto Inland Sea area is renowned for its art museums. Must-sees are the Ando Museum and Chichu Art Museum on Naoshima. For something different, try Yokai Art Museum for a fun look at Japanese folklore.
↑ Return to the top of article.
Workshops and Tours
Joining a workshop or tour allows you to stay social and immerse yourself in activities. Each region of Japan has different options available, from food-centered to arts and crafts. Below are examples of activities that you can try; many have English support.
In Kyoto, visitors can learn about and taste high-quality matcha and green tea at Ippodo's Main Store. The Osaka Museum of Housing and Living holds periodic workshops for making origami and traditional crafts and toys.
In Kanazawa, the Kanazawa Noh Museum allows visitors to try on Noh performer's garments for free. For information on workshops and tours, ask your lodging or inquire at city information centers.
Soba Takagi in Matsumoto is close to the castle and offers noodle-making workshops. A reservation made at least one day in advance is required, which can be made through this website.
The compact Seto Sea area has many workshops. Major islands like Naoshima, Teshima, and Shodoshima are more likely to offer activities for arts and traditional crafts. On Kagawa Prefecture, those seeking outdoor activities can try sea kayaking and SUP. An intensive 2-day udon-making experience at Udon House is something unique to try for those interested in Japanese cuisine.
↑ Return to the top of article.
Shopping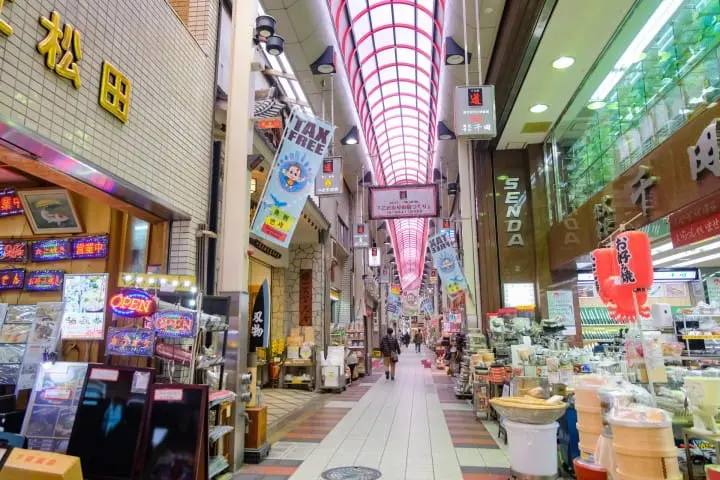 Shopping options in Japan are endless. Stores and complexes are usually concentrated in or near train stations and sightseeing areas.
Be sure to wander down shotengai, or traditional shopping streets will food stalls and small, individual shops that locals often frequent. These areas are great for snacks and finding unique souvenirs.
For a taste of common stores, try 100-yen shops like Daiso, and LOFT, a national-chain department store.
Major stations and sightseeing spots will also have individual shops selling regional sweets and snacks to try. There is an endless amount of browsing and shopping you can do to match your budget.
↑ Return to the top of article.
Restaurants and Cafes
Solo dining in Japan is seen relatively often. Although many men eat out alone, especially on weekdays, women also dine solo frequently. Single travelers do not have to feel uncomfortable enjoying a meal by themselves. In fact, restaurants and cafes are small in general, with counter seats and narrow tables, better suited for smaller parties.
For those not used to dining alone, try a cafe first. Even on weekends or in evenings, you will notice many people enjoying coffee and dessert by themselves. Both chain and independent shops also offer food in many cases, so you can try breakfast or lunch.
During dinner hours on weekdays, you will likely see solo diners--often people on their way home from work. Weekends and public holidays tend to bring out families and friend groups; if you feel less comfortable being alone, try to go to restaurants with counter seats or small tables on these days. Conveyor belt sushi is an ideal and budget-friendly option.
For non-restaurant food options, try convenience stores or supermarkets for pre-made meals and snacks. If you are in a sightseeing area or attending a festival, take advantage of the food stalls.
↑ Return to the top of article.
Things to Pack
Items to pack on a solo trip depend on your length of stay and destinations. It is important to pack light, but there are extra things you should consider taking if you are alone.
Plugs and Mobile Electronics Chargers
Japan has sockets for two and three-prong power plugs, which are compatible with those in North America, Central America, and China. If you are coming from Australia, the United Kingdom, or Europe, remember to purchase an adapter in advance.
A mobile charger is highly recommended. You will likely be using your smartphone and other electronics more often if you are by yourself for safety, navigation, and entertainment. Purchase one before your trip.
Personal Safety Alarm
In case of emergencies, bring a safety alarm and keep it on you at all times. These small devices have a button you can press that will sound a very loud alarm, drawing attention to the scene.
You can purchase a safety alarm in Japan from a national chain like Don Quijote.
Books
For travel in Japan, Shinkansen and train rides can be long. Be sure to have a paperback book or two to keep you entertained without having to use a smartphone.
↑ Return to the top of article.
Where to Stay
Choice of accommodation is another vital point of travel in Japan. Consider booking a private hotel room or staying in guesthouses or hostels prioritizing convenience and comfort. Below are some suggestions by area.
Note that these facilities and many other lodgings in Japan have female-only rooms for extra security and peace of mind.
Khaosan Kyoto Guesthouse is in the convenient Kawaramachi area of Kyoto and is regarded highly. You can choose from private rooms or dormitory-style rooms with lockers in them. In Osaka, try Hostel Mokumoku, where there are female-only dorm-style rooms and private rooms for a reasonable price. There is also a community kitchen where you can socialize with the staff and other guests as you like.
For Kanazawa, try Guest House Stella, located in the heart of Higashi Chaya. There are female dormitories and private rooms to choose from. Inquire about availability on the official website.
In Matsumoto, try tabi-shiro, a stylish guesthouse with female-only rooms and a shared lounge and kitchen space. It is conveniently located between Matsumoto Station and the castle.
For those staying in the Seto Inland Sea area, try Sunny Day, a hostel in Takamatsu, Kagawa Prefecture. The second floor exclusively for female guests.
↑ Return to the top of article.
Safety Tips
Japan has one of the lowest crime rates in the world, and rates have been decreasing overall for decades. It is consistently ranked highly as a country friendly and safe to travelers.
Those on a solo trip can enjoy travel with freedom as theft, scams, and other crimes are very rare. Still, it is important to be cautious and practice safety as you would anywhere else.
Do Not Accept Invitations from Strangers
While traveling alone, it might be tempting to go somewhere when invited by someone you meet, but do not do this. No matter how friendly they seem, if you have just met them it will be very hard to tell their intentions. Be careful especially if you meet them while drinking.
Avoid Rush Hours on Trains
Peak rush hours include early-morning (from around 7:00 to 9:00 on weekdays) and evening hours (17:00 to 20:00). Avoid riding during these times. Rush hours vary by location, however, with Osaka being the most congested out of the destinations mentioned in this article.
Also, try not to ride the last train of the day when inebriated passengers ride (between 11:30 and 24:30). Crowded trains are not only uncomfortable, but the risk of receiving unwanted touches or body contact can increase.
Spend the Evening Close to Your Lodging
For nighttime fun and entertainment, schedule something near your hotel or guesthouse. Trains stop running around midnight (and earlier in rural areas), making it harder to return.
If you are out late and miss the last train, take a taxi instead of walking back to your lodging. Streets may not be well-lit and it is not good to walk around late at night by yourself, no matter where you are.
Go to a Convenience Store for Help
As most convenience stores in Japan are open 24-hours a day, they are a great resource during late nights or off-hours. If you are lost or feel unsafe, locate the nearest convenience store and go inside. These stores are secure places with free WiFi and the workers may be able to help you (in many cases, staff can provide some assistance in English).
Another option is to go to the nearest koban (police box), but if there isn't one close, go to a convenience store instead.
In addition to the tips above, exercise basic precautions when in Japan and you likely not meet any trouble. Lock your lodging doors and keep your valuables safe. Do not accept gifts or drinks from strangers or go along with anything you think is suspicious. Be aware of your surroundings at all times and stay alert. Call 119 in emergency situations or 110 for the police.
↑ Return to the top of article.
Advice During the Trip
In addition to safety, it is important to be aware of your emotions, physical health, and feelings during the trip when traveling alone. Below are a few tips to keep in mind to improve your time in Japan.
Balance Your Trip Itinerary with Variety
Plan to fill your schedule with a variety of activities and destinations to keep your energy and spirits up. As Japan is a small country geographically, cities and popular places may feel more crowded than you are used to. Go at a slower pace to get accustomed to the crowds. Alternate popular places with lesser-known destinations, or go for cafe breaks throughout the day.
Stay Social
You can also balance your trip with socializing. If you have friends or acquaintances in Japan, plan to meet them for a meal or afternoon. Go on group tours or try workshops for chances to meet locals and other travelers.
Prepare WiFi in Advance
Your smartphone will be indispensable for navigating around Japan. Free WiFi is available in Japan, but the connection may be slow or very limited. It is suggested to get a Pocket WiFi device or rental SIM card.
For pocket WiFi, NINJA WiFi offers a service where you can pick up and drop off the device at the airport. For more information, click here (MATCHA readers can receive a discount).
Unplug from Your Phone
Even though WiFi and being connected during the trip is important for safety, a solo trip is also the chance to unplug and live with less social media and technology. Take the opportunity to get immersed in the moment and savor all you are experiencing.
↑ Return to the top of article.
Travel Solo in Japan
Japan is one of the friendliest and safest countries in the world for solo travel with restaurants, cafes, museums, and other destinations easily accessible for single visitors.

The helpful nature and warmth of people in many parts of Japan will also surprise and help you have an even better trip. Take the plunge and embark on a journey by yourself, for yourself.

Main image by Pixta

The information presented in this article is based on the time it was written. Note that there may be changes in the merchandise, services, and prices that have occurred after this article was published. Please contact the facility or facilities in this article directly before visiting.