A Gorgeous Sunset! 5 Ways To Enjoy Chichibugahama Beach In Kagawa
Chichibugahama in Mitoyo, Kagawa, is home to a beach known to have one of the most beautiful sunsets in Japan. After capturing stunning photos to share with friends, take advantage of all the area has with kayaking, local cafes, a charming guesthouse, and unique souvenirs!
Chichibugahama Beach - The Most Beautiful Sunset in Japan
Picture courtesy of Mitoyo City
Chichibugahama Beach, located in Mitoyo in western Kagawa Prefecture, is a picturesque spot that became popular via photos on social media starting around 2016. The evening sky here was ranked as number one "Best Sunset Spots to Visit" in 2018 by a major Japanese travel magazine for its gorgeous scenery.
The mystical appearance of this beach is due to the tide pools created during the low tide. On days when there is little wind, the tide pool waters are like mirrors, beautifully reflecting the sky.
Rocks usually create tide pools, but the tide pools at Chichibugahama are made from sand, which is another factor that leads to this fantastic view.
Things to Do at Chichibugahama Beach - Pictures, Local Food, and Souvenirs
Picture courtesy of Mitoyo City
It's more than satisfying to spend the day relaxing and enjoying the beach, but there are many other activities to enjoy at Chichibugama, too. Below are five ways to have even more fun.
1. Take Amazing Pictures with the Sunset
It's simple to take great photos at Chichibugahama with just a smartphone! For an even better picture, try to visit on a day with little wind. An ideal time of day for taking photos is 30 minutes before or after the sunset. The low tides will be during this time, creating the ideal opportunity to capture the beach in all its beauty.
Picture courtesy of Mitoyo City
The model(s) of the picture should stand on the beach on the opposite side of the tide pools and strike a pose. We recommend positioning your camera on the edge of the water in front of the tide pools. By doing so, you'll be able to take a gorgeous picture with the proper amount of sunset, softly illuminating the background.
The official website of the Mitoyo Tourism & Exchange Authority introduces ways to take pictures of the beach along with the times it is at its best in English, Traditional Chinese, Simplified Chinese, and Korean. Please check the website for more details.
Picture courtesy of Mitoyo City
Use props like an umbrella or signs to take even more interesting pictures at Chichibugahama Beach, so bring some along if you want to take a unique picture!
2. Enjoy Mitoyo Gourmet Cuisine
Mitoyo, where Chichibugahama Beach is located, is surrounded by the mountains and the sea. This makes it a gourmet spot where you can enjoy amazing fruits, vegetables, and seafood.
A place we recommend for enjoying a meal in Mitoyo is café de flots. The café is a five-minute walk from Chichibugahama.
The building exterior has the appearance of a rustic factory, but the inside is decorated with a trendy wooden design. It has been popular as a lunch spot since it opened in 2004.
Picture courtesy of cafe de flots (only the bottom left picture is taken by MATCHA)
A unique aspect of café de flots is that the owner makes his refined salt from the seawater near Chichibugahama in an effort cook unique, local dishes for diners. The salt is, of course, used in the café's food.
On the main lunch menu are hamburgers, pasta, and curry rice made with locally-grown vegetables. The homemade salt is used in these dishes, allowing you to experience the charms of the sea through your eyes and your taste buds!
Next to Chichibugahama is KAKIGORI CAFÉ Himuro, a specialty shave ice café. Their shave ice is made with local produce. In particular, the Kakigori Takase Green Tea and the Kakigori Nio Lemon (a seasonal item) are very delicious. The stylish and cool café interior are fitting of a shop by the beautiful Chichibugahama waters.
There are more restaurants and cafes visitors can try in Chichibugahama. These include BAKE STUDIO OKAZAKI, a restaurant serving up hamburgers, and hand in hand, a shop where you can enjoy sandwiches and fresh juices made with local ingredients for takeout.
Be sure to satsify your hunger at one of these establishments depending on what you're in the mood for when you visit.
3. Enjoy Day and Night at a Guesthouse
Picture courtesy of Setouchi Guest House Taiyo and Umi
Setouchi Guest House Taiyo and Umi is a guesthouse about a 20-minute walk from Chichibugahama. It's popular with international travelers.
The guesthouse rents bicycles to lodgers. After you've arrived in Chichibugahama in the afternoon, first check-in and deposit your luggage at the guesthouse before taking a bicycle to explore around the area.
Picture courtesy of Setouchi Guest House Taiyo and Umi
There are many great spots to see near Chichibugahama, including areas retaining an Edo period appearance, and hiking trails where you will be greeted by fantastic outdoor beauty.
The owners of Taiyo and Umi are a couple who moved here after falling in love with the area. They will let you know their recommended spots nearby.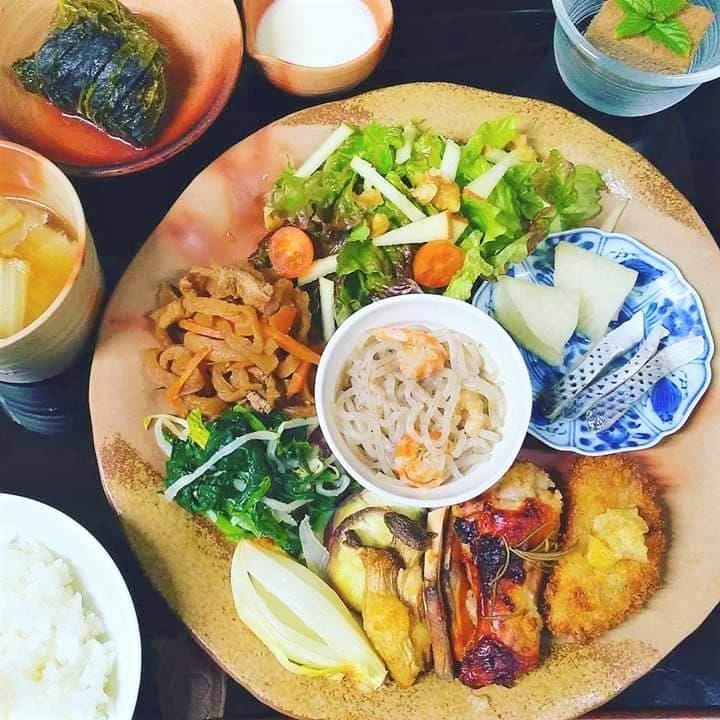 Picture courtesy of Setouchi Guest House Taiyo and Umi
Taiyo and Umi also offer delicious meals made with local produce. After admiring the sunset, enjoy a hot, home-cooked meal, then pass the time quietly while listening to the waves at night.
4. Travel to a Deserted Island by Sea Kayaking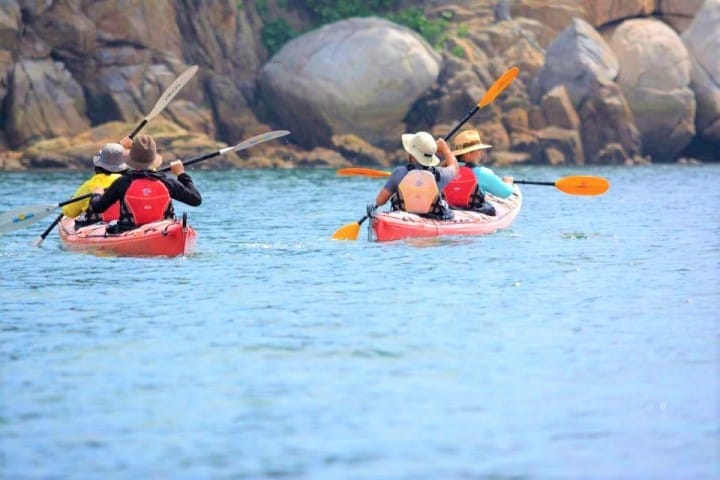 Picture courtesy of Free Cloud
Since you've come all the way to the sea, why not enjoy some water sports?
At Free Cloud, an outdoor activity shop offering tours near Chichibugahama, visitors can try experience-based programs such as sea kayaking, SUP (stand up paddle boarding), and cycling.
Tsutajima Islands are deserted islands off the coast of Chichibugahama. They can be reached in about 30 minutes by sea kayaking. Paddle through the beautiful waters of the Seto Inland Sea to find your way to the idyllic islands and drink coffee brewed by your tour guide. Be sure to try this for an unforgettable, unique experience!
Picture courtesy of Free Cloud
During the summer, they also offer programs to enjoy sea kayaking and SUP as the sun sets. The sunset seen from above the waters is filled with a different charm than the sunset seen from the shore.
Free Cloud's experience-based programs require an advanced reservation. Be sure to make your reservations via the website.
The Free Cloud office can be accessed by taking the Takase Nio Route (Japanese) bus from JR Takuma Station, then walking from the Ienoura bus stop. The bus leaves Takuma Station at 8:49 and 11:49, and will take 37 minutes to reach Ienoura.
If you're concerned about transportation, be sure to consult with the company when you make a reservation. If you have a small party, they may be able to pick up you up from JR Takuma Station.
Additionally, if you are traveling by rental car, you can park in the Sun Cafe parking lot. The café is right next to Free Cloud.
5. Search for Local Souvenirs
Since you've come all the way to Chichibugahama, be sure to bring home a memory of this wonderful place, right?
We recommend visiting Lollo Rossa for purchasing souvenirs when you visit Chichibugahama.
Mitoyo is a major producer of lemons and mandarin oranges. At Lollo Rossa, they sell products made with high-quality lemons that have thrived from the sun and sea breeze.
Usually, lemons sold at ordinary supermarkets have yet to fully ripen and contain preservatives.
However, Lollo Rossa cultivates their own lemons without the use of such chemicals and creates their food products using the most delicious, naturally ripened lemons. Popular choices at the store include Limoncello, a type of lemon liqueur, marmalade, and lemon peels.
If it is difficult to transport heavy souvenirs back home, visitors can use Yamato Transport's international delivery service on the second floor of Takamatsu Airport.
Lollo Rossa is located past a road on the mountainside about 2.7 kilometers from Chichibugahama. If you can, use a rental car when you go.
If you walk there, however, you can enjoy a fantastic view of the mountains and sea along the road from Chichibugahama to Lollo Rossa. It makes for a nice walk if you have enough energy and stamina.
The entrance is somewhat difficult to find, but it is relatively simple to navigate if you come from the direction pictured above.
Access and Transportation
If you'll be visiting Chichibugahama, it is convenient to use a bus or a taxi from JR Takuma Station. You can also travel by car rental.
Access by Bus
When using the bus, take the Nio Route from JR Takuma Station. Six buses leave per day from Monday to Saturday at 7:20, 9:50, 13:00, 15:04, 17:40, and 19:20 (times are current as of May 2019). Please note that buses do not run on Sundays or public holidays.
Take the bus for 24 minutes from Takuma Station and alight at the Chichibugahama bus stop. It will cost 100 yen. The last bus to return to Takuma Station from Chichibugahama is at 18:49. Those visiting for the day should take care so that they don't miss their bus.
Access by Taxi
Taxis stop at the roundabout on the right side of Takuma Station. You can get to Chichibugahama for 2,200 yen one-way.
Access by Car Rental
You can rent a car from Takamatsu Airport. There are various companies you can use, but Heisei Car Rentals is a company that has multi-language support for reservations. It will take about one hour to drive from the airport to Chichibugahama.
If you are renting a car at JR Takuma Station, please note that it is likely that the rental service companies can only assist you in Japanese. One company to try is OPEN Air Rental Cars (Japanese).
Check out MATCHA's article on things to note when renting a car. There may also be spots that don't offer their services in English or Chinese in Mitoyo. As needed, please feel free to refer to MATCHA's articles on useful Japanese phrases during your Japan travels.
Continue Your Travels - Mt. Shiude Views and Island Hopping
Picture courtesy of Mitoyo City

There are many other sights to see near Chichibugahama. These include Mt. Shiude, which has gorgeous cherry blossoms and hydrangeas, Awashima Island, an island with an appealing retro ambience, and Motoyama-ji Temple, which is part of a traditional pilgrimage route called O-Henro.

Be sure to add these spots to make the best out of your trip!

The information presented in this article is based on the time it was written. Note that there may be changes in the merchandise, services, and prices that have occurred after this article was published. Please contact the facility or facilities in this article directly before visiting.