Henro (Shikoku Pilgrimage) - Japanese Encyclopedia
Traveling around Japan, specifically to the 88 sacred sites in Shikoku, is a very famous journey known as an o-henro or pilgrimage. In this article we explore how to perform a pilgrimage, the health and journey of self-discovery involved.
What Is a Henro?
The 88 Temples of Shikoku, are 88 sacred locations found in the Shikoku region of Japan. These 88 places are related in one manner or another to the well-known high priest, Kobo Daishi, (also known as Kukai), and the process of making a sacred visit to pray at each of them is known as o-henro, which itself is a famous undertaking.
Now that each location has come to be known as a fudasho, or amulet-issuing temple, it is possible to collect numbered items indicating where one has visited. Locations 1 to 23 are found in Tokushima prefecture, 24 to 39 in Kochi prefecture, 40 to 65 in Ehime prefecture, and 66 to 88 in Kagawa prefecture (number 66 is officially said to be in Tokushima prefecture, however). By visiting each of these sacred sites, a pilgrim can travel the full distance around Shikoku.
A Pilgrimage with Kobo Daishi
Though this pilgrimage boasts of a 1200-year-old history, nowadays the number of people undertaking this sacred journey has grown significantly. Each person has their own reasons for doing it - for health, to find themselves, to travel, and so on.
Incidentally, the phrase 'Dogyoninin'("Kobo Daishi is always with me"), which is written on the conical hats worn by the pilgrims means that the pilgrims are never in fact traveling alone - they have themselves and the spirit of Kobo Daishi with them. And, when the locals see someone on their pilgrimage, they refer to them as 'O-henro-san' (Mr./Ms. Pilgrim).
The Process of a Pilgrimage
How to Travel
This pilgrimage need not be completed in numerical order - in fact, it is possible to begin this journey from wherever you may like. Traveling to each sacred site in order is known as Jun'uchi, while going in the reverse order is called Gyaku-uchi, and it is believed that going in reverse will bring you three times the divine favor of going in the standard order. Furthermore, visiting all 88 sites in one journey is referred to as tooshiuchi, while dividing the pilgrimage into any number of smaller journeys is known as kugiriuchi, and within kugiriuchi, dividing the pilgrimages up by prefecture is called ikkoku mairi.
How to Visit the Sacred Sites
When you have arrived at the Fudasho, the first thing you must do is bow before the temple gate, and then cleanse yourself at the chozuya (the place for ritual hand and mouth cleansing), then make an offering of a candle, stick of incense or money at the main temple building, and finally dedicate either a nousatsu (votive card or tablet) or a shayko (sutra). And then after dokyo (chanting your sutra), you must head to the hall where Kobo Daishi is enshrined, and repeat the process over again. Once that is finished, then at the nokyo (a type of temple office), you present either a nokyo-cho, a book of stamps (which confirm your donation to the temple during your pilgrimage) or a white hanging scroll, to be stamped with that particular location's seal (which includes the name, a treasure or design and temple number), among other possible items written in Indian ink. After you have received this back, you must pay the stamp fee as well. Nokyo-cho may be purchased at temples or even online.
For more information on visiting a temple, please refer to How to Properly Pray at a Temple,and for more about these temples stamps, take a look at Collect Seal Stamps from Japanese Temples and Shrines.
Means of Transportation
While it is traditional to walk the entire pilgrimage, which is called aruki henro, even if you walk about 30 km in a single day, you will still need about 40 days to complete the entire pilgrimage. For that reason, car henro, tour bus henro, and even bicycle and motorcycle henro have become common; you should use the means that will best fit your own needs when undertaking this pilgrimage.
Proper Garments
White clothing, such as white robe with sleeves, known as a byakue, or without sleeves, a oizuru, is worn, with a sugegasa a sedge-woven hat, while carrying a pilgrim's staff is the most traditional attire, but nowadays there are those who wear their own arrangement of these items, or even modern/casual clothing as well. Those undertaking a walking pilgrimage may find themselves having to walk along mountain paths, meaning that it is a good idea to wear a pair of sturdy walking shoes during this journey.
How to Take Part in a Pilgrimage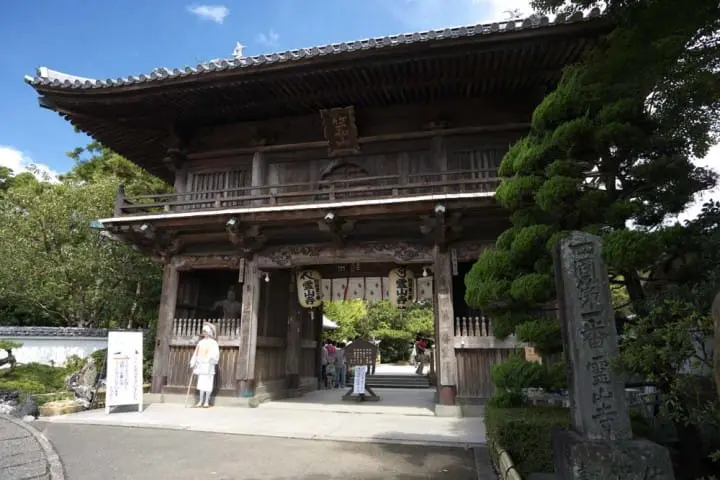 You may feel that if you have all your preparations ready, then it's time to go! But before that, there are some warnings and rules that first must be explained.
Warning 1: You Must Travel All Day, During the Day
Among those who choose to walk, there may be some who want to hurry along and continue walking at night, but there are many roads that do not have any signposts and other areas where these signs may be easily overlooked, so it is far better to leave very early in the morning and continue walking until dark and you reach where you will be staying instead.
Warning 2: You Must Honestly Accept the Good Will of the Locals
Along the journey, you may find yourself being giving food and water, or offered a place to take a break, or even free lodging in senkonyado or tsuyado by the locals. These acts are known as o-settai and are an expression of a warm welcome, being offers than you cannot turn down, rather you must accept them with gratitude. Furthermore, it is common now to offer a prayer tablet or votive for those who have shown you hospitality as well.
Warning 3: Do Not Use the Walking Stick When Crossing a Bridge
There is an anecdote stating that, during his pilgrimage in Shikoku, one night Kobo Daishi had to spend the night under a bridge. For that reason, when coming to a bridge, pilgrims are often reminded that 'Kobo Daishi may be sleeping under this bridge', and walk carefully across without using their walking stick so as not to wake him.
If You Are On the Pilgrimage, Make Sure to Have Lodgings
The last caution to anyone considering going on this pilgrimage is to definitely book your accommodations in advance. Shukubo are lodgings within temples for priests or pilgrims to stay at while on pilgrimage and are comparatively inexpensive, plus you will be able to enjoy vegetarian fare prepared by the monks as well during your stay. Furthermore, at many of these lodgings now natural hot springs have been tapped, meaning that it is possible to soak away the fatigue of your journey in your accommodations as well.

The information presented in this article is based on the time it was written. Note that there may be changes in the merchandise, services, and prices that have occurred after this article was published. Please contact the facility or facilities in this article directly before visiting.