10 Scenic Spots In Western Japan - Close To Kansai International Airport
In this article, we introduce the scenic spots that can be found in western Japan. If you're traveling to Kyoto, Osaka, Hiroshima or Fukuoka, do drop by! You'll see beautiful shrines, the sea, and unique natural scenery.
To See Wonderful Scenic Spots, Travel to Western Japan!
An island nation with a rich and varied natural environment, Japan boasts many scenic spots. However, it might be difficult to tour them all during one visit.
Travelers who use the Kansai International Airport to come to Japan and intend to visit Osaka and Kyoto will most probably want to visit the scenic places in western Japan in an effective manner. In this article, we introduce the 10 scenic spots in western Japan that shouldn't be missed out.
1. Mt. Oji (Okayama Prefecture)
Picture courtesy of Okayama Prefectural Tourism Federation
Mt. Oji is a small mountain located on the border between the Kojima area in Kurashiki and Tamano City. It is famous as a place for viewing the Seto Inland Sea.
There are large rock formations on the slope of this mountain. One of them looks like a person who's laughing and was nicknamed "the Laughing Rock." Another one looks like a small dog sleeping so it was nicknamed "the Dog." There are actually many rocks with interesting shapes that were formed through many years of erosion by water and wind.
Picture courtesy of Okayama Prefectural Tourism Federation
If you're looking for a dining place, we recommend the areas around Kojima Station, which ensures the access to Mt. Oji, or Okayama Station, which is accessible from Kojima Station in 20 minutes by train. Seafood such as the Japanese sardinella or the Spanish mackerel, as well as fruit such as peaches and muscat grapes are famous products of Okayama. If you have the chance, do taste them.
Mt. Oji
Address: Okayama, Kurashiki, Kojima, Karakoto
Access: 25 minutes by bus from JR Kojima Station. Get off at Ojigadake Tozanguchi bus stop. Or 20 minutes by taxi.
Official HP: https://www.kurashiki-tabi.jp/see/1274/(Japanese only)
2. Itsukushima Shrine (Hiroshima Prefecture)
Picture courtesy of Hiroshima Prefecture
Itsukushima Shrine, one of Hiroshima's World Heritage sites, is visited by many domestic and international travelers every year. The great otorii and the majestic shrine building that merges so naturally into the surrounding nature are of indescribable beauty. Miyajima Island, where the shrine is located, has been long regarded as a sacred place. Constructing buildings on this island was considered an awe-inspiring task. This seems to be the reason behind the construction of this shrine and of the torii on the beach.
Itsukushima Shrine and its surroundings change completely when the tide is high or low. When the tide is high, the otorii and the entire shrine become enshrouded in a mystic atmosphere. When the tide is low, you can actually walk to the torii and take a look at it from close; you'll be amazed at how large it is! After sunset, the shrine is lit up and looks very dreamlike.
Picture courtesy of Hiroshima Prefecture
If you're looking for local dishes of Miyajima, head to the Omotesando Shotengai, a street lined with various types of shops. Oysters, conger eel, and momiji manju (sweet buns filled with bean jam) are just some of the delicious treats specific of Miyajima and there are plenty of shops offering them.
Itsukushima Shrine
Address: Hiroshima, Hatsukaichi, Miyajima 1 - 1
Access: 15 minutes by foot from Miyajima Pier
Entry fee: 300 yen
Official HP: http://visit-miyajima-japan.com/en/
Miyajima - Access Information
Take the JR San'yo Line train from Miyajima Station to Miyajimaguchi Station. The ride takes about 25 minutes. The Miyajimaguchi Ferry boarding platform can be accessed in 5 minutes by foot from Miyajimaguchi Station. The ferry ride to Miyajima Pier takes about 10 minutes.
3. Tsunoshima Bridge (Yamaguchi Prefecture)
Tsunoshima is an island in the northwestern part of Shimonoseki City in Yamaguchi Prefecture. Tsunoshima is connected to Honshu Island through the Tsunoshima Bridge. Spreading across the emerald sea, this bridge has a total length of 1,780 meters. Since 2000, when this bridge was opened, the beautiful views of the area have been drawing attention.
The location has been used as a setting for TV series and commercials. The bridge can also be crossed by foot; however, because the walk is narrow, it might be a better idea to enjoy the views from the bus that departs from Kottoi Station, which is the nearest station, heading towards Tsunoshima. Kotti Station can be reached from Shimonoseki Station in about one hour and a half by train.
Near the bridge, there is a dining place offering grilled dishes and sashimi made with seafood from Shimonoseki, such as octopus, which is a famous local product. If you would like to taste some of the best Shimonoseki cuisine, in addition to octopus, try pufferfish, sea urchin, yellowtail, abalone or anglerfish, which are all local specialties.
Tsunoshima Bridge
Address: Yamaguchi, Shimonoseki, Toyokita, Tsunoshima
Access: 23 minutes by bus (Blue Line bus heading to Tsunoshima) from Kottoi Station (located on the JR San'in Line).
4. The Garden of the Adachi Museum of Art (Shimane Prefecture)
The garden of the Adachi Museum of Art, located in Yasugi, Shimane Prefecture, has been ranked by an American specialty magazine on the first place in the top of Japanese gardens for 16 years in a row (information current as of 2019). This garden is representative of Japan both in name and in reality.
This garden is a place where one can appreciate both Japanese painting and nature, enjoying not only art but also the four seasons and the beautiful landscape. There are several Japanese gardens spreading over a wide area. Their beauty resembles the perfect aesthetics of a painting.
Picture courtesy of Shimane Prefecture Tourism Federation
If you wish to enjoy the best of the local cuisine around the Adachi Museum of Art, we recommend traveling from Yasugi Station to Matsue by train. The ride takes about 20 minutes.
The representative dish of Shimane is Izumo soba. Clams, Matsuba crab, sea bream, and rockfish among other seafood are also famous local products.
Adachi Museum of Art
Address: Shimane, Yasugi, Furukawa 320
Access: 20 minutes by shuttle bus (free) from JR Yasugi Station
Opening hours: April to September 9:00 - 17:30, October to March 9:00 - 17:00. Open all around the year.
Entry fee: Adults 2,300 yen, College students 1,800 yen, High-school students 1,000 yen, Elementary and middle school students 500 yen.
Official HP: https://www.adachi-museum.or.jp/en/
5. Mt. Daisen (Tottori Prefecture)
Picture courtesy of ©Tottori Pref.
Mt. Daisen, located in western Tottori Prefecture, is the highest peak in the Chugoku Region of Japan, at 1,729 meters above sea level. Because of its majestic appearance, full of fresh greenery in the spring and summer, charming its visitors with its beautiful red leaves in the fall, and covered in snow in the winter, Daisen has been venerated as a sacred mountain since ancient times.
The Daisen Plateau, located at the foot of Mt. Daisen, is a sightseeing area full of nature. In addition to the Main Hall of Daisenji Temple and Ogamiyama Shrine, there are also art facilities such as the Shoji Ueda Photography Museum or history museums such as the Mukibanda Historical Park. Horse riding, skiing, and other fun activities can also be enjoyed here.
Picture courtesy of ©Tottori Pref.
When it comes to local food, the Daisen soba noodles, or the Daisen okowa, a fried dish made with glutinous rice, chicken meat and mountain vegetables, are some of the famous dishes of the Daisen area. The ice cream made with fresh milk from the Daisen cows grown at the local farms is also a treat that should not be missed out.
Mt. Daisen
Addres: Tottori, Saihaku, Daisen-cho, Daisen
Access: 50 minutes by bus from the JR Yonago Station (to the Mt. Daisen National Park Center)
Official HP: http://tourismdaisen.com/en/
6. The Whirling Tides of Naruto (Tokushima Prefecture)
Picture courtesy of Tokushima Prefecture and Tokushima Prefecture Tourism Association
The Naruto Strait is located in the Seto Inland Sea, between Awaji Island and Naruto City in Tokushima Prefecture. Twice a day, when the tide is high or low, a whirlpool tide forms here. When the tide activity gets particularly high in the spring and fall, the speed of the current can reach 20 km per hour, and the diameter of the whirlpool can reach 20 meters. The sight is magnificent! The best time to view these whirlpools is an hour and a half before and after the highest or lowest tide.
Onaruto Bridge, the large suspension bridge lying over the Naruto Strait, has a walkway called the "Whirlpool Walkway." It's very thrilling to watch the whirlpools from a height of 45 meters through the glass floor. To check the time when the whirlpools form, please refer to the following website: Official HP
The red sea bream that lives in the sea around the Naruto Strait, facing the powerful currents specific to this area, is called Naruto sea bream. It is one of the specialties of Tokushima. The crunchy texture and the low fat make it ideal for sashimi, grilling, or rice topped with sea bream. Other famous dishes of Tokushima include the Tokushima udon noodles and Tokushima ramen.
Whirlpool Walkway
Address: Tokushima, Naruto, Narutomachi (within Naruto Park)
Access: 25 minutes by bus from JR Naruto Station; get off at Naruto Station bus stop; the walkway is 5 minutes away by foot.
Official HP: https://www.uzunomichi.jp/ (Japanese only)
7. Shimonada Station (Ehime Prefecture)
Shimonada Station is a station in Iyo City (Ehime Prefecture), on the JR Yosan Line.
It is a small, charming station. From the platform, one can admire the Seto Inland Sea spreading as far as the eye can see. It is a splendid view!
The station itself has a nostalgic atmosphere and is very photogenic. The station is famous among railway aficionados and it's no wonder that it's been used in many commercials and posters. In the evening, many people who want to enjoy the sight of the sea and the sunset gather here.
Picture courtesy of Ehime Prefecture Tourism Association
To reach Shimonada Station, you'll need to travel about one hour from Matsuyama Station, which is known for its proximity to famous tourist destinations such as Dogo Onsen and Matsuyama Castle. If you travel to Matsuyama for sightseeing, do stop by.
Picture courtesy of Ehime Prefecture Tourism Association
The best known food specialty of Ehime is sea bream. The region ensures more than half of the national production of sea bream. Do enjoy fresh local cuisine made with grilled sea bream. It's really delicious!
Also, since we're talking about Ehime, we can't forget the mikan oranges. This type of oranges are specific to Japan, and in Ehime they make juice and sweets using mikan oranges, so do taste them if you have the chance.
Shimonada Station
Address: Iyo, Futami, Okubo
Access: 1 hour by train from Matsuyama Station on the JR Yosan Line
Official HP: http://iyokankou.jp/spot/entry/000046.html (Japanese only)
8. Chichibugahama Beach (Kagawa Prefecture)
Picture courtesy of Mitoyo City Tourism Exchange Office
Chichibugahama Beach in Mitoyo City, Kagawa Prefecture, has been gathering attention recently for its beautiful landscapes that allow one to take pictures that resembling Bolivia's Salar de Uyuni.
The waves along this one-kilometer long beach are never too high so in the summer it is the ideal place for swimming. If you want to take beautiful pictures, then we recommend visiting during the "magic hour," which refers to the 30 minutes before and after the sunset. The time when the low tide coincides with the sunset is also worth checking out. The time can be verified on the official website.
If there are no wind and no waves, water puddles will form on the beach reflecting the sky. These puddles are great material for some unique, beautiful pictures.
Picture courtesy of Kagawa Prefecture Tourism Association
If you want to taste local specialties, you shouldn't miss out Kagawa's signature dish: udon noodles. There are many udon shops around the JR Takuma Station so do try their dishes. Comparing a few of them might also be fun.
Chichibugahama Beach
Address: Kagawa, Mitoyo, Nio-cho, Nio otsu 203-3 Chichibugahama Beach Area
Access: 24 minutes by bus from JR Takuma Station; get off at Chichibugahama bus stop.
Website: http://www.mitoyo-kanko.com/chichibugahama-beach-information/
9. Kashiwa Island (Kochi Prefecture)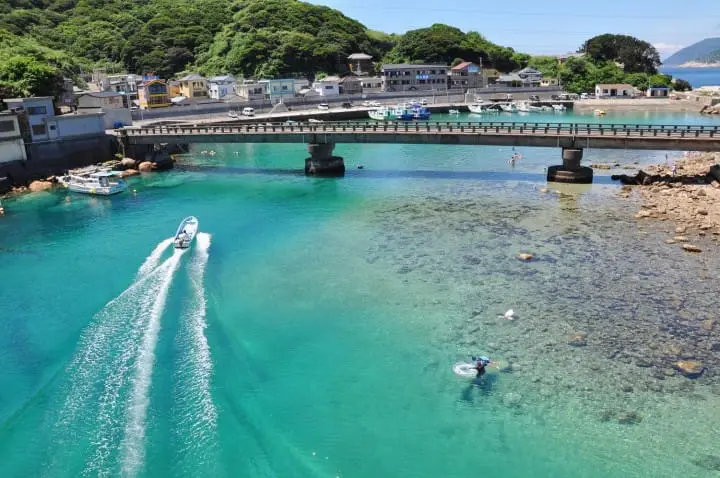 Picture courtesy of Kochi Prefecture Tourism Convention Association
On Kashiwa Island, located in the southwestern part of Kochi Prefecture, the sea is so transparent that the boats look as if they were floating in the sky. The small islets found offshore create a beautiful scenery as well.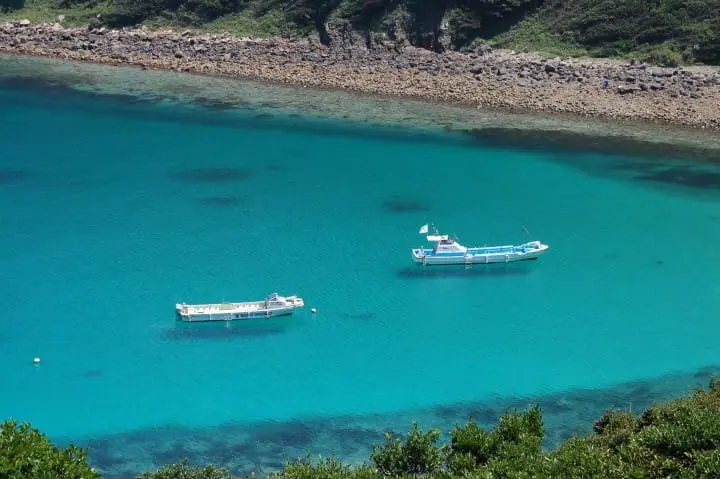 Picture courtesy of Kochi Prefecture Tourism Convention Association
It is said the one third of the fish species existing in Japan can be found in the sea surrounding Kashiwa Island. For this reason, it is a popular diving spot, with rare features.
Because Kashiwa is a small island and its western side is a mountainous area, visitors can explore only the eastern side by foot or by car. If you have 15 or 20 minutes at your disposal, you can complete a tour of this island. There are beach areas where visitors can enjoy swimming. The nearest station to this island, Sukumo Station, can be accessed in about two hours and a half by train from Kochi Station. It might not be the most accessible island in the world, but many of those who visited it once have come here again, and it's definitely a place worth visiting.
Picture courtesy of Kochi Prefecture Tourism Convention Association
Kochi Prefecture is famous for its production of fish such as sardines, tuna, and splendid alfonsino. Sukumo Bay, located in the town of Otsuki, is well-known since ancient times as a fishing ground for silver-stripe round herring, boasting one of the largest herring productions in the country. Enjoy the excellent taste of the local herring in dishes such as sashimi or fries.
Kashiwa Island
Address: Kochi, Hata, Otsuki, Kashiwa Island
Access: 1 hour by bus from Sukumo Station (Tosa Kuroshio Railway)
10. Miyajidake Shrine (Fukuoka Prefecture)
Miyajidake Shrine in Fukutsu City, Fukuoka Prefecture, is famous for one particular feature: the pathway leading to the main hall of the shrine is directly connected to the sea, creating a wonderful view. This rare sight is famous in all of Japan and there are many people who travel here just to see it once in their lifetime. This also happens the place where the largest shimenawa (*the rope that marks sacred spaces) in Japan is found. Its diameter is 2.5 meters, its length is 13.5 meters, and it weighs 5 tons!
The shops lining the central pathway to the shrine offer Matsugae-mochi, a type of fried rice cake with a crunchy surface and a soft, fluffy interior, filled with delicious sweet bean paste.
The nearest station to Miyajidake Shrine, Fukuma Station, can be accessed by train in about 30 minutes to one hour from Hakata Station, which is a popular sightseeing hub in Fukuoka.
Picture courtesy of Fukuoka City
In Hakata, visitors can enjoy mizutaki (a type of hot pot with chicken and vegetables), motsu nabe (hot pot with offal), and Hakata ramen, the latter dish being famous for its rich pork soup and thin noodles. Hakata is a true food paradise in Fukuoka, with many food stalls offering various Japanese dishes, so do stop by when you're in the area.
Miyajidake Shrine
Address: Fukuoka, Fukutsu, Miyaji Motomachi 7-1
Access: 6 minutes by bus from Fukuma Station (JR Kagoshima Main Line); get off at Miyajidake Jinja-mae bus stop and walk 25 minutes to the main hall.
Website: http://www.miyajidake.or.jp/ (Japanese only)
In Closing
In this article we introduced great views specific to Japan such as splendid ocean views, majestic mountains, and mystical landscapes of shrines that have become one with the surrounding nature. Has any of these places piqued your interest? You can enjoy these places by taking unique pictures of them or by just simply taking in the views. If you visit, you'll undoubtedly create amazing memories.

Sponsored by HASHIWATASHI PROJECT

The information presented in this article is based on the time it was written. Note that there may be changes in the merchandise, services, and prices that have occurred after this article was published. Please contact the facility or facilities in this article directly before visiting.