Meet Cats, Deer, And Other Animals At 5 Sightseeing Spots In Japan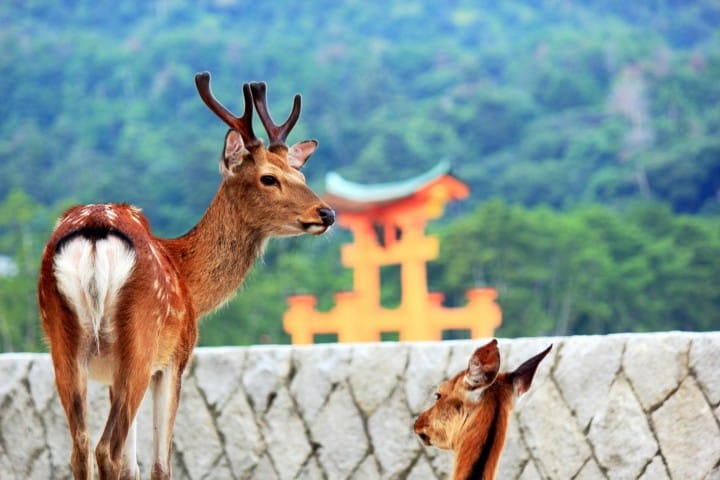 In Japan, there are plenty of places where you can eat delicious food and shop. But there are also places where you can meet adorable animals! And we are not talking about animal cafés, but of places like cat and rabbit islands!
Meet the Cutest Animals during Your Japan Trip
Did you know that Japan not only has animal cafés, but also cat and rabbit islands? There are also places where you can see wild animals living right alongside people.
Would you like to go to see these animals? We'll introduce the best places where visitors can encounter animals during their Japan travels.
1. Take Photos of the Itsukushima Shrine Deer (Hiroshima)
Picture courtesy of Hiroshima Prefecture
Itsukushima Shrine, a World Heritage Site, needs no introduction. It is a spot visited by numerous people from all around the world who come to see the great otorii gates and the beautiful main shrine building.
Tourists are entertained on Miyajima, the island where Itsukushima Shrine is located, by adorable deer.
Picture courtesy of Hiroshima Prefecture
Apparently, about 200 deer live on the streets of Miyajima in various spots throughout the island, including near Itsukushima Shrine. They are incredibly adorable creatures, but please note that it is completely forbidden to feed the wild deer.
There are several foods that deer are unable to digest. If they eat plastic or paper by mistake, it can lead to their death. However, even if you don't feed them, there will be several opportunities to take pictures of them as they are used to people. Hang out with them by taking pictures but please mind your rear because the deer can be quite playful.
Picture courtesy of Hiroshima Prefecture
Miyajima is filled with souvenir shops and restaurants along the Omotesando Shopping Street. The street extends from the port and ends at Itsukushima Shrine.
The island's specialties include oysters, conger eel, and maple leaf buns. Oysters are presented in various ways including grilled, raw, and fried. The best conger eel dish is Anago-don, a bowl of rice topped with conger eel boiled in a salty-sweet sauce.
Red bean paste-filled maple leaf buns are found at many stores, so definitely please give them a try.
Itsukushima Shrine
Address: Hiroshima, Hatsukaichi, Miyajimacho 1-1
Access: 15-minute walk from Miyajima Pier
Entrance Fee: 300 yen
Official Website: http://visit-miyajima-japan.com/en/ (Miyajima Tourism Official Website)
Access to Miyajima
Take the JR Sanyo Main Line from Hiroshima Station to Miyajimaguchi Station for 25 minutes. Walk for five minutes from Miyajimaguchi Station to the Miyajimaguchi Ferry Pier. It will take 10 minutes by ferry from Miyajimaguchi to Miyajima Pier.
2. Have Fun Watching the Okunoshima Rabbits! (Hiroshima)
Okunoshima, an island found in Takehara, Hiroshima, is home to over 700 rabbits.
Here, you can play with the rabbits as they're friendly. However, you please do not chase or carry them. Rabbits are very timid creatures.
They will squirm when carried while trying to run away and that may result in injuries to either the rabbit or the human trying to hold them. Please also make sure not to give them sweets and other human foods.
Another one of Okunoshima's charms is being able to enjoy nature from season to season due to the island being a part of the Setonaikai National Park. There are areas for swimming or camping in the park. There's also a resort with a hot spring called Kyukamura Okunoshima.
Access to the island is a 15-minute ferry ride from Tadanoumi Port. To travel to Tadanoumi Station for the port, it will take about one hour and a half by bus from Hiroshima Station. Booths at Tadanoumi Port sell various rabbit goods.
Picture courtesy of Hiroshima Prefecture
The restaurants on Okunoshima only consist of those inside Kyukamura Okunoshima. As such, we recommend eating beforehand around Tadanomi Port before leaving for the island.
At the port, you can enjoy foods such as seafood bowls, topped with seafood from the Seto Inland Sea, Hiroshima's famous okonomiyaki, and other dishes.
Okunoshima
Address: Hiroshima, Takehara, Tadanomicho, Okunoshima
Access: 3-minute walk from Tadanomi Station to Tadanomi Port. 15 minutes by ferry from Tadanomi Port to Okunoshima
Official Website: http://rabbit-island.info/en/
3. Carefree Cats on Ogijima Island (Kagawa)
The Seto Inland Sea has a mild climate and calming atmosphere. Small islands and fishing villages are scattered throughout the sea. On some of them, there are adorable cats spending their days carefreely.
The most famous island among them is a small island called Ogijima in Kagawa with a total circumference of 5 km and a population of fewer than 200 people. It will take about 40 minutes to reach the island via Megijima by ferry from Takamatsu Port.
Ogijima, as expected from its nickname "cat island," is where you can find cats living carefreely throughout the entire island. Feel free to play with them by taking pictures or petting them as they're used to humans. However, please note that it is forbidden to feed them.
Ogijima is also the venue of an art festival with fourteen different art installations displayed both indoors and outdoors. One of the many charms of this island is that visitors can enjoy a walk while appreciating art.
As for food, there are cafés and restaurants on the island; however, many of them do not have regular opening hours. It may be better for you to purchase snacks to bring along if you're worried about what to do for food. The island also has several steep slopes, so it is best to visit with shoes suitable for walking.
By the way, the first ferry departs from Takamatsu Port at 8:00 in the morning while the final ferry leaves Ogijima at 17:00. There are only six ferries per day, so we recommend checking departure times and details beforehand.
Sightseeing spots such as Ritsurin Garden and Takamatsu Castle are also found in Takamatsu, so please enjoy sightseeing in the city as well if you have time. You can also fill yourself with foods such as Sanuki udon noodles, fresh seafood caught from the Seto Inland Sea, and more in this city.
Ogijima Island
Address: Kagawa, Takamatsu, Ogijima
Access: Walk from either Takamatsu Station or Takamatsu-Chikko Station to Takamatsu Port. Take the ferry for 40 minutes from Takamatsu Port
Official Website: http://ogijima.info/ (Japanese only)
4. See Whales up close! Usa Whale Watching (Kochi)
Picture courtesy of Usa Whale Watching Association
In Kochi, Shikoku, a prefecture facing out into the Pacific Ocean, you can enjoy a rare whale watching experience. Among such experiences is a tour where you can meet friendly Bryde's whales in Usacho, Tosa.
Bryde's whales have friendly and gentle personalities. They rarely run away even when approached by boats and will give enjoyment on a grand scale by swimming around or passing by underneath your boat.
Picture courtesy of Usa Whale Watching Association
If going on a boat, please avoid wearing skirts. Instead, you should wear clothes that are easy to move around. As for footwear, we recommend sneakers. The sunlight is strong when out at sea, so we recommend bringing along sunglasses and a light outer jacket. Those who need to take medicine for motion sickness should do so 30 minutes prior to boarding.
Whale watching is an activity that largely depends on nature. As such, an encounter with whales is not 100% guaranteed. Be sure to keep this in mind.
Picture courtesy of (Public Interest Foundation) Kochi Visitors & Convention Association
Usa can be reached in roughly 60 minutes by bus from JR Kochi Station. By the way, you'll find sightseeing spots such as Kochi Castle, a castle with 400 years of history, and Hirome Market, a lively restaurant neighborhood, in the Kochi Station area.
Picture courtesy of (Public Interest Foundation) Kochi Visitors & Convention Association
Kochi is known for its delicious local fish such as sardines, skipjack tuna, and splendid alfonsino. Please enjoy the gourmet food here as well.
Kochi Whale Watching Usa
Address: Kochi, Tosa, Usacho, Hashida Beach 2752-7 (inside Usashiokaze Park)
Access: 60 minutes by bus from JR Kochi Station or 30 minutes by bus from JR Asakura Station
Boarding Fee: Adults 6,000 yen (junior high school students and older), elementary students 4,000 yen, infants 3,000 yen (ages 3 and above)
Official Website: http://usaww.jp/pc/(Japanese only)
5. Play With Monkeys at Arashiyama Monkey Park! (Kyoto)
Picture courtesy of Arashiyama Monkey Park Iwatayama
Arashiyama, known as a famous location for admiring the fall colors, is where you can encounter the Japanese monkeys found in Arashiyama Monkey Park Iwatayama. It is a zoo so to speak that is also home to about 120 Japanese monkeys living in the wild. In this park, you'll be able to observe their lovely and carefree actions.
Picture courtesy of Arashiyama Monkey Park Iwatayama
It will take about 20 minutes from the entrance to the summit where the monkeys are found. Monkey feed is sold for 100 yen per bag and can be used to feed the monkeys inside the resting area.
By the way, please keep in mind that visitors are prohibited from bringing in other foods to feed the monkeys. A complete view of Kyoto can be enjoyed from the resting area, 160 meters above sea level. Another appeal of this park is that visitors can see beautiful fall colors, as well as cherry blossoms in the spring due to its location inside Arashiyama Park.
Several famous sightseeing destinations such as Tenryuji Temple and the Arashiyama Bamboo Grove are found nearby. You'll also find numerous shops where you can taste Kyoto foods such as Kyoto-style udon, boiled tofu, kaiseki cuisine (traditional multi-course Japanese meal), and more.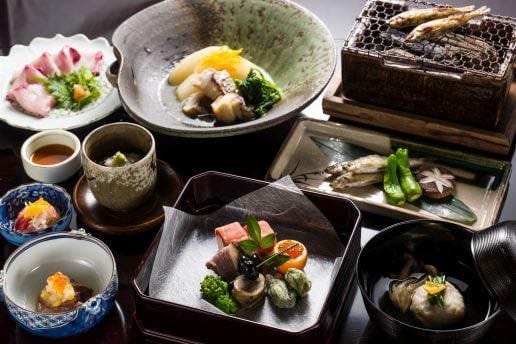 Picture courtesy of Kyoto Media Support Center
Arashiyama Monkey Park
Address: Kyoto, Nishikyo, Nakaoshitacho 61
Access: 5-minute walk from Hankyu or Keifuku Arashiyama Station, 15-minute walk from JR Saga-Arashiyama Station
Business Hours: [3/15-9/30] 9:00 – 16:30, [10/1-3/14] 9:00 – 16:00
Entry Fee: Adults (16 years and up) 550 yen, Children (4-15 years old) 250 yen
Official Website: http://monkeypark.jp/(Japanese only)
In Conclusion
These animals are so cute that you'll feel happy just by looking at their pictures. Isn't it great that there are spots where you can actually meet them?
The places where these animals are found are also appealing because of the rich nature surrounding them. By all means, do consider visiting these spots.
Sponsored by HASHIWATASHI PROJECT

The information presented in this article is based on the time it was written. Note that there may be changes in the merchandise, services, and prices that have occurred after this article was published. Please contact the facility or facilities in this article directly before visiting.