One-Day Hiroshima Bus Tour: See Cute Rabbits And Historic Cityscapes
This tour takes you to Okunoshima, the Rabbit Island, and Takehara, a city famous for its traditional streetscapes. Please consider taking part in the survey at the end of the article. You have the chance to win a prize! Your answers and opinions help the organizers improve the content of the tour.
Hiroshima Day Trip with the Takehara-Okunoshima Sightseeing Bus
Takehara, a city in Hiroshima, is a popular travel destination particularly known for its elegant traditional streetscapes. Another famous sightseeing destination in the area is Okunoshima Island, also called "Rabbit Island" because it is home to more than 900 roaming rabbits.
The Takehara-Okunoshima Sightseeing Bus operated by Chugoku JR Bus Company tours both of these places.
The Takehara-Okunoshima Sightseeing Bus offers a one-day sightseeing tour that starts and ends at JR Hiroshima Station.
Tours are conducted every week on Tuesdays and Fridays with the exception of national holidays. The tour starts at 9:20 ends at 18:00. Tickets cost 5,000 yen for adults and 3,000 yen for children.
Click here for full details on the Takehara-Okunoshima Sightseeing Bus
Our writer embarked on this bus tour in February 2020. This article provides a full report on how the trip went!
At the end of this article, be sure to answer a survey about this tour for a chance to win a 3,000 yen Visa gift card.
*The tour fee includes bus fares, a bamboo craft making workshop in Takehara, a townscape excursion ticket, and ferry tickets.
Beautiful Streetscapes! The Takehara Townscape Preservation District
Our bus departed at 9:20 from JR Hiroshima Station and headed towards the main expressway. We arrived at our first destination, the Takehara Townscape Preservation District in an hour.
Located in the southcentral area of Hiroshima, this unique district in Takehara is where important historic buildings are preserved.
The elegant streetscapes are often used as filming locations for movies and TV series as well. It recently served as the shooting location for a Japan Airlines (JAL) commercial (in Japanese), starring one of the most popular idol groups in Japan.
Takehara flourished as a sake and salt-making town during the end of the Edo Period (1603-1868).
Gorgeous buildings hailing from that era still remain intact throughout the town. A leisurely stroll here might make you feel nostalgic.
Making Traditional Japanese Bamboo Crafts
During the tour, participants have the opportunity to make traditional items using bamboo. In fact, bamboo is the official tree of Takehara.
Our writer took part in a bamboo craft workshop at Takehara Machinami Take Kobo. This shop sits along Honmachi-dori Street in the Takehara Townscape Preservation District.
During the workshop, we made pinwheels by weaving together thin bamboo strips. This special technique has been passed down through generations.
The workshop won't be a challenge for those with no experience using bamboo! A bamboo artisan will gently guide each participant as they make their work of art.
This is the completed pinwheel (photo above). Our writer made a bamboo item for the first time here. It resulted in a beautiful product thanks to the instructions received from the warmhearted staff.
Origami (folded paper) is used for the blades of the pinwheel. Participants can choose from a wide selection of colors and patterns to personalize their handmade goods.
On the studio premises, there are several kinds of bamboo items for sale. If there's one that catches your eye, why not purchase it as a souvenir?
After the bamboo workshop, tour participants receive two hours of free time.
Please read to the end of this article for a survey to let us know your thoughts about this article and enter a raffle.
Visiting the Impressive Matsusaka Residence
During the two hours of free time, our writer visited the Matsusaka Residence in the Takehara Townscape Preservation District.
Built at the end of the Edo Period, this stately mansion is where a wealthy merchant once lived. It also holds the prestige of being an Important Cultural Property of Takehara City.
Visitors can get a glimpse of the daily life of this prominent merchant who helped flourish the local area.
Admission to the residence is 200 yen, but this tour includes the Townscape Excursion Ticket. Ticket holders get free entry into the Matsusaka Residence and other cultural sites that usually charge an admission fee (*).
The photo above shows the traditional Japanese garden seen from the veranda. Bask in this harmonious Japanese-style architecture surrounded by beautiful nature that changes colors with the seasons.
*The Townscape Excursion Ticket also grants free entry to the Takehara City Historical Folk Museum, the Morikawa Residence, and the Mitsumoto Residence.
Please take a close look at the lattice window on the first floor of the Matsusaka Residence. This craft is called Takehara lattice and is created by a miyadaiku, a carpenter who specializes in restoring traditional temples and shrines.
It's impressive to see how much work went into these intricate designs that resemble paper cutouts with cute patterns.
A handicraft called inome was adopted for the latticework in the Matsusaka Residence. This type of woodwork is said to ward off evil spirits.
When you look at the lattice from the side, you'll see a heart-shaped opening. It's affectionately known as "the heart that brings happiness." This would make a great photo to share on social media!
Town Highlights: The Stone Guardian at Fumeikaku Temple
Making full use of the free time, our writer went then for a stroll around the Takehara Townscape Preservation District. The first stop was the town's symbol, Fumeikaku Temple.
The building is said to be modeled after Kiyomizudera Temple in Kyoto. Visitors get a panoramic view of Takehara from the balcony.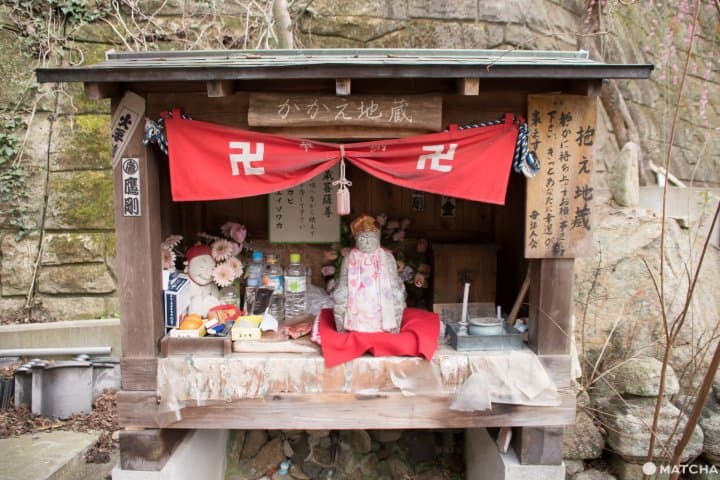 The temple has a very special statue called Okakae Jizo. Visitors are asked to make a wish as they gently pick up and hold this stone guardian. If the jizo (a guardian deity of travelers and children) feels lighter than you imagined it would, they say that your wish will come true.
When we visited this spot, there were travelers making all types of wishes, from prayers for safety to luck in love.
The photo above showcases the bronze statues of Masataka Taketsuru, known as the "Father of Japanese Whiskey," and his wife Rita.
The house where he was born and raised is located in the Takehara Townscape Preservation District. The Japanese series "Massan," in which Mr. Taketsuru is the main character, is very famous in Japan. In the area, you can see the Taketsuru Sake Brewery that was also featured in this series.
Please read to the end of this article for a survey to let us know your thoughts about this article and enter a raffle.
Treat Yourself to an Extraordinary Soba Lunch
There are great places where you can enjoy traditional Japanese cuisine all throughout the Takehara Townscape Preservation District.
We visited the Sake Brewery Tanizaki Soba Noodle Shop. It's a popular restaurant specializing in chewy, handmade soba. A section of the sake brewery was renovated into an eatery. Guests get to slurp their delicious soba amid a retro atmosphere.
We ordered a set meal with taimeshi and zaru soba (cold soba served in a basket) (1,000 yen including tax). Taimeshi is a Japanese dish that consists of white rice cooked with red sea bream flakes.
While the homemade soba was tasty, the exquisite taimeshi deeply impressed us with its home-cooked flavor.
After lunch, we headed next door to the adjoining Sakagura Koryukan (Exchange Center) to look for souvenirs. They sell beautiful interior items and pottery. One product that attracted our attention was the bath soap called Sakehana made with sake lees. Sake lees are said to have skin-beautifying effects.
You can also enjoy sake tasting and sip several varieties of Japanese rice wine. You might just discover your favorite sake brand here!
Okunoshima, the Rabbit Paradise
After an enjoyable stroll in the Takehara Townscape Preservation District, it's now time to head for Okunoshima Island, better known as Usagi Shima ("Rabbit Island").
First we took a 15 minute bus ride. When we arrived at Tadanoumi Port—known for its distinct pink-colored mailboxes—we boarded a large ferry.
The ferry ride took about 15 minutes. Okunoshima Island finally came into view after we crossed the Seto Inland Sea.
Okunoshima is part of Setonaikai National Park in Takehara. Although more than 900 European rabbits inhabit the island, there are no permanent residents here excluding volunteers and staff.
The island has been known as Rabbit Island since 2011. After receiving a swarm of media attention, the island started to receive crowds of visitors.
Tens of rabbits suddenly showed up as soon as we got off the ferry!
There are several theories as to why the rabbits multiplied into such great numbers.
One popular story dates back to 1971, when local elementary school kids released eight pet rabbits into the wild, resulting in their propagation. Fast forward 30 to 40 years, and the population reached about 900.
Hop on a Shuttle Bus for Kyukamura
Tour participants have two hours of free time after arriving at Okunoshima Island.
From here, we boarded a complimentary shuttle bus from the port area and headed to Kyukamura Ohkunoshima. Inside this facility there is a shop called Usanchu Cafe, where you can sample specialty sweets of Okunoshima.
This local favorite is called Usagi-No-Hanaku Soft-Serve Ice Cream (380 yen including tax).
The outside of the ice cream is garnished with a cocoa peanut confectionery. Its crispy texture compliments the rich-tasting frozen dessert inside marvelously! Do give it a try when visiting Okunoshima Island.
Take a Stroll Surrounded by Bunnies!
Okunoshima is the kind of place where vistors can unwind by spending quality time surrounded by serene nature and adorable bunnies. Simply walk around and you'll discover many features that are unique to the Rabbit Island.
The photo above shows directional sound devices. They're modeled after rabbit ears and can rotate 360 degrees. Point them in any direction and put your ears up to the opening. You'll be able to hear the amplified sounds of birds chirping, as well as those of the passing ferries and of the splashing waves.
This island will give you plenty of occasions to take pictures that are worthy of sharing on social media.
You'll notice holes in the ground all over the island (see photo above). The European rabbits residing here dig holes and live in underground dens.
These rabbits are usually most active at daybreak and in the early evenings when it's partially dark outside. They can also be seen in the daytime because there are few predators on the island.
After our walk, we met up with other tour participants at the harbor to take a ferry back to Tadanoumi Port. From here, we boarded a sightseeing bus and headed for Hiroshima Station. The bus tour comes to an end once it reaches the final destination at about 18:00.
Takehara-Okunoshima Sightseeing Bus: Experience the Extraordinary!
There are countless bus tours in Japan, but few can offer this unique combination of historic streetscapes and an island inhabited by adorable rabbits.
For travelers looking for something out of the ordinary, we warmly recommend the Takehara-Okunoshima Sightseeing Bus. Cute and cuddly rabbits are patiently waiting for your arrival!
Click here for full details on the Takehara-Okunoshima Sightseeing Bus
In addition to the Kansai-Hiroshima Area Pass, the West Japan Railway Co. (JR West) offices sell various travel passes at excellent value for international travelers. For details please refer to the JR West official homepage.
For additional information on tours in the central and western Japan offered by JR West, please refer to Discover West Japan.
For information on touring Hiroshima Prefecture and neighboring Okayama Prefecture, please see the MATCHA articles directly below.
Written by Kazuma Takahashi
Sponsored by Hiroshima Prefecture, JR-West
This article was created with financial support from an inbound tourism promotion offered by the Japanese Tourism Agency.
Your Cooperation Needed! Answer a Brief Survey

Please check our privacy policy.

The information presented in this article is based on the time it was written. Note that there may be changes in the merchandise, services, and prices that have occurred after this article was published. Please contact the facility or facilities in this article directly before visiting.