Discover Hiroshima's "Rabbit Island"! The Incredible Okunoshima
Kagawa has its Cat Island and Tohoku has its Fox Forest, but did you know about Hiroshima's Rabbit Island? 700 bunnies are waiting for you on Okunoshima!
The first things to do on your itinerary when you arrive in Hiroshima are going to be getting a good view of Itsukushima Shrine's giant torii gate and savoring a meal of large Hiroshima oysters. If you're not sure what to do after that, we'll introduce you to a place in Hiroshima where you can spend time with some cute little critters.
The island of Okunoshima is a must-visit for anyone who likes animals. Visit this island and you can have the dreamlike experience of being surrounded by adorable little rabbits!
Hop On A Boat To Go Visit Okunoshima's Bunnies!
To get to Okunoshima, you'll need to head to Tadanoumi Port first. The port is in walking distance from Tadanoumi Station, two hours from JR Hiroshima Station on the Kure Line. Once at the port, check out the available ferries. There are ten per day. While waiting, you can pick up postcards, stationery, key holders and many other rabbit-themed products at the souvenir shop. Of course, you can also buy rabbit feed.
The ferry ticket counter is outside the souvenir shop. Hit the red button for a ticket to Okunoshima (620 yen for one adult round-trip ticket).
Arrive On "Rabbit Island," An Animal Lover's Paradise!
Okunoshima, otherwise known as Rabbit Island, is three kilometers away from Tadanoumi Port and a 12-minute journey by boat.
The History Of Okunoshima
During World War I, Okunoshima was the home of a poison gas production facility. In order to conceal it at the time, Okunoshima's existence was not noted on maps, and it became a "deleted island."
However, production ceased along with the end of the war, and the entire island was scrubbed clean of poisonous material, so there is no need to worry about any remaining hazards.
Well, how did the rabbits get to the island? One theory holds that eight rabbits raised at an island elementary school were released into the wild, where they reproduced. For the rabbits, this island has plenty of food for them to fill up on every day, so they can live happy, sleepy lives. For that reason, their numbers only seem to increase.
Play Around With The Free-Roaming Rabbits!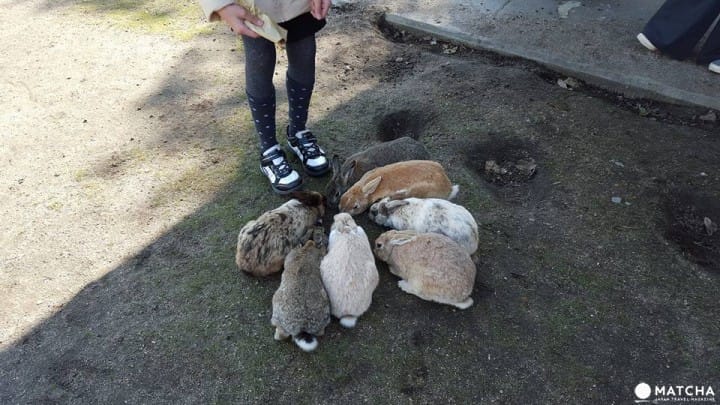 Okunoshima currently has around seven hundred rabbits for visitors to play with, making it a delight for kids. Due to the constant feeding by visitors, all of the rabbits have become round and plump.
Pull out a bag of feed and the adult rabbits will crowd around you. The baby rabbits will be overwhelmed by the crush of adults, and unable to get to the feed. When you give the rabbits food, take care of the little ones, too!
If you get tired after walking around the island for a while, you can take a break on a bench. If you have feed on hand, the rabbits will come to you, and you can enjoy your newfound popularity with them.
The feed-loving rabbits are totally fearless, and will even cling to your feet. It's a very comforting sight! While you can lightly pet them, do not chase the rabbits around or try to hold them. Rabbits are actually very cowardly creatures. If they are held, they will try to squirm out and flee, and they may break some bones.
This rabbit seems to be saying "I can stand on my tiptoes if you've got some food for me!"
Rabbit feed is only sold at the Tadanoumi Port souvenir shop, not on the island. You can also feed the rabbits with mizuna mustard greens and radishes from the supermarket, which makes them equally happy.
In Closing
In recent years, Okunoshima has become a sightseeing spot for international and Japanese visitors in search of solace. If you love animals, by all means, visit Rabbit Island. By playing with the cute rabbits, the childlike spirit in your heart will be fulfilled, and you'll want to run around with them yourself. It is said that animals and children can naturally bring a smile to your face, but if you come here to Rabbit Island, you can recover the pure, smiling face you that may have started to wear away from the daily grind. Keeping the return ferry in mind, we recommend that you take the 3:15 PM ferry from Tadanoumi Port, at the latest.
This article was translated and edited from traditional Chinese.

View Information
Omishima Ferry
| | | |
| --- | --- | --- |
| | Address | Hiroshima, Takehara City, Minato-cho 3-1-7 |
| | Business Time | 7:30-19:00 |
| | Fixed holidays | Open all year |
| | Required Time | 2 hours |
| | WiFi | Not Available |
| | Accepted Credit Cards | Not Available |
| | Menu/Pamphlets in Other Languages | English |
| | Nearest station | JR Tadanoumi Station |
| | Access | From JR Hiroshima Station, go to JR Tadanoumi Station (via the Kure Line) and walk for five minutes to Tadanoumi Port, then take the 12-minute Omishima Ferry to Okunoshima |
| | Price | 620 yen round-trip |
| | Telephone number | (0846)22-6199  |
| | Website | Omishima Ferry |