Takamatsu Travel Guide: Access, One-Day Trips, Souvenirs, And More!
Takamatsu is a major city in Kagawa prefecture, which is located in the Shikoku region. This guide introduces information on how to reach Takamatsu, what to visit and enjoy in the city, as well as on the surrounding islands and more!
Area Overview: What Kind of Place Is Takamatsu?
Takamatsu is a central city in Kagawa prefecture, located in the Shikoku area. Within the city, there are many famous tourist destinations such as Ritsurin Garden, a Japanese garden, and historical spots such as Takamatsu Castle. Around Takamatsu Station, you can find several udon noodle shops, as udon is Kagawa's specialty.
A five minute walk away from Takamatsu Station is the Takamatsu Pier. You can hop on a boat and go on a day trip out to Shodoshima Island or Naoshima Island, known for amazing nature. This article will let you know how to get to Takamatsu from major cities, highlights of Takamatsu and of the islands, and some great souvenirs you can buy in Takamatsu too.
Table of Contents:
1. How to Get to Takamatsu (From Tokyo, Osaka, Kyoto, and Kobe)
2. Transportation in Takamatsu and Tourist Information Centers
3. Recommended Tourist Spots in Takamatsu
4. Takamatsu and Sanuki Udon Noodles (A Must-Try Before Going Home!)
5. Day Trips to Islands from Takamatsu (Shodoshima, Naoshima, Teshima Islands)
6. Souvenirs and Shopping Spots in Takamatsu
7. Weather, Clothing, and Other Travel Tips for Takamatsu
How to Get to Takamatsu
From Tokyo, you can take the bullet train or fly to Takamatsu. From Kyoto and Osaka, it is convenient to take the bullet train or express bus. From Kobe, you can go to Takamatsu Port by ferry.
For more detailed information about getting to Takamatsu, please take a look at: Accessing Kagawa From Major Cities And Takamatsu From The Airport.
Transportation in Takamatsu
Here, we will feature the main means of transportation in Takamatsu.
You can get to the main tourist spots of Takamatsu city (Sunport Takamatsu, Takamatsu Castle remains, Kitahama Alley) by walking from Takamatsu Station. The Ritsurin Garden can be accessed by getting off at the Ritsurin Garden stop on the Shopping Rainbow Loop bus.
Train
Two train companies, JR Shikoku and the Takamatsu Kotohira Electric Railroad, operate in Takamatsu.
There are four major JR lines: the Kotoku line that goes to Shido, Sanbonmatsu and Tokushima; the Yosan line and Dosan line that connects Takamatsu, Sakaide, Kanondera, Matsuyama and Kochi; and the Seto Ohashi line that is bound for Okayama and Tokyo.
The Kotoden, (short for Takamatsu Kotohira Electric Railroad company), has three lines in Kagawa prefecture. There is the Kotohira line that heads to Kotohira on the western side of the prefecture, the Nagao line bound for Hiragi and Nagao in the south, and the Shido line that runs along the Seto Inland Sea on the southern side.
The Kagawa Mini Rail and Ferry Pass allows easy transportation around Takamatsu, Kagawa Prefecture, and its islands for 2 days, and is highly recommended for those sightseeing. See this link for more details and to book the pass.
Bus
When touring around Takamatsu, a convenient bus to take is the Shopping Rainbow Loop bus, operated by the Kotoden group. It leaves from Takamatsu Station and stops by the city's major tourist and shopping spots including Takamatsu Harbor, Ritsurin garden, Yumetown Takamatsu-mae, and Kawaramachi. There are the east and west routes to select from.
Takamatsu's Tourist Information Center
On the first floor of Takamatsu Station, there is a tourist information center with staff members who can speak English, Chinese or Korean. If you have any questions or would like recommendations for touring around Takamatsu, it is a great place to stop by before exploring.
Address: Kagawa, Takamatsu, Hamanocho 1-20 (JR Takamatsu Station first floor concourse)
Hours: 09:00-20:00 (open all year)
Website: Kagawa Official Tourism Website
Recommended Tourist Spots in Takamatsu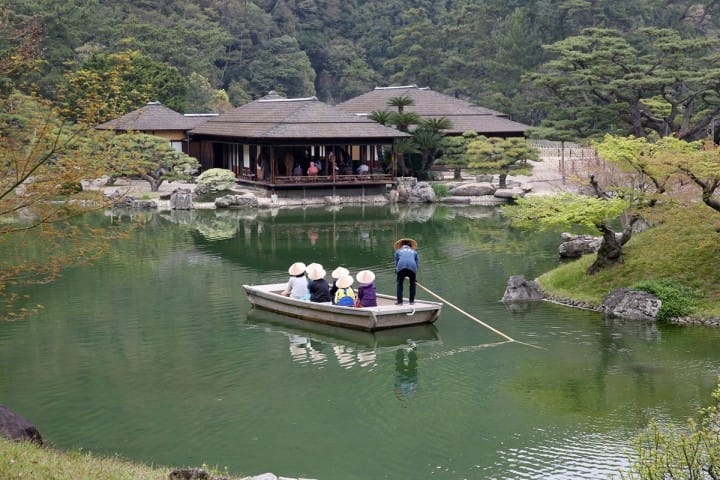 In Takamatsu city, you can find tourist spots such as the grand Japanese garden, Ritsurin Garden, the retro looking harbor warehouse that is now a trendy shopping spot, Kitahama Alley, or Sunport Takamatsu that overlooks the Seto Inland Sea, all of which are very popular places to stop by.
For more details about sightseeing in Takamatsu, take a look at: 17 Activities To Enjoy In Takamatsu And Shodoshima, Kagawa Prefecture.
Takamatsu and Sanuki Udon Noodles (A Must-Try Before Going Home!)
Famous for its delicious udon noodles, Kagawa prefecture has the largest number of udon consumers in Japan! Plenty of shops provide delicious udon throughout the prefecture.
The udon in Kagawa is called Sanuki udon, which is known for the firm and chewy texture of the noodles. Sanuki udon comes in many varieties, such as a simple style with cooked noodles in broth, or with curry, and much more.
When visiting Takamatsu, the Sanuki udon is a must try. Around Takamatsu Station, you can find many popular udon shops such as Ajisho and Meriken-ya.
You can find out more details about Kagawa's through: 17 Activities To Enjoy In Takamatsu And Shodoshima, Kagawa Prefecture and Udon Noodles: A Guide To Varieties, Prices And Recommended Shops.
Day Trips to Islands from Takamatsu (Shodoshima, Naoshima, Teshima Islands)
Within the Seto Inland Sea, there are many wonderful remote islands you can go by ferry from Takamatsu. From Takamatsu port, you can take a one-hour ferry ride out to Shodoshima island and Naoshima island, so they make great day trip destinations.
Let us introduce you to the highlights of the largest remote island of Kagawa, Shodoshima island, and Naoshima island, also known as the "island of art".
Shodoshima Island
Shodoshima island is the largest island in Kagawa. It is an island known for its scenic sites such as the Angel Road that appears when the tide sets out, or the Kankakei, that has been designated as one of Japan's top spots for natural scenic beauty.
Shodoshima island can be accessed by ferry from Takamatsu port. It costs adults 690 yen and children 350 yen. It takes approximately an hour to reach and there are about 15 boats per day going to the island.
More information on Shodoshima Island can be found in the following article: 17 Activities To Enjoy In Takamatsu And Shodoshima, Kagawa Prefecture.
Naoshima Island
Naoshima island is also known as the "Art Island". Found within the Seto Inland Sea, it is a small island that extends for a length of only about eight kilometers.
There are many art-related centers and facilities based in Naoshima, including the Chichu Museum, Benesse House Museum, and the Naoshima Public Bath, I ♥ Yu. When you arrive at the Naoshima harbor by ferry you will even be greeted by 'red Pumpkin', a sculpture designed by the Japanese artist, Yayoi Kusama.
For those who wish to take their time visiting the art facilities of the island or going around looking at all the island's sculptures, it is a good idea to stay overnight on the island. This island is filled with many great works of art and may take over a day if you wish to see them all.
You can reach Naoshima Island by ferry from Takamatsu port in 50 minutes. For adults it will cost 520 yen, and 260 yen for children, with six to nine departures taking place every day. On the island itself, you can get around easily by bike rental, bus, or on foot.
Teshima Island
Teshima island is a tiny island located four kilometers west of Shodoshima island. It has a population of about 1,000 people and many tourists also visit this island in search of art. Within the island, there are unique facilities such as the Teshima museum which is made with solid concrete and no pillars. There is also the "Heart Beat Archive" facility where you can listen to the sound of a beating heart inside the dark facility.
Teshima island can be reached by ferry from Naoshima island in approximately 30 minutes. It costs 620 yen for adults, and 310 yen for children. There is also a charter ferry going to Teshima from Takamatsu port as well.
You can tour the island by renting a bike, a car or by walking.
Souvenirs from Takamatsu
Aside from the Sanuki udon noodles, Kagawa's specialty foods are soy sauce, olive oil, and Wasanbon sugar. These can be found at Shikoku Shop 88, which has locations at Takamatsu Airport, Takamatsu Station, and Takamatsu port.
You can find more details about souvenirs from the following article: Delicious Souvenirs From Takamatsu: Sanuki Udon, Olive Oil, Sugar And More.
Shopping Spots in Takamatsu
In shops such as the Kagawa Bussanten Ritsurinan or Shikoku Shop 88 in Takamatsu city, you can find specialty items from Kagawa such as Sanuki udon, soy sauce, and traditional crafts. It is a great place to stop by for local souvenirs and gifts.
There is also the Marukame-cho Shopping district which is found about a five-minute walk from Takamatsu Station. With nearly 1,000 shops lining the streets, this is the longest shopping street in Japan! From the latest trends to traditional Japanese confectionery, you can find many locals shopping in these stores. Why not indulge in the atmosphere of Takamatsu and take a stroll around?
For more details, please see: Delicious Souvenirs From Takamatsu: Sanuki Udon, Olive Oil, Sugar And More.
Weather, Attire, and Tips in Takamatsu
Takamatsu city, Shodoshima island, Naoshima island, and Teshima island all are part of the inland climate. Therefore, they are warm throughout the year, but can get extremely hot during the summer. For those visiting in the summer, bringing sunscreen is advised, as well as preparing yourself for the heat.
In the winter, it can also get very cold here, so bringing extra clothing and dressing in layers is a very good idea.
Useful Information For Your Trip
Where can you exchange foreign currency? Head to a bank or a 7-Eleven ATM.
Need Japanese Yen? Four Ways to Get Cash in Japan
When you're out of pocket money, look for any ATM with a Plus insignia to use cashing services with no hassle.
Where You can Find ATM Available with International Brand Credit
Here are some useful Japanese phrases you can use when you're staying at a hotel.
10 Japanese Phrases You Can Use At A Hotel
To use the convenient free wi-fi services in Japan, download this app beforehand.
Where To Find Free Wi-Fi In Japan - Japan Connected-Free Wi-Fi
How much can you expect to spend on food while traveling in Japan? Figure out your budget before you set out on your journey.
Average Food Expenses For A Day In Japan

** Travel times and expenses are based on publicly available information and are current as of March 2017. They may be subject to change.

The information presented in this article is based on the time it was written. Note that there may be changes in the merchandise, services, and prices that have occurred after this article was published. Please contact the facility or facilities in this article directly before visiting.