New Reoma World - The Kids Will Love It! Kagawa's Best Amusement Park
New Reoma World is an amusement park spreading over a vast site in Kagawa, loved by the visitors for its laid-back atmosphere. Read on to learn about the features of this facility. It's the perfect destination for a family trip!
New Reoma World - The Perfect Destination for a Family Trip
There are many sightseeing spots in Japan, but few of them are appealing as a destination for a family trip.
New Reoma World, located inside Reoma Resort in Kagawa Prefecture, might be the perfect destination you have been looking for. All family members can have fun at this facility. Their amusements and services for children are excellent.
This article introduces the various attractions and services available for those traveling with their families to New Reoma World and Reoma Resort. For information on Reoma Resort, please read this article.
The Information Center - A Friend in Need
The monument of Peddy and Polly, the park mascots, welcome the visitors at New Reoma World. The amusement park logo can be seen through the heart formed by the mascots' hands.
The information center is located at the entrance. This is the place where you can have all your travel questions answered. The shops and restaurants are all located in this area, so this is also a great spot to buy souvenirs or take a break.
Outdoor Attractions: Go-carts and Ferris Wheel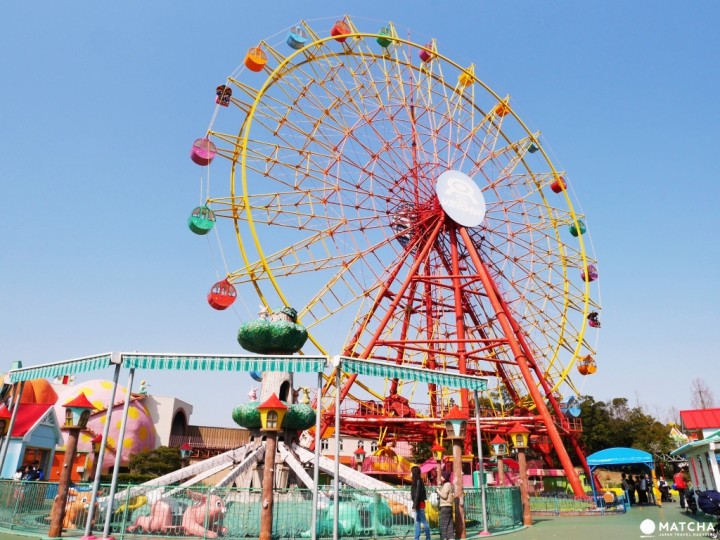 New Reoma World strives to be a theme park where both parents and children can have fun and offers a wide variety of attractions to achieve that goal.
There are outdoor attractions such as Let's Go Thomas, Go-cart, Fancy Flight and a Ferris wheel welcoming the visitors, so just have fun!
Indoor Attractions - In Case of Rain
New Reoma World also offers exciting indoor activities as well.
At Gokko Town, a kids-only attraction, children can experience nineteen types of jobs including a patisserie, police and a sushi restaurant. The workplaces and tools are recreated authentically in miniature size for children, with cute uniforms.
At the Handcraft Workshop, parents can join the children in making a jeweled candlestick or a music box. By working together, they will be able to create a fond memory of the trip, along with a one-and-only souvenir.
Kids' Square is located next to the Handcraft Workshop. This is a play area that includes a ball pit, a wide variety of toys, dolls and books, where children can wait while the workshop products are finished, or rest after walking around the park.
The floor is covered with soft materials, so parents need not to worry about their little children. The adults will be able to take a breather before heading to the next attraction.
A Fantastic Parade Held Right in Front of the Spectators
A parade is a staple of any amusement park. New Reoma World hosts the "Fantastic Parade".
Visitors can enjoy the original characters of New Reoma World dancing to buoyant tunes.
At the mid-parade performance, visitors can dance together with the characters. This is a unique idea, rarely seen in other parks. Not only the kids, but also the adults will most surely have fun.
The visitors love the smiling performers, as it lifts everyone's spirits.
The Capybara Family
Picture courtesy of Reoma Resort
Children love adorable animals. A family of three cute capybaras greets the children at New Reoma World. In winter, they bathe in the hot spring, and take a dip in cold water in summer. It is a sight to be enjoyed by both parents and children.
Services to Help Parents
During an excursion, parents have to think about taking care of their children. New Reoma World offers various services to solve this kind of problems.
Strollers
A stroller rental service, which can be a big help to the parents, is available at the information center.
The rental fee is 500 yen, with an additional deposit of 500 yen. The deposit will be refunded when the stroller is returned.
** This service is available to parents with children under two years of age.
Breast-feeding Room
Mothers with babies have to think about where to breast-feed them. New Reoma World has a Breast-feeding Room, where mothers can also change the babies' diapers.
The Kids' Menu
Pictures courtesy of Reoma Resort
Most children who have started a regular diet cannot eat the same amount as adults. The restaurants at New Reoma World offer a wide variety of menues fit for the children, so there is no need to worry.
Attractions for the Grownups
Pictures courtesy of Reoma Resort
The park offers various activities and attractions for grownups, such as a roller coaster and rides employing the VR technology.
The park also offers a flower garden, a pleasure cruise on the lake, as well as a picturesque scenery with windmills. Even if they don't try the rides, visitors will most surely be satisfied by the wonderful sights, by the smiles on children's faces, and by the lasting memory of their visit to this park.
Read also:
Brilliant Colors All Seasons! Reoma Resort, Shikoku's Flower Paradise
Hotel Reoma No Mori
Instead of just going home after the visit, try the hot spring Mori no Yu, and stay at Hotel Reoma No Mori.
Picture courtesy of Reoma Resort
The guestrooms at Hotel Reoma No Mori are spacious, fit for a family stay. The buffet-style restaurant offers more than a hundred menus every day. A wide variety of dishes from the Japanese, Italian and Chinese cuisines, along with the dessert, is sure to satisfy everyone.
Picture courtesy of Reoma Resort
After dinner, bathe in the Mori no Yu. The fine quality of the hot spring should wash away the fatigue of walking around, and ensure a good night's sleep.
Hotel Reoma No Mori Reservation Site
Enjoy a Family Trip at New Reoma World
New Reoma World is an amusement park spreading out over an expansive site, where time moves slowly. Thanks to its size, children can be spotted easily in this park, so there is no way for them to get lost. In addition, at the end of the day, the visitors will be able to relax at a hotel featuring a hot spring.
When visiting Japan's Chugoku and Shikoku regions, do stop by the exciting New Reoma World!
A Special Coupon for MATCHA Readers
Reoma Resort offers a special coupon for MATCHA readers which can be used at Hotel Reoma No Mori. Print out the following information, and present it to the hotel staff at the time of check-in.
The Coupon
Written by Chia
Sponsored by Reoma Resort
** This article was translated and edited from traditional Chinese.

The information presented in this article is based on the time it was written. Note that there may be changes in the merchandise, services, and prices that have occurred after this article was published. Please contact the facility or facilities in this article directly before visiting.