Reoma Resort In Shikoku - A Dream World With Amusement, Hot Springs And More!
Kagawa's Reoma Resort, an amusement park that includes a hotel and hot springs, is deeply adored by the residents of Japan's Chugoku and Shikoku regions. If you travel to Kagawa with your family, do stop for recreation at this exciting facility!
Reoma Resort - A Great Place for Families and Elderly People Visiting Shikoku
When you think about traveling to the Shikoku, what comes to mind?
Most people may think of the islands in the Seto Inland Sea, Ohboke and Kaboute Gorges, or about the famous Buddhist pilgrimage route. Shikoku is a region filled with nature, so it might be strenuous for children and elderly people.
This article introduces Reoma Resort, located in Kagawa Prefecture, a facility where people of all ages can have a great time.
Reoma Resort in Kagawa - A Dream World Filled with Amusement and Relaxation
Reoma Resort, located in Kagawa Prefecture, is the largest amusement resort in the Chugoku and Shikoku Regions, and a well-known sightseeing spot. It consists of Hotel Reoma No Mori, Mori No Yu (a natural hot spring), New Reoma World (amusement park), Oriental Trip (a park with displays of re-created Asian architectures) and Reoma Waterland (an outdoor pool open in summer). The site offers both amusement and relaxation to all its visitors.
In addition to the rides and attractions, there are also flowers and illuminations in the amusement park section.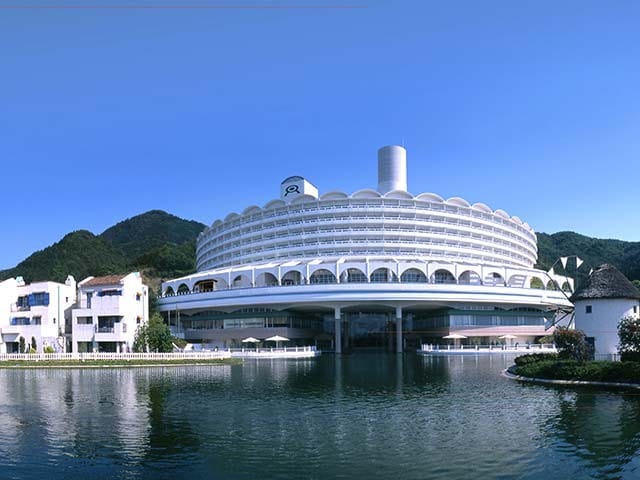 After a day of recreation, Hotel Reoma No Mori welcomes the visitors with fine food and hot springs.
The resort offers both hot springs and lodging services. The guestrooms are spacious and warm, the ideal space to relax. Some of the rooms offer a view of Iinoyama (Mt. Iino), which is also known as the Mount Fuji of the Sanuki (an old name for Kagawa) area.
Bathe in the open-air bath, taste fine cuisine, and your weariness will vanish in an instant. For reservations, check this website.
Rides and Attractions for All Ages
New Reoma World is an amusement park for people of all ages. The following are rides and events that everyone can enjoy.
** Please note there are height restrictions for some of the rides.
1. Ferris Wheel - A Great View of Seto Inland Sea
Visitors must first try the Ferris Wheel.
It is approximately 50 meters in diameter, and the ride takes about 10 minutes. The Seto Inland Sea can be viewed during the ride, making the Ferris Wheel is a special seat to view the shining sea in daytime, and the illuminations at night.
There are two "open-air" gondolas in the Ferris Wheel. Visitors can directly feel the air and the sunshine, and enjoy the view of Seto Inland Sea as well.
2. A Cutting-Edge VR Experience
There are some rides employing the virtual reality (VR) technology, such as an adventure game of riding spaceships and dodging meteorites, or a shooting game staged in a city from the near future. These rides are for those who want to experience something out of the ordinary.
3. An Elegant European-style Pleasure Cruise
If you feel that VR rides may be too stressful, try the pleasure cruise. Board the ship, and watch the Greek-style architecture on the banks, or its reflection on the canal. The passengers will be able to relax, feeling the faint breeze.
4. From Architecture to Projection Mapping
A projection mapping show at Legend Palace, an event to enjoy a fantastic light performance.
At Reoma New World, be sure to take a close look at the park design. In the Oriental Trip section, there is an elaborate re-creation of the Cambodian Angkor Empire architecture, along with cultural exhibits from Bhutan.
At night, there will be a projection mapping performance at Legend Palace, creating a 360-degrees, three-dimensional world.
Mt. Iino, which is also known as Sanuki Fuji, can also be viewed from the Oriental Trip section.
Special Seasonal Events
New Reoma World hosts various events every season.
Summer - An Outdoor Pool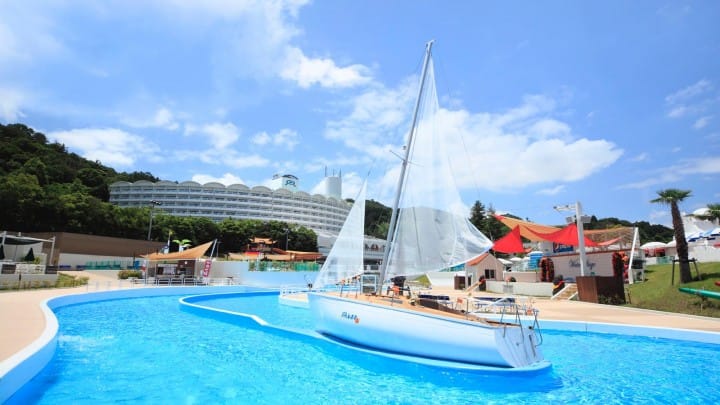 The outdoor pool, a facility which is open only in summer, is the largest of its kind in the Shikoku Region. The mountain range can be viewed around the pool, and the clear, blue sky enhances the feeling of freedom and spaciousness.
Winter - Capybara Hot Spring
In winter, the capybara hot spring opens, creating an adorable scene. A family of three capybaras reside at New Reoma World, bathing in this pool from spring to autumn, and enjoying the hot springs in winter. The cuddly animals are very popular to the visitors.
A World of Flowers
Reoma Flower World section is another must-see spot for the visitors.
About 100 types, 420 thousand flowers in all, are planted in an area of approximately a million square meters. Cosmos, moss pink, Japanese hydrangeas and tulips welcome the visitors all year round.
Optional Tours for the Hotel Guests
Reoma Resort offers special optional tours for the hotel guests who wish to enjoy Kagawa Prefecture and taste the famous Sanuki udon (noodles). The tour starts from the hotel, and the participants can visit the sightseeing spots, taste fine food, and return to the hotel. The details vary depending on the season, so guests who want to enjoy the best of Kagawa should join this tour.
Please note that this tour is available only to the guests staying at Hotel Reoma No Mori.
An All-Round Amusement Facility
Reoma Resort is a sightseeing spot for people of all ages, complete with an amusement park, hotel and hot springs. As it is located near a vast mountain range, visitors can feel nature within an urban amusement park. A free shuttle bus runs from Okada Station of the Kotohira Electric Railroad, so the resort can be accessed easily. Reoma Resort is also connected by local bus to Takamatsu Airport. If you're planning a family trip, this is the place to visit.
A Special Coupon
For MATCHA readers, this article also serves as a special discount coupon at Hotel Reoma No Mori. When checking in at the hotel, show this page to the staff.
COUPON
View Information
Reoma Resort
Address
Kagawa, Marugame, Ayauta, Kurikumanishi 40-1
Business Time
New Reoma World: Mondays through Fridays 10:00 - 16:00, Saturdays and Sundays 10:00 - 21:00
Oriental Trip: Mondays through Fridays 10:00 - 20:30, Saturdays and Sundays 10:00 - 21:00
** Business hours may change according to the seasons. Please check the website for details.
WiFi
Not Available
Accepted Credit Cards
VISA,MASTER,JCB
Languages
Japanese
Nearest station
Okada Station of Kotohira Electric Railroad
Access
By bus: around 10 minutes by bus bound for New Reoma World from Okada Station; by car: around 20 minutes from either Zentsuji IC or Sakaide IC
Price
New Reoma World Admission Fee: 1600 yen (over thirteen years old)/1100 yen (from three to twelve years old) ** For further details, please check the following website: New Reoma World
Telephone number
+81-877-86-1071
Website
Reoma Resort
Written by Chia
Sponsored by Reoma Resort
All photographs provided by Reoma Resort (with the exception of the last picture in the article)

The information presented in this article is based on the time it was written. Note that there may be changes in the merchandise, services, and prices that have occurred after this article was published. Please contact the facility or facilities in this article directly before visiting.