Visit With Friends! A Fun-Filled 2-Day Trip To Reoma Resort In Kagawa
When traveling with friends, we all want to take fun photos of ourselves enjoying our trip, don't we? Reoma Resort, Kagawa's famous amusement park, offers great spots with beautiful flowers, hot springs, amazing night views, and delicious foods!
Reoma Resort - A Travel Destination Perfect for Photos!
If you're going on a trip with friends, then beautiful scenery for photography may be a priority rather food or activities.
Reoma Resort is complete with facilities and services answering the needs of travelers who feel this way. The resort is filled with attractions and features you'll want to share on social media. Here you will find a fun amusement park, Japanese hot springs and swimming, gardens, light-up displays, as well as an all-you-can-eat buffet.
This time, let us give you some suggestions for a two day trip to Reoma Resort, where you can count on for entertainment, food, and relaxing accommodations.
Picture courtesy of Reoma Resort
What Makes Reoma Resort a Special Place?
Reoma Resort is a comprehensive theme park in Kagawa Prefecture. It is the largest theme park in the Chugoku and Shikoku regions of Japan.
The resort consists of Hotel Reoma No Mori, Mori no Yu, a theme park New Reoma World, Oriental Trip, a park featuring recreated famous Asian architecture, and Reoma Waterland, which is an outdoor pool operating during summer.
For an overview of Reoma Resort and how to get there, please read Reoma Resort In Shikoku – A Dream World With Amusement, Hot Springs And More!.
Once you've arrived at the resort, let's first deposit our luggage at Hotel Reoma No Mori. You can deposit your belongings either at the hotel or inside the coin lockers within the resort. A bus runs through the grounds so it's easy to get around from the hotel.
SPOT 1. Have Fun All Day at New Reoma World Amusement Park!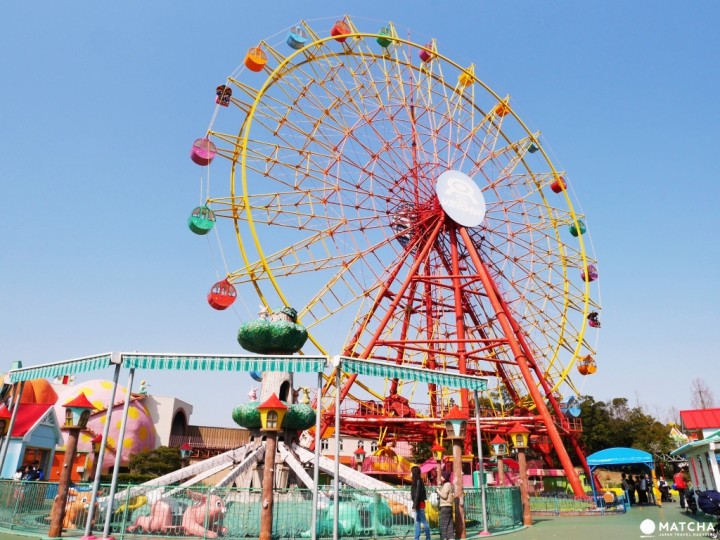 The first place you must visit is New Reoma World, which occupies a large area of the resort. It is fun to visit the park with family or on a date, and is fun to go with your friends as well!
In addition to the jumbo Ferris wheel providing sweeping views of the Seto Inland Sea, there are also elegant boats for visitors can pass the time in, and adorable hot springs for capybara. We also highly recommend the Rainbow Bandits ride.
Rainbow Bandits – A Fairytale Attraction for Your Inner Child
At Rainbow Bandits, surprising and fun experiences await visitors behind the ride's adorable exterior. Riders sit in cute hot air balloon-style seats and go searching for the rainbow stolen by bandits.
The story plays out dramatically in this intricately designed attraction also featuring light and music production. The ending scene where you've found the rainbow is perfect for taking pictures with friends. If this sounds fun, definitely ride Rainbow Bandits for yourself.
The characters in Rainbow Bandits are designed by a famous anime creator who worked on popular series like "Doraemon" and "Chibi Maruko-chan." This is a relatively unknown fact to many visiting this resort, making this attraction one of the hidden treasures in New Reoma World.
Largest Outdoor Pool in the Chugoku and Shikoku Regions
Picture courtesy of Reoma Resort
Reoma Waterland, located within New Reoma World, is the biggest outdoor pool found in the Chugoku and Shikoku areas of Japan. Here you will find a blue sky and white clouds, and you can swim while gazing at the green nature surrounding the pool. Shikoku's largest lazy river pool is also at Reoma Waterland, allowing its visitors to bask in the sunlight and have a great time in the middle of summer.
Don't Want to Tan? There's an Indoor Pool!
Picture courtesy of Reoma Resort
On the third floor of Hotel Reoma No Mori is a large, heated indoor swimming pool. If you're concerned about getting tanned, feel free to use this pool. Sunlight shines in from the high ceiling, and the indoor pool has a sense of spaciousness rivaling the outdoor pool.
SPOT 2. Refuel Your Energy at Hotel Reoma No Mori
After you've been out all morning, the next thing to do is to fill your stomach. Lunch is an all-you-can-eat buffet at THE FOREST, a restaurant on the first floor of Hotel Reoma No Mori.
Menus vary by season and may change between lunch and dinner hours.
The all-you-can-eat buffet at the hotel contains over 100 different types of dishes, with a selection of Japanese, Italian, and Chinese cuisine, in addition to desserts.
The restaurant also serves foods utilizing seasonal ingredients. Be sure to take pictures as you taste the seasonal flavors and local dishes with ingredients from throughout Japan.
** Lunch is not included in the 2 Day Hotel Plan. An additional fee will be required for taking lunch. For details, please check this page (Japanese).
** The all-you-can-eat buffet is open between 11:30 - 14:30 (Final entry is at 14:00).
An afternoon nap after the buffet is great for those planning to stay at the hotel. Guests staying at the hotel can check-in at the front desk on the fourth floor (starting from 15:00). If you lie down in your spacious room for a short rest, you'll be able to recharge and enjoy the afternoon as well.
SPOT 3. The Four Seasons at Reoma Flower World
Picture courtesy of Reoma Resort
If you still have energy even without a nap, head out to see the flowers! In Reoma Resort, 100 varieties and 420,000 flowers grow in a flower garden extending 100,000 square kilometers. The flowers in bloom at Reoma Flower World vary depending on the season. Here visitors can enjoy viewing tulips, moss phlox, hydrangeas, lilies, and roses imported from around the world.
When to Visit? Seasonal Flower Schedule
The Tulip Festival is held annually from March to April and features around 150,000 tulips in 175 varieties. It is Shikoku's largest tulip field and is a must see!
Picture courtesy of Reoma Resort
May to July is rose season. Approximately 300 different rose varieties from all over the world are in full bloom at the Reoma Rose Garden located inside Oriental Trip.
No matter what season it is during your visit, you will be greeted by an an expansive sea of flowers. Be sure to share your photos on Facebook and Instagram!
Picture courtesy of Reoma Resort
A bright flower carpet of moss phlox blooms once it becomes April in New Reoma World. From May to June, there is a bed of roses expanding on for 160 meters along the canal.
Cute Like a Toy! Fluffy Soft Serve Ice Cream
While you're having fun taking pictures together with the flowers, be sure to also get a picture of your dessert!
Soft serve ice creams and desserts are sold at PARADISE Boo Boo in New Reoma World, including gold leaf ice cream, rich fresh cream ice cream, and the popular Fluffy Soft Serve Ice Cream (500 yen each, pictured is the matcha green tea flavor).
Recreations of Ruins from Asia in Oriental Trip
Architecture of Angkor Empire and Bhutan temples has been reconstructed in Oriental Trip, transporting the visitors back in history. When you look down from the Bhutan temple located on a hilltop, you'll be able to enjoy a complete view of the Angkor Temple and Mt. Iino (also called "Sanuki Fuji") from a distance. There are many visitors coming to enjoy the magnificent view here.
SPOT 4. Magical Illuminations and Night Shows
Once the sky grows dark, the light-up displays will begin. In addition to the flower gardens, some of the best attractions offered at Oriental Trip aren the illuminations!
Legend Palace features projection mapping that creates a 360-degree three-dimensional world, which is rarely seen in Japan. Lights are projected in seven colors onto the weathered architecture and paired together with music, creating a magical experience.
Picture courtesy of Reoma Resort
In addition to the light displays in Oriental Trip, there are also illuminations in New Reoma World. The auroras, reproduced with cutting-edge technology, offer a beautiful spectacle you need to see for yourself.
There are also fireworks and night parades depending on the season, so you'll be able to enjoy a unique evening no matter when you visit.
SPOT 5. A Relaxing Evening at Mori no Yu
Dinner, similar to lunch, can be enjoyed at the restaurant THE FOREST. With over 100 different types of dishes available, you can try the dishes you weren't able to eat at lunch! Once you've finished dinner, head over to Mori no Yu to relieve your tiredness from the day.
Picture courtesy of Reoma Resort
Hotel Reoma No Mori is a hot spring hotel affiliated with Oedo-Onsen Monogatari Inc., and operates Mori no Yu, a high quality natural hot springs where guests can relax. You can comfortably use the Japanese hot springs here in the winters and even during the summers.
The entrance directly connected to the hot springs is next to the check-in counter on the fourth floor. You can choose your favorite yukata to wear at the entrance before heading to the hot springs, so don't forget to borrow one!
** Yukatas are loaned out for free only to hotel guests.
Picture courtesy of Reoma Resort
Mori no Yu has both indoor and outdoor hot springs. The outdoor open-air baths are highly recommended. The open-air baths are divided into several areas, depending on temperature. The best feature of the outdoor baths is that you can soak in the water while basking in nature.
The hot springs are named Mori no Yu due to the facility's location being in the middle of a forest, which changes in appearance from day to night.
Picture courtesy of Reoma Resort
Aside from the hot springs, there are also several recreational facilities inside the hotel. Visitors will find massage services, a comics area, karaoke, book and newspapers to read, a resting place where you can chat with friends (Chatting Lounge), table tennis, a small arcade center, and a souvenir shop area.
Once you've finished eating and have finished soaking in the hot springs, explore the hotel with your friends for even more entertainment!
** Make a reservation in advance at the front desk on the fourth floor to partake in karaoke.
One Day Sightseeing Bus Tour for Hotel Guests
While it's completely fine for you to do the same activities as you did the day before, and go see the amusement park and flowers on your second day, we suggest using the One Day Sightseeing Bus For Hotel Guests. This tour takes you from the hotel to see famous sightseeing areas and to sample local food. The bus will bring you back to the hotel at the end of the tour.
* The One Day Sightseeing Bus For Hotel Guests requires an advanced reservation at the front desk on the fourth floor.
Head to Reoma Resort Soon!
What do you think about our recommendations for a two day trip to Reoma Resort? With flowers, hot springs, night views, and delicious cuisine, this plan is perfect for a trip with friends, together with your significant other, or with your family.
You can obtain affordable tickets complete with morning and evening meals, along with unlimited entry into the amusement park, by reserving bargain ticket sets.
Make Your Reservation At Hotel Reoma No Mori Here
A Special Coupon For MATCHA Readers!
We've prepared a special Hotel Reoma No Mori coupon for MATCHA readers. Be sure to bookmark or save the coupon below, and present it to the staff at check-in.
COUPON
You May Also Like
Written by Chia
Sponsored by Reoma Resort

* This article was translated and revised from an article originally in Chinese.

The information presented in this article is based on the time it was written. Note that there may be changes in the merchandise, services, and prices that have occurred after this article was published. Please contact the facility or facilities in this article directly before visiting.