Kagawa: 7 Unique Accommodations by the Sea and Mountains
Western Kagawa, by the Seto Inland Sea and the mountains, is an ideal place to stay to enjoy nature and get away from busy cities. Learn about seven amazing accommodations where you can take in the local environment and cuisine, and experience rural Japan and its charms.
Where to Stay in West Kagawa – Enjoy the Slow Pace of Rural Japan
In Kagawa Prefecture, located in Shikoku in western Japan, you'll find Naoshima, an art island known for its contemporary art scene, and Ritsurin Garden, a traditional Japanese garden with three stars from the Michelin Green Guide.
However, Kagawa's real charm might be its tranquil environment where time seems to pass by at a leisurely pace. Kagawa receives the most significant amount of sunny days in Japan, and borders the Seto Inland Sea, home to several hundred picturesque islands. Immerse yourself in a dream-like feeling watching the clouds floating in the blue sky, the calm sea, and the green islands.
In west Kagawa, there are many places where you can stay to experience the spectacular scenery here and take a break from crowds. In this article, we introduce seven of our recommended accommodations by the ocean and mountains, including a luxury villa near Mitoyo and cozy guesthouses.
Four Lodgings with Seto Inland Sea Views
The view from Mt. Shiude on the Shonai Peninsula
In west Kagawa, you'll find Chichibugahama Beach, thought to have Japan's most stunning sunset, and the Shonai Peninsula, a picturesque spot that was published in "The New York Times." We'll introduce four accommodations where you can fully take advantage of this gorgeous nature.
1. Bay Wind – Have Privacy and Try Marine Activities
Picture courtesy of Mitoyo Tourism and Exchange Authority
Bay Wind is a villa about ten minutes by car from Chichibugahama. As it is located away from main roads, you will barely hear any noise from cars or homes. Instead, the air will be filled with the gentle sounds of waves on the calm sea, chirping birds, and the rustle of the trees. You'll be able to experience complete privacy with a stay here.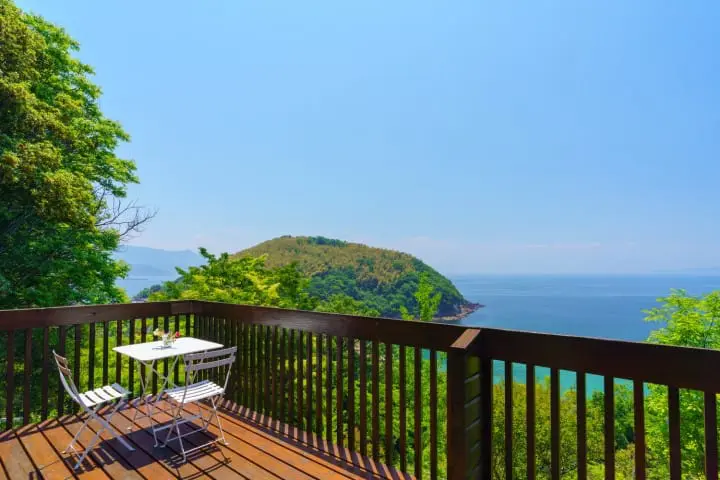 Picture courtesy of Mitoyo Tourism and Exchange Authority
From the terrace, you'll be able to see the Seto Inland Sea and its beautiful islands. Maruyama Island, the island on the right of the picture above, is an uninhabited island that can only be reached by a path accessible only during low tides. It is a hidden gem, filled with gorgeous scenery.
Inside the villa is a warm, wooden interior. During the winters, you can also enjoy the fire burning in the wood stove.
Near Bay Wind, you'll also find little-known beaches that other people rarely visit. The owner of the villa was a boat instructor for many years and is very experienced in marine activities--be sure to ask about water sports and activities when you make a reservation.
The owner has extensive work experience overseas and is proficient in English.
| | | |
| --- | --- | --- |
| | Address | Kagawa, Mitoyo, Niocho, Ienoura 630-2 |
| | WiFi | Available |
| | Accepted Credit Cards | Not Available |
| | Languages | Japanese, English |
| | Menu/Pamphlets in Other Languages | English |
| | Access | 20 minutes by car from JR Takuma Station. Or alight at the Ienoura bus stop on the Takase-Nio Line, then walk for 10 minutes |
| | Price | 27,000 yen and up |
| | Telephone number | 090-8280-3320 |
| | Website | Reservations made through Airbnb. https://www.airbnb.com/rooms/30382 |
2. Rutto Archipelago TSUSHIMA – Lodge at a Work of Art!
Rutto Archipelago TSUSHIMA is an artistic accommodation, fit for Kagawa and Naoshima.
TSUSHIMA is a guesthouse created by Kitakenzai, a construction-related company in Shikoku. The lodging is made from high-quality materials and looks like a model showroom. In fact, the architectural structure and style for those considering building their own house.
The house is interspersed with unique Shikoku materials like Awawashi, a type of Japanese paper manufactured in nearby Tokushima Prefecture and stones collected from Kagawa's remote islands.
Guests will notice the special attention put into each and every material and how the design of the guesthouse comes together harmoniously.
A stay at TSUSHIMA will reveal the gentle light that pours into the house from the sea, a quiet Japanese interior with traditional lighting and tatami mats, natural rock and wood textures on the walls and floors, and paintings by contemporary artists. These elements meld together seamlessly, making the guesthouse itself into a work of art that will stun those who see it in person.
TSUSHIMA plans to dispatch chefs as part of meal services in the future. Please check the website for further details.
| | | |
| --- | --- | --- |
| | Address | Kagawa, Mitoyo, Takumacho, Matsusaki, Mizuide 2805-5-2 |
| | WiFi | Available |
| | Accepted Credit Cards | Not Available |
| | Languages | Japanese, English |
| | Access | JR Takuma Station |
| | Access | 5 minutes by car from JR Takuma Station. About a 30 minute walk |
| | Price | 55,000 yen and up |
| | Website | Airbnb |
3. Hiuchi – Take in the Ocean View From a Hammock
Hiuchi is a single rental cottage overlooking the uninhabited Maruyama Island. The cottage opened in 2016 and has been popular ever since.
Picture courtesy of Draworth
Hiuchi uses a wooden architecture method called Aero House; there is a window spanning an entire wall, offering a panoramic view of the sea and mountains. A hammock hangs in this open space.
From the hammock, guests will get views of the mountains and butterflies fluttering about the ocean and flower beds. The only thing you'll hear is the faint creaking of the hammock's metal fixtures together with the sounds of the birds and insects.
You can experience a special time at Hiuchi. They also serve local cuisine and hold tours around the Seto Inland Sea islands with a fishing boat (*).
*For details on dining and tours, please refer to the explanation on La toile in the latter half of this article.

4. NIO SUNSET PEAK – View the Sunset While Camping
Picture courtesy of Kokiriko
NIO SUNSET PEAK is a campground about a seven-minute walk from Chichibugahama. You can camp here comfortably and with minimal preparation as they lend out tents and tableware.
Here, you can appreciate the sunset, slowly dying the water in red while feeling the gentle breeze over the Seto Inland Sea.
Picture courtesy of Kokiriko
The tents have a geodesic dome structure, giving them strength despite their visual simplicity. They are very comfortable and come with a bath heated by firewood.
They also lend out barbecue sets at NIO SUNSET PEAK. Enjoy grilling in the evening with friends and family and have drinks while watching the sunset for an unforgettable time.
Three Accommodations Near the Mountains
Picture courtesy of Draworth
The inland area of west Kagawa is filled with beautiful green mountains. Below are three accommodations where you can breathe in the mountain air and dine on regional food.
These accommodations are also convenient for traveling to popular spots such as Kotohira Shrine, one of the most famous shrines in Japan, Iya, one of Japan's three largest unexplored regions, Dogo Onsen, Japan's oldest hot spring, and more.
5. La toile – Try Regional Dishes and Guided Tours
La toile, 20 minutes by car from Kotohira Shrine, is an accommodation that blends Japan and Western styles. The rooms have been repaired and rebuilt out of a traditional Japanese home; they have been renovated to Western-style with a fireplace, with tatami mats, shoji doors, and fusuma screens.
Picture courtesy of Draworth
Guests at La toile and Hiuchi (mentioned earlier) can indulge in dining via a regional cuisine attendant. The lodgings offer a meal service where a local chef will come and cook you a regional specialty.
Mitoyo, where La toile is located, is famous for its tea and eggplant production. You will be able to try these high-quality ingredients with the food at these accommodations.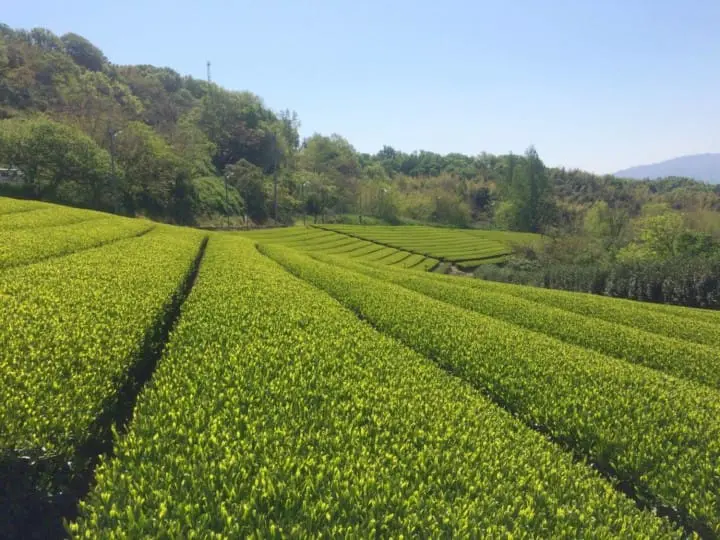 Picture courtesy of Draworth
La toile also offers tours for guests. Activities include traveling around local tea plantations, temples, a hojicha (roasted green tea)-making workshop, and bicycling through undeveloped woodlands.
For more information on the dining and tours, inquire when making your reservation.
6. All Hinoki Guesthouse FlowerBird – Stay in a 100-Year-Old Home
All Hinoki Guesthouse FlowerBird is an old Japanese home that is also a prospective Tangible Cultural Property. It is a historic residence where Japan's political leaders have stayed in the past.
Enter to find the house using furniture that make it feel like you're looking at history. There are several things to note, including a traditional Japanese bathtub called goemonburo, a Japanese garden, and koi swimming in a pond. It is due to this traditional, unique atmosphere that people choose here to stay for long periods--some international guests have even lodged here for ten nights.
FlowerBird will also lend you a barbecue to use. Try grilling for dinner for a special evening, surrounded by the quiet mountains and starry sky, with the sounds of the fire gently crackling.
The owner will also take you to and from Takamatsu Airport for the cost of gas. If you are not renting a car, please consult with the owner about pickup and drop-offs.
7. Nishogongo – Feel at Home at a Charm-Filled Lodging
Nishogongo is a guesthouse that was opened in 2015 by a Kagawa local. The owner built the house themselves and is filled with a unique charm from the owner's friends and guests.
The inside of the guesthouse is one-of-a-kind, with a beer pong table, connected to the owner's unique background as a runner-up in a national beer pong tournament.
Old video games and figures fill up the other areas, giving the house a playful mood. Children who come with their families are thrilled when staying at the house.
There are also wonderful izakaya (Japanese pubs) frequented by locals near Nishogongo. Ask the owner for an area guide.
Transportation and Tips for Kagawa
Below are helpful things to know for staying at any of the accommodations mentioned above.
Car Rental
These accommodations are located away from train stations. For that reason, we recommend renting a car. You can rent a car from a number of companies, but Heisei Car Rentals at Takamatsu Airport can provide support for reservation services in multiple languages is recommended in particular.
OPEN AIR Rental Cars & Bikes (Japanese) also offers car rentals at Takuma Station on the JR Yosan Line, the nearest station, but the staff may only be able to help you in Japanese. Advanced reservation is required. OPEN Air Rental Cars & Bikes also does bicycle rentals, so please inquire if you're interested.
Please check this MATCHA article for things you should know before renting a car.

Other Transportation Options
If you find it difficult to rent a car, then travel to JR Takuma Station for the seaside or either JR Takase Station or Mino Station for the mountainside. Here, you'll take the local community bus or taxi. Please discuss with your respective accommodation about transportation when making your reservation. Some owners may offer to take you to and from the airport.
*Please note that community buses do not operate on Sundays and national holidays.
Language Support
The accommodations mentioned may have owners that barely speak any English, resulting in it being necessary to communicate through translation software. If possible, consult with your accommodation in advance if you have any concerns about your stay.
Several places in west Kagawa cannot assist visitors in English. Please refer to MATCHA's articles on useful Japanese phrases when traveling in Japan for when that happens.
Meals
You will have to either eat our or make your food at many of these accommodations. You can go shopping for ingredients at Imagawa, a supermarket that sells fresh locally caught fish, located near the coast by Bay Wind.
The mountainside will have youme Town Mitoyo, a shopping mall, and Michi-no-Eki Takarada no Sato Saita for grocery shopping.
There are also several recommended restaurants that serve delicious dishes in the area. If you're interested, feel free to ask the owner of your respective accommodation.
Udon Noodle Making and More Guesthouses
There are several more accommodations in west Kagawa. These include Udon House, where you can try making udon, a famous Kagawa food, yourself, Kanran (Japanese), where you can enjoy the amazing ocean view from an olive farm, and Le Port Awashima (Japanese) to see sea fireflies on a remote island.

There are also other convenient and reasonable spots like Fureai Park Mino (Japanese) with hot springs or Mino near the JR stations.

Your accommodation is an essential component of travel, and the lodgings introduced in this article are sure to make your vacation even more special. Take your time and choose a place that's right for you.

Main image courtesy of Mitoyo Tourism and Exchange Authority
In cooperation with Bay Wind, Kitakenzai, Draworth, Kokiriko, FlowerBird Co., Ltd., Nishogongo


The information presented in this article is based on the time it was written. Note that there may be changes in the merchandise, services, and prices that have occurred after this article was published. Please contact the facility or facilities in this article directly before visiting.