Stay At A Castle Lodging! The Spectacular Anabuki-Tei In Kagawa
Anabuki-Tei is a castle-like lodging with its own keep and Japanese garden. Located in Takamatsu City, this unique lodging offers additional services, from bonsai to sweets-making, to enrich your stay in Kagawa. Ideal for families or groups, up to 12 guests at once can stay here.
Anabuki-Tei: An Accomodation with a Castle Keep and Japanese Garden
Upon entering through the stately gate, you will see a large, century-old Japanese pine tree. The pristine garden features a stone lantern with carvings of various mythical animals alongside an ornate statue made from high-quality stone. The mansion and castle keep are just behind the garden.
This castle-like lodge in Takamatsu, Kagawa Prefecture, is available to rent by guests. Located in the Shikoku region, Kagawa faces the Seto Inland Sea. Takamatsu is one of the locations for the internationally-famous Setouchi Triennale art festival: this is a convenient place from which to travel to the various islands that dot the Seto Inland Sea.
From Home to Hotel
Eitaro Anabuki, the owner of Anabuki-Tei
According to the owner, Eitaro Anabuki, "This is where I was born and raised. Although my parents and I lived here with my grandparents, we had to decide on what to do with it when it became vacant five years ago. I decided to convert the home into a lodge for guests so our memories could remain."
Using his previous experience as a hotel front desk clerk, he opened Anabuki-Tei in October 2019.
Mr. Anabuki can speak English and operates an English language school in Takamatsu in addition to running Anabuki-Tei. He has also studied abroad in China. Guests can communicate with ease in Japanese, English, and Chinese here.
He and his wife help with the check-in process and actively converse with the guests. The couple jovially stated, "We really enjoy the interactions we have with our hotel-goers."
A Mansion Suitable for Many Guests
Equipped with a spacious garden, the hotel can accommodate 12 guests at once. Eitaro's grandfather, who was a businessman, built the mansion to fit both his three-generation family and friends.
A Stylish Communal Room
Picture courtesy of Anabuki-Tei
A simplistic and spacious living room is on the first floor. Guests can use the table and sofas to enjoy meals, relax, and have fun in the communal space.
Picture courtesy of Anabuki-Tei
The large window looking out onto the garden creates a relaxed, expansive feel to the room.
The kitchen is in the back of the living room. Anabuki-Tei provides basic appliances and cooking neccessities, from pots, pans, and dishes. to a microwave and refrigerator.
If you order the traveling chef service, a professional cook will come to prepare meals. There are a number of cuisines you can select upon making a reservation.
On the second floor is the communal space which features a library of art collections and photos related to Kagawa Prefecture. The small kitchen is equipped with a kettle and cups. Teabags are complimentary for guests. The room is a great place to relax over a cup of tea.
A Good Night's Rest in Minimalist Rooms
The bedrooms have two single beds. Its predominantly white color scheme accentuates the room's cleanliness. The evenings are also quiet since the hotel is in a residential neighborhood.
Traditional rooms with tatami flooring are on the first floor. The rooms are separated by fusuma doors. These rooms are for those who enjoy or want to experience sleeping on traditional futons.
Designed with Attention to Details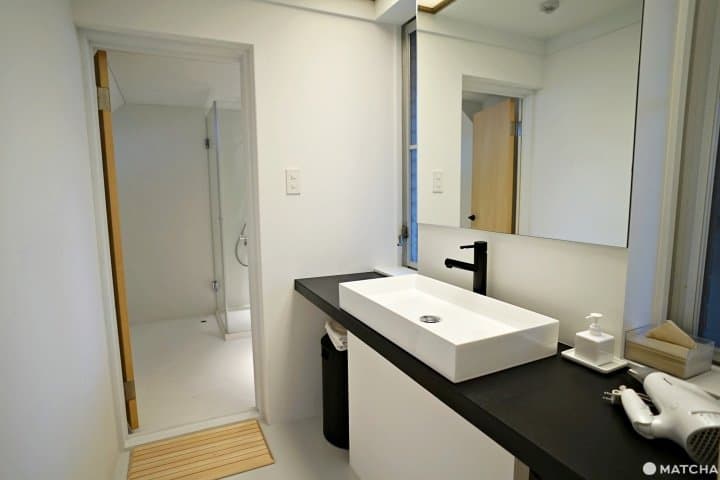 Each floor has its own bathroom. The second floor has a shower. Shampoo, conditioner, and body soap are all complimentary. There's a washing machine near the shower room, so you don't need to worry about clean clothes.
Picture courtesy of Anabuki-Tei
The first-floor bath has rocks laid out on the floor, resembling a small Japanese garden. These Aji rocks are high-quality and from the region.
Picture courtesy of Anabuki-Tei
If you walk out of the bathroom, you'll notice an interesting decoration on the wall. These are Marugame uchiwa fans, a traditional craft of Kagawa. The prefecture produces 100 million Marugame fans a year.
Additional local items and products are found throughout the hotel's interior.
Services to Enhance Your Experience in Kagawa
Picture courtesy of Anabuki-Tei
Another traditional art form in Kagawa is bonsai. Kagawa boasts an 80% market share in Japanese pine bonsais. This art involves planting a small tree in a pot and trimming it to produce an artistic piece. With 2,000 years of history, bonsais bring together the beauty of nature and the creative expression of people.
Anabuki-Tei is currently planning on incorporating a bonsai rental service.
Mr. Hanazawa, a fifth-generation bonsai artist (Picture courtesy of Anabuki-Tei)
If you sign up for the rental service, a local bonsai artist will lend a shrub to use as decoration inside Anabuki-Tei. The artist will also give a talk on the best ways to enjoy bonsai.
The bonsais up for rental are worth as much as five million yen (or $45,550). The rental service is a great way to experience the beauty of this traditional art form during your stay. Please inquire when making a reservation about this special service.
There are also other ways to experience Japanese culture at Anabuki-Tei, including wasanbon making (traditional Japanese sweets) and wafuku fitting (traditional Japanese clothing) classes. We recommend signing up for one when reserving your stay.
Access and Local Information
The closest station to Anabuki-Tei is Kataharamachi Station on the Kotoden line (Japanese). The hotel is a five-minute walk from the station. From Takamatsu Station, it is a 15-minute train or bus ride, or about 20 minutes on foot. If you are interested in visiting the islands of the Seto Inland Sea, there is a boat dock near Takamatsu Station. Ritsurin Park, a popular sightseeing location, is also only 20 minutes by train.
The local shopping district is within a 15-minute walking radius of the lodging. You can pick up a copy of the "TAKAMATSU TRAVELERS' GUIDE" at Anabuki-Tei before exploring the area.
Memorable Stay at a Family Mansion
Picture courtesy of Anabuki-Tei

Anabuki-Tei is brimming with the family's memories––it was even the reception venue for Mr. and Mrs. Anabuki's wedding. Guests will feel welcomed and find a home themselves in this warm atmosphere. If you are looking for a memorable experience in Kagawa, we highly recommend staying at Anabuki-Tei.

Make your reservation here (Japanese).


In cooperation with Anabuki-Tei
Main image courtesy of Anabuki-Tei

The information presented in this article is based on the time it was written. Note that there may be changes in the merchandise, services, and prices that have occurred after this article was published. Please contact the facility or facilities in this article directly before visiting.