Yokai Art Museum In Kagawa - Meet Ghosts And Goblins On Shodoshima Island
Yokai are ghosts and goblins born out of human imagination. But did you know that even today they exist in the shadows of society? We introduce the Yokai Art Museum in Kagawa, where visitors can interact with these legendary creatures.
Shodoshima - A Little Known Yokai Spot in Kagawa
Picture from 17 Activities To Enjoy In Takamatsu And Shodoshima, Kagawa Prefecture
Kagawa's Shodoshima is a travel destination just one hour away by ferry from the city of Takamatsu.
In addition to scenic views such as Angel Road, visible during low tide, and Kankakei Gorge, a spectacular ravine that was selected as one of Japan's top three most beautiful gorges, the area is also famous for olives and soy sauce (shoyu).
This area has a unique religious history that includes Shodoshima's own original pilgrimage route of 88 Sacred Sites.
The Yokai Art Museum is rooted in the local spiritual culture. First opened in 2011, it was renovated and then re-opened in 2019.
Yokai Art Museum - Features and Highlights
The Yokai Art Museum is located just fifteen minutes away on foot from Tonosho Port, the gateway to Shodoshima. This is one of the largest museums in Japan dedicated to present-day yokai.
Yokai are monsters and ghosts that were born out of the imagination of Japanese people along the centuries.
In the past, the Japanese used to think that unexplainable natural phenomena were the workings of the yokai. This way of thinking resulted in a series of superstitions.
However, yokai are not relics from the past. Being influenced by how many "likes" you get on your social media accounts, or being tempted and deceived by sweet words is evidence that yokai continue existing today in the dark recesses of the human heart.
The Yokai Art Museum showcases over eight hundred yokai, born out of contemporary imagination and turned into three-dimensional figures. Many of these yokai look as if they could potentially exist inside or near you.
Yokai Art Museum - Enjoy Yokai from 5 Different Perspectives
When going to the Yokai Art Museum, bring your smartphone with you. The audio guide is available in Japanese, English, and traditional and simplified Chinese but it can be used through a smartphone application (app). The ensuing sound effects make for an even more life-like yokai experience! (*)
The Yokai Art Museum is comprised of five separate buildings and employs devices and tricks that are arranged in creative ways to help visitors enjoy the different aspects of yokai.
* To use the audio guide, just scan the QR code on the museum's pamphlet with your smartphone. Smartphone and earphone rentals are also available at the counter.
Yokai Art Museum 1 - Learn about the Origins of Yokai
At the Yokai Art Museum 1 building, you'll learn about the origins of yokai.
When you looked at a curiously shaped tree like the one in the photo above, did you happen to see what appears to be someone's face? Or hearing the sound of the wind amidst the forest, did it ever seem as though a yokai was whispering something to you?
These mysteries of nature led to a sensibility that was directly linked to the Japanese imagination that created yokai.
The natural sounds of water and wind emanating from the audio guide, allow museum visitors to vicariously experience how the ancient Japanese might have felt at the time.
At Yokai Art Museum 1, visitors can see the various yokai that have appeared in Japanese fairy tales, starting with the tengu (right hand photo above).
Next, the exhibit of present-day yokai finally appears!
Yokai Art Museum 2 - Eaten by a Giant Yokai!?
A former soy sauce and rice storehouse, Yokai Art Museum 2 is filled with an eerie silence. When you set foot inside, you're immediately greeted by a cave-like entrance with gold colored trim (see photo above).
Inside there's a rather psychedelic decoration. When you proceed farther inside and place your face into one of the two openings (see above photo) and look out...
...you've already been eaten by the yokai!
This yokai is the incarnation of a Japanese kotatsu. Saddened by the fact that it was no longer needed by anyone and simply discarded, this yokai apparently entices visitors to come up close and then promptly gobbles them up.
Looking out from the yokai's face, you can see scary looking Japanese dolls and objects. We were told that these are the human images seen from the eyes of a yokai.
But perhaps the scariest part of it all is how humans heartlessly throw away things they no longer need.
This kotatsu yokai appears to enjoy hanging out with humans and getting attention from them. So by all means, please take a lot of pictures with it!
Yokai Art Museum 3 (Mononoke-do) - See Present Day Yokai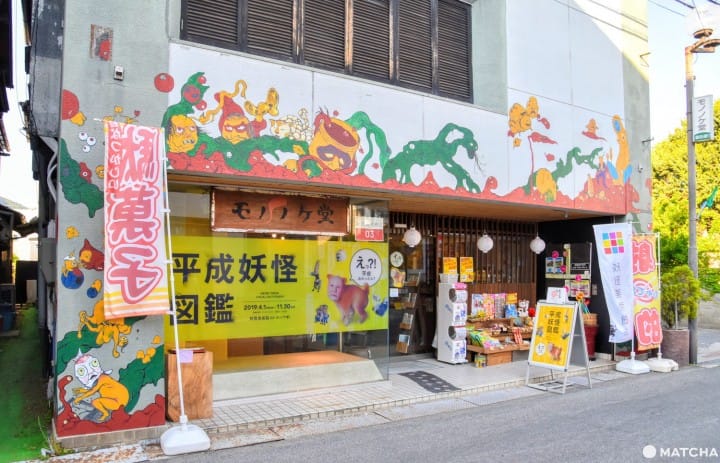 The entrance of Yokai Art Museum 3 Mononoke-do is a dagashi shop, where visitors can enjoy Japan's traditional dagashi (dime-store candy).
In the back of the shop, there's an exhibition featuring present-day yokai figures.
When the writer visited in May of 2019, there was an exhibition of Heisei era (1989-2019) yokai.
The figure in the photo above is the master of getting popular on social media.
This yokai inhabits those people hoping to get lots of "likes" on social media and controls them. While everyone is wishing for more "likes" on social media, this yokai is apparently multiplying in numbers.
What about you? Is your heart and soul also being manipulated by this yokai?
This cute-looking yokai is Ecomodoki. In contrast to its cute appearance, this yokai cheats countries and companies out of money while claiming to be ecological and earth-friendly.
Unfortunately, this kind of people exist in our society as well.
Naraku is a rather spooky yokai who helps to maintain world order by swallowing up chaos. Though his body has collapsed from consuming such an enormous amount of chaos, world peace has been maintained to a certain extent due to his heroic efforts.
For every cute faced yokai that commits a crime, there are also scary looking yokai who are actually very gentle and kind. So in a sense, the world of yokai mirrors that of the human world.
Now what do yokai think about human beings?
Well, in the back of Yokai Art Museum 3, yokai strategy meetings are held regularly. The yokai gather here to discuss how to best scare humans!
If you listen closely to the audio guide, you'll be able to hear their thoughts on this.
Yokai Art Museum 4 (Chokeshi) - Look at the Yokai inside Yourself
If yokai are born out of human imagination, what kind of yokai inhabit our heart? Are we in fact dealing with yokai that torment our souls?
Yokai Art Museum 4 is a meditation space. Within this dimly lit room, you can see the faint outline of a yokai ceiling mural. This work of art was done by Chubei Yagyu, the director of the Yokai Art Museum.
Museum visitors will have their evil spirits and unpleasant memories removed here by benevolent yokai.
The floor of Yokai Art Museum 4 is covered with tatami, so this makes the ideal place for laying down and relaxing a bit.
Within this quiet space, how about getting in touch with your inner self?
When you exit the Yokai Art Museum, you'll see a column for displaying ema.
This is Shin Yokai Seizo Sochi Chokeshi, which involves adopting a yokai's name according to one's bad habit, then writing the name down on an ema. To get rid of (chokeshi) this bad habit, you need to display the ema on the column and to say a prayer.
Yokai sugu okoru (a quick tempered yokai), ira ira yokai (a yokai who is easily agitated), and other names are written down on the ema with the hopes of curing these habits.
Afterwards, these become subject matter for museum director Chubei Yagyu, who turns them into three-dimensional works of art.
Yokai Art Museum 5 - A Collaboration with Taiwanese Students
Find Yokai with Your Smartphone!
Yokai Art Museum 5 features a work of art that was done in collaboration with students from Taiwan Art University. The atmosphere is different from Yokai Art Museums 1-4, and here you can enjoy looking at Taiwanese yokai figures.
Here you can download an app (application) called "YO e". Use this app via your smartphone and you'll be able to find the yokai who are hiding throughout the building.
Enjoy this scavenger hunt just like you would enjoy Pokémon GO!
Gourmet Food and Souvenir Shopping
The Yokai Art Museum is managed by Shodoshima Healthyland Co., Ltd., a long standing company that has continued making olive products for more than thirty years.
Their olive oil and soy sauce, famous products of Shodoshima, can be purchased in the souvenir shop of Yokai Art Museum 4.
One of the famous Shodoshima products is Olive Wagyu Beef. The cows are fed with an olive-based cattlefeed.
Setonouchi Shimameshiya is a cafe adjoining Yokai Art Museum 4. Here they have an extensive menu including the Island Veggies and Olive Wagyu Roast Lunch (1,900 yen including tax), which includes three cuts of this Wagyu beef.
405 CAFE is adjacent to Yokai Art Museum 1. Enjoy the Angel Soft Ice Cream, named after Shodoshima's picturesque Angel Road.
On the second floor of the cafe, you can purchase stationery goods and nifty postcards with scenes of the Seto Inland Sea.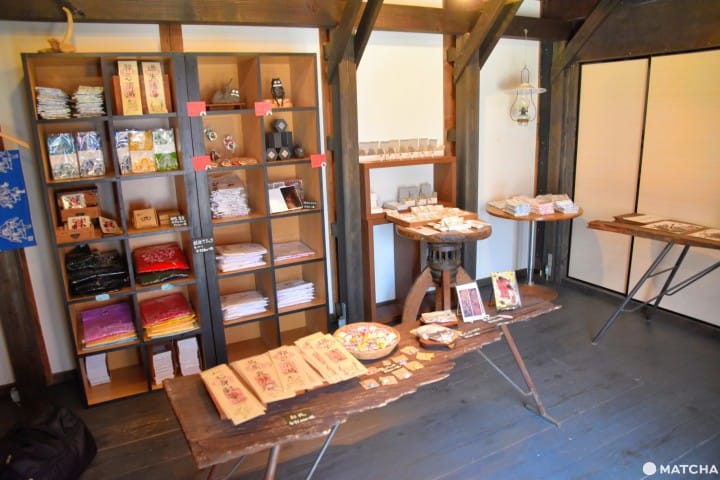 The Museum Shop, which is attached to Yokai Art Museum 1, offers a wide selection of yokai items. In addition to products that are said to bring good luck, you can also find talismans like the one worn by Shirubei, the mascot yokai created by the museum director.
Enjoy Sightseeing in Maze Town
The area where the Yokai Art Museum currently stands was once the main part of Shodoshima. In order to evade pirates who often invaded the island, the locals devised a town layout which featured a series of complicated and hard to navigate streets and alleys, not unlike that of a maze.

Within Maze Town there's Saikoji Temple, famous for a nearby underground tour called kaidan meguri, and Okada-Choeido Honten, where you can sample exquisite-tasting shoyu (soy sauce) cream puffs.

The Yokai Art Museum plans events that would allow visitors to leisurely walk around the town on summer nights while enjoying yokai art.

For the latest news please check the official homepage of the Yokai Art Museum.

In cooperation with Yokai Art Museum, ON THE TRIP

The information presented in this article is based on the time it was written. Note that there may be changes in the merchandise, services, and prices that have occurred after this article was published. Please contact the facility or facilities in this article directly before visiting.