Setouchi Triennale 2019 - Top 5 Works Of Art On Display In Spring
Setouchi Triennale 2019 started in April. This contemporary art festival is held on islands in Kagawa and Okayama, as well as at the ports of Takamatsu and Uno in the Seto Inland Sea. We introduce five works of art that you shouldn't miss.
On Until the End of November!
Setouchi Triennale 2019 - This Spring's Top 5 Art Pieces
Setouchi Triennale 2019 officially started on April 26. This special art festival takes place on twelve islands and at two seaports located in the Seto Inland Sea in Kagawa prefecture and Okayama prefecture.
Today we introduce five works of art on display at Setouchi Triennale. We've selected them from among the new art pieces announced in April 2019.
You can see these art pieces until the end of the fall session (November 4), so, by all means, try to get out and have a look during this time period (*).
For a festival overview and access information to the various islands, please have a look at the Setouchi Triennale 2019 official homepage and MATCHA's special article.
To learn how to go and see the various works of art, we recommend getting an area map at the tourist information center near the local port.
Also, during the festival, there will be signboards in various places on each island, and English-speaking volunteers will also be available.
So if you happen to lose your way, please don't hesitate to ask someone nearby.
As far as the multitude of events offered at different spots, please be sure to check the Setouchi Triennale 2019 Events List!
*Please note that this excludes the artwork at Shamijima Island, the final place introduced in this installment.
1. Little Shops on the Island, Megijima Island
One special feature of Setouchi Triennale is that much of the artwork has taken root in the daily lives of the local islanders.
As such, it can be said that Megijima's "Little Shops on the Island" project is a piece of work befitting Setouchi's international art festival.
With this project, artists have opened up shops in abandoned buildings that were former lodging facilities.
These shops have been created by highly gifted and talented artists. Needless to say, these aren't your typical, ordinary kinds of leisure facilities!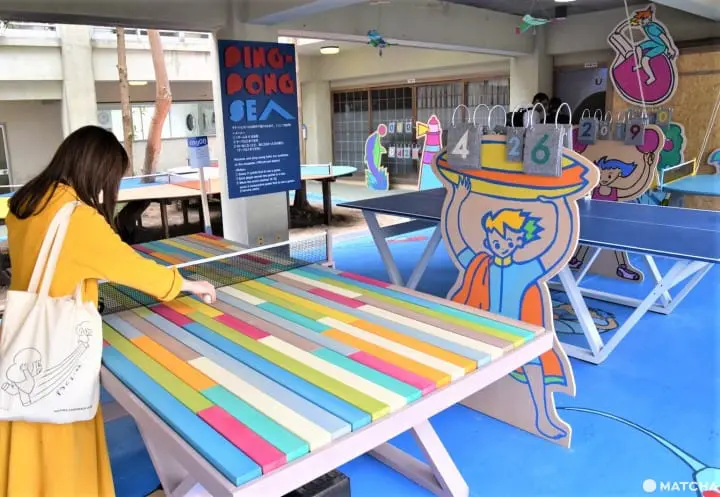 In the photo above is Ping-Pong Sea, a creation by Rintaro Hara and Yu Hara.
Modeled after a table tennis facility, this work of art features ping pong tables made with strips of wood that form a kind of xylophone.
So when a ping pong ball contacts the table surface, musical tones are generated.
Of course, this table can be played just like an actual instrument. So while enjoying some table tennis, how about playing your own original music score?
This is un... Salon for soothing your soul by Eros Nakazato.
It features a chair (right-hand photo) equipped with some special devices. When the handle on the right side of the chair is turned in a circular motion, gears in various parts of the chair start to move and music is played.
The metallic tones form a curious kind of melody that creates an air of nostalgia like an old music box.
Right next to this chair is a real massage chair that can be used for a minimal fee. How about taking a little break to sooth your body and soul?
Wedding Shop is the creation of Hong Kong artist, Leong Ka Tai and the Red Thread.
In addition to displaying photos from a local couple's wedding, visitors can experience a Chinese-style wedding. There are also plans to offer a workshop on how to weave braids.
This project also apparently tries to create opportunities for people to meet on Megijima Island, a place where newlywed couples are few in number.
Braids are also a kind of talisman for joining people together in marriage.
In 2016, they also appeared in the hit Japanese animation movie"Your Name", so some people might already be familiar with them.
If you visit the "Wedding Shop", you might even meet that someone special just like the main characters in the movie did!
For the "Little Shops on the Island" project, they will also be opening a cafe where you can enjoy food and drink, a coin laundry, a hair salon, and other interesting shops.
Please make a trip out here and see for yourself the unique ways in which these places were created!
Access to Little Shops on the Island
Just ten minutes on foot from Megijima Port.
2. Love in Shodoshima by Wang Wen Chih, Shodoshima Island
On Shodoshima, the second largest island in the Seto Inland Sea, many new art pieces were announced in 2019 as well.
We highly recommend Love in Shodoshima, by Taiwanese artist Wang Wen Chih.
In cooperation with the local residents, about 4,000 bamboo trees were cut down and used to build this giant dome that's simply breathtaking and amazing.
The artwork's title of Love in Shodoshima has a connection with "Song of Olives", a piece of music well known by people living on the island.
This song's theme is about a young girl's love and the precious time that was spent together on the island.
This artwork is also apparently filled with similar sentiments about the connections made between people on Shodoshima, and the importance of not forgetting these shared memories and the special time spent together, even after leaving the island.
After his first piece of art, Wang Wen Chih has continued to visit and make contributions to each subsequent Setouchi Triennale, and his connection with the locals is now approaching ten years.
With this most recent artwork, one can sense the relationship of strong mutual trust between this artist and the local residents.
Love in Shodoshima reflects the sentiments of Wang Wen Chih, who says that he wanted to create a place where visitors could get in touch with their inner selves.
Sunlight and wind pass through the openings between the closely interwoven bamboo strips inside the dome, resulting in a solemn and refined shrine-like atmosphere.
Love in Shodoshima was built within one of Shodoshima's most picturesque spots, a highly popular terraced rice paddy called Nakayama Senmaida.
In the summer, the lush green rice plants grow abundantly, and in the autumn the area turns into golden waves of rice ears. So here you can take in the beautiful scenery of a rustic Japanese farming village.
The closest bus stop is Kasuga Jinja-mae bus stop, and right next door is the Komame Shokudo (Japanese) where visitors can also enjoy gourmet cuisine prepared with Shodoshima farm produce.
Access to Love in Shodoshima
At Tonosho Port, board a Nakayama Line Bus. After about a twenty minute ride, get off the bus at Kasuga Jinja-mae bus stop and walk for ten minutes.
3. Bell Shelter by Dadawa, Shodoshima Island
On Shodoshima there are many temples and shrines where visitors go to offer their prayers, and it even has its own original pilgrimage route of the 88 Temples.
Chinese artist Dadawa focuses on the deep spirituality which has taken root on the island.
A local resident of Shodoshima once commented that "the sound of a bell is the one and only method of joining the present world with that of the eternal world."
So it's with this concept in mind that Bell Shelter, a sound inspiration, was created.
You can hear the sounds that emanate from a factory where Shodoshima's famous soya sauce is made and also the sound of a bell. These are audio recordings that were made on Shodoshima and they quietly flow throughout the building, a former rice storehouse.
When you ring the bell, its sound waves spread out in a ripple-like fashion and are visually presented on a screen in front (see photo above).
Dadawa-san comments, "this art and its environment allows you to see the power of spirituality in visual form."
This is a place that's filled with a deep sense of calm and tranquility. If your spirit and soul could be represented visually on the screen, how would it look like?
Access to Bell Shelter
Board a Southbound Fukuda Line Bus at Tonosho Port. After about forty minutes, get off at Umaki bus stop. The artwork is a short walk away from the bus stop.
4. The Shore Where We Can Reach - Xiang Yang Art Sailing Proposal, Shodoshima Island
The Shore Where We Can Reach - Xiang Yang Art Sailing Proposal, a creation by Chinese artist Xiang Yang, is an objet d'art that incorporates old Chinese furniture and a fishing boat in its design.
During the period of the Setouchi Triennale, this objet d'art will serve as an addition to the festival.
After the festival is over, this piece of art becomes a sailing vessel, and they have tentative plans to actually allow passengers on board and venture out into the ocean by the time the next festival comes around in 2022!
The vision to build this boat dates back to the latter half of the 1960s. Then just a child, Xiang Yang boarded a boat with his mother and went searching for his father who had fled the country due to the political chaos at the time.
From then onwards for Xiang Yang, boats came to symbolize a journey to a place where one could feel safe and at ease.
This art project might make you recall Noah's Ark in the Bible's Old Testament because Xiang Yang's voyage also makes an appeal for rescue and salvation.
Where exactly will this human journey take him to? It'll be interesting to see what direction he takes in terms of his life and art from here on in.
In a traditional Japanese house located next to the exhibit, Xiang Yang's conceptual sketches, a model of the boat, and visual images are on display.
Access to The Shore Where We Can Reach - Xiang Yang Art Sailing Proposal
Board a Southbound Fukuda Line Bus from Tonosho Port. After a thirty-five minute ride get off at Kusakabe-ko bus stop and walk. Access by foot is also possible from the Kusakabe Port Ferry Terminal.
5. The Sea Within-The See Within by Sarah Westphal, Ogijima
The Sea Within-The See Within is an exhibit by Sarah Westphal, an artist who is active in Germany and Belgium.
With this art display, water that covers the floor of an abandoned house reflects the light of Setouchi, and recreates the calm waves of the Seto Inland Sea.
Also, on a wall in the back room, there's a moving visual of an octopus that was caught in the waters off Ogijima Island.
From ancient times on Ogijima, the octopus fishing industry flourished with the use of octopus traps called takotsubo (*1).
While keeping this island culture in mind, Westphal explained the philosophy behind her art piece by saying, "Japan is filled with many busy, crowded, and restless places that are not conducive to reflection. So Japanese people also need contemplative kinds of places where they can quietly reexamine and take a closer look at themselves again."
This art incorporates both the natural beauty of the Seto Inland Sea and also some thoughts on the problems we face in modern society.
If you sit down on a bench inside the art installation, it'll be a good opportunity to think back upon your trip around the Seto Island Sea and also on your own recent daily life.
*1: Takotsubo is an unglazed pot that is used to trap and catch an octopus.
Access to The Sea Within-The See Within
Just five minutes on foot from Ogijima Port.
Shamijima - Many Highlights Here As Well!
Though Setouchi Triennale 2019 in Shamijima finished during the spring session (until May 26), Shamijima still offers visitors many other highlights.

In the photo above is a creation called Pivot by Madeleine Flynn and Tim Humphrey. Though it appears to be just an ordinary seesaw, the inside has been equipped with an AI speaker that allows people to enjoy a conversation in Japanese, English, and Chinese.

Also during the summer session (July 19 - August 25) and fall session (September 28 - November 4), there are plans to announce many new art pieces.

So, by all means, please make a trip out to the Setouchi Triennale 2019 and fully enjoy a curious and unique atmosphere that only art can create!

The information presented in this article is based on the time it was written. Note that there may be changes in the merchandise, services, and prices that have occurred after this article was published. Please contact the facility or facilities in this article directly before visiting.