Kagawa Diary - The Hidden Gems Of Setouchi As Seen By A MATCHA Editor
Kagawa Diary - The Hidden Gems Of Setouchi As Seen By A MATCHA Editor
Mitoyo, located in the western part of Kagawa, has become a popular travel destination since its Chichibugahama Beach was featured as the most beautiful sunset spot in 2018. I'll be introducing the many charms of this city through the eyes of its people.
Kagawa - A Place Full of Scenic Nature and Art
Picture courtesy of Mitoyo City
When I was asked whether I wanted to move to Kagawa for a year (this was in early February), I was just amazed.
I had been working as an editor at MATCHA for one and a half years now, but we had never dispatched staff to other areas.
Picture from Accessing Kagawa From Major Cities And Takamatsu From The Airport
Kagawa's Mitoyo municipality wanted to strengthen their promotion of the city as a tourist destination in 2019 because this is the year of the Setouchi Triennale, one of the largest international art events in Japan.
They asked MATCHA to dispatch a member of the staff to work for a year in Mitoyo as an advisor on tourism-related matters.
Because they had to reserve a budget for this project, I had to make a decision within a day.
Born and raised in eastern Japan near Tokyo, I had never been to Kagawa before. To be honest, I couldn't imagine what life in Mitoyo would be like. On the other hand, I had always dreamt of living in a place full of natural beauty. I had considered Kyushu or Tohoku as possible locations for my future home as I have some acquaintances there. So I thought it could be a good opportunity to find new prospects for my life.
And I am a lover of art. I always wanted to go to the Setouchi Triennale. "Well, maybe it's not bad to live in an unknown place", I thought.
So I decided that, yes, I would like to live and work in Mitoyo for a year. In less than a month I packed my things and moved to Mitoyo.
What Kind of Place Is Mitoyo?
Mitoyo's Maruyama Island
Mitoyo, a city located in Shikoku's Kagawa Prefecture, is facing the Seto Inland Sea. The city became popular recently among travelers who seek beautiful places to take photos of.
New York Times introduced the Seto Inland Sea in its 52 Places to Go in 2019 feature. The picture used in their article is a view from Mt. Shiude in Mitoyo, a popular spot to view the cherry blossoms. Chichibugahama Beach is another buzzword among lovers of picturesque spots in Japan because you can take magical pictures of it at sunset.
Kagawa is famous for hosting the Setouchi Triennale, one of the greatest contemporary art festivals in Japan. Fascinating artwork by famous artists like Yayoi Kusama or Tadao Ando can be seen on display.
Takamatsu, the hub port for the Setouchi Triennale, is just one hour away from Mitoyo by train. Naoshima, known as an island with stunning art, is also not far away from here.
It's quite amazing to realize that I now live in a place full of such wonders.
How I Enjoy My Life in Mitoyo
Life in Mitoyo is very different from that in Tokyo. I am working in the city hall, mainly writing articles as usual. At the same time, I enjoy my new life here. So let me introduce to you some of the charms of Kagawa.
Leisure: Cycling, Sea Kayaking, Fishing
On my holidays, I enjoy cycling. Cycling roads are well organized in Kagawa. In fact, the famous Shimanami Kaido cycling road is not far away from Mitoyo. I ride my bicycle on the roads surrounded by wheat fields and mountains towards the seaside, feeling the breeze coming from the Seto Inland Sea.
Picture courtesy of Mitoyo City
There are great places to enjoy marine sports, too. You can often spot fishing enthusiasts along the shores. I am also interested in trying SUP (stand-up paddle)and sea kayak.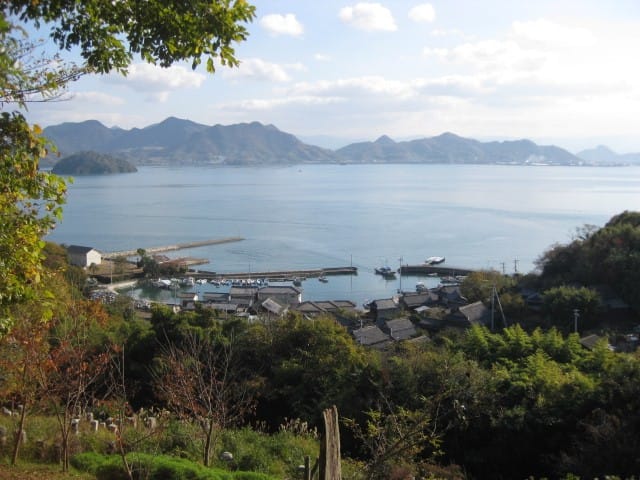 Picture courtesy of Mitoyo City
Because Mitoyo is situated among many small mountains and the inland sea, there are several hiking trails which allow one to enjoy the beautiful scenery (the picture above shows Shishijima Island).
Picturesque Spots
Awashima Island
Mitoyo has several small islands. You can travel to each of them by ferry. There are many picturesque spots on and around these islands.
The inland sea has many, various faces. The hidden spots that can only be reached at low tide are really breathtaking.
Local Cuisine: Delicious Udon
Have you ever tried udon? It is one of the most popular Japanese noodle dishes along ramen and soba. Kagawa is famous for its delicious Sanuki-udon. In fact, Kagawa takes pride in being called Udon-ken, the udon prefecture!
It is said that in Kagawa the number of udon restaurants is larger than that of convenience stores! I used to love soba noodles above any other dishes, but now I'm a fan of udon noodles.
Spiritual Sites
Motoyamaji Temple
Shikoku is famous for being a very spiritual place. People from all around the country visit this part of Japan to do the Sacred Pilgrimages to the 88 Temples, called ohenro.
This pilgrimage boasts a 1200-year-old history. Even nowadays, one can often see pilgrims walking to these venerable temples wearing the traditional ohenro white attire. Seeing them, you can feel the unique spirituality of Shikoku.
There are also many shrines located on the seashore. Walking in this area, you'll be able to feel the long history of the people who have been living in harmony with the sea here.
Follow My Kagawa Diary to Learn More about the Charm of Mitoyo
In Japan, there are many beautiful spots that are still unknown to travelers. Mitoyo is one of those places, whose charm is best known only to the locals.

Through the series of articles titled "Kagawa Diary", I will introduce some of the amazing people who live and work in Mitoyo. They will tell us about the hidden gems of Setouchi, Kagawa, and the lovely city that is Mitoyo.

The information presented in this article is based on the time it was written. Note that there may be changes in the merchandise, services, and prices that have occurred after this article was published. Please contact the facility or facilities in this article directly before visiting.