The Perfect View: Everything About The Shimanami Kaidō
In this article, we will show you the sightseeing spots you can stop by along Shimanami Kaidō, a highway that links Onomichi city, Hiroshima and Imabari city, Ehime.
Shimanami Kaidō is the highway that connects Onomichi city, Hiroshima prefecture, located in the Chūgoku region and Imabari City, Ehime prefecture, located in the Shikoku region. It is the perfect location for you to look out at the various islands on the Japanese inland sea (Setonaikai). In this article, we will show you the sightseeing spots you can stop by along the way.
Read also:
Japanese Encyclopedia: Chūgoku Region
5 Things To Do In Hiroshima, The City Of Peace And Culture
Japanese Encyclopedia: Shikoku Region

Shimanami Kaidō - Linking the Islands
Shimanami Kaidō, with its official name Nishiseto Jidōshadō, is a highway of 60 kilometers that links Onomichi city and Imabari city. Each bridge that links the islands has its own name, and all together they are called Shimanami Kaidō. Before we continue, we would like to point out that there are special lanes for pedestrians and bikers to pass through the highway free of charge.
Both Onomichi and Imabari offer bike rentals and also a coin-operated shower stall so tourists can go cycling along the sea without any advance preparation. You can find more information on bike rentals on the Setouchi Shimanami Kaidō Co-Operative Association website, which is available in several languages.
Starting Point of the Highway: Onomichi - the Town of Hills
Shimanami Kaidō starts in Onomichi, Hiroshima prefecture. First it reaches Mukaishima by passing the first bridge, Onomichi-Ōhashi. Since this bridge is narrow and can be dangerous, however, bikers and pedestrians use ferries in order to get to Mukaishima.
Onomichi is a compact city where everything is gathered in a narrow and hilly area which is surrounded by the sea and mountains. The most popular activity for visitors to this area is sightseeing at the old and traditional Buddhist temples.
Mukaishima and Innoshima Islands
Mukaishima is just on the other side of Onomichi, and continues on to Innoshima. Mukaishima is known for mikan orange production and their fresh orange juice is very famous.
On the larger scale of citrus fruits, Hassaku Jelly is made using the hassaku oranges produced here and is a dessert that you can enjoy anywhere in Hiroshima.
Innoshima is known as the origin of hassaku oranges. It is also the old base of Japanese pirates and there are many historic spots and museums related to pirates found here.
A Gigantic Suspension Bridge in an Attractive Form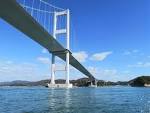 We cannot speak of Shimanami Kaidō without mentioning the big suspension bridge that connects the islands.
Tatara Ōhashi is the largest cable-stayed bridge in Japan, found between Ikuchijima and Ōmishima islands. A cable-stayed bridge refers to a bridge that supports the crossing area with a cable built diagonally from a high tower. This design forms a beautiful triangle.
Kurushima Ōhashi, the bridge that links Kurushima Island and Imabari city, is over 4 kilometers long. You can see stunning sunsets from the bridge that stretches from east to west.
Ōshima, a Spot Full of Highlights
Ōshima is located on the other side of Imabari city, Ehime prefecture. It is surrounded by Kurushima Straight which has a rapid current. The streams hit the islands, and in that way, natural whirling waves occur.
You can watch the powerful whirlpools by getting on the whirlpool sightseeing boats from Ōshima.
Kirosan Observation Park is a recommended spot to look out at Kurushima Ōhashi from Ōshima. The observation platform designed by the famous Japanese architect, Kengo Kuma, is made of wood and has a modern look. A spectacular view suddenly opens up once you walk up the stairs.
You will see a beautiful suspension bridge which draws an unconstrained arch, and Setonaikai, which entertains you with different looks with the rapid streams. We hope you will have a chance to see this dramatic view in person.
Imabari City, a City of History and Industry
Shimanami Kaidō ends in Imabari city, Ehime prefecture. It developed as the major marine traffic point in Setonaikai, and there were castles in the old days as well. Now, the castle tower which symbolizes Imabari Castle, has been rebuilt and visitors can walk inside there as well.
Moreover, Imabari is well known for high quality towel production. Old weaving looms and machines are exhibited at the Imabari Towel Historical Museum.
The Imabari Towel Flagship Store, located next to the museum, offers official Imabari towels, and it is always full of tourists.
Shimanami Kaidō is full of entertaining spots all the way from Onomichi and Imabari. What is nice about it is that even if you do not have a car, you can cross the road with a bike. Why don't you visit Shimanami Kaidō on your next trip?
Information
Kurushima Straight Whirlpool Sightseeing Boat
Address: Ehime, Imabari, Yoshiumichōmyō 4520-2 Michi-no-eki Yoshiumi Ikikikan
Hours: Around 9:00-16:00 (changes due to sea level)
Closed: January 1
Wi-Fi: Unavailable
Credit cards: Not accepted
Other Languages: Website available in English and Chinese, Japanese only in the stores
Menu in other languages: -
Access: 10 minute drive from Ōshima Minami (大島南) interchange, Nishiseto Expressway
Admission Fee: 1500 yen
Phone Number: 81-897-84-3710
Religion: -
Official Website: Kurushima Straight Sightseeing Boat
Kirosan Observation Park
Address: Ehime, Imabari, Yoshiumichō-minamiura 487-4
Hours: 24 hours
Closed: None
Wi-Fi: Unavailable
Access: 10-minute drive from interchanges Ōshima Minami and Ōshima Kita, Nishiseto Expressway
Admission Fee: Free of charge
Phone Number: 81-897-84-2111
Religion: -
Official Website: Kirosan Observation Park (English)
Imabari Castle
Address: Ehime, Imabari, Tōri-chō 3-1-3
Hours: 9:00-17:00
Closed: December 29, 30, 31
Wi-Fi: Unavailable
Credit cards: Not accepted
Other Languages: -
Pamphlets in Other Languages: -
Nearest Station: Imabari-jō-mae bus stop (今治城前) on Setouchi Bus
Access: From Imabari Station on JR Yosan line, take the Setouchi Bus and get off at Imabari-jō-mae bus stop
Admission Fee: 500 yen
Religion: Shintō
Phone number: 81-898-31-9233
Official website: Imabari Castle (Japanese)
Imabari Towel Flagship Store
Address: Ehime, Imabari,Tōmonchō 5-14-3
Hours: 9:00-18:00
Closed: December 29 to January 3
Wi-Fi: Unavailable
Credit cards: VISA, Master Card, JCB are accepted
Other Languages: -
Nearest Station: Imabari (今治) station on JR Yosansen (予讃線) line
Access: 10 minute drive by taxi from Imabari station
Price range: Handkerchief available from 500 yen
Phone number: 81-898-34-3486
Religion: -
Official website: Imabari Towel Flagship Store (Japanese)