Shimanami Kaido: New Must-Visit Places on Japan's Scenic Cycling Route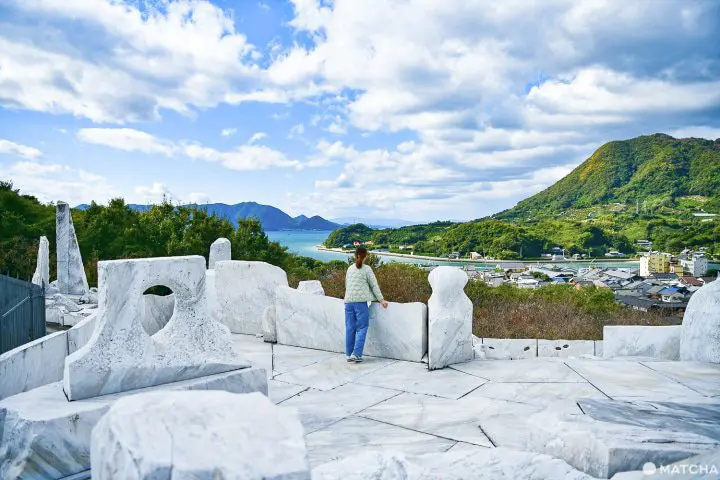 Shimanami Kaido—a route connecting Onomichi in Hiroshima to Imabari in Ehime—is Japan's first cycling road over a strait. Embark on an island-hopping tour by bike to find amazing local treats on the way, an impressive architecture museum, temples, historical sites, and many other attractions.
Depart from Onomichi! Enjoy the Sea by Ferry
The Shimanami Kaido is a 70-kilometer cycling road that crosses over the Seto Inland Sea. There are several scenic islands along the route, such as Ikuchijima Island and Omishima Island.
In this article, we introduce a full report on our two-day trip around the most popular destinations along the Shimanami Kaido!
Ferries coming and going along the Seto Inland Sea are a daily sight on the islands. However, this is a fun and extraordinary experience for a visitor like our writer.
First, we traveled from Onomichi in Hiroshima Prefecture to Setoda Port on Ikuchijima Island by ferry.
The ferry we took was Citrus, a passenger ferry operated by Setouchi Cruising (1,300 yen one-way for adults, paid by cash on the boat). Seven to eight ferries depart daily and bicycles are allowed onboard.
Our writer gets seasick very easily. However, she arrived at the port in no time while mesmerized by the beautiful scenery!
Kosanji Temple and the Hill of Hope: Brimming with Filial Love
Kosanji Temple near Setoda Port was built by Kozo Kosanji, a Meiji-era (1868-1912) businessman, to express gratitude to his mother.
The architecture is highly acclaimed for its artistry. It is full of originality while taking inspiration from Nikko Toshogu Shrine and Byodoin Temple's Phoenix Hall, a World Heritage site in Kyoto. The temple has 15 buildings that are nationally designated tangible cultural properties.
Continue further inside and you'll see the Hill of Hope. It is the latest attraction spot.
At a glance, this grand white space appears to have no connection with Buddhism. However, the monuments represent the 12 deities (The Twelve Devas) that protect Buddhism.
The marble in this space weighs up to 3,000 tons. All of the materials were excavated from Carrara, Italy, where Itto Kuetani, the sculptor and designer, had his studio.
The pure white marble also accentuates the surrounding island scenery. While standing in this space, it felt as if we had become one with the gorgeous view.
Select the Perfect Bike! Setoda Tourist Information Center
Next, we headed to the Setoda Tourist Information Center, a rental cycle terminal. It is accessible by foot from Setoda Port and Kosanji Temple.
Here, you can rent hybrid bicycles, lightweight bicycles, city bicycles, electrically assisted bicycles, and children's bicycles.
Not used to riding a bike? Don't worry! A staff member will carefully show you how to ride one and inform you of any precautions.
Our writer rented a hybrid bicycle which is light, easy to ride, and recommended for beginners.
The rental fee is 2,000 yen per day. There is also a depoist fee of 1,100 yen (after tax). However, this fee will be refunded if you return the bicycle to the same rental spot.
Lockers are located adjacent to the Setoda Tourist Information Center. If your belongings are on the larger side and won't fit in the lockers, you can store them at the information center for 300 yen.
Island Souvenirs! Shimagocoro SETODA
Shimagocoro SETODA is a popular dessert shop on Ikuchijima Island.
The owner originally trained as a pastry chef in Kobe. However, he yearned to do something for his hometown, which was losing its liveliness with young adults migrating away. Ultimately, he returned to his hometown with his beloved family to open this shop.
The owner combined his pastry skills with lemons from Ikuchijima Island, which boasts the largest production of lemons in Japan. The result was the unique Setoda Lemon Cake Shimagocoro.
The secret behind its delicious flavor is the use of lemon peels, not the flesh, to enhance its aroma. The ratio of cream and flour is adjusted to room temperature and water content each time it's made. A large amount of labor goes into the manufacturing process, which has resulted in an excellent product that has even won the Good Design Award!
Freshly baked lemon cakes and cream puffs can be purchased at this location. You can choose to eat your purchases inside the shop or out on the terrace (lemon cakes and cream puffs are 250 yen each after tax, but 255 yen after tax if dining in).
Everything is a Work of Art! Island-Wide Art Museum
Ikuchijima Island hosted the Setoda Biennale in 1989 and 17 artworks were installed across the island for the event. Those works of art can still be enjoyed today.
There are three large art pieces on Sunset Beach accessible by bike from Setoda Port.
These works are "Come Into the Sky" by Masafumi Maita, "Calm Time–Red Form/Inclination" by Keiji Uematsu, and "Clairvoyance: Look Through the Glasses, You Can See the World from Setoda" by Shin Matsunaga.
These art pieces make the beautiful sandy beach shine and have attracted countless visitors for years.
We had an afternoon tea party here with lemon cider and lemon cake purchased from the previously mentioned Shimagocoro SETODA! It was a wonderful time to enjoy desserts and drinks while relaxing on the beach under the blue sky.
Opened in 2021! Yubune: Bathhouse and Inn
You can't overlook these two facilities by Azumi when it comes to hotels on Ikuchijima Island. Azumi is a new inn brand that launched in March 2021.
Ikuchijima may be an island with a population of fewer than 10,000 people, but it is one steeped in history and tradition. Azumi Setoda is a Japanese-style inn that was remodeled from a 140-year-old estate. Across the street is a public bath and lodging facility called yubune.
These two inns have created a space that meets the demands of the present, while also conveying the traditions of the land.
This time, our writer stayed a night at yubune.
A refreshing fragrance arose from the tatami mats when she entered the room. Solid natural wood is used for the wooden details in the room, which exudes an air of luxury.
If you stay in a doma room (street-level) on the first floor, you can also bring your bicycle into your room.
The men's bath
Hotel guests and day visitors can enjoy the bathhouse and sauna.
The Seto Inland Sea is painted on the wall as a mural. You might even get the chance to bathe in a lemon or salt bath depending on the season.
Classic childhood dagashi (cheap sweets) are sold on the second-floor lounge. A variety of self-service drinks are also available to hotel guests. Wouldn't you like to savor a cold glass of beer after getting out of the bath?
Enjoy a Fresh Breakfast at SOIL Setoda! Loved by Locals
Located right next to yubune is SOIL Setoda. It's an all-in-one establishment with two cafes, a hotel, and an activity center.
Yubune guests can eat breakfast at Minatoya, one of the cafes. The eatery offers Japanese and Western-style dishes made with fresh ingredients procured from local farmers and fishers. At the time of this article, the cafe's specials were an onigiri set meal and assorted bagels.
A portion of the SOIL Setoda building was renovated from a Meiji Period storehouse. It's another feature you can't overlook!
Overview Coffee, the second cafe, offers delicious specialty beverages. We also recommend a visit here!
Mr. Shinichiro Suzuki, the general manager, migrated to Ikuchijima because of his love for the island. Although SOIL Setoda opened in April 2021, the facility already has regular customers.
Business hours are subject to change, so please check their Instagram before visiting.
A Sweeping View of the Seto Inland Sea on Tatara Bridge
Tatara Bridge is 1,480 meters in length and Japan's longest cable-stayed bridge. Surprisingly, it's an easy route for beginners to cycle. On the day of this shoot, our writer met a group of junior high school students who were having fun cycling on their school trip!
Cycle down Tatara Bridge and you'll cross the border into Omishima Island in Ehime Prefecture. The island is home to numerous art museums and the oldest shrine in Ehime.
Returning Your Rental Bicycle at a Terminal and Taxi Services
After our writer arrived on Omishima Island, she returned her bicycle to the Kamiura Rental Cycle Terminal inside Tatara Shimanami Park.
Shimanami Japan, the provider of this bicycle rental service, has five rental terminals that include the Setoda Tourist Information Center and 13 drop-off terminals. Excluding electrically assisted bikes and tandem bikes, this means you can return your rental bicycle at any terminal and not just the terminal you rented from!
The Cyclist Sanctuary Monument is something you can't miss while in Tatara Shimanami Park. The monument was built in 2014 to commemorate Shimanami Kaido and Sun Moon Lake in Taiwan entering a sister cycling road agreement. This also includes hosting the International Cycling Event. Our writer took her own commemorative photo here!
She then rented an e-bike at WAKKA, a comprehensive tourism facility. This bicycle is perfect for comfortable cycling in hilly areas.
The next route involves going through rugged mountain roads that go up and down. For that reason, our writer also requested a cycle taxi, which will bring cyclists to their next destination together with their bikes.
WAKKA was created for cyclists to relax and enjoy their bicycling trips to the fullest. The facility has a hotel and cafe, and even offers activities.
Bicycle services are available from 9:00–18:00 (closed on Tuesdays).
Japan's First Architecture Museum! The Toyo Ito Museum of Architecture
Toyo Ito is a world-class architect who has created innovatively designed structures, including the National Taichung Theater in Taiwan.
He was fortunate to build Japan's first architecture museum in 2011 on a corner of Omishima Island with a sweeping view of the Seto Inland Sea.
The Toyo Ito Museum of Architecture is comprised of the Steel Hut, Silver Hut, and an outdoor area exhibiting three architectural models. The Steel Hut is reminiscent of the boats found in the shipbuilding industry, which is Imabari's main industry. The Silver Hut is a recreation of Mr. Ito's former home in Tokyo.
The Steel Hut is a unique spot that displays Mr. Ito's architectural design and island revival projects. "Another Utopia" is the museum's 10th-anniversary exhibition and is currently open until September 2022.
On the other hand, the Silver Hut—an archive space for architecture blueprints—is an open space where visitors can relax and read books while looking out at sea.
Ehime's Oldest Shrine! Oyamazumi Shrine
Oyamazumi Shrine is known as the patron shrine of all of Japan. It is dedicated to the gods of the mountains, seas, and war.
The shrine is home to a huge 2,600-year-old sacred tree. The cypress roof of the main shrine and worship hall are nationally designated important cultural properties.
Samurai have prayed at the shrine in hopes of victory in battle. These warriors also asked for a safe return home by offering their armor and swords after victories. Approximately 80% of the military equipment in Oyamazumi Shrine's treasure hall has received designations as natural treasures or important cultural properties in Japan and are truly worth seeing.
A visit to Oyamazumi Shrine will make you feel how the flow of time has changed. The shrine is open from around sunrise until 17:00.

Set Off on Your Next Trip to Imabari!
At the end of our island-hopping tour, we returned the e-bike to WAKKA. Then we used the taxi service once more to a bus stop on Omishima and rode an express bus to Imabari Station.

There are several sightseeing spots in Imabari, including Imabari Castle, one of the top one hundred castles in Japan. We hope this itinerary will help you set off on your next adventure!

For the latest information on the Shimanami Kaido, please check the official Instagram, Facebook !

Written by miho
Sponsored by SHIMANAMI JAPAN
Due to Covid-19, changes to the days of operation and business hours may occur.

 

The information presented in this article is based on the time it was written. Note that there may be changes in the merchandise, services, and prices that have occurred after this article was published. Please contact the facility or facilities in this article directly before visiting.