Seto Inland Sea - Beginner-Friendly Kayaking At Free Cloud
On a Free Cloud tour in Nio in Kagawa Prefecture's Mitoyo City, beginners can explore the serene waters of the Seto Inland Sea while enjoying the ancient scenery. Read to learn about how to go sea kayaking and standup paddleboarding. Get in touch with nature through marine sports in Japan!
First-Timers Welcome! Try Kayaking and Paddleboarding on the Seto Inland Sea
Picture courtesy of Free Cloud
People enjoy sea kayaking and SUP (standup paddleboarding) throughout Japan. Each region has its own charm, such as the clear blue waters of Okinawa or Itsukushima Shrine in the sea of Hiroshima.
An area ideal for beginners or anyone wanting to enjoy Japan's outdoors is in the sea around the town of Nio, which faces the Seto Inland Sea. The waters are especially calm, and there's even a remote island where ancient ruins have been found.
Free Cloud is an outdoor activity facility that runs sea kayaking and SUP tours in Nio, and is the perfect place for trying aquatic sports.
Visit Tsutajima Island - A Remote Island 1km Away From Nio
Picture courtesy of Free Cloud
When kayaking on the open ocean, the high waves make it difficult to paddle. Even in the inland sea around Seto, the currents can become fast around areas with many islands. Areas like these are great for outdoor enthusiasts but may pose a challenge for beginners.
However, there are much calmer waters around Nio. There's also an uninhabited island called Tsutajima located a kilometer away from the town. First-timers can reach the island with minimal effort.
Ceramics and stoneware dating back 8,000 years ago have even been excavated from Tsutajima.
Join a Tour at Free Cloud for an Ocean Adventure!
Picture courtesy of Free Cloud. Mr. Komae on the right, the writer in the middle.
Shoji Komae, a staff member at Free Cloud, was the writer's guide during the tour.
Free Cloud's sea kayaking tour starts with basic instructions and a detailed explanation of how to board the kayak and use the paddle. You will be wearing a waterproof kayak spray skirt to prevent water from getting on your seat, and a life jacket so first-timers will feel comfortable. You'll also do stretches before boarding!
Paddle Out Into the Vast Ocean
Picture courtesy of Free Cloud
Once you board the sea kayak, you will get a panoramic view of the ocean. This refreshing feeling is different from simply viewing the sea from the beach.
With the help of locals, the environment is protected and there are plenty of fish around the sea of Nio. You may spot some fish splashing about while paddling on your sea kayak.
Slip Back in Time! Ruins on Tsutajima Island Dating Back to the Jomon Period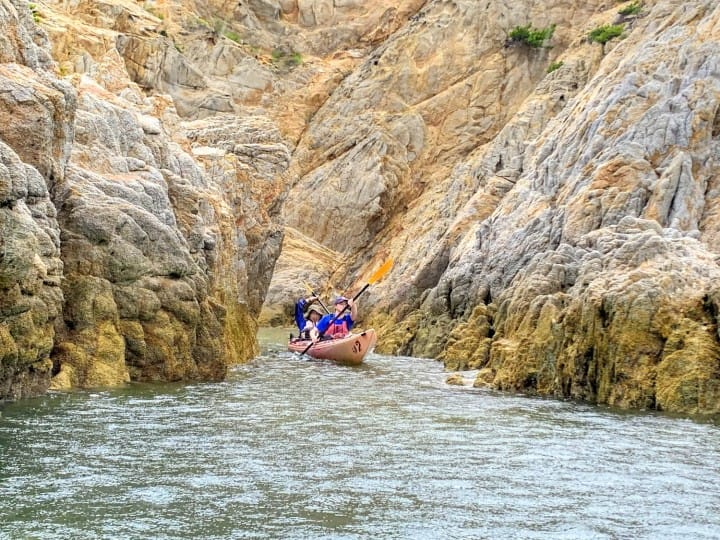 Picture courtesy of Free Cloud
After paddling for a bit, you will reach Tsutajima Island. Experience the thrill as you weave through the towering granite cliffs! While venturing out on the waters, you will spot crabs, shellfish and many sea creatures.
The 1-day sea kayaking tour includes a hike at Tsutajima Island. However, you will not visit the shell mound. (Picture courtesy of Free Cloud)
Shell mounds dating back 8,000 years to ceramics, stoneware, clamshells, and bones from deer and boars have all been uncovered on the island. There are also massive rocks in strange shapes with traces of ancient Japanese people worshiping them as deities.
You begin to wonder what kind of lifestyle these people who worshipped nature as gods lived during the Jomon period roughly 8,000 years ago. The Jomon period's uniqueness has given inspiration to artists such as Taro Okamoto, who created "The Tower of the Sun" in Osaka.
Why not slip back in time for a bit and try to picture how this ancient civilization lived while paddling your kayak?
While one area of Tsutajima Island is maintained with hiking paths and beach activities, there are plenty of untouched areas that will spark your imagination.
Picture courtesy of Free Cloud
If the water conditions are right, you can even venture into a cave on Tsutajima Island. What if there was hidden treasure in this dark, spooky cave? The writer began to imagine this as he paddled into the darkness.
Dine on the Deserted Island!
Picture courtesy of Free Cloud
The sea kayak, which is made to store a lot of luggage, was originally a form of transportation and delivery method used by the Native Americans.
The tour with Free Cloud is also stocked with plenty of drinks and food. Once you arrive at Tsutajima Island, you can enjoy a fun beach party!
Picture courtesy of Free Cloud
Free Cloud offers both half-day and full-day tours. If you take part in the half-day tour, you will have some light snacks and tea, while the full-day tour comes with a sizable meal like tacos.
After an adventure out in the sea, savor a special meal on the beach while listening to the sound of waves.
Bask in the Sunset of the Seto Inland Sea on Free Cloud's SUP Tour
Picture courtesy of Free Cloud
At Free Cloud, you can also enjoy SUP. Many participants who took part in the sunset tours were stunned by the spectacular sights.
The sea of Nio has an area called Chichibugahama Beach that is said to have one of the most beautiful sunsets in Japan. This is the perfect spot to marvel at the sun setting into the vast oceans.
Get on a paddleboard and immerse yourself into the sea and sunset. The waves of the Seto Inland Sea cradle you as you become one with the breathtaking scenery.
Rainy Days Are Also Just as Fun!
Picture courtesy of Free Cloud
You may imagine sea kayaking and SUP as activities for a sunny day. However, it is possible to do these sports during rainy weather; it brings a different kind of thrill and adventure.
Please note that while you are out on the sea, some fishing boats may pass by. Make sure to follow your guide and try not get in the way of the local fishers.
How to Get to Free Cloud
In order to reach Free Cloud, get on the Takase Nio Bus Line (Japanese) from JR Takuma Station and it is a walking distance from Ienoura Bus Stop. The bus departs at 8:49 and 11:49 from Takuma Station and takes around 37 minutes to Ienoura Bus Stop.
For those unsure about transportation, please inquire when booking. For small groups, pick-ups may be available from JR Takuma Station.
If you're going to rent a car, you can park your vehicle at the Sun Cafe, located right by Free Cloud. Several companies such as Heisei Rent-a-Car offer foreign language reservations in Kagawa and Okayama prefectures.
Things to Known Before Joining a Tour at Free Cloud
An advanced reservation for a tour is needed for Free Cloud. Please reserve a spot on the official website (Japanese and English available).
Aside from leaving your luggage in a locker, Free Cloud rents out waterproof bags to store your valuables. The guides at Free Cloud also take photos during your tour and will send it to you at the end so you can focus on paddling.
If you have a bathing suit, it is recommended to bring one, but it's not mandatory. Free Cloud will contact you prior to your tour regarding items to bring. An English-speaking guide is available, so please feel free to ask if you have any questions.
If your clothing gets wet, a coin laundry is also available near Takuma Station or near the Chichibugahama Beach.
Must-see Spots Nearby: Iya Valley, Shimanami Kaido, and Naoshima Island
Picture from From Awa Odori to Rafting - 6 Activities Unique to Tokushima

Free Cloud is around an hour and 30 to 40 minutes from Iya Valley.


Shimanami Kaido is a popular spot for cyclists and travelers. Naoshima Island is known as the mecca for contemporary art and is two hours away by car, train, and boat.

In the neighboring town of Takuma, you can visit the renowned Chichibugahama to see the best sunsets in Japan. There's also Shiudeyama to get a panoramic view of the Seto Inland Sea.

Be sure to take advantage of the area and include other great spots when you visit Kagawa!


Main image courtesy of Free Cloud

In cooperation with Free Cloud

The information presented in this article is based on the time it was written. Note that there may be changes in the merchandise, services, and prices that have occurred after this article was published. Please contact the facility or facilities in this article directly before visiting.