Shinkansen - How To Buy Bullet Train Tickets
The shinkansen is a fast train that allows passengers to travel comfortably in a relaxing, clean environment. This article provides detailed information on how to purchase and use shinkansen tickets.
How to Obtain Shinkansen Tickets
If you want to travel in Japan without any worries, use the Shinkansen (bullet train). It offers comfortable seats and a pleasant ride to major cities such as Tokyo, Osaka and Kyoto, along with cities and towns in the Tohoku and Kyushu regions.
This is the Shinkansen route map. Check the area you want to visit, which Shinkansen to ride, and purchase a ticket. This article is about the ticket types for the Shinkansen and how to obtain them.
Contents:
1. Seat Types
2. Ticket Types
3. Internet Reservations
- For East Japan
- For West Japan
- All Areas of Japan
- Making Reservations
4. Buying Tickets at the Station
- Midori no Madoguchi (Ticket Office)
- Ticket Machine
5. How to Use Your Ticket
1. Seat Types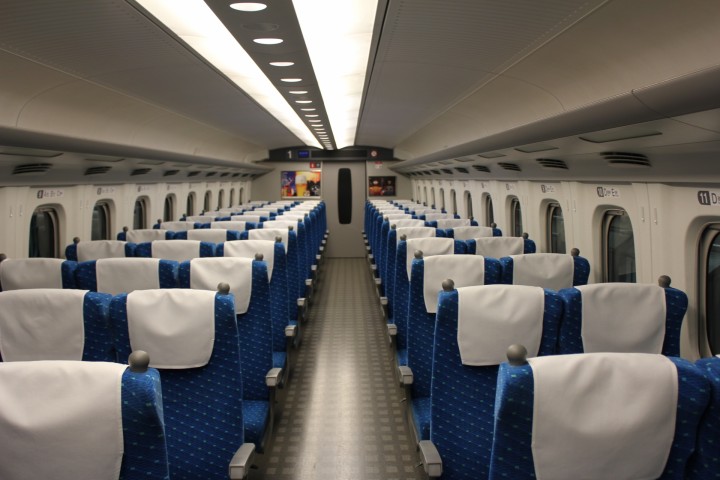 There are three types of seats on the Shinkansen: A reserved seat, non-reserved seat and a green seat.
A reserved seat is purchased in advance, so there is no need to worry about not being able to sit during your Shinkansen ride. If you have already decided your travel itinerary, we recommend purchasing a reserved seat.
On most Shinkansen, non-reserved seats are located in the first three cars, and passengers can sit wherever they prefer. The fare is cheaper (by about 500 yen) than a reserved seat. However, during the peak travel seasons, such as at the end of December/New Year holidays and the golden week in spring, all the non-reserved seats may be filled, and some passengers may have to stand until they reach their destinations.
Also, the Tohoku Shinkansen does not contain any non-reserved seats, so be sure to check in advance which Shinkansen you are going to ride.
The number of green seats are scarce, and the fare is more expensive (by a few thousand yen) than a reserved seat. A green seat is wider than a reserved/non-reserved seat, so passenger can enjoy a pleasant, quiet ride.
2. Ticket Types
There are two types of tickets: a passenger ticket and an express ticket.
A passenger ticket designates where to board and where to disembark, and an express ticket is required to ride express trains such as the Shinkansen.
To ride a Shinkansen and/or express train, you will purchase the two types of tickets mentioned above, although there is also a single, integrated type of ticket for some trains.
As shown in the photograph above, passengers will be asked to present their tickets to the train attendant, who will come to check during the ride.
3. Internet Reservations
The Shinkansen will be crowded during the year-end/New Year period, golden week in the spring, obon period in mid-August, and on national holidays. Additionally, reserved seats may even be fully booked on weekends, so we suggest making reservations in advance.
Visitors planning to travel in East Japan, West Japan or anywhere else in Japan should make reservations on the following websites, respectively.
For East Japan
Higashi Chayagai in Kanazawa
Visitors planning to travel East Japan, including areas like  Hokuriku Region including Kanazawa, the Tohoku Region and Hokkaido, can make reservations via the JR East website. The site offers normal tickets, along with cost-saving tour passes.
JR East Official English Site: JR East
For West Japan
Townscape in Kyoto
There are various tour passes for cities in West Japan such as Nagoya, Osaka, Kyoto and Hiroshima, as well as the Kyushu Region. Reservations can be made via the JR West website.
JR West Official English Site: JR West
If you plan to travel from Tokyo to Hakata, try Smart EX, a reservation app. By using this app and making a reservation, you will be able to go through the ticket gate with your smartphone. Please note that the app may not be available in some countries.
Smart EX Official Site: Smart EX
All Areas of Japan
If you want to travel all over Japan, we recommend the JAPAN RAIL PASS. This pass allows the user to ride various trains, including the Shinkansen. The price for a seven-day pass is 29110 yen. The normal Shinkansen fare for a one-way, reserved seat from Tokyo to Osaka is 14450 yen, so purchasing this pass alone makes up for the cost of a round trip.
However, there are some exceptions, as this pass cannot be used on the Nozomi train, the fastest train between Tokyo and Hakata on the Tokaido/Sanyo Shinkansen line. An additional charge will be required for the Nozomi, so most pass users ride the Hikari or Kodama trains.
To obtain this pass, purchase an Exchange Order in your own country, at a designated sales office. After you arrive in Japan, present your Exchange Order at one of the exchange offices. This pass can also be purchased in Japan at some sales offices until March 31, 2019. For further information, please take a look at the official Japan Rail Pass website.
Voyagin is another website which offers various Shinkansen tickets. It has a page with feedback from its customers, so first-time users can check the site in advance. Voyagin also offers ticket delivery to your hotel, so definitely check the website for more information.
Voyagin Official Site: Voyagin

For MATCHA Readers Only! 5% Discount Coupons!
MATCHA's readers benefit from a 5% discount service on their purchase of shinkansen tickets from the Voyagin website. Upon performing your online payment, please insert the discount coupon code "voyaginmatcha". You will receive a 5% discount on your purchase! This discount service is available only until the end of October 2018.
Voyagin Official Site: Voyagin
Making Reservations
To make Shinkansen ticket reservations, just follow the website guide: choose the Shinkansen, the seat type (reserved or non-reserved), seat location and the number of passengers.
Please note that in most cases, you have to receive the ticket at the station where you will board the train, either at the Midori no madoguchi or the ticket machine. Making reservations is only the first step. Be sure to obtain the ticket in advance, or arrive early at the station on the day of departure.
4. Buying Tickets at the Station
If you plan to buy Shinkansen tickets at the station after your arrival in Japan, go to the Midori no madoguchi (ticket office), or use the ticket machine.
Midori no Madoguchi (Ticket Office)
The Midori no madoguchi at Ueno Station
Midori no madoguchi is a ticket office located at major stations.
Pro: You will be able to talk to an attendant.
Con: You may have to wait in line. The attendant may speak only Japanese.
Ticket Machine
The Shinkansen ticket machine at Kyoto Station
The photograph shows the ticket machines located at Shinkansen stations, which handle the tickets for reserved, non-reserved seats, and green seats. The ticket machine displays can be switched to English.
You may not have to wait in line at the ticket machine, but have your itinerary ready, as operating the machine can be complicated at times.
The timetable for the trains is displayed on one of the monitors, so be sure to check it at the time of purchase.
Pro: The display can be switched to English. It is less crowded than the Midori no madoguchi.
Con: The operation can be complicated.
5. How to Use Your Ticket
There is an exclusive ticket gate for the Shinkansen at the station, separated from other ticket gates. Just slide the tickets into the gate.
Check the electric bulletin board, which displays the timetable, and head to your Shinkansen platform. If you have a non-reserved seat ticket, find where the non-reserved cars are located in the train, and wait in line.
There are kiosks nearby the ticket gate selling beverages and bento (packed lunch). It's a good idea to buy some snacks before boarding the train. Food and beverages can also be purchased aboard the Shinkansen.
After boarding the train, there will be nothing left to do but relax and enjoy the scenery.
Riding the Shinkasen
Shinkansen makes traveling in Japan a lot easier. Be sure to take care of the necessary preparations and your trip will be a memorable one.
Original text written by Miki Takeshita
This article is a revised version of the original, which was published on April 15, 2014.