Accessing Atami, A Hot Spring And Resort Day Trip From Tokyo
Atami is a hot spring resort area in Shizuoka that also has places to swim and enjoy other activities, making it fun for the summer and year-round. In this article, we explore how to reach Atami from Tokyo, Osaka, and Kyoto - it's only an hour from Tokyo, which makes it a great day trip spot!
What Kind of Place Is Atami?
Atami is a coastal city in Shizuoka Prefecture, located southwest of Tokyo. Its proximity to the capital makes it possible to reach Atami from Tokyo by Shinkansen in about an hour - it is an ideal place for those coming from the city to enjoy a day trip or long weekend.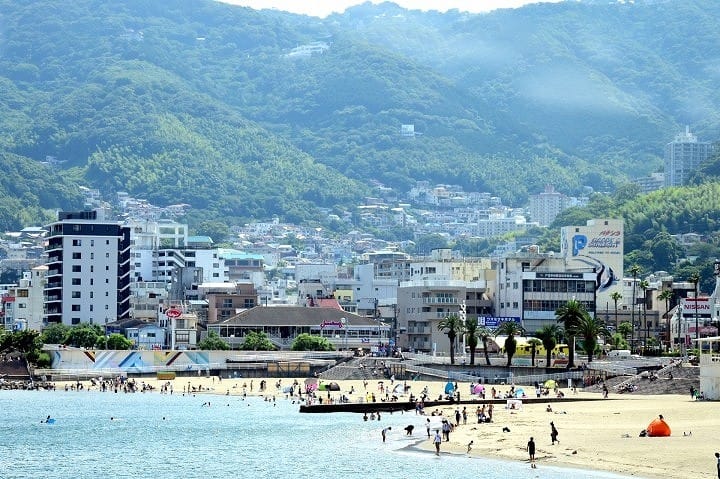 With the sea spreading out right before your eyes, it isn't hard to see why Atami has been known as a popular resort area and a well-loved hot spring retreat for many years. Many people visit here on the weekends and public holidays in Japan. In addition to its beaches, many natural hot springs, and great accommodations, the relaxed atmosphere of Atami overall is very appealing.
How to Reach Atami
The main station in Atami is JR Atami Station. Atami Station can be easily accessed from Tokyo via Tokaido Shinkansen traveling towards Kyoto or Osaka in the Kansai direction, as well as by local trains on the Tokaido line, or by any of the three Ito train lines.
How To Get To Atami From Tokyo
It is possible to reach Atami from Tokyo without any transfers if you travel by Shinkansen, limited express train, or local trains.
Although it may seem expensive to use a Shinkansen or express train, some of the Tokaido lines, which are regular trains used by commuters, will be packed with people, and you may find yourself standing up the entire length of your trip if you aren't careful. We strongly recommend taking either to those who would like to leisurely travel, those with a lot of luggage, or those traveling with small children.
There are also highway buses available, so it is possible to choose the best route that suits your budget and your preferred means of transportation too.
By Shinkansen
The absolute fastest route from Tokyo to Atami is by Shinkansen. From Tokyo Station, if you take the Tokaido Shinkansen Kodama train, you will reach Atami Station in about 50 minutes. A one-way ticket costs 4,470 yen. If you'd like to learn more about purchasing shinkansen tickets, please take a look at Fast, Clean, And Punctual: How To Buy Shinkansen Tickets.


By Limited Express Train
You can also reach Atami by taking the JR Odoriko or Super Odoriko limited express trains. There are two routes that these trains take: one route travels from Tokyo Station to Atami Station, while the other travels via Shinjuku Station to Ikebukuro Station and on to Atami Station. The number of trains and times may be limited, though, so be sure to check a schedule before booking.
From Tokyo, Shinjuku, or Ikebukuro stations to Atami Station, it takes about an hour and 30 minutes and will cost around 3,660 yen one way.
By Express Train
From Tokyo Station to Atami Station via the JR Tokaido main line, it will take an hour and 45 minutes, and cost 1,980 yen one way. It is possible to travel this way without having to transfer trains once. If you are heading from either Shinjuku or Shibuya Station to Atami, first take the JR Yamanote line to Shinagawa Station, and catch the Tokaido line from there.
You may wish to ride in the Green car if you are going to be traveling from Tokyo to Atami on the local Tokaido line trains. This is our recommendation for those who would like to be able to sit down and relax on their way. The fare for a Green car seat from Tokyo Station to Atami Station on a weekday is 1,000 yen, plus the regular train fee, while on weekends it is the regular fee plus 800 yen.
To learn more about the Green Car, please see Cruise From Narita To Tokyo Station In JR's Cozy Green Cars.
By Highway Bus
It is also possible to travel to Atami by highway express bus. These buses are not only convenient but also quite budget-friendly, with one-way tickets typically costing from around 2,000 yen and up. Buses depart from both Tokyo and Shinjuku Stations; from the Yaesu exit of Tokyo Station, the bus will take about two hours and 20 minutes, while from Shinjuku Station's west exit, it will take about three hours.
Traveling from Osaka and Kyoto
Traveling by Shinkansen is the most convenient way to reach Atami from both Osaka and Kyoto. If you use the Hikari or Kodama train on the Tokaido shinkansen, you can travel from Kyoto or Osaka straight to Atami without having to transfer.
The journey from Kyoto Station will take about two hours via Hikari and three via Kodama, and costs around 12,280 yen one way. The journey from Shin-Osaka Station will take between two (Hikari) to three hours (Kodama), and costs 12,830 yen, one way.

After you've arrived, you may be wondering how you can travel around Atami. When sightseeing from Atami Station or visiting hot springs, you will want to take the Yu-Yu Bus (one ride for 250 yen, all day all you can ride for 700 yen), which is convenient, and easily boarded at the bus terminal in front of the station. There are also plenty of taxis available. If you are planning to stay overnight, then you may wish to check with your accommodation in advance, as many of the hotels offer free pick-up service from the station to the hotel.

To learn more about the Yu-Yu Bus, please check the JR Tokaido bus website, where you will find a PDF link for the Yu-Yu Bus located in the Atami section of the page.

Atami is an excellent place to go if you are looking to take a short break away from the busy Tokyo area. Depending on when you visit, you can not only enjoy the hot springs but also swimming in the sea, as well as eating delicious seasonal seafood dishes too. If you're the type of person who wants to enjoy it all, a trip to Atami is perfect!

*Prices and information provided in this article are accurate at the time of writing and reflect the information given by transportation companies; prices, schedules, etc are subject to change. See official websites for the most up-to-date information.

The information presented in this article is based on the time it was written. Note that there may be changes in the merchandise, services, and prices that have occurred after this article was published. Please contact the facility or facilities in this article directly before visiting.