15 Little-Known Kyoto Spots - Hidden Gems Worth Visiting
Kyoto is full of many hidden and lesser-known places, including Tenryuji Temple, Kyoto Botanical Gardens, and Kameoka. Learn 15 lesser-known places boasting history, nature, and of course, traditional charm, ideal for second-time traveler or those looking for unique places without crowds.
Travel Kyoto - Hidden Spots You'll Be Glad You Visited
Kyoto is one of Japan's most popular destinations, and rightly so. With a rich history dating back centuries, stunning natural landscapes, and of course plenty of modern charm as well, who could resist a sightseeing trip to Japan's old capital?
Famous sites include Nijo Castle, Kinkakuji, Gion, Fushimi Inari Shrine, and even the world's first Starbucks with tatami flooring. But for second-time visitors or those seeking lesser-crowded spots, it can be challenging to decide where to go.
No matter how many times you visit, there is always something to discover in this ancient city. Here are 15 lesser-known places that visitors to Kyoto are sure to enjoy, from peaceful temples to quiet cafes and charming museums. Some are less crowded as well depending on the time of your visit.
1. Rokkakudo Temple
According to tradition, Rokkakudo Temple was built in 587 based on the instructions of Shotoku Taishi, the legendary regent of Japan who was written about in one of Japan's oldest written books, the "Nihon Shoki."
Rokkakudo Temple is also well known for being where ikebana, or the Japanese art of flower arranging. The building right behind the temple is the headquarters of the Ikenobo School of Ikebana. As such, exhibitions of ikebana works are held here frequently. When visiting the temple, do take a look at the monuments dedicated to the art of flower arranging found on its grounds, as well as at the beautiful ikebana exhibitions.
Address: Kyoto, Nakagyo, Rokkaku Todoin Donomae
Website: http://www.ikenobo.jp/english/about/rokkakudo.html
2. Tenryuji Temple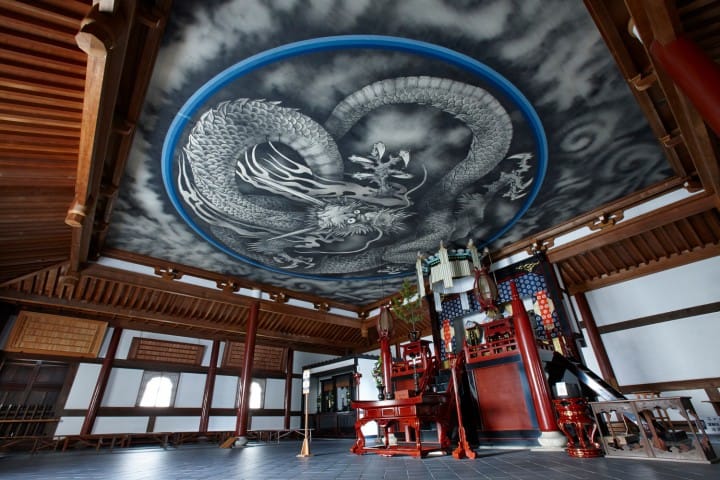 ©JNTO
Built in 1339, Tenryuji is a Zen temple belonging to the Rinzai sect of Buddhism. Visitors to this temple often feel as though they are being watched - and they are! If you look up, you will see this incredible painting of a dragon gazing back at you.
Within the grounds of this temple, you will also find the Sogen Chiteien garden, which was created by the Zen priest Muso Soseki, and was designated as Japan's first historic landmark and National Scenic Site. The temple is located in the beautiful Arashiyama area, right near the scenic bamboo grove.
Address: Kyoto, Ukyo, Sagatenryuji Susukinobabacho 68
Website: http://www.tenryuji.com/en/
3. Nonomiya Shrine
Nonomiya Shrine is located right in the middle of the bamboo grove of Arashiyama. Originally built as a sacred purification space and residence for the Ise Shrine Priestess, it is well known to fans of Japanese literature for its Black Torii and brushwood fences, which are written about in the tenth chapter of "The Tale of Genji," the world's oldest extant novel.
Nonomiya Shrine is an excellent place to visit if you want to pray for luck regarding match-making, marriages, and childbirth. Do take a stroll through the beautiful moss garden behind the temple, a place with a sacred atmosphere.
Address: Kyoto, Ukyo, Sagano Miyamachi 1
Website: http://www.nonomiya.com/eng.html
4. Nishiki Market
Picture from Kyoto's Kitchen: Nishiki Market, The Place To Find Delicious Souvenirs
Nishiki Market, or Nishiki Ichiba, is known to many as Kyoto's Kitchen. Many may still think of Kyoto as being a place for temples and shrines, but the Nishiki Market is the place to go to find authentic Kyoto cuisine. The market dates back to the early 1300s!
This spot has been growing in popularity in recent years, but still retains its everyday charm. Shops selling everything from unique matcha sweets to Kyoto-limited seasonings line this five-block long shopping street. Be sure to stop by the little restaurants and food stands hidden off the main path for unique dishes and treats.
Address: Kyoto, Nakagyo, Nishiki Kouji Dori
Website: http://www.kyoto-nishiki.or.jp/ (Japanese)
5. Rurikoin Temple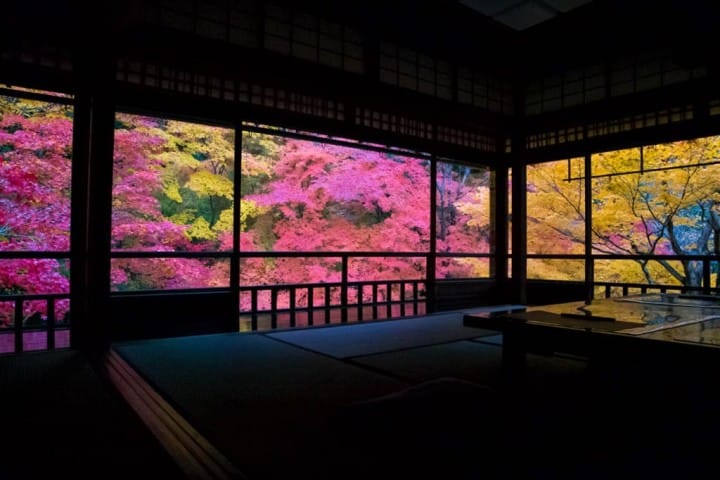 Picture from Kyoto's Rurikoin Temple: Artistically Tinted Autumn Leaves
Rurikoin Temple is a peaceful, historical temple and natural oasis hidden away in the Yase area of Kyoto. During the Jinshin Revolt in the year 672, Oama no Oji, who later became another legendary figure in Japan, Emperor Temmu, is said to have come to this area to heal his injuries in the Yase no Kamaburu (steam bath), which has served as the model for numerous steam baths and recuperation facilities both in Kyoto and across Japan ever since.
There are two incredible gardens and even a tea house on the grounds of this temple. The best season to visit here is undoubtedly autumn, when the leaves of the maple trees turn red.
Address: Kyoto, Sakyo, Higashiyama, Kamitakano 55
Website: http://rurikoin.komyoji.com/lp/en/
6. Kyoto Confectionery Museum
Picture from Kyoto Confectionery Museum - Learn And Taste Japan's Wagashi History

A must-visit for those with a sweet tooth is the Kyoto Confectionery Museum, a facility with free entrance, candy art, and matcha set service. Featuring wagashi (Japanese confectionery), this is a great place to learn about Kyoto's rich history with sweets making (imagine mochi, red bean paste, and dorayaki) and green tea.
Before leaving, be sure to drop into the souvenir shop to pick up high-quality Kyoto treats by Tawaraya Yoshitomi, a renowned local confectionery. The unryu, a red bean paste-roll shaped to look like a dragon, is a unique and delicious choice.
7. Seimei Shrine
The Seimei Shrine, founded in 1007, is a Shinto shrine dedicated to the legendary historical onmyoji (*1) Abe no Seimei (921-1005) which was first constructed on the former site of Seimei's home, and fully reconstructed in 1925.
There is a mystical well within the precincts said to have magical waters that were used by the legendary tea master Sen no Rikyu at one time, while throughout the shrine and grounds there are Seimei stars (pentacles), the symbol that Seimei is said to have invented in the 10th century in order to symbolize the five elements of Onmyodo practices.
Address: Kyoto, Kamigyo, Horikawa, Ichijo Agaru 806
Website: http://www.seimeijinja.jp/ (Japanese)
*1 Onmyoji: a practitioner of Onmyodo, a traditional Japanese esoteric cosmology that combined occultism and natural sciences, and took influences from Taoism, Buddhism, and Shintoism as well.
8. Kodaiji Temple
©JNTO
Kodaiji Temple, which is formally named Jubuzan Koodai-ji, was established in 1606 by Nene, the widow of Toyotomi Hideyoshi, in order to pray for her late husband. This temple belongs to the Rinzai school of Zen Buddhism and is the largest of the sub-temples belonging to the Kennin-ji Temple branch of this sect.
There are stunning gardens and multiple Important Cultural Assets within its grounds, including the Otamaya sanctuary, and even a jinbaori, a special coat worn over armor that once belonged to the famous feudal lord. In the fall, the gardens are beautifully illuminated, and visitors can enjoy the surreal view of the trees with their red leaves reflecting in the mirror of the lake.
Address: Kyoto, Higashiyama, Kodaiji Shimokawaracho 526
Website: http://www.kodaiji.com/e_index.html
9. Eikando Temple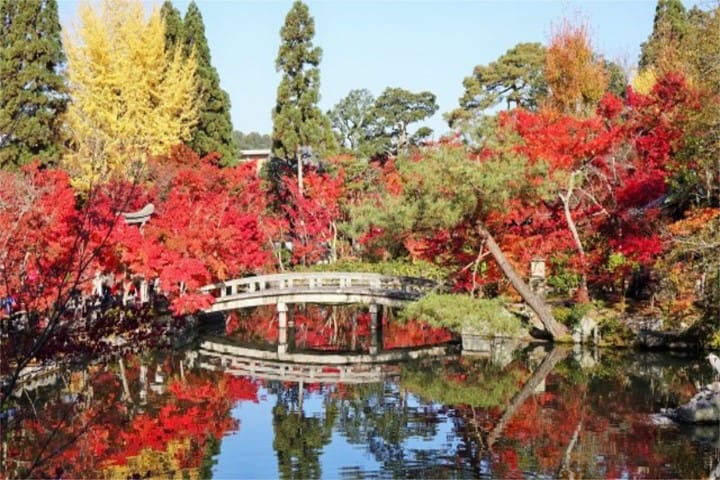 Picture from Kyoto Complete Guide: Travel Tips, Sightseeing, Festivals and More!
Eikando was built in 863 by Shinsho, a student of the famed Kukai, and is the head temple for the Seizan branch of the Pure Land sect of Buddhism. Mentioned in the historical poetry anthology the Kokin Wakashu, Eikando is best known for the Mikaeri Amida, a peculiar statue of the Amida Buddha who, rather than looking forward as is standard for all Buddist statues, is glancing over his shoulder back at the viewer instead.
Address: Kyoto, Sakyo, Eikando 48
Website: http://www.eikando.or.jp/English/index_eng.html
10. Yogenin Temple
Yogenin is a small Buddhist temple originally built in 1594. It is most known for using wooden planks bloodied from the fall of Fushimi Castle in 1600. Visitors can see this by looking up when they walk down the halls inside the temple.
The bloodied ceilings are known as chitenjo in Japanese. There are four other temples in Kyoto that use these planks, but Yogenin is one of the easiest to get too. Looking up, you will be filled with fascination and perhaps slight apprehension imagining the battles of the past.
Address: Kyoto, Higashiyama, Sanju Sangendo Mawari 656
Website: https://ja.kyoto.travel/tourism/single02.php?category_id=7&tourism_id=477 (Japanese)
11. Kameoka
Picture from Kameoka In Kyoto- Tranquility Through Tradition And Meditation
Located just past Arashiyama, Kameoka is a nature-filled destination with fewer visitors than typical Kyoto areas. In addition to the beautiful natural scenery, you can appreciate visiting many small temples and shrines here, like Shomyoji Temple, where you can see performances with taiko drums.
Another must is the Hozu River, which stretches from Arayshiyama to Kameoka. Boat rides on the river offer great views of the surrounding mountains and forests. A number of hot springs, trails, shopping streets, are also in the area, making it a great place for a half-day adventure.
12. Mt. Hiei
Mt. Hiei is the ideal spot for those looking to get outdoors in Kyoto. Located in northeastern Kyoto, bordering Shiga Prefecture, it contains the beautiful Enryakuji Temple, a designated UNESCO World Heritage Site. Visitors can explore the grounds and hike along the flower-lined trails; wildlife, like tanuki and monkeys, can also be encountered.
Cable cars go up the mountain as well, making it easy for all to enjoy the scenery. Hiking takes about 2 hours; the top rewards visitors with a spectacular view of the valleys below and Lake Biwa.
It takes around 30 to 40 minutes to get to the area from Kyoto Station. Expect more hikers in the fall months, but it is a relatively uncrowded area.
Address: Kyoto, Sakyo, Yamabana Ichoda, 14-1
Website: https://www.hieizan.gr.jp/design/pdf/en.pdf
13. Kyoto Botanical Gardens
Photo by Pixta
Kyoto Botanical Gardens is a lesser-known site in Kyoto, but is filled with much that travelers will enjoy. Admission is 200 yen, giving visitors access to gorgeous flowers and greenery for an affordable price. Different flora blooms throughout the year, making it enjoyable to see any time of the year. The grounds are especially spectacular in spring when cherry blossoms are in bloom. In the autumn, visitors can appreciate the colorful changing of the leaves.
Native Japanese plants grow here as well, and educational programs and special events are also held.
Address: Kyoto, Sakyo, Shimagamo Hangi
Website: http://www.pref.kyoto.jp/en/02-02-10.html
14. Kaboku Cafe
Picture from Face To Face With Japanese Tea At Kaboku Cafe In Kyoto
The Teramachi Nijodori area is especially known for its cultural history in Kyoto. There are many historical shops and buildings to see here, but the 300-year-old Ippodo Tea Shop and its related cafe and tea room Kaboku are two must-see places.
Address: Kyoto, Nakagyo, Teramachi Nijodori, Agaru
Website: http://www.ippodo-tea.co.jp/en/index.html
15. SOU SOU - Japanese Clothing Brand
Picture from Kyoto: Japanese Clothing For Modern-Day Japan (Accessories Edition)
SOU SOU is a textile brand from Kyoto that has gained international recognition for its combination of Japanese traditional clothing designs with modern Western fashions and one-of-a-kind, limited edition fabrics. Within this brand, there are numerous different sub-shops selling everything from everyday fashions to custom-made kimono, to colorful umbrellas, wallets, and more.
Explore Deep Kyoto
While it's plenty of fun seeing all the famous spots in Kyoto, going somewhere that is less well known has its merits too, as you can make your own unique memories of Kyoto.
Main image by Pixta
This is a rewritten version of an article published originally in 2017

The information presented in this article is based on the time it was written. Note that there may be changes in the merchandise, services, and prices that have occurred after this article was published. Please contact the facility or facilities in this article directly before visiting.