15 Unique Things To Do In Ueno
Everyone visiting Tokyo has doubtlessly heard of the museums and zoo in Ueno Park, but there are plenty of other great, unusual ways to pass the time here, and in this article, we will cover 15 fun, unique ways to enjoy Ueno and its surrounding area.
Ueno is located in the Taito ward of Tokyo, and has a similar history and atmosphere to it as its neighbors Asakusa, Kappabashi, and Okachimachi do. Ueno Park is the center of this area, and is chock full of activities that can keep you entertained for days on end.
However, there are plenty of other things that make Ueno stand out on its own, and in this article, we will be taking a look at some of the more unique and unusual things you can see and do in Ueno and its surrounding area.
1. Ueno Zoo
From: Go And See Some Of The Natural Treasures Of Japan At Ueno Zoo!
You can't avoid it - the call of Ueno Zoo and its most famous residents, the pandas, is inescapable. But rather than spending the whole day at the zoo, why not come and see the unique Japanese animals that call it home instead? In the East Garden of Ueno Zoo, there are exhibitions featuring Japanese wildlife, like the crane seen in the photo above.
To learn more about Ueno Zoo, take a look at Ueno Zoo: Animals from All Over the World Can be Seen Here!, and for detailed access information from Ueno Station see How To Get To Ueno Zoo From Ueno Station (JR/Keisei Lines).
2. The Museums and Art Galleries of Ueno Park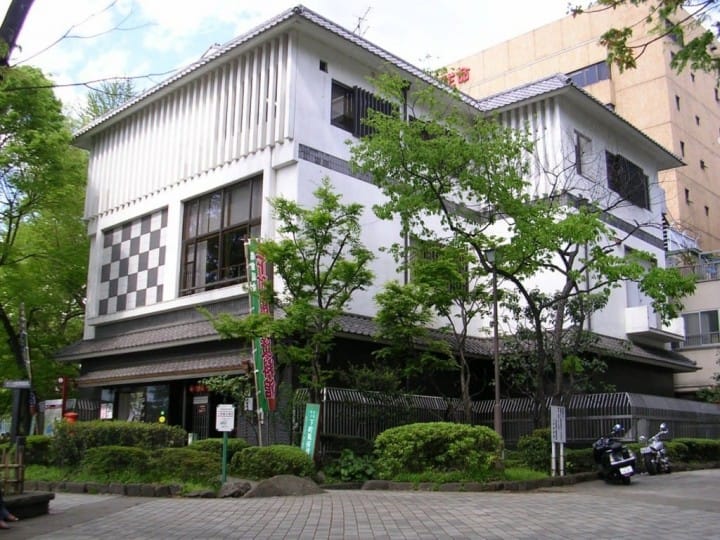 From: Slip Back In Time At Ueno's Shitamachi Museum
This is a hard one to pass by as well - there are far too many good museums and galleries in Ueno, all of which are equally deserving of attention. If you are interested in Japanese history, check out the Tokyo National Museum. If you'd like to deepen your knowledge about the natural world, then you should definitely see the collection of the National Museum of Nature and Science. If you'd like to see the latest exhibitions of Western art held in Japan, the National Museum of Western Art is the place to go.
The six museums in Ueno Park can answer your needs for amusement and knowldge. If you would like to learn more about Tokyo's historical downtown though, then visiting the Shitamachi Museum is a great idea.
3. Takeya: One Stop Shopping in Ueno
From: Get Anything Your Heart Desires At Ueno's Top 5 Shopping Malls
Shopping might not be the first thing that comes to mind when thinking of Ueno, but there are many different hidden and not-so-hidden places to shop both near the station and the surrounding area. While you are are sure to find plenty of panda-related souvenirs, there are also stores selling Japanese fashion, traditional goods, and many other items around too. Takeya, in the photo above, has over 200,000 items alone for its customers to choose from.
4. The Most Exciting Place to Shop? Ameyoko, Naturally!
From: Ameyoko: An Old Shopping Street With Amazing Discount Prices!
Shotengai are shopping streets where locals and visitors alike come to shop for a wide variety of goods - everything from daily necessities and homemade foods, to traditional handicrafts and more, and Ameyoko is no exception.
A former post-WW2 black market area, Ameyoko is the place to go to find incredible deals on daily necessities, Japanese foods, clothing, jewelry, leather goods, and so many other surprising items - plus, customers are encouraged to haggle here, so if you are confident in your Japanese skills, or traveling with someone who is, why not give it a try!
5. Ueno Toshogu Shrine - Not Just for Spring
From: The Amazing Golden Ueno Toshogu Shrine: A Great Hanami Spot
Situated in Ueno Park, Ueno Toshogu Shrine is a charming place to have a hanami party come cherry blossom season, but it is also a nice, peaceful place to visit the rest of the year too. This shrine, where the spirit of Japan's unifier Tokugawa Ieyasu, is enshrined, is covered in gold accents, which make it a dazzling place to see in all weather conditions.
6. A Lush Pond Full of Water Lilies - Shinobazu Pond in Ueno Park
From: Ueno's Shinobazu Pond: A Relaxing Urban Oasis
If you are paying your visit to Ueno during the summer from July to August, hurry to Shinobazu Pond and take in the sight of water lilies as the blanket the surface of this large natural pond. Separated into three sections, after viewing the water lilies, you can also visit the duck pond, where numerous ducks and other waterfowl live, or the boating area, where you can rent one of three different types of boats and get some exercise as you enjoy the scenery around you.
7. Bentendo Temple, Surrounded by Shinobazu Pond
©JNTO
Bentendo Temple is modeled after the floating Hogonji Temple of Chikufujima Island in the middle of Japan's largest lake, Lake Biwa. The goddess of good fortune, academics, the arts and relationships, Benzaiten, is enshrined and worshiped here. There are many unusual stone monuments on the grounds of this temple, so it's a fun place to visit with friends as well.
Read more about the highlights of Bentendo here: Bentendo: Exploring Ueno's Hexagonal Tower.