15 Unique Things To Do In Ueno
Everyone visiting Tokyo has doubtlessly heard of the museums and zoo in Ueno Park, but there are plenty of other great, unusual ways to pass the time here, and in this article, we will cover 15 fun, unique ways to enjoy Ueno and its surrounding area.
Ueno is located in the Taito ward of Tokyo, and has a similar history and atmosphere to it as its neighbors Asakusa, Kappabashi, and Okachimachi do. Ueno Park is the center of this area, and is chock full of activities that can keep you entertained for days on end.
However, there are plenty of other things that make Ueno stand out on its own, and in this article, we will be taking a look at some of the more unique and unusual things you can see and do in Ueno and its surrounding area.
1. Ueno Zoo
From: Go And See Some Of The Natural Treasures Of Japan At Ueno Zoo!
You can't avoid it - the call of Ueno Zoo and its most famous residents, the pandas, is inescapable. But rather than spending the whole day at the zoo, why not come and see the unique Japanese animals that call it home instead? In the East Garden of Ueno Zoo, there are exhibitions featuring Japanese wildlife, like the crane seen in the photo above.
To learn more about Ueno Zoo, take a look at Ueno Zoo: Animals from All Over the World Can be Seen Here!, and for detailed access information from Ueno Station see How To Get To Ueno Zoo From Ueno Station (JR/Keisei Lines).
2. The Museums and Art Galleries of Ueno Park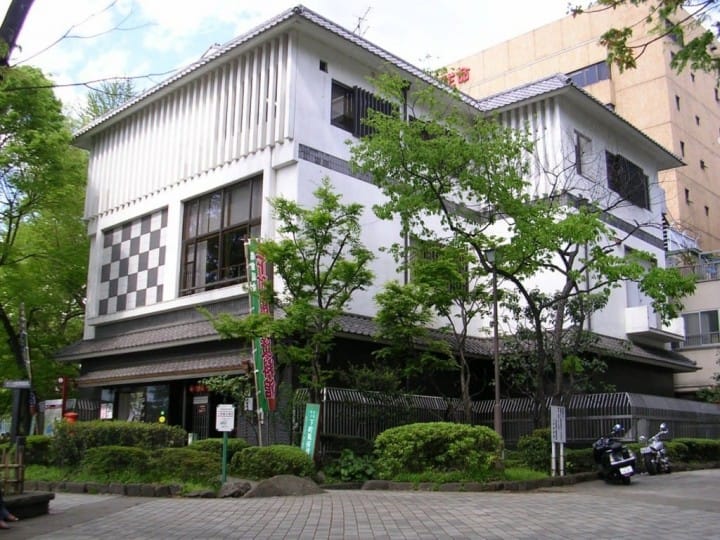 From: Slip Back In Time At Ueno's Shitamachi Museum
This is a hard one to pass by as well - there are far too many good museums and galleries in Ueno, all of which are equally deserving of attention. If you are interested in Japanese history, check out the Tokyo National Museum. If you'd like to deepen your knowledge about the natural world, then you should definitely see the collection of the National Museum of Nature and Science. If you'd like to see the latest exhibitions of Western art held in Japan, the National Museum of Western Art is the place to go.
The six museums in Ueno Park can answer your needs for amusement and knowldge. If you would like to learn more about Tokyo's historical downtown though, then visiting the Shitamachi Museum is a great idea.
3. Takeya: One Stop Shopping in Ueno
From: Get Anything Your Heart Desires At Ueno's Top 5 Shopping Malls
Shopping might not be the first thing that comes to mind when thinking of Ueno, but there are many different hidden and not-so-hidden places to shop both near the station and the surrounding area. While you are are sure to find plenty of panda-related souvenirs, there are also stores selling Japanese fashion, traditional goods, and many other items around too. Takeya, in the photo above, has over 200,000 items alone for its customers to choose from.
4. The Most Exciting Place to Shop? Ameyoko, Naturally!
From: Ameyoko: An Old Shopping Street With Amazing Discount Prices!
Shotengai are shopping streets where locals and visitors alike come to shop for a wide variety of goods - everything from daily necessities and homemade foods, to traditional handicrafts and more, and Ameyoko is no exception.
A former post-WW2 black market area, Ameyoko is the place to go to find incredible deals on daily necessities, Japanese foods, clothing, jewelry, leather goods, and so many other surprising items - plus, customers are encouraged to haggle here, so if you are confident in your Japanese skills, or traveling with someone who is, why not give it a try!
5. Ueno Toshogu Shrine - Not Just for Spring
From: The Amazing Golden Ueno Toshogu Shrine: A Great Hanami Spot
Situated in Ueno Park, Ueno Toshogu Shrine is a charming place to have a hanami party come cherry blossom season, but it is also a nice, peaceful place to visit the rest of the year too. This shrine, where the spirit of Japan's unifier Tokugawa Ieyasu, is enshrined, is covered in gold accents, which make it a dazzling place to see in all weather conditions.
6. A Lush Pond Full of Water Lilies - Shinobazu Pond in Ueno Park
From: Ueno's Shinobazu Pond: A Relaxing Urban Oasis
If you are paying your visit to Ueno during the summer from July to August, hurry to Shinobazu Pond and take in the sight of water lilies as the blanket the surface of this large natural pond. Separated into three sections, after viewing the water lilies, you can also visit the duck pond, where numerous ducks and other waterfowl live, or the boating area, where you can rent one of three different types of boats and get some exercise as you enjoy the scenery around you.
7. Bentendo Temple, Surrounded by Shinobazu Pond
©JNTO
Bentendo Temple is modeled after the floating Hogonji Temple of Chikufujima Island in the middle of Japan's largest lake, Lake Biwa. The goddess of good fortune, academics, the arts and relationships, Benzaiten, is enshrined and worshiped here. There are many unusual stone monuments on the grounds of this temple, so it's a fun place to visit with friends as well.
Read more about the highlights of Bentendo here: Bentendo: Exploring Ueno's Hexagonal Tower.
8. A Scaled Down Version of Fushimi Inari Shrine: Hanazonoinari Shrine
From: Vermilion Torii Gates In Hanazonoinari Shrine, Ueno Park
While Fushimi Inari Shrine in Kyoto is perhaps the most famous of all Inari shrines, Hanazonoinari Shrine in Ueno Park is also a great place to see a long column of bright vermilion torii gates - just on a slightly smaller scale. This historical shrine is a lot of fun to visit, and if you are looking for luck in relationships, picking up one of their talismans can't hurt either.
9. Usagiya - Try a Traditional Japanese Snack Made by Pros!
From: The Best Dorayaki In Japan! Usagiya In Ueno
Usagiya Dorayaki Shop is a sweet shop that sells a variety of Japanese confectioneries, but they are most well-known for their dorayaki. Dorayaki are made with anko or sweet red bean paste sandwiched between two mildly sweet pancake-like cakes, and are a popular and surprisingly filling snack. This shop, which has been around since 1940, is considered by many to have the absolute best dorayaki in all of Japan, so if you want to try a traditional Japanese snack, why not pick one up from this acclaimed shop?
10. Take a Trip Back in Time to 1938 at Ueno Sakuragi Atari
From: Get A Glimpse Of 1938 Japan, In Uenosakuragi, Ueno
Ueno Sakuragi Atari is a small shopping spot built inside renovated traditional Japanese homes from the 1930s. With a bakery, beer hall, even an olive store on site, you will find yourself in almost an alternative reality, thanks to the combination of the modern items amid such historical structures around you. This is a really lovely place to visit with your friends and a great place to take a break in the afternoon or evening.
11. Momi no Yu - Soak Your Tired Feet While Drinking Herb Tea
From: Momi No Yu Cafe, Ueno - Enjoy The Blessings Of A Hot Spring!
One thing that is immediately clear when visiting Ueno, especially the park, is the sheer amount of space that it covers. After walking about all day long, you may find that your legs start to ache. In that case, paying a visit to Momi no Yu Cafe is in order!
This cafe not only offers delicious herb tea to its patrons, but is actually an ashi-yu, or foot bath, located near Ameyoko. Here you can enjoy soaking your feet in hot spring waters as you drink your tea and even receive a five-minute massage.
12. Nezu Shrine - See One of the Oldest Shrines in Japan
From: Nezu Shrine, Tokyo - A Beautiful Shrine In A Green Oasis
Thought to have been built 1900 years ago, Nezu Shrine is one of the oldest shrines in Japan, although it has been rebuilt several times over the years since then. It been designated an Important Cultural Property and is known as one of the "Ten Most Beautiful Shrines in Tokyo", which are just two more reasons that this shrine is must see for those interesting in Japanese culture and history.
13. Visit a Lesser Known Shopping Street
From: Enjoy Treats As You Walk And A Stunning Red Sunset: Yanaka Ginza Shopping Street
Yanaka Ginza is another, but lesser known shopping street, and, perhaps not as flashy as Ameyoko, Yanaka Ginza Shotengai has two unique features that Ameyoko doesn't: its friendly gangs of cats, and a concrete staircase that offers a spectacular view of the sunset. Not only that, but the fresh foods for sale at the deli shops here are exceptionally tasty!
14. Yanaka Cemetery - A Truly Peaceful Spot With a Little Seen Side of Japanese Culture
From: Cemetery Landscape: Feel Nostalgia And Tranquility At Yanaka Cemetery, Nippori
A cemetery may not be your first choice for a sightseeing spot, but Yanaka Cemetery in Nippori, close to the Ueno area, is a lovely, tranquil spot where visitors can come in and walk about, seeing a rarer side of Japanese culture.
This cemetery is a famous cherry blossom viewing spot in the spring and retains the charms of its history as part of a Buddhist temple as well. Although closed to the public, this is also where you can find the family graves of the Tokugawa clan, which are visible if you peep through the gates. Just taking a stroll here to see the flowers and the interesting monuments is another way to appreciate the old town atmosphere of Taito ward.
15. Walk Through Ueno Park and See What You Can Find!
From: 13 Things To Check Out At Ueno Park
While this may seem like an odd thing to suggest, walking through Ueno Park without a concrete plan in mind is actually a really good idea, especially during the spring, summer, and fall. There are often events being held in the park that might not otherwise be advertised in English in advance, street performers and musicians giving free concerts here and there, and sometimes, you might even come across something truly unusual or unexpected. Just let your feet guide you and you are sure to find something that will catch your attention in Ueno Park!
In Conclusion
If you want to step off the beaten track and see a more personal side of the Ueno area, then these fifteen locations are the best places to start. You may not be able to visit all of them in one day, but, no matter how many you manage to see, you are sure to make some lasting, fun memories of the journey.

The information presented in this article is based on the time it was written. Note that there may be changes in the merchandise, services, and prices that have occurred after this article was published. Please contact the facility or facilities in this article directly before visiting.