15 Fun Things To Do In Osaka - Both Famous And Little Known!
Osaka is Japan's second largest city and sees thousands of visitors from around the world every year. From Osaka's famous cuisine to exciting places to visit, here are some of the best things to do to enjoy in this glittering Japanese metropolis.
Osaka: The Energy-Filled City
In recent years, Osaka has become a tourist city that rivals in popularity with Tokyo and Kyoto. If Tokyo is the center of the Japanese government, then Osaka is the center of commerce.
This city, which flourished as a city of merchants since long ago, is filled with activity and energy. We'll introduce our selection of fifteen places where you can enjoy the charms of that very Osaka!
Table of Contents:
1. Dotonbori: The Center of Osaka Tourism
2. Universal Studios Japan (USJ): Have Fun All Day Long!
3. Osaka Castle: A Towering Magnificence
4. Tsutenkaku and Shinsekai: Where Osaka's Past and Present Coexist
5. Kuromon Market: A Gathering of Delicious Foods
6. Kuchu-Teien Observatory: A Complete View of Osaka
7. Kaiyukan: Japan's Largest Aquarium
8. Tempozan Ferris Wheel: Recommended for Couples
9. Hozenji Yokocho: A Retro Osaka Street
10. Abeno Harukas: Japan's Tallest Building
11. National Bunraku Theatre: Witness the Traditional Performing Arts
12. Sumiyoshi Taisha: Osaka's Best Spiritual Spot
13. Minoh Falls: Experience Nature
14. Expo '70 Commemorative Park and Tower of the Sun: Fun With the Family
15. CUPNOODLES Museum Osaka Ikeda: Create Your Own Cup Noodles
1. Dotonbori: The Center of Osaka Tourism
©Osaka Government Tourism Bureau/©JNTO
Dotonbori is one of the most famous sightseeing spots in Osaka.
It is most known for the humongous billboards that are on display in rows. Photogenic billboards are located everywhere throughout the shopping district from the confectionery maker Glico's sign, featuring a runner with both arms raised, to a moving crab. You'll surely be overwhelmed by its impressiveness when you see the district illuminated in the night.
What passes through the Shinsaibashi area next to Dotonbori is a shopping street lined with restaurants and apparel stores. It's approximately 580 meters long! This street is crowded with people every day and contains all of Osaka's charms in one place. There are also several restaurants where you can eat the local foods of Osaka gathered together in this street.
Read Also
Concentrated Osaka Fun at 10 Shinsaibashi/Dotonbori Spots!
6 Dishes From Osaka That Will Satisfy Your Heart And Stomach
2. Universal Studios Japan (USJ): Have Fun All Day Long!
Photo courtesy of Universal Studios Japan
Universal Studios Japan is a theme park with a collection of worldwide entertainment, mainly focused on Hollywood movies, that can be enjoyed all day long.
Popular attractions include those that have recreated the world of movies such as Jaws, Jurassic Park: The Ride, and other recently opened attractions like The Wizarding World of Harry Potter and Minion Park. Experience-type events like a water battle with popular characters held in the summer and Street Zombies, a Halloween event where zombies appear in every area of the park, also shouldn't be overlooked.

For MATCHA Readers Only! 5% Discount Coupons!
MATCHA's readers benefit from a 5% discount service on their purchase of activity tickets from the Voyagin website. Upon performing your online payment, please insert the discount coupon code "matcha". You will receive a 5% discount on your purchase! (This service does not apply for Tokyo Disneyland and DisneySea) This discount service is available only until the end of July 2018.
Purchase tickets from Voyagin here
3. Osaka Castle: A Towering Magnificence
Osaka Castle towers over the city of Osaka. It is also included as one of Japan's Three Famous Castles.
Erected since 1583 by Hideyoshi Toyotomi, the man that unified Japan, it was then destroyed by a fire and was repeatedly repaired until it became its current shape following its reconstruction in 1931. It is illuminated at night, giving it a magical atmosphere. A park is located in the area around the castle and is where approximately 3,000 cherry blossom trees are beautifully in full bloom during the spring.
Read Also
Mitsui Outlet Park Makuhari! Only 40 Minutes From Narita Airport
360-Degree View Under Wide Open Sky From Osaka Castle Keep!
4. Tsutenkaku and Shinsekai: Where Osaka's Past and Present Coexist
Tsutenkaku, also considered the symbol of Osaka, is a 103 meter tall observation tower. In the tower, you have a complete view of the cityscape of Osaka. The Billiken statue, located on the fifth floor observation deck, is said to bring happiness when you rub the soles of his foot, resulting in constant lines to do so.
The area around Tsutenkaku is called Shinsekai and is an area lined with souvenir shops and restaurants. Here, you can enjoy shopping and food among flashy signboards and a lively atmosphere. This is a popular spot where you can enjoy both the retro landscape and Osaka food all at once.
Read Also
Real Osaka Food! Kushi-Katsu Beneath The Lights Of Shinsekai
"Janjan-Yokocho" Gives You Another Side Of Japan
5. Kuromon Market: A Gathering of Delicious Foods
The market is where you can experience an energy unique to the land. Kuromon Market is the most famous marketplace in Osaka.
The foods that will stand out will be raw oysters, sea urchins, seafood bowls, Wagyu beef, and luxurious fruits… let's eat as much delicious food as we want! There are approximately 180 shops with fresh fish, great quality meats, fruits, and restaurants lining the rows side by side in this marketplace.
There are staff available at the information center in the marketplace that can offer help in various languages. There is also free Wi-Fi, currency exchange machines, and baggage rooms (with a fee) available so that you can shop without any worries.
6. Kuchu-Teien Observatory: A Complete View of Osaka
The Umeda Sky Building was also chosen as one of the Top 20 Buildings Around the World in THE TIMES magazine. What will catch your eye is its unique triumphal arch-like shape.
Located on the 40th floor, the very top floor of the building, is the Kuchu-Teien Observatory where you can have a complete view of the city of Osaka! You are able to actually go outside and view the city from the rooftop while enjoying a 173 meter above ground 360-degree panorama. A beautiful night view chosen as one of the Top 100 Night Views of Japan will spread out before your eyes when you visit in the evenings.
Read Also
Osaka From Above: Umeda Sky Building's Floating Garden Observatory
7. Kaiyukan: Japan's Largest Aquarium
This is a large aquarium that represents Japan. One of its main characteristics is that it is the world's largest aquarium boasting a 5,400 ton capacity. The sight of large whale sharks leisurely swimming in between sharks and rays is simply incredible.
The aquarium, as well as the Tempozan Ferris Wheel located next door, is a typical date spot among the locals.
Read Also
Experience The Pacific Rim At The Osaka Aquarium KAIYUKAN
8. Tempozan Ferris Wheel: Recommended for Couples
The Tempozan Ferris Wheel is located inside the Tempozan Harbor Village, a prominent and general Osaka leisure spot, right next to Kaiyukan. It is Japan's largest Ferris wheel at 112.5 meters in height and 100 meters in diameter. It takes fifteen minutes for it to do one complete revolution, so you'll be able to leisurely enjoy a journey up into the sky.
The fact that you can not only see a complete view of Osaka, but also gaze down at the ocean spread out before you is another charm of the Ferris wheel. The scenery at night is also known to be romantic.
9. Hozenji Yokocho: A Retro Osaka Street
Hozenji Yokocho, a three minute walk from Dotonbori, is where narrow, stone paved streets stretch out and where you can feel the atmosphere of old Osaka.
A place you'll definitely want to stop by is Hozenji Temple located near the entrance of the alley. It's said that your wish will come true when you pour water onto a statue called Mizukake Fudo located inside the temple. Fudo is now covered in moss from being splashed with water over the years.
Read Also
Namba's Hozenji – A Temple With A Dreamy Atmosphere And Lively Alleys
10. Abeno Harukas: Japan's Tallest Building
Abeno Harukas is Japan's tallest building. Its height is an amazing 300 meters!
The shopping floors reach up to the eleventh floor and consist of clothing shops, general goods, and more while the twelfth to fourteenth floors are restaurant floors. These floors are made up of 44 restaurants from Japanese foods like sushi, tempura (fried foods), and unagi (eel) to Italian and French cuisines.
After filling your stomach, head further up the building. The sixteenth floor is the Abeno Harukas Art Museum where artworks from around the world are exhibited while the 58th to 60th floors are observation decks. You can have various ways to enjoy yourself in just this one building.
11. National Bunraku Theatre: Witness Traditional Performing Arts
Photo courtesy of the National Bunraku Theatre
For those interested in the traditional Japanese performing arts, we recommend the Bunraku Theatre. "Bunraku" is a traditional performing art representative of Japan that rivals that of kabuki (classical drama) and noh (musical) theatre. It was designated a UNESCO Intangible Cultural Heritage in 2008.
Bunraku differs from kabuki and noh theatre by being a puppet theater. A single puppet is controlled by three people, thus making its movements beautiful and delicate while animatedly expressing the puppet's emotions.
Sat at the side of the stage is the tayu or narrator, who expresses the narration and dialogue of the characters through a unique method, and a shamisen (three-stringed Japanese lute) that separates the tones played in accordance to the current scene.
Bunraku performances will give out English-interpreting earphones (for a fee) as well as free leaflets (English, Chinese, Korean) printed with a summary of the story. Reservations are made through the official website.
12. Sumiyoshi Taisha: Osaka's Best Spiritual Spot
©Osaka Government Tourism Bureau/©JNTO
Sumiyoshi Taisha is the head Sumiyoshi shrine of 2300 shrines located across the country. It is a shrine that is representative of Japan and has a history that extends no fewer than 1800 years long. The main shrine hall is considered one of the oldest of its style of Shinto shrine architecture and has been designated a National Treasure.
The shrine grounds are overflowing with spiritual energy that convey the eternal history of the shrine starting from the symbolic Sorihashi Bridge, numerous Cultural Properties, and camphor trees that are over 1,000 years old.
Read Also
Perfect For A Rainy Day! Kohama Shotengai Shopping Street In Osaka
13. Minoh Falls: Experience Nature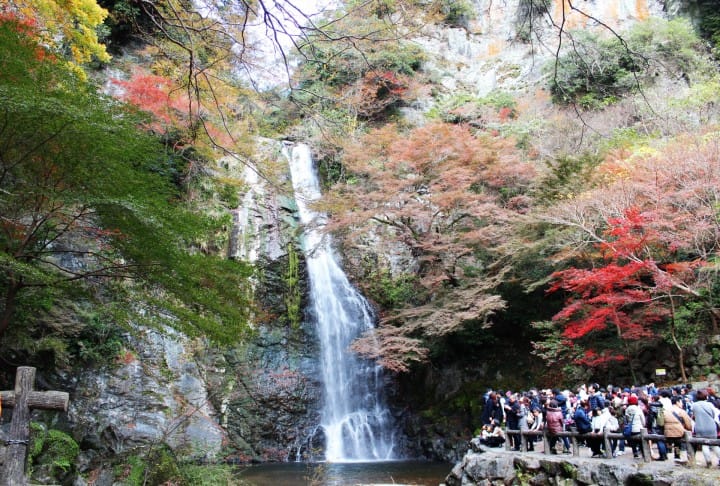 This spot is a bit of a distance away from the city. If you want to experience nature in Osaka, then travel to Minoh Park. It is situated about 30 minutes by train from the city.
You will find a magnificent waterfall when you hike up a mountain trail with a clear stream flowing nearby for about 40 minutes. This is Minoh Falls, a waterfall that was also chosen as one of the Top 100 Waterfalls in Japan. During the period of the autumn leaves, the maple trees begin to change color, making the walk through the mountain become even more beautiful.
A famous product of the area is maple leaf tempura. You might hesitate slightly at first, thinking, "They eat leaves?", but you'll become addicted to its rich sweetness once you've tried it.
Minoh Onsen Spa Garden is located near the entrance to the mountain trail, so we also recommend washing away your sweat at the hot springs before returning home.
14. Expo '70 Commemorative Park and Tower of the Sun: Fun With the Family
Photo courtesy of Osaka Japan Expo Commemorative Park Office
Expo Commemorative Park is the former site of the World Exposition held in 1970. The site is now a massive park.
Its symbol is the Tower of the Sun. Designed by artist Taro Okamoto, it is a giant tower that greets its visitors and is approximately 70 meters in height.
It would be great to refresh yourself at the green-filled Natural and Cultural Gardens, or take a walk through Japanese gardens, or even enjoy documents on ethnic groups from around the world at the National Museum of Ethnology. Additionally, the shopping center Expocity was opened in 2015 right next to the park. Here, you can enjoy yourself all day long with your family.
For details on a map of Expo '70 Commemorative Park and how to access the park, please check the official website.
15. CUPNOODLES Museum Osaka Ikeda: Create Your Own Cup Noodles
Photo courtesy of NISSIN FOODS HOLDINGS CO., LTD.
Did you know that instant ramen, prepared by just pouring hot water, was actually created in Osaka?
Momofuku Ando, the founder of Nissin Foods, invented chicken ramen in Osaka, then created the cup noodles that we all know. At CUPNOODLE Museum Osaka Ikeda, you can create you very own original cup noodle (reservations not necessary).
Read Also
Make Your Own Cup Noodles At The Instant Ramen Museum In Osaka
Bonus! Discover The Local Nightlife of Namba With Magical Trip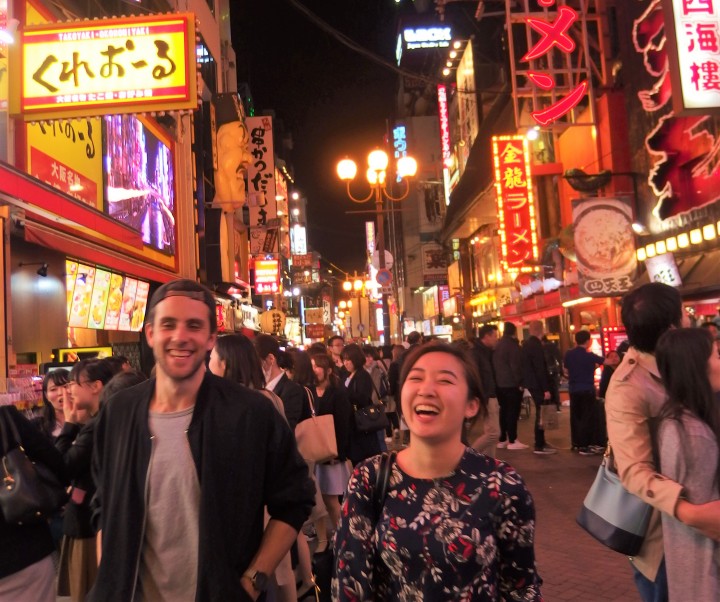 Picture courtesy of Magical Trip
If you want to discover the local nightlife of Namba you can join the Osaka Bar Hopping Food Tour by Magical Trip. A local tour guide will show you the hidden bars and pubs of Namba where you can chat with the locals and enjoy delicious food and drinks.
Enjoy Osaka!
In this article, we introduced places that we think you should visit in Osaka. It's a waste to just go and visit the city. The people that live in Osaka, the city of merchants, are also very friendly. Please also enjoy interactions with the locals and make your trip in Japan even more wonderful!