Perfect For A Rainy Day! Kohama Shotengai Shopping Street In Osaka
The Kohama Shotengai Shopping Street is a roofed area perfect for a rainy day shopping excursion. We explored this Osaka spot with Evelyn, an exchange student.
What Kind of Place is Kohama Shotengai Shopping Street?
Located in the Suminoe ward in Osaka, Kohama Shotengai Shopping Street is near Sumiyoshi Taisha Shrine, the well-known Osaka power spot. The street stretches from Sumiyoshi Taisha Station to Kohama Station on the Nankai Main Line, and is populated by more than 120 small shops laid out in a row. The street has a covered arcade roof, so you can enjoy shopping here even on a rainy day.
As a shopping area predominantly patronized by local residents, the Kohama Shotengai Shopping Street mainly handles vegetables, meat, fish and other fresh products, as well as lifestyle goods. The local flavor of Kohama Shotengai has a charm which is quite different from the shopping areas targeted towards tourists. You can also find cheap, commonly-used items and delicious food at very reasonable prices.
To discover the charms of Kohama Shotengai Shopping Street for this article, we went with Evelyn, an exchange student. We'll also introduce you to some exclusive souvenirs from Sumiyoshi Taisha which you can only get here!
For more information about Japanese shopping streets, check out our Shotengai guide.
Getting to Kohama Shotengai Shopping Street
The Sumiyoshi Taisha and Kohama Stations are both a ten minute ride from Namba Station on the Nankai Main Line. The street is easily accessed from central Osaka.
What You Can Do on the Kohama Shotengai Shopping Street
Enjoy a Bite as You Stroll Around
Kohama Shotengai Shopping Street has many places to eat. We recommend checking out the spots serving light meals, snacks and side dishes, and if you find something that looks good, eat as you keep walking.
Taste Piping Hot Takoyaki
Cabbage House, located on the shopping street, deals in takoyaki, yakisoba, kaitenyaki (a baked wheat flour sweet with a bean paste and cream filling), among other items. Piping-hot takoyaki is one of the things you definitely want to try when you visit Osaka. They're extremely hot when served fresh, so be careful when taking a bite!
The Croquettes and Sweets are Also Popular
At Ushiya, a meat shop close to the Sumiyoshi Taisha Station entrance, you can eat freshly-fried croquettes. Even local residents come by in the evenings to pick up croquettes and tonkatsu for dinner.
These 70 yen croquettes are the pride of Ushiya, and contain Kuroge Wagyu beef tendon, onion and potato. Ushiya also sells pumpkin croquettes and curry croquettes.
You Can Also Buy Individual Snacks
At Fujiwara Fukudo, you can buy individual snacks from the showcase display. Each one is reasonably priced, from 100 to 180 yen.
When you walk around with a snack, please be respectful and take your trash with you, so the people around you don't have to clean it up.
Take Home A Taste of Japan!
Kohama Shotengai Shopping Street is known for having plenty of places which sell side dishes and main dishes, many of them homemade. You can buy food that tastes like it came out of a Japanese kitchen.
Experience Japanese Home Cooking
Okazu no Jun sells salads, stews, fried foods and various other dishes that are commonly eaten in Japanese homes. The salads and stews in the showcases are sold by weight, so you can buy exactly the amount you want.
Also a Plentiful Array of Fish Dishes
The fishmonger Awaji sells sashimi and grilled fish, among other dishes, in small portions. You can pick some up for later, and enjoy delicious fish in your accommodation. However, since the fish will not stay fresh for long, be sure to eat it quickly.
You Should Pick Up Fruit for Dessert
Not limited to fresh vegetables, Okamoto Seikaten has plenty of fruit for sale, too. We recommend strawberries during the period between winter and spring. How about buying some sweet and delicious Japanese strawberries for an after-meal dessert treat?
Excavate Some Souvenirs!
Many of the shops on Kohama Shotengai Shopping Street deal in daily essentials for local residents, but among these shops, there are also places stocked with interesting items that are perfect souvenirs to take home. Enter a promising store without hesitation and you may make an unexpected discovery!
Stores With Unusual Single-Toothed Geta Sandals!
In Shokunin no Ten Arai, you will find highly unusual single-toothed geta sandals, as well as the thick-soled geta for maiko called "pokkuri." When we had Evelyn try some on, she said "It's hard to get my balance!" There's supposed to be a trick to taking steps and still keeping your balance.
The master of the shop will fit the hanao (the geta strap) to each customer's feet, so you can buy geta that won't hurt your feet.
Delicious Japanese Tea Makes a Perfect Souvenir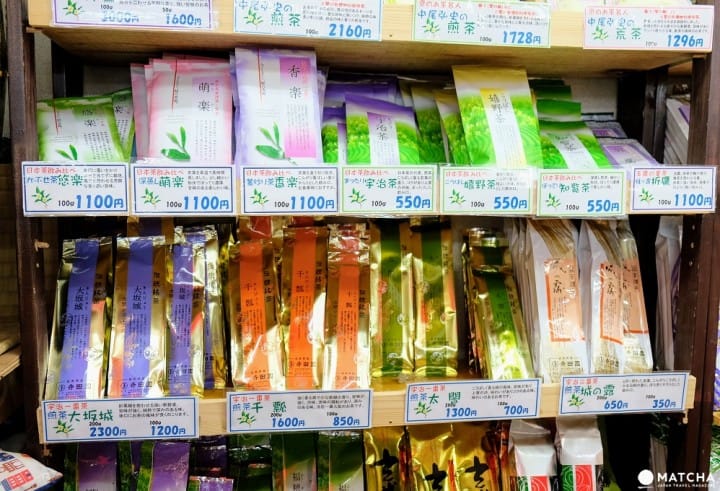 The Teradaya tea shop specializes in Kyoto's Uji tea. You can sample various teas to find one that suits your palate best. Evelyn picked up some sakura tea (360 yen with tax), which contains salt-pickled sakura petals.
Pick Up Japanese Household Goods to Use as Souvenirs!
Kurashi no Ten Sanyo handles household essentials. This is the place to look for the lifestyle goods you may have seen on your travels. Here, you can also buy Sakai knives, known as the tools of professionals.
A One-Day Model Itinerary for Kohama Shotengai Shopping Street and Sumiyoshi Taisha!
AM: Pay a Visit to Sumiyoshi Taisha While the Morning is Quiet
One of Japan's most representative shrines with over 1800 years of history, Sumiyoshi Taisha in Osaka is the main shrine of the 2300 Sumiyoshi shrines all across Japan. The main sanctuary, which conveys the style of ancient Japanese shrines, is a designated national treasure.
There are plenty of fascinating sights at the shrine, such as omikuji fortunes shaped like cute rabbits contained within a giant tube, the Omokaru stone which is alleged to grant wishes, and fortune telling spots. We recommend stopping by in the morning, when there are few visitors, so that you can walk around in peace. For more on Sumiyoshi Taisha, check out our Sumiyoshi Taisha article.
Lunchtime: Have a Meal at a Retro Cafe on the Shopping Street
After you've visited Sumiyoshi Taisha, head to Kohama Shotengai Shopping Street. The menu of the Sunrose cafe near the entrance features beloved Western-style Japanese dishes like hayashi rice, pictured above, which is thinly sliced beef and onions simmered in a demi glace sauce
Afternoon: Look for Sumiyoshi Taisha Souvenirs
After lunch, enjoy what Kohama Shotengai Shopping Street has to offer. Kokoroya, the textiles store diagonally opposite Sunrose, has towels with patterns featuring the Hatsutatsu cats of Sumiyoshi Taisha. Other items include towels patterned with Osaka's symbol, Tsutenkaku, and tigers. They also stock kimonos, and when we stopped in, they had hanten, the warm Japanese house coats.
Taisha Arare Otafukudo deals in rice crackers and bean snacks. The packaging reads "Taisha Arare," so it serves as a Sumiyoshi Taisha souvenir. Only found here, the rice crackers and baked mochi are made using carefully selected ingredients and grilled by craftsmen on a charcoal fire. They taste very different from the rice crackers found at supermarkets and other shops, and you can taste the deep flavor of the rice.
In addition to these places, we recommend checking out the shops listed above and enjoying a stroll as you much on a snack. It will be evening before you know it. By all means, use this article for reference to plan your Kohama Shotengai Shopping Street adventure!

The information presented in this article is based on the time it was written. Note that there may be changes in the merchandise, services, and prices that have occurred after this article was published. Please contact the facility or facilities in this article directly before visiting.