UNIVERSAL STUDIOS - Meet Your Anime Heroes At UNIVERSAL COOL JAPAN!
UNIVERSAL COOL JAPAN at celebrates its 5th anniversary at UNIVERSAL STUDIOS JAPAN. Come to meet Godzilla and the heroes from "EVANGELION" and "Attack on Titan", go on a wild escape ride with Lupin the Third and solve mysteries with Detective Conan!
2019 marks UNIVERSAL COOL JAPAN's 5th anniversary at UNIVERSAL STUDIOS JAPAN. To celebrate this important year, they will expand the UNIVERSAL COOL JAPAN theme with many attractions centered all around Japanese anime heroes.
The first two popular animes featured will be LUPIN the Third and Detective Conan starting from January 2019. They will be joined by Attack on Titan, Godzilla, EVANGELION and SAILOR MOON from May 2019.
Cool Japan Spring: Go on Adventures with LUPIN the Third and Detective Conan
The "Universal Cool Japan" spring term will last from Friday, January 18th until Sunday, June 23rd, 2019. It will feature an exciting virtual reality escape ride with LUPIN the Third and tricky roleplay detective work with Detective Conan.
LUPIN the Third - Join the World's Greatest Thief on a Wilde Ride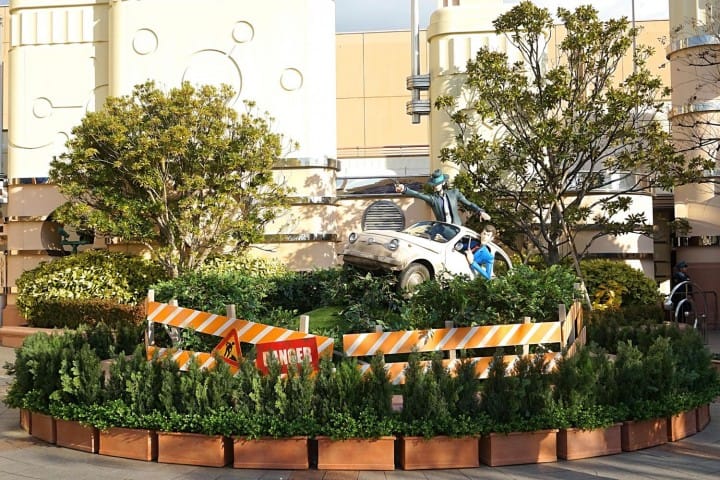 The LUPIN III manga series depicts the life of Arsène Lupin III, a master thief who seemingly can't be stopped although he announces his targets beforehand. He mainly works with his right-hand man Daisuke Jigen. Occasionally they are joined by Goemon Ishikawa XIII, a master swordsman who started out wanting to kill Lupin, and Fujiko Mine who is Lupin's love interest but often uses him to steal the treasures for herself.
LUPIN III the was first released in 1967. It is most beloved for its black, fourth-wall-breaking sense of humor and its action-packed chases.
This is LUPIN the Third's first appearance at UNIVERSAL STUDIOS JAPAN. The main attraction is the Lupin the Third Car Chase XR Ride.
XR means Cross Reality, which describes a fusion of physical world objects and the digital world. In this case, the physical world object is a rollercoaster that will send you on a wild car chase with Lupin and its friend with the help of virtual reality glasses.
Besides the wild race, you can also buy themed goods such as Lupin's car with popcorn inside, Fujiko Chocolate Churritos, which are supposed to be as sexy as her character, and a variety of T-shirts and other goods. There is also the Lupin The Third Ristorante Amore where you can enjoy a delicious meal while watching a real-life Lupin escaping justice.
Solve the Mystery with Detective Conan
Detective Conan is a story about a young detective who was turned into a child by an experimental drug. While trying to investigate the underground organization that did this to him and possibly finding an antidote, he also continues solving crimes in the shadows. His arch enemy is the gentleman thief known as Kaito Kid.
One of the greatest appeals of the Detective Conan stories is trying to solve the cases along with Conan. The new "Detective Conan: The Escape " game invites you into Conan's world. You will work in groups and you'll need to solve mysteries and escape before the building collapses.
This game is a must for every Detective Conan fan. Real-life versions of the characters from the Conan Series will present the storylines and join you in the game. Don't worry, the tablets leading you through this game are available in English. However, if you want to understand the storyline in depth, conversational level Japanese will be necessary to understand the show part of the escape game.
This game is not part of your UNIVERSAL STUDIOS JAPAN ticket. In order to participate, you will have to purchase an extra ticket alongside your universal studios ticket here.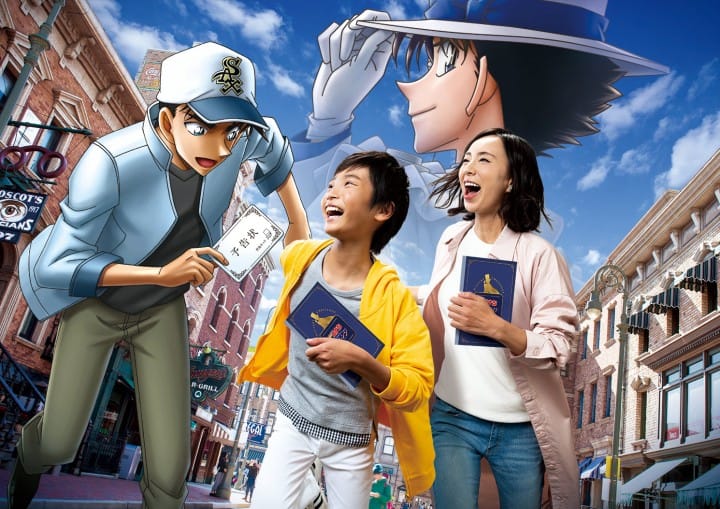 Picture courtesy of UNIVERSAL STUDIOS JAPAN
The "Detective Conan: Mystery Challenge" on the other hand is included in the regular ticket. Help Conan solve a mystery while you explore the park. You need to find the clues hidden all around the park, which will lead you to a surprise.
Just like Lupin the Third, Detective Conan is also part of an adventure restaurant experience. While dining at the "Detective Conan: Mystery Restaurant", you have to solve Kaito Kid's challenges to prevent him from stealing a valuable gem.
Goods and snacks are also part of the Conan theme. For snacks, you can choose between popcorn in a Conan or Kaito Kid shaped suitcase or three different kinds of Japanese crepe representing the three main characters. Strawberry crepe for Conan, chocolate banana crepe for his friend detective Heiji and cheesecake and blueberry crepe for Kaito Kid.
Cool Japan Summer - The Heat Rises with Attack on Titan, SAILOR MOON and Godzilla vs EVANGELION
From May 31, 2019, LUPIN the Third and Detective Conan will be joined by some of the most famous Japanese characters worldwide. The characters from Attack on Titan, SAILOR MOON, Godzilla and EVANGELION will spend the summer at UNIVERSAL STUDIOS JAPAN until August 25, 2019.
Godzilla vs. EVANGELION - The Ultimate Battle
People who are just casual fans of both franchises or even don't know them at all might be wondering about this collaboration. Fact is, the new "Shin Godzilla" was actually directed by Hideaki Anno who is also the director of the epic anime series "Neon Genesis Evangelion".
While most people probably know the story of Godzilla, the giant monster destroying Tokyo, only those who love anime and manga might know EVANGELION. EVANGELION is Japanese manga and anime where giant bio-machines known as "EVANGELION" try to prevent unstoppable aliens known as "ANGELS" from destroying the world. The anime strongly focuses on the three main EVANGELION pilots Shinji, Asuka, and Rei, and their physical and mental struggles.
"Neon Genesis Evangelion" has made an appearance at UNIVERSAL STUDIOS before while Godzilla hasn't. Godzilla vs EVANGELION will feature a ride and an exclusive movie at the studios theater. The details on either haven't been announced yet.
Attack on Titan - Don't Get Eaten!
"Attack on Titan" is also not new to UNIVERSAL STUDIO JAPAN. This worldwide known manga and anime tells the story of the last remaining members of mankind defending themselves against huge giants, known as Titans, whose only goal is to devour humans.
"Attack on Titan" first appeared at UNIVERSAL STUDIO JAPAN in 2017. Its main attractions were the life-sized characters, including Titans, alongside a variety of goods. This time its theme will be even bigger and better with a show and an attraction.
SAILOR MOON - Protect the World from Evil
SAILOR MOON probably doesn't need any introduction. The Tokyo high-school student saving the world as Sailor Moon together with her friends has grown into a worldwide successful merchandise.
UNIVERSAL STUDIOS JAPAN's Sailor Moon the Miracle 4-D in 2018 was such a big hit that it was extended beyond the planned runtime. Sailor Moon fans can get excited because this time will see a theater installment again as well as exciting goods and an attraction.
Meet Your Favorite Anime Characters at UNIVERSAL STUDIOS JAPAN!
This year it is all about Japan at UNIVERSAL STUDIOS JAPAN. The exciting line-up truly shows that Japanese entertainment does not have to hide behind big Hollywood blockbusters but rather holds a place of its own.
If you visit Japan this summer, don't miss out on the exciting rides, attractions, and goods you can only experience at UNIVERSAL STUDIOS JAPAN.
View Information
UNIVERSAL STUDIOS JAPAN
| | | |
| --- | --- | --- |
| | Address | Osaka, Konohana Ward, Sakurajima 2-1-33 |
| | Business Time | Weekdays 9:00-19:00, Weekends 9:00-20:00 |
| | WiFi | Not Available |
| | Accepted Credit Cards | Not Available |
| | Languages | Japanese, English |
| | Menu/Pamphlets in Other Languages | English, Chinese, Korean |
| | Nearest station | Universal City Station |
| | Access | 5 minutes walk from Universal City Station |
| | Price | 7400 yen and up |
| | Telephone number | 0570200606 |
| | Website | https://www.usj.co.jp/e/ |
In cooperation with UNIVERSAL STUDIOS JAPAN