Small Worlds Tokyo! Dive Into A Miniature Land Of Sailor Moon And Evangelion
SMALL WORLDS TOKYO is a miniature theme park located close to Odaiba and the Toyosu Market in Tokyo. The museum has impressive displays of scenes familiar to us, from anime series like "Pretty Guardian Sailor Moon" and "Evangelion." Explore this amazing facility and its 1/80-size exhibits with us!
Discover the Charm of Miniature Figurines at Small Worlds Tokyo
SMALL WORLDS TOKYO had their grand opening in the spring of 2020.
This miniature theme park has displays including a global village, and also feature scenes from famous Japanese anime series like "Pretty Guardian Sailor Moon" and "Neon Genesis Evangelion."
The exhibits in this theme park are recreated at 1/80 of their actual size with an astonishing degree of detail and accuracy.
Small Worlds Tokyo is easy to access. It's only three minutes on foot from Ariake-Tennis-no-Mori Station (Yurikamome Line) and just ten minutes away on foot from Kokusai-Tenjijo Station (Rinkai Line). Odaiba, with its exciting entertainment facilities and shopping malls is nearby, as well as Toyosu Market, where visitors can enjoy fresh seafood. So, why not combine all three places on the same day?
How to Get to Small Worlds from Nearby Stations
Next, we'll explain how to get to Small Worlds Tokyo from its two nearest train stations.
Access from Ariake-Tennis-no-Mori Station (Yurikamome Line)
After passing through the ticket gates, turn right and head for the 1A station exit. Look over to your right before going down the stairs and you'll see a square-shaped white building. This is Small Worlds Tokyo.
However, from here you're looking at the back of the building. So, go down the stairs, turn right and go along the street until you actually pass by this white-colored building. Turn left and you'll find the entrance to the theme park.
Access from Kokusai-Tenjijo Station (Rinkai Line)
After passing through the ticket gates, exit the station building and turn right.
Along the way, you'll pass by a Lawson convenience store before reaching a large overhead pedestrian bridge. From here, you can see a white-colored building with "SMALL WORLDS" written on its exterior wall (see photo above).
When you get closer to the building, go across the crosswalk. Continue straight ahead a bit longer and you'll see the entrance to your right.
Admission to Small Worlds Tokyo
Visitors can purchase their One Day Passport online beforehand or at the ticket window on the day of their visit. For details please refer to the official homepage of SMALL WORLDS TOKYO.
Visitors three years of age and under are admitted free of charge.
Admission
(including tax)
Adults
(ages 18 and up)
Junior/senior high school
(ages 12-17)
Children/elementary school
(ages 4-11)
One Day Passport
2,700 yen
1,900 yen
1,500 yen
Annual Passport
9,800 yen
7,600 yen
5,900 yen
Backyard Tour Ticket
5,600 yen
4,800 yen
4,400 yen
After you buy your One Day Passport, you'll pass through the Gulliver Tunnel and dive into a unique miniature world!
Become a Miniature World Resident!
small worlds TOKYO consists of six different areas:
Evangelion: Cage
Evangelion: Tokyo-III
Kansai International Airport
Space Center
Global Village
Pretty Guardian Sailor Moon
The main exhibition area is on the third floor. Head straight for this area and you'll find yourself in the fascinating world of Small Worlds!
But I actually purchased a ticket that comes with some special perks called the Resident Rights Figure Program. This allows me to place an identical looking, a 1/80-sized figure of myself in the area of my choice for a period of one year!
When you purchase a Resident Rights Figure Program for the Evangelion Cage Area (19,800 yen including tax), you receive the following benefits:
two miniature figures of yourself (1/80 and 1/35 in size) made via a 3D scanner
have a 1/80-sized figure of yourself in the Evangelion Area for one year
an Annual Passport allowing unlimited entry to SMALL WORLDS TOKYO for one year
a One Day Passport for an additional person (to invite a family member or friend!)
When you buy one of these special tickets, you'll first be issued an Annual Passport.
The Annual Passports are decorated with a variety of different designs. If you happen to choose the Evangelion Area, your passport will have an appropriate Evangelion design. The card features your photograph, name, and your passport's period of validity.
After you decide which area you'd like to have your figure placed in, get your picture taken by a 3D scanner. Please note that pictures cannot be taken of you wearing a costume that you've brought with you.
But, no problem! I've chosen the Evangelion: Cage Area, which offers an exclusive benefit. Visitors can wear a uniform made for workers at NERV (the special organization that create the Evangelions) and have their picture taken! The uniform comes in beige and orange.
I chose the slightly flashy orange-colored uniform and hat. If I wore the hat, my figure would end up looking the same as all the others. So during the picture-taking, I just decided to hold the hat in my hand. My blond hair will make it easy to find my own figure once it's completed!
To get your picture taken, just stand in the middle of the enclosure (see photo above) and hold your pose for about ten seconds. It's very quick and simple.
Your two personal figurines will be ready in two weeks. The 1/80-sized figurine will be placed for you in your chosen location, and the 1/35-sized figurine will be yours.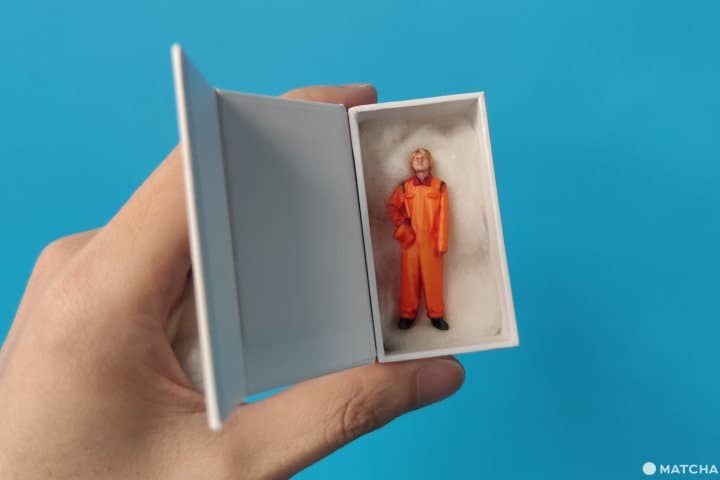 My long-awaited figurine was completed in two weeks!
This is the 1/35-sized figure, about five centimeters in height. Viewed up close, it looks identical to me! The 1/80-sized figure has apparently already been placed in the area I chose, so let's go and take a look.
There's a vending machine covered with Evangelion animation figures near the 3D scanning area. Here, fans and collectors of Evangelion goods can buy canned coffee decorated with their favorite characters.
Evangelion: Cage
The Evangelion: Cage is the closest area to the 3D scanning booth.
I was met here with 50-60 centimeter tall versions of Evangelion Unit-01, Unit-00, and Unit-02.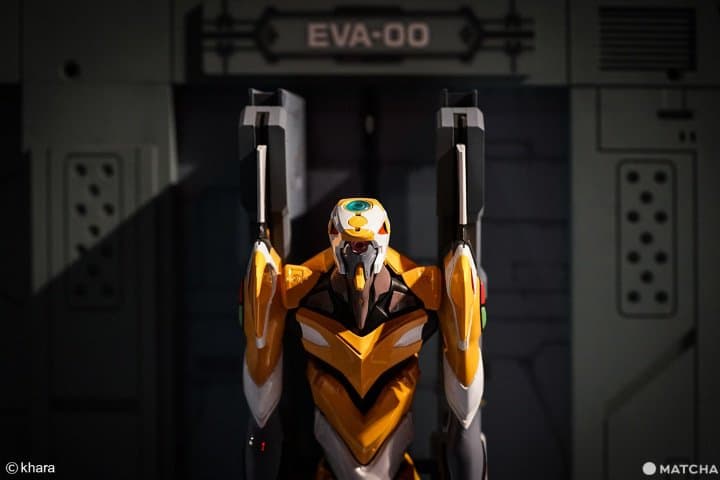 Evangelion Unit-00
Evangelion Unit-02
Evangelion Unit-01
The monitor shows Gendo, Ritsuko, and Misato. When I see all three of them together in the same scene, it feels like I've gone back to the distant past.
By the way, the Evangelions do more than just stand there. In order, one by one, each Evangelion is sent to the back position against the wall, just like they are in the animation.
Meanwhile, visitors can hear orders being issued from NERV's command center. It feels just like you're in the animation film!
After all three Evangelions have been launched, they once again return to their original position. Just watching this process takes about twenty to thirty minutes. It would be a dream to have something like this at home.
Then, I noticed it! There's a 1/80-sized version of myself looking up at Evangelion Unit-01, right in the location I requested!
My personal figurine can only stay here for one year, but just seeing it is satisfying enough. I plan to visit again while my Annual Passport is still valid.
Neon Genesis Evangelion Tokyo-III
Next to Evangelion: Cage is Evangelion Tokyo-III, the city where Shinji and his friends live.
Though it's dark now, there are both day and night scenes courtesy of a series of special effects. Visitors can enjoy the changing atmosphere of the miniature city.
When you press the button that turns on the evening blue lights, the city goes into action and you can see several types of activities happening. Do give it a try!
In the foreground, you can see Shinji's school and apartment, a movie theater, a restaurant, and other buildings in this bustling former Tokyo. In the background lies Tokyo-III.
Depending on the time of day, tall skyscrapers also make their appearance slowly emerging from under the ground. This was an impressive scene in the animation series.
On the pedestrian bridge, Shinji and his classmates enjoy a friendly chat with each other. The people in this city lead a peaceful and happy life.
Yurushito, a mascot character, waves at you from a balcony.
Here you can see Misato and Pen Pen (her pet penguin) suntanning on their balcony.
There's even a Thai restaurant in the city! I'd surely like to stop in for a visit.
If you look closely, you can see someone in a yoga pose standing between the rice paddies. Obviously many people are making good use of the Resident Rights Figure Program. It's fun looking at how the other figurines are posing.
Toji: Who are you staring at?
Kensuke: Is it Ayanami?
Shinji: No! I'm not looking at anyone.
Misato: This is the fortress city built to defend against the Angels and defeat them. This is our city! It's also the city that you helped protect.
Seeing this exhibit has made me recall some famous scenes and lines spoken by characters in the animation. It really brings back a lot of memories.
Animation characters can be found all around this miniature city, so try looking for them.
Kansai International Airport
The next area is dedicated to Kansai International Airport, Kansai Region's gateway to the skies.
The airport's terminal building and extensive runways have been recreated here. The photo above shows half of the airport area. To the right, there's also a landing runway.
This view makes you feel like you're actually at the airport!
Miniature planes actually take off and land. With the sound of engines starting to roar, a plane came into view thundering down the runway before taking off.
Airplane enthusiasts won't be able to get enough of this place!
The departure lobby is filled with travelers anxious to get to their next destination.
We spotted a lone traveler at the check-in counter on a quiet weekday evening.
A businessman, busy during his trip to Osaka, didn't have time to sample the city's famous takoyaki from a local eatery. Instead, he settled for takoyaki in the airport restaurant.
Two people who haven't seen each other in a long while, exchange greetings in the arrivals area.
When you see all the scenes above, what kind of images and stories come to your mind?
Next to the Kansai International Airport area, there's a paid rest area modeled after the airport lounge (supported by JCB). Admission is 500 yen per person and includes one complimentary soft drink.
Those who present their JCB card will get free admission to the lounge and one complimentary soft drink for plus up to two people (including cardholder).
For visitors who purchase a small worlds TOKYO One Day Pass at the ticket counter using a JCB card issued outside Japan, admission is 30% off for all members of the cardholder's party.
Space Center
When we visited, we first had our 3D picture taken, so we got to the Space Center by coming out from around the back. But, usually, visitors reach the Space Center by taking the elevator.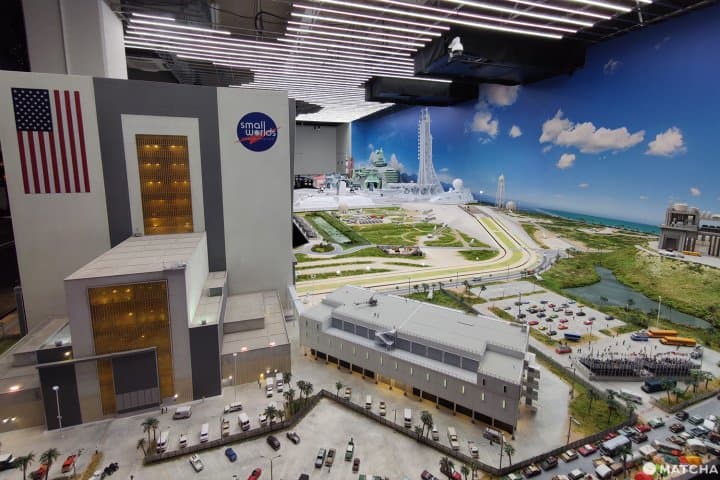 In this area, you can relive the Saturn V launch from the 1970s Apollo Space Program.
In the back of this miniature display, there's a science fiction-like futuristic shuttle on display. Someday this shuttle will also have its launch.
This exhibit allows visitors to enjoy reliving the past as well as experiencing the future of space travel.
Here and there throughout this area, preparations are underway for the rocket launch.
Picture courtesy of SMALL WORLDS
A successful launch! Rocket launches occur every thirty minutes, so when it's time for take-off, come and watch.
Some people have even secured spaces with tents, camper vans, and recreational vehicles. They keep an eye on the rocket launch from a unique vantage point.
Global Village
The next area is the Global Village. It features a new kind of cityscape, combining the features of an international city with that of a fantasy world.
In the photo above, you can see a stone fortress located on an island in the ocean.
In the middle of the town, there's a dome shaped structure. It can rise up from the ground, exposing at its bottom a large tree with roots. This is a fantasy world at its best!
Local people are going about their daily lives in this European-style public square.
This armor dragon serves as a guardian of the town.
This crystal cavern is illuminated in green.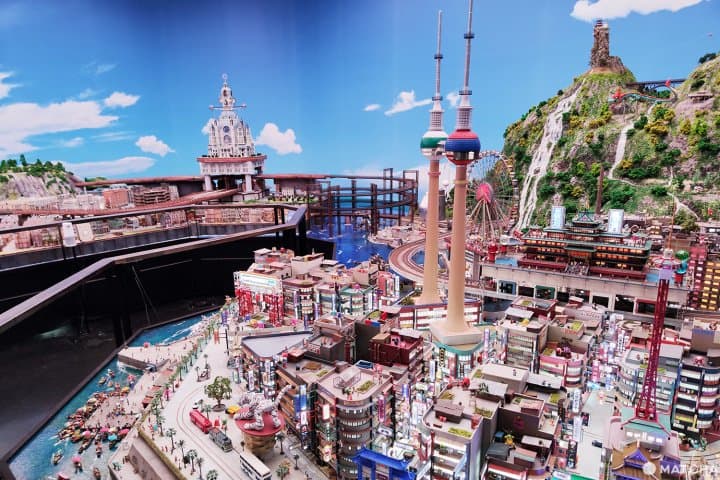 This East Asian part of town is bustling with crowds of people.
A sailing boat decorated with a scary-looking monster motif cruises down the water.
The floating market overflows with visitors. Merchants seem to be selling fruit, confectionery, and other kinds of tasty things.
There's even a boat with a cloth canopy decorated like the Thai national flag! Hmmm... Is that other boat selling chairs?
Next, let's head over to the night market for a delicious dinner.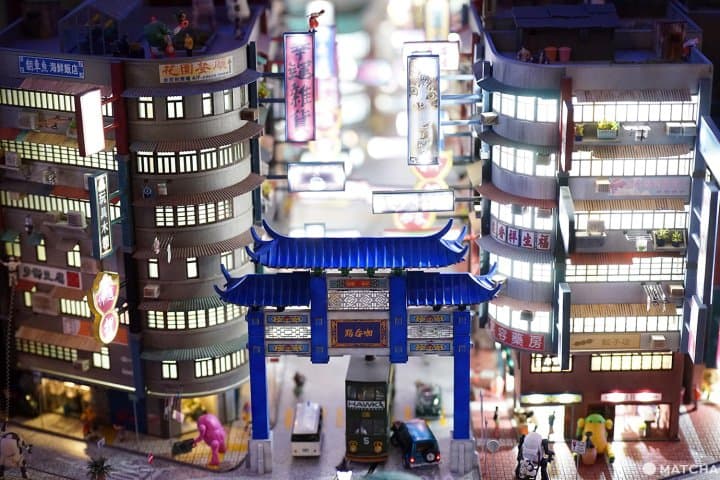 This street is illuminated by dazzling neon signs and bright lights.
"Shall we go and have tea at a nearby cafe?" Three friends who haven't met in a long time enjoy a lively conversation.
Now, after putting our imaginations to use at the Global Village, let's move on to the next area.
Pretty Guardian Sailor Moon in Miniature Form
The final place we visited was the area dedicated to Pretty Guardian Sailor Moon.
In "Pretty Guardian Sailor Moon," anime creator Naoko Takeuchi modeled a town based on Tokyo's Azabu-Juban district.
This town, where Usagi Tsukino (aka Sailor Moon, the Sailor Guardian of love and justice) and her friends live, has been faithfully reproduced here at small worlds TOKYO. It's truly a Mecca for Sailor Moon fans.
Looking at this shrine, not only do I think of stopping in for a visit, but also recall one of the story's characters, Rei-chan (aka Sailor Mars).
Rei-chan is wearing a uniform and standing beside the chozusha (the purification ritual area outside a shrine). I wonder where the miko (shrine maiden) is?
Usagi-chan (aka Sailor Moon) has a habit of oversleeping. In the photo above, it looks like she's frantically changing into her clothes and getting ready to leave her house.
As night falls, the city lights glitter in the evening sky.
We spotted the sign of the Crystal Seminar School (a cram school)!
If you press the blue-colored button in front of you, the computer monitors in the school's classroom light up (photo above)! When this happens, it looks as if that light is about to absorb all the energy of the students and the surrounding area.
Ami-chan (Ami Mizuno) is standing outside the school. It's time for Sailor Mercury (Ami's superheroine identity) to make her appearance.
This is a game center called Crown. It also serves as the entrance to the Sailor Guardians' secret base.
Sailor Guardians: The yoma (monster demons) are here. We must stop them!
Under Azabu-Juban's evening sky, our Sailor Guardians get ready to fight once again and defend the world.
Crystal Tokyo, the future city. When night falls over this miniature city, the town lights up beautifully for five minutes accompanied by an impressive melody.
When I looked at Crystal Tokyo and the large moon hanging overhead, I thought I heard "Moonlight Legend" (Sailor Moon's animation song) and the sound of a hanging bell ringing.
Souvenir Shop: Take Home Some Memories with You
Before going home, we stopped in at the souvenir shop of small worlds TOKYO, a place filled with unique items.
There are ornaments decorated with motifs from the theme park's various areas, and a wide array of daily life goods. Of course, there are also Sailor Moon and Evangelion items as well.
The Evangelion goods include T-shirts and tenugui (cotton cloth that has many uses), boxer shorts, clear files and pens, business card holders, canned cookies, AirPod cases, and so on. Take one look and you'll want to buy them all!
Sailor Moon merchandise includes items like tote bags and pens, canned cookies with a transformation brooch design, and coffee mugs, to name just a few. With such a variety of original goods, this place is ideal for Sailor Moon fans.
Restaurant WHITE ART
A drink counter selling various beverages to refresh visitors is located in front of the Space Center area.
However, for a leisurely meal, we recommend Restaurant WHITE ART on the second floor. The facility offers a wide menu including french toast, homemade roast beef and rice, various desserts, and other delicious items. The chefs are all former hotel executive chefs and use their culinary skills to create a menu that is very appealing.
The atmosphere of this restaurant makes you feel like you're dining under a starry sky.
A Full Day of Fun Activities at Small Worlds Tokyo!
We arrived at Small Worlds around lunchtime, but it was already dusk when we left.
Moving trains and cars, miniature worlds filled with interesting stories, and cities that show different scapes after dusk. Visitors can spend the entire day here without realizing it.
Close to both Odaiba and the Toyosu Market, Small Worlds Tokyo is a must-visit destination for all those who love figurines and miniature worlds. Do stop in for a visit and fully enjoy yourself in this fascinating theme park!
©khara ©Naoko Takeuchi ©SMALL WORLDS
Receive MATCHA's Newsletter: Click here to Subscribe

The information presented in this article is based on the time it was written. Note that there may be changes in the merchandise, services, and prices that have occurred after this article was published. Please contact the facility or facilities in this article directly before visiting.