Toyosu Market Guide - Fish, Popular Shops, And Things To Know!
Toyosu Market in Tokyo reopened in October 2018, following its move from Tsukiji! What is the inside of the market like? What restaurants are in the market? This guide to Toyosu will answer your questions.
About Toyosu Market
Toyosu Market is a wholesale food market operated by the Tokyo metropolis. Toyosu Market was moved from its previous location in Tsukiji in October 2018. Boasting Japan's largest number of business transactions, countless seafood products like tuna, vegetables, and fruits are bought, sold, and traded every day at the market.
Both the market's buildings and facilities have been updated following the relocation. There are tours you can take that allow you to safely and comfortably observe wholesalers from a glass window on an upper floor as they make their transactions.
The market is also full of fun. You can visit restaurants where you can enjoy a meal with fresh ingredients at reasonable prices and shops selling professional-grade ingredients and tools used by those in the food and restaurant industries.
In this article, we'll introduce tips to help you enjoy all of what Toyosu Market has to offer.
An Overview of Toyosu Market
Picture courtesy of Tokyo Metropolitan Central Wholesale Market
The overviews for each area are below. Click on the links to jump to the section detailing the area you have selected.
The Fruit and Vegetables Building is where vegetable and fruit auctions take place. It is also where wholesale stores are located for restocking.

The Fisheries Intermediate Wholesale Market Building houses intermediate wholesale seafood stores. This block is where staff from restaurants and retailers in town visit to replenish their inventory.

This is also where Uogashi Yokocho, a street of industry-related shops, is located.

This area contains the Fisheries Wholesale Market Building, where seafood auctions take place.
Restaurants to Visit
| | | |
| --- | --- | --- |
| Building | Number of Restaurants | Restaurants |
| Fruit and Vegetables Building (Block 5) | 3 | Daiwa Sushi, Fujimi-ya, Tenfusa Tempura |
| Fisheres Intermediate SeafoWholesale Market Building (Block 6) | 21 | Yoshinoya, Toritoh, Senriken, Sushi Dai, Odayasu, etc. |
| Management Facilities Building (Block 7) | 13 | Yachiyo, Mosuke Dango, Kimura-ya, etc. |
Most of the restaurants in Tsukiji's Jonai (inner market) have relocated to Toyosu. In Tsukiji, there was only one area where the restaurants were located. Toyosu Market has split that area into three buildings. Be sure to check beforehand where the restaurant you wish to visit is located.
Without further ado, we'll introduce each area in detail.
1. Fruit and Vegetables Building (Block 5)
Observation Deck
The nearest station to Toyosu Market is Shijo-mae Station on the Yurikamome Line. After arriving, first head to the Fruit and Vegetables Building, which is the closest building to Shijo-mae Station. The building is three stories high and has an area for produce transactions and restaurants on the first floor while the observation deck is on the second floor.
The walls of the passageways are painted in colors inspired by vegetables and fruits. The Fruits and Vegetables Intermediate Wholesale Market can be seen from the window. Intermediate wholesalers are lined up in neat rows along the long passageway, where many lively transactions are made in the mornings.
The Fruit and Vegetables Wholesale Market is in the back of the Fruit and Vegetables Intermediate Wholesale Market and consists of a single floor as spacious as a warehouse. This is where domestic and international goods are stored and dealings are made. You'll see turret trucks, a vehicle used to transport goods within the market, come and go with large piles of boxes containing fruits and vegetables.
There are three restaurants in this area located outside on the first floor. You will find Daiwa Sushi, Fujimi-ya, a soba noodle restaurant, and Tenfusa Tempura.
2. Intermediate Seafood Wholesale Market Building (Block 6)
The Fisheries and Intermediate Wholesale Market Building has an observation deck and restaurant street on its third floor, the industry-related shop area (Uogashi Yokocho) on the fourth floor, and a green roof plaza.
Uogashi Yokocho: Food Products and Tools By Professionals
Uogashi Yokocho is neatly lined with merchandise such as tea, kanbutsu (*1), tsukemono (pickled vegetables), and tamagoyaki (a type of rolled omelette). There are also shops that sell cutlery, rubber boots, and other such tools needed to do business in a market. Come here to find souvenirs unique to Toyosu Market.
*1 Kanbutsu: dried seafood and vegetables such as katsuobushi (dried bonito flakes), kombu kelp, and dried daikon radish strips.
Take a Photo with the Trucks! Intermediate Wholesale Market Observation Deck
A turret truck. Items are loaded onto the flat blue surface pictured. The truck is driven by a person standing at the front of the truck while operating it by handle.
You can see the wholesalers across the long passageway from the third-floor observation deck.
During early mornings, you can watch workers from restaurants and retailers come and go to make purchases from these intermediate wholesalers. Taking a photo with the turret truck is also popular.
A Restaurant Street of Toyosu Market Specialties
The restaurant street is lined with 21 different eateries including sushi, Western-style cuisine, and curry rice restaurants, filling the air with wonderful smells. Long lines had already formed by around 11:00 on a weekday, when the picture above was taken.
During our visit we went to Sushi Dai, a restaurant that was extremely popular when it was in Tsukiji Market. The restaurant had already stopped accepting customers at this time. On particularly busy days, they will sometimes cut off the line at around 10:00.
Upon opening the door, you will find there are counter seats and photos of the restaurant in Tsukiji and signs hanging on its walls. The wooden tags on the wall display the sushi toppings on the menu, and are taken from the Tsukiji location.
Mr. Uroshihara, the restaurant's energetic owner, took our order. We decided on a serving of the Omakase (an option where the customer lets the chef decide what to make) (4,500 yen including tax). The Omakase is a set of nine of the shop's recommendations for that day along with a piece of your favorite topping.
The set pictured was arranged and served for photography purposes. Normally, the sushi is served a piece at a time.
The toppings are, of course, from the market. The sushi is fresh and glossy in appearance. The delicious flavors of the seafood and the sweetness of the rice melt together the moment you take a bite.
Each piece of sushi is carefully prepared and assembled, made by hand from expert artisans. This was a satisfying and filling course worth the wait.
The staff members speak multiple languages including English, Chinese, and Malaysian, to better communicate with the customers. A brief description of the sushi toppings is also available in English. This is a restaurant that is easy to go to, especially if you are visiting from overseas.
Green Roof Plaza – Take a Break and See Tokyo's Cityscape
To access the Green Roof Plaza, take the elevator on the third floor pedestrian deck to the fifth floor, then walk through the rooftop promenade (the outdoor passageway).
A lawn spans across the entire surface of this rooftop with a panoramic view of Tokyo's buildings, including Tokyo Tower. You cannot bring food, drinks, or picnic sheets to the rooftop, but you can use the plaza for a walk or a break.
3. Fisheries Wholesale Market Building, Management Facilities Building (Block 7)
The third floor of the Management Facilities Building has thirteen restaurants, Ginrin Library, a small library where you can browse for technical books, and a public relations corner where you can learn more about Toyosu Market.
The restaurants all have appetizing menus, including fresh seafood bowls and teishoku set meals, making it hard to choose where to go.
Mosuke Dango – An Established Japanese Sweets Café
Mosuke Dango is a longstanding shop founded in 1898. The shop was a popular cafe in Tsukiji Market.
The shop sells wagashi (traditional Japanese sweets) such as dango and dorayaki (*2) at the storefront. There is also an eating area inside. Popular items include classic, traditional desserts such as anmitsu (*3) and matcha green tea, but Tamazo, a type of soup with fluffy eggs, is also ordered by many.
*2 Dorayaki: a type of Japanese sweet consisting of anko (red bean paste) sandwiched between a soft and sweet pancake-like dough.
*3 Anmitsu: a dessert served with anko, agar-agar, and fruit.
We ordered the Three Dango Set (sweet rice dumplings flavored with tsubuan, koshian, and mitarashi), the most popular menu item, with matcha green tea.
You can also make the green tea yourself, which makes this very popular with customers. The koshian (smooth red bean paste) is very soft and has a refined sweetness. The tsubuan (coarse red bean paste), is sweet and allows you to taste the texture of the beans more directly.
The mitarashi (sweet soy glaze dumpling) has a pleasant saltiness and delicious fragrance. We happily ate up our dango. Look for this shop, marked by a large, red umbrella, and take a short rest.
Watch Tuna Auctions at the Fisheries Wholesale Market
Seafood transactions take place in the Fisheries Wholesale Market Building. You can watch tuna auctions from the observation deck in this building.
Tuna auctions are around 5:30 to 6:30 on business days. When the market was located in Tsukiji, observers were accepted at first-come-first-serve basis on the day itself. However, an advance application and lottery system is used at Toyosu. Make an application one month in advance of your desired visit online or by phone (observation deck tours started January 15, 2019).
Access
Toyosu Market is directly outside the ticket gates of Shijo-mae Station on the Yurikamome Line and can be accessed from the pedestrian deck. Each of the market's buildings are connected to the deck, refer to an information guide and head to the building you wish to visit.
If you are coming from Tokyo Station, it will take 30 minutes via the Yurikamome Line at Toyosu Station. If you are traveling from Asakusa or Ueno, it will take about one hour via the Yurikamome Line at Shinbashi Station.
Tips for Toyosu Market
There is a lot to experience at Toyosu Market, but please keep in mind the two points listed below.
The Market is a Facility for Professionals
Toyosu Market is, in essence, a place for food product transactions. In order for these business transactions to safely take place, please abide by the rules and manners in the areas where photography and entrance are allowed.
Check Holidays and Business Hours Beforehand
The timeframe when visitors are allowed to tour Toyosu Market is from 5:00 to 17:00. Business hours for restaurants vary according to each shop. There are no tours held when the market is closed nor are the restaurants open for business.
The market is closed on Sundays, national holidays, and other holidays set by the market. Be sure to go only after checking their calendar (Japanese) beforehand.
Visit Toyosu Market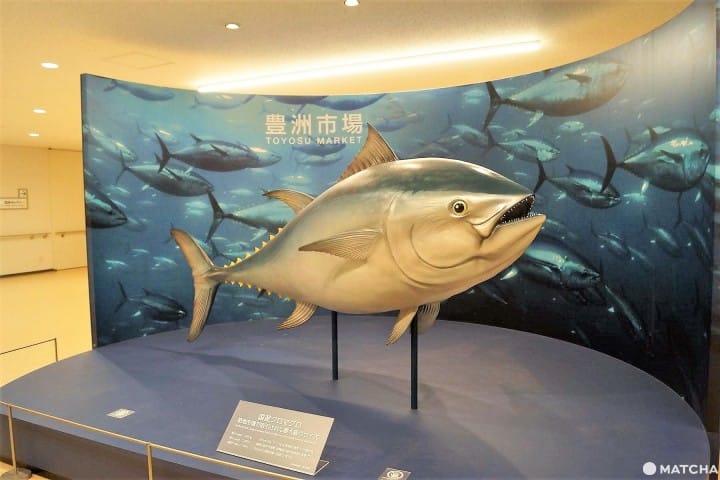 This was our introduction to Toyosu Market, a market that opened in October 2018. Please feel free to refer to this article when visiting the market, filled with new facilities and things to see.
In cooperation with Tokyo Metropolitan Central Wholesale Market

The information presented in this article is based on the time it was written. Note that there may be changes in the merchandise, services, and prices that have occurred after this article was published. Please contact the facility or facilities in this article directly before visiting.