Tsukiji Market 2020 Guide – Sushi, Breakfast Spots, And Highlights
Tsukiji's jonai market was moved to Toyosu in 2018, but the restaurants and shops still in Tsukiji Market's outer market, or jogai, make it remain a must-visit destination in Tokyo. Learn the latest things to do and eat at Tsukiji Market, from tours to sushi breakfast and street food.
Tsukiji Market in 2020
The jogai area of Tsukiji Market
When you come to Japan, Tsukiji Market is a sightseeing destination you absolutely cannot leave out! There are likely to be many people that think so, thus adding the market to their plans.
However, the main market of Tsukiji moved to Toyosu in 2018. Due to this relocation, many people may wonder if Tsukuji is still a spot worth seeing.
In short, Tsukiji is still strongly recommended for travelers looking to experience a traditional market in Japan. Visitors who want to see tuna auctions should head to Toyosu.
This article introduces the latest information on Tsukiji Market and how to make the best of a visit. This includes recommended sushi restaurants, shops where you can get breakfast and snacks, and tours and travel tips for international guests with pictures.
Why Was Tsukiji Moved?
The closed Tsukiji jonai market
There were two areas in Tsukiji: one was called jonai (inner market), and the other was jogai (the outer market).
The inner market at Tsukiji was a large-scale wholesale market, where seafood caught from across Japan was purchased by professionals. Tuna auctions also took place in this inner market area.
However, the buildings of Tsukiji Market, which opened in 1935, had deteriorated over time, resulting in sanitation and safety issues. The space was also too small, making it difficult to operate and expand for the market. Lastly, a better environment was necessary to sustain the quality of the fish and seafood.
Due to these reasons, new buildings were built in Toyosu, resulting in the relocation of the jonai.
What Can You See at Toyosu Market?
Toyosu Market
Toyosu Market opened October 2018. The market is about three kilometers away from Tsukiji.
As a result of the move, the inner market, the tuna auctions, sushi restaurants, and other shops part of the jonai area were also relocated to Toyosu. Sushi Dai, a famous sushi restaurant, is also now in Toyosu. For details on Toyosu Market, please take a look at this article.
You Can Still Visit Tsukiji's Outer Market!
The outer market
The inner market moved out of Tsukiji, which was an area mainly geared for food industry and restaurant professionals. The outer market, accessible by the general public, remains unchanged and in its same location.
The jogai area is adjacent to the former inner market. Visitors will find many restaurants specializing in fresh sushi and seafood, and shops selling high-quality, professional-grade products and ingredients here.
The fish found here is now delivered fresh from Toyosu. Street shops and food stalls line the area, allowing you to experience a classic market atmosphere.
When to Visit the Outer Market
Most shops introduced in this article are open throughout the year, but there are also many that are closed on Wednesdays and Sundays in the outer market. We recommend avoiding visits on these days.
There are also restaurants and shops in Tsukiji that operate early in the morning, opening around 6:00 or 7:00. However, most shops close early, and the entire area becomes very quiet at around 14:00 or 15:00. As such, try to visit during the morning.
Continue reading to learn must-visit restaurants and delicious food you can try at Tsukiji Market.
6 Top Tsukiji Sushi Shops
There are many tasty sushi restaurants in Tsukiji, where the freshest seafood is. Read further to learn six recommendations for high-quality sushi, and three shops that are especially catering to international visitors without Japanese abilities.
3 Recommended Sushi Restaurants
1. Tsukiji Sushi Ichiban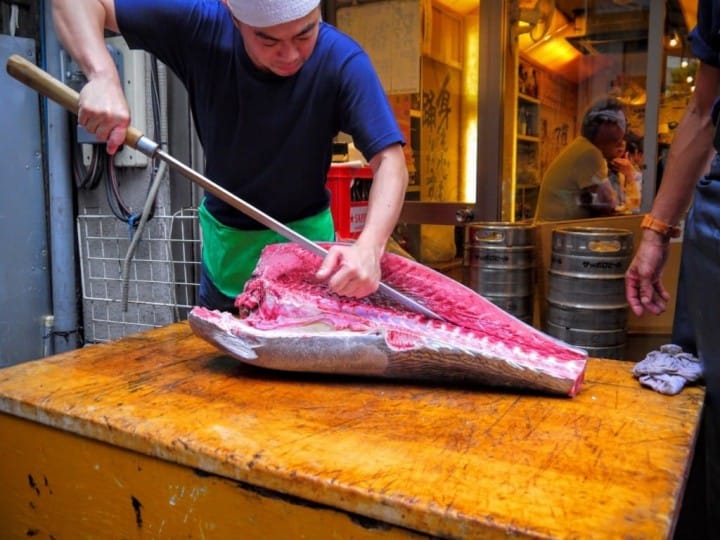 Picture from Witness The Deconstruction Of A Tuna! A Free Show At Tsukiji Sushi Ichiban (Japanese)
Tsukiji Sushi Ichiban, located within a five-minute walk from Tsukiji Market, is where you can watch a tuna dismantling show for free.
Here, you can see a large tuna nearly the height of an adult being expertly cut and trimmed. You can also take a photo with the tuna once it has been deconstructed, then enjoy the freshly prepared tuna as sushi.
The dismantling show starts usually around 11:00 on the weekends. On Saturdays, it is held at the restaurant's Tsukiji Jogai Market Chuo location, and on Sundays, it is held at the 4 Jogai Market location. Be sure to check the official Tsukiji Sushi Ichiban website (Japanese) for details.
2. Sushidai Honkan
Sushidai Honkan (*1) is a shop popular for fresh sushi available at budget-friendly prices.
Each topping and all sushi ingredients are high-quality and exquisite in taste. For example, the soy sauce is more flavorful than typical soy sauce, enhancing the taste of the sushi.
Be sure to try the Chef's Special Nigirizushi (3,500 yen before tax). The set includes ten pieces of nigirizushi (hand-pressed sushi), including lightly grilled fatty tuna, one makimono (rolled sushi), and your choice for one nigirizushi topping. The restaurant is open Mondays to Saturdays until 4:00, making it a great choice for late-night meals.
Another restaurant location is around a five-minute walk away from the main restaurant, so it would be a good option visit here instead if there is a line at the main building.
*1: There is another famous restaurant named Sushi Dai (relocated in 2018 to Toyosu); however, Sushidai Honkan is not affiliated with that shop.
3. Shutoku Honten
Shutoku Honten is tucked in an alley, located slightly away from the main street. It has a vinyl covering for its entrance. It may seem like it's a bit difficult to enter, but it is a great place to enjoy fine-quality sushi.
Red vinegar is used in the shari (sushi rice), which taints it slightly red, different than typically white sushi rice. Their white fishes especially are reputed for their taste. In general, the restaurant is popular for its beautifully-crafted sushi, like sea urchin sushi. Try the Seasonal 10-Piece Special Nigirizushi and Temakizushi (with soup; 3,500 yen before tax) for lunch.
3 International Traveler-Friendly Sushi Shops
There are several restaurants that have multiple language menus and support due at Tsukiji, as it receives international visitors frequently. Below are recommended shops that can provide multilingual assistance or have menus in other languages.
4. Kaisendon Marukita
Kaisendon Marukita 1 is a restaurant where you can enjoy kaisen don (a bowl of rice topped with fresh seafood). There are three locations in the Tsukiji area and they offer 30 different kinds of kaisen don on their menu.
Language assistance is available in English, Chinese (simplified and traditional), and Korean.
5. Tsukiji Aozora Sandaime Honten
Tsukiji Aozora Sandaime Honten is a sushi restaurant resulting from a collaboration of fishmongers who had worked for many years in Tsukiji.
The restaurant offers over 30 types of sushi, including wild Pacific bluefin tuna. The menu is are available in English and Chinese.
6. Sushi Zanmai Honten
The president and mascot of Sushi Zanmai Honten
Sushi Zanmai is a chain of sushi restaurant especially well-known for its delicious tuna.
The restaurant has ten locations near Tsukiji Market. There are different layouts to the restaurants, including some with kaiten zushi (conveyor belt sushi) and a location where you are served by an itamae (*2) at the counter. The different types allow you to visit a restaurant that fits your needs.
The main location at the outer market is open 24-hours year-round, making it easy to enjoy high-quality sushi. English menus are also available, so non-Japanese speakers can order with ease.
*2 Itamae: a chef that cooks at a Japanese restaurant or ryotei (a traditional style of Japanese restaurant).
3 Street Food Snacks You'll Want to Try at Tsukiji
We'll now introduce recommended snacks and breakfast items at Tsukiji Market.
There are several street shops where you can eat your food outside, but eating while walking is prohibited. Be sure to enjoy your snacks in front of or inside the shop.
1. Tamagoyaki at Yamacho
Tamagoyaki (rolled omelet), an easy-to-eat snack, is also a famous in Tsukiji. At Yamacho, you can enjoy delicious and affordable tamagoyaki at 100 yen per piece. You can also watch the omelets being cooked by expert hands.
There are often lines at the shop, but the service is quick and you won't wait for long. You can choose between sweetened or unsweetened flavors of tamagoyaki. Be sure to enjoy this fluffy, rich tamagoyaki.
2. Maguroyaki at Sanokiya
For something sweet, try maguroyaki (200 yen), a popular Tsukiji dessert, sold at Sanokiya. Despite being named "maguroyaki", it does not contain any tuna. The idea for the snack was taken from taiyaki, a seabream-shaped pastry popular in Japan. Maguroyaki is made into the form of a tuna, fitting for Tsukiji.
The outer shell is cooked until crispy, while the inside is filled with smooth, soft anko (red bean paste). This delightful contrast of textures is another reason why it is so popular.
3. MATCHA STAND MARUNI's Matcha Latte
MATCHA STAND MARUNI's matcha latte (500 yen) is another must-try at Tsukiji.
MATCHA STAND MARUNI is a tea stand that opened in 2018 by a 100-year-old nori (dried seaweed) shop. (*3) Visitors can see matcha being brewed in person at the storefront, which is then sold to customers. The highly aromatic matcha and rich milk melt together, creating a magnificent, delicious latte.
*3: Nori and tea are preserved in similar ways, so shops will often sell both.
3 Recommended Places for Breakfast
As Tsukiji Market opens early in the morning, many shops operate early in the morning as well. Read below to find out where you can enjoy breakfast in Tsukiji.
1. Rice Balls at Marutoyo
Marutoyo is a popular onigiri (rice ball) shop that opens at 5:00 in the morning. There are always over 30 types of onigiri, from common ingredients like salmon, salted cod roe, clams, and fried shrimp, to the more unusual fillings, displayed at the storefront.
Prices range from around 150 to 300 yen per onigiri. The rice balls will often be sold out from past noon, so we suggest visiting early.
2. Beef Bowl at Kitsuneya
If you want to eat a local meal, then head to Kitsuneya. Try their famous horumon don (850 yen), a bowl of fresh beef offal, thoroughly marinated in a miso-based sauce on top of rice.
You can eat at the counter at the restaurant or while standing outside. It opens at 7:00 and there is often a line, but many customers here eat quickly so you won't be waiting for too long.
3. Ramen at Wakaba
Wakaba is a small ramen shop with only counter seats. Diners can enjoy tonkotsu-based (pork bone broth) Chuka Soba (800 yen) here. The ramen noodles are superfine, made so that workers can eat quickly. The shop opens at 5:30.
Tsukiji Only! Market Tours and Cooking Classes
Picture from TSUKIJI COOKING – Have Fun Making Authentic Japanese Food In Tsukiji!
Tsukiji is a great place for those looking for an in-depth experience of sushi and Japanese food. For example, visitors can book small group activities that include market tours and sushi cooking classes via travel reservations site, Klook. Click here for more information on the tours available.
Another option is TSUKIJI COOKING, which provides a tour of Tsukiji's outer market and a cooking class utilizing fresh ingredients purchased from the market to make miso soup and sushi. Reservations are made on the official website.
Go to Plat Tsukiji for Tsukiji Information
Plat Tsukiji, an information center where you can find maps and receive guidance on Tsukiji, is located in the center of the outer market.
Adjacent to the information center, you'll also find a currency exchange counter, ATM, tax-refund counter, coin lockers, and a resting area. It is a convenient and helpful place to visit when traveling.
Getting to Tsukiji
Exit 1 at Tokyo Metro Tsukiji Station
To travel to the Tsukiji area, utilize Tsukiji Station on the Tokyo Metro Hibiya Line or Tsukiji Market Station on the Toei Oedo Line. To save yen and get to your destination smoothly, we recommend utilizing the 24-hour, 48-hour, or 72-hour Tokyo Subway Ticket.
When using Tsukiji Station (Hibiya Line), Exit 1 is the closest and easiest route to take. Exit the station and continue left for about 150 meters to get to the outer market. If exiting at Tsukiji Market Station (Toei Oedo Line), use Exit A1, then continue right for about 200 meters to arrive.
We'll also introduce how to get to Tsukiji from major stations in Tokyo.
From Tokyo Station
Take the Tokyo Metro Marunouchi Line at Tokyo Station, transfer to the Hibiya Line at Ginza Station, then exit at Tsukiji Station (takes about ten minutes, 170 yen).
From Shinjuku Station
Take the Tokyo Metro Marunouchi Line at Shinjuku Station, transfer to the Hibiya Line at Ginza Station, then exit at Tsukiji Station (takes about 25 minutes, 200 yen).
From Haneda Airport
Take the Keikyu Main Line (connects directly to the Toei Asakusa Line), transfer to the Toei Oedo Line at Daimon Station, then exit at Tsukiji Market Station (takes about 45 minutes, 610 yen).
Access Between Tsukiji and Toyosu

The bus route from Tsukiji-Rokuchome to Toyosu Market
For travelers heading to Tsukiji and Toyosu, continue reading to learn how to access both areas.
If using the bus and traveling from Tsukiji, take the City Route 01 from the Tsukiji-Rokuchome bus stop, then exit at the final stop at Toyosu Market.
If you ride the train, you will need to make a transfer. Walk about five minutes from Tsukiji to take the Tokyo Metro Yurakucho Line at Shintomicho Station, then exit at Toyosu Station. From there, take the Yurikamome Line, then exit at Shijo-mae Station. The station and Toyosu Market are directly connected; the closest station to Toyosu Market is Shijo-mae Station. Please take note of this as Toyosu Station is actually quite a distance from the market itself.
Via taxi it takes around fifteen minutes and costs around 2,000 yen. If you will be sightseeing with a group, then it may be easier to travel by taxi.
Visit Tsukiji Market
Even after the relocation to Toyosu, there are still many restaurants and shops operating in Tsukiji that make this destination worth visiting. Have your fill of delicious sushi and food at Tsukiji!

Original Author: moet
This article is an updated revision of an article originally published on July 15, 2018.

The information presented in this article is based on the time it was written. Note that there may be changes in the merchandise, services, and prices that have occurred after this article was published. Please contact the facility or facilities in this article directly before visiting.