Godzilla Invaded Tokyo! Find The Giant Monster In Shinjuku And Ginza
"Godzilla" has become famous all around the world. In Tokyo, there are several places themed after this movie featuring giant statues of Godzilla or unique items that can only be found there. MATCHA's readers receive a discount on these items!
Godzilla-related spots such as Godzilla Square, Godzilla Store, the "Escape from Shin Godzilla" game and Godzilla Room, have cropped up all over Tokyo.
In this article, we will introduce various spots in Tokyo featuring Godzilla, but first, let's look at how Godzilla came into being.
Godzilla - The Movie That Swept over the World!
Picture courtesy of TM&©TOHO CO., LTD.
Godzilla is the name of a giant monster that featured for the first time in a special effects movie created in 1954. It is said that Godzilla was created as an allegory of the 1950s social climate, when hydrogen bomb tests were conducted by global powers. At the same time, this monster is considered a metaphor for the supernatural world.
The first Godzilla movie was released on November 3rd, 1954 and as of June 2018, 33 productions including 29 Japanese versions, two American versions and two animations, have been created. More than sixty years have passed since its birth, but the popularity of the movie is still growing.
In recent years, "Shin Godzilla" (2016), starring Hiroki Hasegawa and Satomi Ishihara, the animations "Godzilla: Planet of the Monsters" (2017) and "Godzilla: City on the Edge of Battle" (2018), have all been a success, both in Japan and worldwide.
Many Godzilla enthusiasts are waiting for "Godzilla: Planet Eater", which will be released in November 2018.
To the delight of all the Godzilla fans, various Godzilla-themed facilities have opened in Tokyo. Let us take you on an exciting tour of these exciting places in Tokyo!
Hibiya Godzilla Square -
The Latest Most Instagrammable Place in Tokyo!
TOKYO MIDTOWN HIBIYA is directly connected to the Hibiya Station and located within a five-minute walking distance from the Ginza and Yurakucho Stations as well. The facility opened on March 29th, 2018, and has already become the latest popular place in town.
The TOKYO MIDTOWN HIBIYA building rises 35 floors above ground, with four basement floors. The area from the first basement floor to the third floor is occupied by various stores. TOHO Cinemas Hibiya, a cinema complex, is located on the fourth and fifth floors of the facility.
Hibiya Chanter, a shopping mall filled with fashion brand shops and famous restaurants, stands next to TOKYO MIDTOWN HIBIYA.
Picture courtesy of TOHO ©TOHO CO., LTD.
Hibiya Godzilla Square is located in front of Hibiya Chanter. A 2.5-meter tall statue of Godzilla stands on top of a pedestal which is 0.5 meters tall. This is a brand new statue, created based on "Shin Godzilla", the movie released in 2016.
The square has already become popular, with many visitors taking photographs of themselves with the statue. The former Godzilla statue which was located in this square has been moved to TOHO Cinemas Hibiya, so don't miss it!

GODZILLA STORE Tokyo -
A Must-Visit Place for All Godzilla Fans!
GODZILLA STORE Tokyo, which opened on October 30th, 2017, is the only shop in the world specializing in Godzilla merchandise, with more than 500 different items!
GODZILLA STORE Tokyo is located on the first floor of Shinjuku Marui Annex, which is only two minutes away from the C1 Exit of Shinjuku-sanchome Station. From the Southeast Gate of the JR Shinjuku Station, it takes seven minutes on foot to reach the store.
Exclusive Godzilla Items that You'll Want to Check Out
At GODZILLA STORE Tokyo, there are Godzilla items that can only be purchased here, so let's take a look.
TM&©TOHO CO., LTD.
This black Godzilla Store T-shirt with a red patterm, priced at 3000 yen, is simple and stylish, and can be easily combined with other clothing items.
TM&©TOHO CO., LTD.
The photograph shows an A4-size clearfile (450 yen which was designed b New York based conceptual artist Kouji Tajima. The drawing of Godzilla destroying Shinjuku makes you feel as if you are witnessing the scene!
TM&©TOHO CO., LTD.
This Godzilla teacup is priced at 1,620 yen. It is a Japanese-style cup, with all the Godzillas created until now.
In addition to these items, GODZILLA STORE Tokyo also handles cute merchandise as well.
Great Souvenirs for Friends or Yourself
Sanrio, known for its cute characters such as the Little Twin Stars, Hello Kitty, and Pompompurin, has a series of Godzilla-related items such as tin badges, key rings, smartphone cases, lunchbags and T-shirts.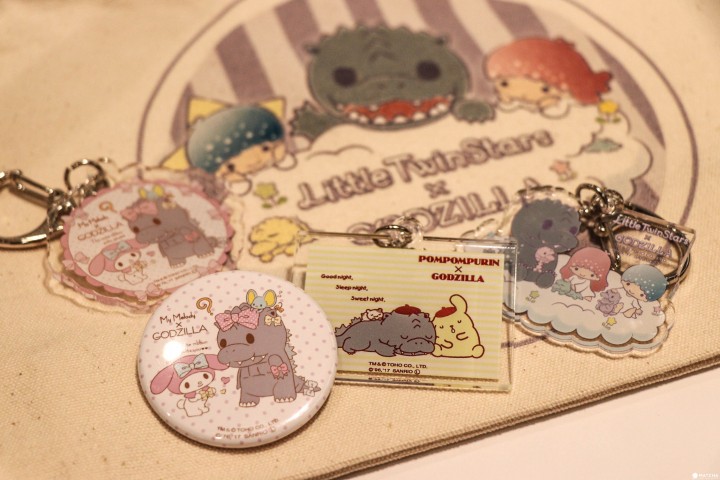 ©1976,1996,2017 SANRIO CO.,LTD. TM&©TOHO CO., LTD.
The tin badge shown in the picture above is priced at 378 yen, the key ring at 734 yen, and the lunchbag costs 2,484 yen. These are all adorable, easy to carry items that are also very affordable, whic makes them the perfect souvenirs for a friend who loves Sanrio characters.
©TOHO CO., LTD.
GODZILLA STORE Tokyo also handles this unique humidifier which was designed after the Godzilla which starred in the 1992 movie "Godzilla vs Mothra". This item is titled "Godzilla: The King of Humidifiers" being priced at 7,538 yen.
The fun feature of this humidifier is that it illuminates the vapor with an LED light, recreating Godzilla's heat ray. Not only does it look like the heat ray, but it also sounds like the in the movie. It has become a popular item which is both practical and fun to watch.
Picture courtesy of TM&©TOHO CO., LTD.


Save Tokyo in 60 minutes!
The Real Evacuation Game "Escape from Shin Godzilla"
©SCRAP
Tokyo Mystery Circus, a unique theme park specialized in role-playing games, hosts "Escape from Shin Godzilla", an evacuation game based on the movie. With an authentic reproduction of the atmosphere of the movie, this game is said to be the most popular of its kind in Tokyo!
The park is located two minutes away from Seibu Shinjuku Station, and seven minutes away from JR Shinjuku Station.
Tickets and Time Slots
In "Escape from Shin Godzilla," four people team up and try to stop Godzilla from invading Shinjuku. The time limit is 60 minutes. Ticket prices and time slots are as follows.
©SCRAP
Tickets Prices
Advance tickets: 3,300 yen
Same day tickets: 3,800 yen
Time Slots
Weekdays - 13:00/16:00/19:00
Saturdays, Sundays and national holidays - 9:50/12:20/14:50/17:20/19:50
Extremely Popular on Twitter! The Extravagant Cafe Menus
©SCRAP
The left-hand photo shows the hot dog priced at 880 yen, designed after Godzilla's second transformation, which appears in the "Shin Godzilla" movie. The hot dog has become a popular topic on the Japanese Twitter.
The drink which looks like the coagulating agent used to freeze Godzilla is priced at 399 yen (lower right-hand photograph). The shaved ice topped with cacao and strawberry flavored Oreo, priced at 880 yen, is also popular (upper right-hand photograph).

Hotel Gracery Shinjuku - A Night with Godzilla
Picture courtesy of TOHO ©TOHO CO., LTD.
Hotel Gracery Shinjuku is located about five minutes away on foot from the East Exit of JR Shinjuku Station. The hotel opened on April 24th, 2015, and has already become a new landmark in Tokyo. Hotel Gracery tied up with TOHO to create a life-sized Godzilla head figure, which is 12 meters tall! The statue is located on the 8th-floor terrace.
Visitors to Kabukicho can stop by the hotel and take photos of the building which looks like it has been run over by Godzilla!
Picture courtesy of TOHO ©TOHO CO., LTD.
The hotel has one Godzilla Room, which is filled with Godzilla motifs, and six Godzilla-view Rooms, where the guests can observe the Godzilla head figure up close.
These rooms are regularly booked, so if you want to truly enjoy your experience of Godzilla, book your room early on!

Let's All Celebrate Godzilla Birthday!
An Exclusive Godzilla Festival on November 3rd
Picture courtesy of TOHO ©TOHO CO., LTD.
Godzilla debuted on November 3rd, so on that day in 2017, TOHO hosted the first Godzilla Festival at Cinecity Square, located in Kabukicho, Shinjuku.
Participants were able to take photographs of the eight Godzilla statues. Film director Hiroyuki Seshita and voice actress Kana Hanazawa who starred in the animation film "Godzilla: Planet of the Monsters" appeared on stage and greeted the visitors.
Picture courtesy of TOHO ©TOHO CO., LTD.
Approximately 18,000 Godzilla fans were present, and those who came with their children enjoyed attractions such as ring toss.
To all Godzilla fans out there: do look forward to the details the 2018 event!
Godzilla Festival 2018 Event Details!
Provided by: TM&©TOHO CO., LTD.
■Event Name: Godzilla Festival 2018
■Date: Saturday, November 8, 2018
■How to Participate: Admission is free of charge (Food and drink inside the festival and merchandise are available for purchase and there is a paid area.)
■Event Website: http://godzilla.store/gfes/2018/ (Japanese)
■Event Highlights:
Izakaya Godzilla
(Date and Time: from around 17:00 / Place: Godzilla Festival Special Stage)
Guests can listen to a talk from action figure artist Takayuki Takeya and comic illustrator Katsuya Terada. Learn from this in-depth talk on Godzilla while enjoying a drink!
First Generation Godzilla Suits in Hibiya!
(Date and Time: To be announced)
This event will unveil refurbished suits used in the very first Godzilla film. There will be a screening of a short version film using these Godzilla suits played on stage. Don't miss this event!
Godzilla Store--Hibiya Location at Godzilla Festival!
Made using the 2018 Hibiya Shin Godzilla statue design, there will be event-only t-shirts, stationery, messenger bags, and other merchandise will be available for purchase! This is a great opportunity to add to or start your Godzilla collection!
Let's Go on a Tokyo Tour to Meet Godzilla!
Most of the Godzilla spots in Tokyo are located in places that are easy to access, found near major shopping areas. If you haven't planned your trip to Tokyo yet, be sure to include the spots mentioned above!

Written by Chen
Sponsored by TOHO CO., LTD.

The information presented in this article is based on the time it was written. Note that there may be changes in the merchandise, services, and prices that have occurred after this article was published. Please contact the facility or facilities in this article directly before visiting.