Shinjuku Station Exits - A Beginner's Guide To The Area
Shinjuku is home to Tokyo City Hall, Kabukicho, and many dining and shopping facilities. In this article, we introduce the area around Shinjuku Station and which exit to use in order to reach your destination.
Shinjuku – Tokyo's Sightseeing and Shopping Central
Shinjuku is Tokyo's leading entertainment district. This area offers something for everyone. Here you will find all kinds of izakayas and bars, electronics retail stores carrying cutting edge electronic appliances, and high-end department stores as well as casual fashion malls and drugstores.
There are several different ways to enjoy Shinjuku including enjoying the observatory at the Tokyo Metropolitan Government Building or relaxing at the Shinjuku Gyoen.
Shinjuku Station boasts the greatest number of passengers in the world. Numerous people come and go through this giant station, so it's not unusual for people to miss their exit. Even the ticket gates are complicated, so exiting out of a gate far from your destination occurs frequently. Even locals sometimes get lost in Shinjuku Station.
The following passes and tickets are convenient and will save yen on travel in and around Shinjuku and the rest of Tokyo: Tokyo Subway Ticket (24, 48, and 72-hour passes available), Japan Rail Pass, Suica IC Card Reservation
In this article, we'll introduce the features of Shinjuku Stations exits separated by their destinations.
JR Shinjuku Station's Exits - The Basics
JR Shinjuku Station South Exit
Even if it is just called collectively Shinjuku Station, the station itself services eight lines (*1). Every line has their own ticket gates. We will be introducing the gates for JR Shinjuku Station. Typically, Shinjuku Station exits often refer to the JR exits, so it would be useful to remember them.
There are six JR Line exits and it's fine to remember them as the East, West, and South exits. You can click on the exit's name in the table below to jump to information on that exit.
*1: Shinjuku Station train services are the JR Line, Keio Line, Odakyu Line, Tokyo Metro Marunouchi Line, Toei Shinjuku Line, Toei Oedo Line, Keio New Line, and Seibu Shinjuku Line
Let's take a look at a detailed explanation of each exit and the sightseeing spots in the area.
East Exit – Shopping District and Kabukicho
Go downstairs from the JR Line platform reach the East Exit. Continue towards the East or Central East exits which are marked by yellow signs.
There are two ticket gates. The main east exit and the central east exit. Even if you exit from the central east exit, you'll find yourself at the east exit by heading to the left.
After you exit the gate, go up the stairs diagonally to the left. There is a plaza in the center of the exit. The Kabukicho area is located straight ahead from the plaza while the Shinjuku Sanchome area is to the right.
The Area Around Kabukicho
The area around Kabukicho houses many restaurants and bars. At night, the area is filled with people searching for bars as well as those hoping to attract customers. Places where a lot of people gather are also attracting trouble easily. Make sure to visit the area with great caution at night as it is known as one of the less safe areas of Japan.
Continue straight from the East Exit to find a movie theater and Hotel Gracery Shinjuku, marked by its gigantic Godzilla head. How about taking a picture of this impressive Godzilla when you visit the area?
Major Spots
Summary
Kabukicho
Japan's leading entertainment district.
Robot Restaurant
A restaurant where you can enjoy shows performed by both robots and humans.
Don Quijote
Shinjuku Kabukicho
A discount shop that sells food, drinks, and daily necessities.
Samurai Museum
A museum with exhibitions of Japanese katana and armor wearing experiences.
The Area Around Shinjuku Sanchome
The area around Shinjuku Sanchome is a little more calming than Kabukicho. The area is scattered with stylish cafés and restaurants. It is also home to popular sightseeing spots such as Golden Gai, Isetan Shinjuku, and the large shopping facility Shinjuku Marui (Japanese only).
We also recommend BICQLO, a store that combines the electronics retail store Bic Camera with the casual fashion brand UNIQLO.
| | |
| --- | --- |
| Major Spots | Summary |
| Golden Gai | A crowded street with small bars. Popular for its retro ambience. |
| Isetan Shinjuku (Japanese) | A well-established department store built in 1886. |
| Matsumoto Kiyoshi | A large drugstore that carries cosmetics, medicine, and daily necessities. |
| BICQLO | A joint facility for Bic Camera and UNIQLO. |
Move Underground on Rainy Days!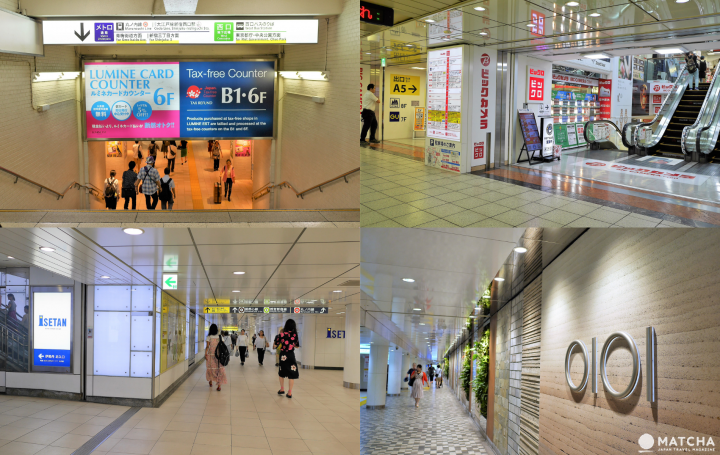 After leaving the east exit gate, continue onto the passageway your left. Go down the stairs to find an underground passageway. If you turn right you'll find that it connects to the underground entrances of Shinjuku Marui, BICQLO, and Isetan. You can also access each line of Shinjuku Sanchome Station from here.
The passageway also leads to Kabukicho, so you can travel through here on rainy days without having to use an umbrella.
West Exit – Airport Buses and Skyscrapers
Head to the west exit by going down the stairs from the platform. There is a central west exit as well. However, there are few ticket gates and it is easy to confuse the exit for special transfer exits to other nearby lines. Double check if you are really leaving the west exit.
Go through the gates and walk up the stairs next to a kiosk called Odakyu AZUR to get to the ground level.
The west exit is lined with skyscrapers and offices such as the Tokyo Metropolitan Government Building. The Tokyo Metropolitan Government Observatory is the ideal spot for a great view of Tokyo from 202 meters above ground. Bus lines bound for Haneda or Narita Airport also gathered at the west exit.
Central West Exit Gates - Be Careful to Exit Not Transfer!
The Central West Exit gates have exit gates as well as a transfer gate. The transfer gate connects directly to the Odakyu and the Keio Line. You can't reach outside if you accidentally go through these transfer gates, so it is better to leave through the west exit.
Popular Spots Around the West Exit
Near the station, you'll find the Odakyu Department Store and the Keio Department Store respectively managed by the railway companies of the same name. You'll also find the Mosaic Street, a street lined with general goods stores such as Nippon CHACHACHA to buy Japanese souvenirs.
Shinjuku Omoide Yokocho (only Japanese), is crowded with small shops and a place you might want to go drinking once the night comes.
An area filled with large electronics retail stores such as Yodobashi Camera and the Shinjuku Post Office is also located around the west exit, making it a great area for various types of souvenirs.
*2: Among the two observatories, the South Observatory will be closed until spring 2019. It is scheduled to reopen after renovation.
South Exit – Shinjuku Gyoen, Shinjuku Takashimaya, and Tokyu Hands
Walk up the stairs from the platform to reach the south and southeast exits. The ascending staircase at the very end of the platform will lead you to Shinnan, Miraina Tower, and the Koshu Kaido Gate, so please check which gate you wish to exit beforehand.
Exit the south exit to find a wide road. Cross the pedestrian crosswalk and you'll find the Shinjuku Highway Bus Terminal and the NEWoMan building on the opposite side.
Exit the southeast exit and you'll find Flags, a shopping center, to your left while a staircase will be in front of you. Traveling to Shinjuku Gyoen is easiest from this gate.
The Shinjuku Bus Terminal is Accessible from the Shinnan Gate!
For those that want to reach the Shinjuku Bus Terminal, a bus terminal for long-distance travel, make sure to leave the Shinnan Gate (New South Gate).
You'll find the south exit, southeast exit, and three ticket gates (Shinnan Gate, Miraina Tower Gate, and Koshu Kaido Gate) all located near one another. Any of the exits below will be convenient if you want to go to Shinjuku Bus Terminal or Shinjuku Takashimaya.
Popular Spots Around the South Exit
An area located in front of the south exit is home to commercial facilities such as LUMINE 1, 2, Shinjuku Takashimaya, and Tokyu Hands. The Miraina Tower Gate is directly connected to NEWoMan and bustling with bright shops.
Enjoy Shinjuku with Great Efficiency!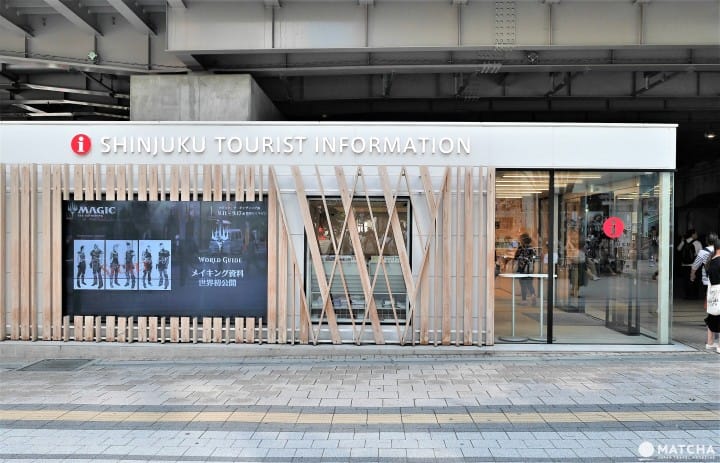 TOURIST INFORMATION located immediately down the stairs from the Southeast Exit
By carefully choosing which exit to use, you can smoothly arrive at your destination without getting lost even in a place as big as Shinjuku Station. Have a pleasant trip and feel free to refer to this article during your travels.
Original Author: Kazuyo
** This article is a revision updated for 2018 of an article originally published on October 27th, 2015.

The information presented in this article is based on the time it was written. Note that there may be changes in the merchandise, services, and prices that have occurred after this article was published. Please contact the facility or facilities in this article directly before visiting.