How To Escape The JR Shinjuku Station Yamanote Line Platform!
Shinjuku Station has been likened to a labyrinth due to its confusing structure. Here are the ways of getting to the south/west/east exits without getting lost.
Shinjuku Station, which has the most passengers in the world annually, is sometimes called "the maze" due to its large and complex structure. It is said that even those living in Tokyo find it difficult to navigate this station. This time, we will write in detail (with photos!) about how to get to the three exits (south/west/east) of JR from the JR Yamanote Line No. 15 platform (Ikebukuro/Ueno bound).
*In this article, we will write about directions from getting off the 5th car (since the Yamanote Line runs trains of 11 cars, the car will be around the center).
How to Get to West/East Exit
We recommend exiting out of the west exit for those who want to go to the Metropolitan Building and electronics retail stores such as Bic Camera, and the east exit for those who want to visit Kabuki-cho, as well as the Shinjuku-sanchome direction in which you can shop at department stores and clothing stores.
West Exit
First, let's head to the west exit. Get off the 5th car, look to your right, and go down the stairs which are right by you.
Please check that west exit/east exit is written on the yellow information board above you.
The west exit ticket barriers are on the left when you go down the stairs.
Those were the directions to the west exit. It is the closest exit out of the three, so it's extremely convenient. Next up is the east exit.
East exit
Start from where you would go down the stairs for the west exit. Then, go straight past the west exit on the left and turn right at the end.
You'll see a big passageway when you turn right. The east exit is along this passage, so go straight ahead.
You've now arrived at the east exit.
How to Get to the South Exit
Those who want to get to Shinjuku Takashimaya, Tokyu Hands and Shinjuku Gyoen should exit from the south exit.
To get to the south exit, get off the 5th car and head left.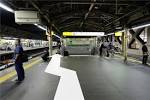 If you go straight you'll see stairs going down but these are stairs to go to the central east and central west exits, so be careful not to go down them. Walk around the stairs.
If you continue around the stairs, you'll see a stand selling juice. Go along the path next to this and head straight.
Then, you'll see an escalator as well as stairs, so go up from there. The yellow information board will also say south exit.
You're almost there! Go further as shown in the photo.
You've reached the south exit.
How's that for you? There are other exits in Shinjuku Station in addition to the three we talked about this time, but remember these three and you won't have problems getting to where you want to go to. Be sure to know these exits by heart since Shinjuku will be your base when traveling in Tokyo. If you get lost, don't panic and check the information boards above your head. If you utilize these, they will be very convenient in navigating complicated maze-like stations.
Information
JR Shinjuku Station (JR新宿駅)
Address: Tokyo, Shinjuku-ku, Shinjuku, 3-chome
Hours: 4:42am - 1:00am (Depends on first and last train. Also depends on special schedule during New Year's Day)
Wi-Fi: Free Wi-Fi is available in certain areas (connection limited to 3 hours per session)
Credit cards: -
Menus Available In: English
Station: -
Access: -
Price Range: -
Religion: -
Phone Number: [JR East Infoline] +81-50-2016-1603 (Supports English, Chinese and Korean from 10:00am to 6:00pm)
Official Website: JR Shinjuku Station

The information presented in this article is based on the time it was written. Note that there may be changes in the merchandise, services, and prices that have occurred after this article was published. Please contact the facility or facilities in this article directly before visiting.