Using Credit Cards In Japan - A Guide To Money During Your Trip
Before international travel, many of us wonder if we can use credit cards and how much money we need to exchange. Here's a guide on where credit cards can be used, how much money you should convert, and what to do when you run out of cash in Japan!
Credit Cards in Japan - Things To Know Before You Travel!
One thing that may run through many peoples' minds before an international trip is this: "Will I be able to use my credit card?" Credit cards can of course be used in Japan. However, the usage rate of credit cards here is low when compared to other developed nations and Western countries.
In Japan, there are many instances where credit cards can't be used depending on the location. As such, we have created a guide on places where credit cards are able to be used and what to do when you run out of cash.
The information in the article applies to those using debit cards, as well.
Using Credit Cards in Japan
- Credit Card Usage in Japan
- Where You Can and Can't Use Credit Cards in Japan
- Major Cards Usable In Japan
- How to Get Yen at ATMs in Japan
- How to Get Yen at Currency Exchange Spots in Japan
- How to Use a Debit Card in Japan
Credit Card Usage in Japan
Japan has a low credit card usage rate when compared to the West. According to a 2016 report, results revealed that 84% percent of people in Japan own credit cards, and the use of electronic money, including credit cards and IC cards (rechargeable cards), is 66% (JCB, General Credit Card Study in 2016, reported in Japanese).
In this way, Japan is still a firmly rooted cash-based society with many people who pay by cash despite having a credit card. There are several stores where credit cards can be used in major cities and tourist areas such as Tokyo and Osaka. However, individual-owned stores in the suburbs and countryside, and places with entrance fees such as Shinto shrines, Buddhist temples, and castles are cash only.
Though credit cards have become commonplace, it is safer to bring cash along with your credit cards when traveling in Japan.
Where You Can and Can't Use Credit Cards in Japan
You may run into situations when you find you can't use your credit card when you try paying with one. This section introduces places where credit cards can be used.
Pay Attention to Buses and Private Taxi (Transportation)
Trains
Normal ticket machines at JR train stations, depending on the machine, will be cash only for purchasing a ticket or recharging your IC card.
If you want to use your credit card, please visit the JR Ticket Office or go to a ticket machine that accepts credit cards.
However, not all train stations will have JR Ticket Offices. These offices will often be found in relatively large stations. In Tokyo, they're found in major stations such as Tokyo Station, Shinjuku Station, Ikebukuro Station, Shibuya Station, and Ueno Station. For details, please check this page (Japanese).
Shinkansen (Bullet Trains)
Shinkansen tickets can be paid for with credit cards when purchasing passenger, special-express, or unreserved seat tickets. Of course, you can purchase your shinkansen tickets at ticket machines, as well as at the JR Ticket Office, or online. Please be careful as shinkansen ticket machines are different from train ticket machines.
Express Buses
For express buses, choose a bus company at the destination you will be visiting and purchase a ticket. You can pay with a credit card with most bus companies. In addition to paying via credit card, you may also be able to pay at a convenience stores or at travel agencies partnered with reservation websites.
Transit Buses
It is standard to pay by cash or IC card on transit buses. For sightseeing tour buses, you may be able to use your credit card when purchasing your tour bus package.
This does not mean that all tour buses can be paid with a credit card, so be sure to research whether or not this is possible beforehand.
Taxis
In Japan, there are many taxis that do not accept credit cards. If it is a major taxi company you will be able to use a credit card or IC card, but many private taxis only accept cash.
When you want to use your credit card, check the back seat window before getting on as it will display whether or not credit cards are accepted. We recommend asking the driver directly whether or not they accept credit cards before you get into the vehicle.
For more information on taxis, please read the article "How To Take A Taxi In Japan".
Chain Stores Accept Cards, but be Cautious at Privately-Run Businesses (Dining)
Department Stores
Credit cards are accepted for food purchases and for other merchandise at most department stores. You should have no problems using your credit card at these stores.
Around Stations
In the areas surrounding train stations you'll be able to use your credit card at most restaurants, and especially at chain restaurants. Many storefronts will have a logo indicating whether or not cards are accepted, so look for this logo when entering.
Privately-Run Restaurants
Many privately-run restaurants in metropolitan areas such as Tokyo and Osaka will accept credit cards. It is best to check for the credit card logo at the storefront when entering, or to confirm with an employee.
However, please be careful, as there may be some restaurants that will tell you "you cannot use your credit card during lunch," even if they have a logo indicating they accept credit cards.
Souvenirs
Credit cards are accepted at most souvenir shops located in tourist areas.
A logo indicating what payment methods are accepted will be displayed at storefronts. It is best to ask whether or not they accept credit cards before entering in the event that there is no logo.
Paying with Credit Card at Lodgings
Credit cards are accepted at almost all hotels, ryokan (Japanese inns), hostels, and guest houses. You will pay by card when making an advance reservation. There are also some lodging facilities that only accept cash, so it is best to confirm beforehand whether or not they are cash-only if they ask for onsite payment when making your reservation.
Major Cards Usable In Japan
Next, we'll introduce the major credit cards you can use in Japan. First are VISA and MasterCard. These cards are widely accepted at stores where credit card payment is taken.
Next is Japan's own credit card brand, JCB. Their shares fall behind when compared to VISA or MasterCard, but they are still a major brand in Japan.
There are stores that accept American Express and DinersClub cards, but it is not unusual for a store to not accept these cards. These cards can be used at most establishments selling high-end products.
There are also locations including sightseeing areas and department stores handling large sums of money that will accept cards such as UnionPay.
How to Get Yen at ATMs in Japan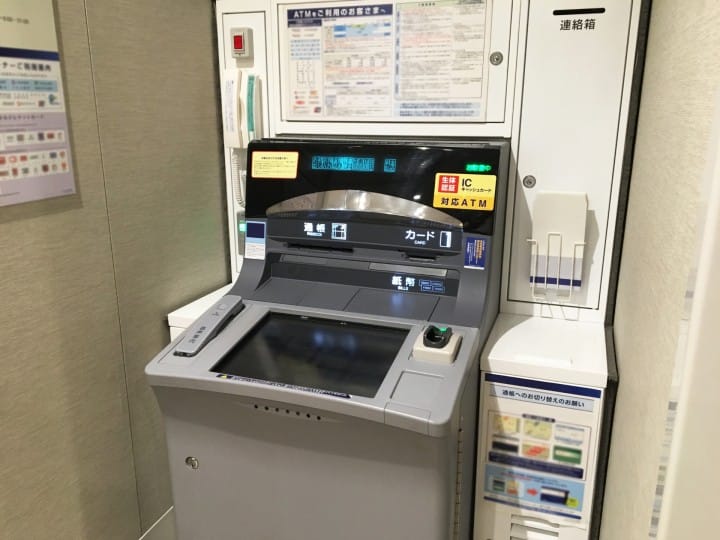 You won't be able to enjoy your trip if you are without cash and a credit card. By using your card at ATMs marked with the PLUS logo, you can easily utilize an overseas cashing service.
For information on financial institutions that use PLUS in Japan, please read Where You Can Find ATM Available With International Brand Credit.
Aside from PLUS ATM machines, you will also be able to withdraw cash at most ATMs with VISA or MasterCard logos.
Get Yen at Currency City Exchange Spots
For those thinking, "I don't have enough Japanese yen, but I have my home currency!," you'll be able to exchange that cash at foreign currency exchange spots. The conversion rates and handling fees will differ at each currency exchange spot.
Very few retailers accept currencies other than Japanese yen, so it is very important to have the right form of payment.
Can I use my Debit Card in Japan?
Debit cards, a card that charges money from your bank account at the time of purchase, can be used for shopping wherever credit cards are accepted but will have some exceptions.

Use a debit card in Japan in the same way as you would a credit card.

The information presented in this article is based on the time it was written. Note that there may be changes in the merchandise, services, and prices that have occurred after this article was published. Please contact the facility or facilities in this article directly before visiting.