Getting A Credit Card In Japan: Guide And Foreigner-Friendly Suggestions
Having a Japanese credit card allows those staying long-term in Japan for work or study to save yen, get points and discounts, and build credit. In this article, we recommend Rakuten, EPOS, and other foreigner-friendly credit cards that are easy to apply for while offering nice perks.
How to Get a Credit Card in Japan - Guide for Foreign Residents
There are four cards that are essential for living in Japan: your residence card, your health insurance card, an ATM card, and the credit card.
Debit cards allow for cashless payment, but it is important to own a credit card, no matter where you live. Credit cards allow you to make large purchases and earn points with various services such as airlines. They help you save money in the long run.
In this article, we introduce recommended credit cards for international residents such as Rakuten, Epos, or Lumine, and how to apply fo them.
What Do I Need to Apply for a Credit Card in Japan?
To apply for your credit card, you must bring your passport, a form of identification with a photo (like your driver's license), your residence card, health insurance card, and the ATM/debit card you wish to withdraw from. Please keep in mind, though, that the documents you need will vary depending on the credit card company you are applying for.
If you apply online, you will usually have to provide more detailed information. You may have to answer questions about your income, how long you have lived in your current place of residence, and the number of employees and amount of capital of the company you work for.
Recommended Credit Cards for Foreign Residents
In Japan, credit cards are issued by banks, credit card firms like Credit Saison, and large holding companies such as Marui and Epos.
There are many choices of credit cards, but the ones listed above are easy for foreigners living in Japan to apply for and to get approved. The table above summarizes the annual fees and rewards rates.
In general, credit cards issued by banks are subject to strict screening; it is considered difficult for those who have been in Japan for less than one or two years to get approved. By obtaining one of the credit cards introduced in this article and by making proper payments, you will build up your credit history. After doing this, it will be easier to get approved for a bank card.
If you are in Japan for a short duration, like study abroad or a working holiday, if you have just arrived in Japan, or have never owned a credit card, we recommend you to apply for the following cards.
1. Rakuten Card
Rakuten Card is a card issued by the Rakuten Group, the company behind Rakuten auctions and many other Internet-related services.
The annual limit is 1,000,000 yen, and there is no annual fee. Credit card owners will earn one point for every 100 yen spent (one point is equivalent to one yen). When you use your Rakuten Card to make purchases through Rakuten, you can earn up to three times as many points.
If you use this card to pay for overseas travel and airport transportation, you will be guaranteed up to 20 million yen in travel insurance.
See Details and Apply for Rakuten Card (Japanese)
2. EPOS Card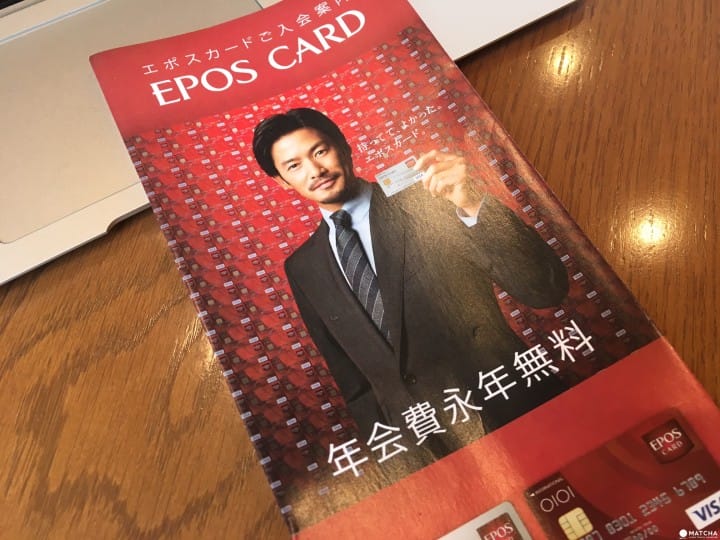 EPOS Card is issued by a subsidiary of the Marui Group, which operates large shopping malls throughout Japan. If you apply for the card in-store at a Marui department store and pass the screening process on the same day, you can receive your card immediately. You will also get a coupon worth 2,000 yen upon signing up.
There is no annual fee for the EPOS card. When you use this card at VISA merchants, you'll get 1 point for every 200 yen you spend. Four times a year, members will receive a 10% discount on purchases at Marui stores nationwide, making this card ideal for anyone who likes to shop.
Details and Apply for EPOS Card (Japanese)
3. LUMINE Card
The LUMINE Card is a credit card offered by the company that owns LUMINE shopping complexes often attached to major train stations in Japan such as Shinjuku.
The first year of membership is free; starting the second year, you will have to pay a 1,048 yen (includes tax) annual fee. In collaboration with JR East, the LUMINE card can also be used as a Suica IC card or as your commuter pass.
In addition to LUMINE, when you shop at JR East affiliated stores, you can earn one JRE point per every 100 yen you spend. These points can be exchanged for LUMINE gift cards and other rewards. Domestic travel insurance up to 10 million yen and international travel insurance up to 5 million yen is also included with this card.
Cardholders can enjoy 10% off for all LUMINE products. These sales are held four times a year, making this another good option for those planning on shopping.
See Details and Apply for LUMINE Card (Japanese)
4. MUJI Card
The MUJI Card is a credit card issued by Credit Saison in affiliation with the retail and lifestyle company MUJI. When you join, you get 1,000 yen worth of shopping points to use at MUJI stores. You can also earn up to 2,500 points during your first year membership and up to 1,500 second year.
There is no annual membership fee for the MUJI card. You can earn one point for every 1,000 yen you spend on everyday shopping, and three for every 1,000 yen you spend at MUJI retailers. Following the month of your birthday, you will receive 500 points. One point is worth one yen.
In addition, during MUJI Week, a sale held several times a year, all items at MUJI stores are 10% off for cardholders. This is the ideal card for those who love shopping and the MUJI brand.
See Details and Apply for MUJI Card (Japanese)
5. JAL Card
The JAL Card, issued by the JAL Group, is a credit card recommended for those who fly frequently for business or travel.
There is no annual fee for the first year. Starting the second year, credit cardholders will pay a 2,200 yen (including tax) annual fee. For every 200 yen you spend on shopping with this card, you will accumulate one mile, and you can redeem these miles for airline tickets and other benefits. For example, you can redeem your points for a one-way ticket within Japan with 6,000 miles or more, or for a round-trip ticket with 12,000 miles or more (the number of miles required depends on your distance).
Cardholders will receive 1,000 miles on their first flight with JAL, and 1,000 miles on your first flight every year thereafter.
See Details and Apply for JAL Card (Japanese)
Spend Smart with a Japanese Credit Card
Credit cards in Japan offer a lot of benefits when shopping, from discounts to airplane tickets. The credit cards listed above are especially recommended for international residents of Japan as they are easy to obtain and have convenient perks.

Open a credit card in Japan to enjoy shopping responsibly while building your credit.

The information presented in this article is based on the time it was written. Note that there may be changes in the merchandise, services, and prices that have occurred after this article was published. Please contact the facility or facilities in this article directly before visiting.