Opening A Bank Account In Japan: Types Of Banks, Fees, And Procedures
If you live in Japan, a bank account is essential. This article introduces how to open a bank account, as well as the features of megabanks, regional banks, Internet banking, and which banks are recommended for a long-term stay.
Learn about Japanese Banks before Opening an Account
There is one thing everyone starting a new life in Japan should know. All money-related matters from the utility, phone, to internet fees are done through a bank account. Your paycheck will also be directly deposited into your account.
While opening an account is important, the process can feel overwhelming among the many banking options to choose from. So let us introduce how to open a bank account, the features of banks in Japan, and banks frequently used by non-Japanese residents.
Table of Contents
How to Open a Bank Account
First, let's check the requirements and procedures when opening a bank account.
Required Items for Opening an Account
Photo by pixta
Foreign residents must prepare their personal seal, residence card with their address, and passport to open a bank account. If you're employed or a student, you will need to prepare documents that prove your employment and/or school enrollment such as a certificate of employment or letter of acceptance.
Once you've gathered your documents, head to the nearest branch of the bank of your choice. Please be aware that you may be unable to open an account if the branch is far from your home address.
A Step-By-Step Guide
Photo by pixta
Head to your nearest bank and tell the bank personnel that you'd like to open an account. What you need to say in Japanese is "Kōza o kaisetsu shitai desu."
→ Next, fill out the form with your basic information. Hand your completed form to the staff and wait a short while until you're called again.
→ You will be guided to a counter where the bank staff will verify your documents and explain the details of the account.
→ You will now have successfully opened a bank account.
→ A bank card will be sent to your address a week after the procedure.
Please note that there are situations when some banks find the applicants ineligible to open an account. If this happens, try opening your account at another bank.
Choosing a Physical Bank or an Online Bank?
Photo by pixta
More people are using online banking in Japan. Which is the better option when opening an account: an online bank or a regular bank with physical locations?
For short-term studies and stays, there isn't a big difference between opening an account with either type of bank. If you are new in Japan, an online bank would be the best option because you can do everything online—including the account-opening process, making deposits, and checking balance inquiries. Compared to regular banks, an online bank has a more straightforward opening procedure and lower fees.
On the other hand, it's best to go with a regular bank if you'll be in Japan for long-term work. In some cases, it is impossible to make money transfers for utility bills with online banks.
Common Banking Terms in Japan
Below is a list of common Japanese terms you'll come across at bank or ATMs. It would helpful to memorize these terms while living in Japan.
| | | |
| --- | --- | --- |
| Japanese | Pronunciation | Meaning |
| 銀行 | Ginkō | Bank |
| 口座 | Kōza | Account |
| 通帳 | Tsūchō | Bankbook |
| 引き出し | Hikidashi | Withdrawal |
| 預け入れ | Azukeire | Deposit |
| 振込 | Furikomi | Bank transfer |
| 預金 | Yokin | Savings |
| 手数料 | Tesūryō | Handling fee |
| 残高 | Zandaka | Account balance |
In the next section, we'll introduce the features of various types of Japanese banks.
Types of Banks
In Japan, there are megabanks, regional banks, and other miscellaneous banks. Let's take a look at each of their individual features.
Megabanks (City Banks)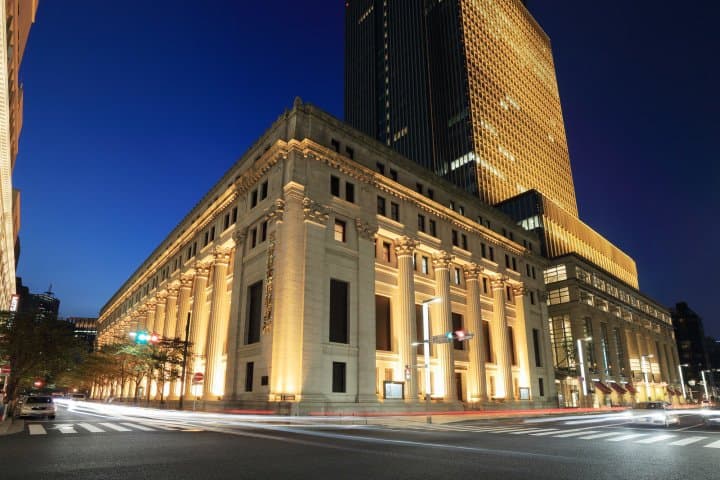 Photo by pixta
Megabanks (classified as "city banks" by the Financial Services Agency) are banking groups with massive revenue. In Japan, this term refers to four top banks: Mitsubishi UFJ Bank (MUFG Bank), Sumitomo Mitsui Bank, Mizuho Bank, and Resona Bank.
Megabanks do not charge fees when you withdraw money from an ATM with your deposit card during a designated time. On the other hand, megabanks are affiliated with other regional banks, the Japan Post Bank (JP Bank), and convenience store banks.
You can use your MUFG Bank bank card to withdraw money from a Japan Post Bank ATM. However, you will be charged a fee when using the ATM of a different bank.
Megabanks typically have locations in major Japanese cities, and it's possible to withdraw money outside of the area where you live. However, you may sometimes be unable to find a megabank ATM in rural areas, which results in paying a fee to use Japan Post Bank or convenience store ATMs.
In the next section, we'll take a look at megabank withdrawal fees.
MUFG Bank
MUFG Bank does not charge fees during the weekdays, weekends, and national holidays from 8:45 to 21:00. A fee of 110 yen will be charged for withdrawals outside that timeframe.
Sumitomo Mitsui Bank
Sumitomo Mitsui Bank does not charge withdrawal fees on the weekdays from 8:45 to 18:00. There are also free withdrawal days every month on the 25th and 26th. A fee of 110 yen is required outside of those times. All deposits are free of charge.
Mizuho Bank
Mizuho Bank charges 110 yen on the weekdays from 8:00 to 8:45 and is free from 8:45 to 18:00. Withdrawal fees of 110 yen will be charged again from 18:00 to 23:00. On the weekdays outside of those timeframes, the fee is 220 yen. On the weekends and national holidays, the fee is 110 yen from 8:00 to 22:00 and 220 yen any other time.
Resona Bank
Resona Bank is free on the weekdays from 8:45 to 18:00. Outside of this timeframe on the weekdays, the withdrawal fee is 110 yen. Weekends and national holidays are also 110 yen. Regular banks close at 15:00, but Resona Bank's teller windows are open until 17:00.
Regional Banks
Photo by pixta
As the name implies, regional banks operate locally. They are often named after the region or area they are located in, with some examples being Kyoto Bank, Hokkaido Bank, and Hokuriku Bank.
Branches and ATMs are easy to find in the region where the main branch is located. However, this also means it's difficult to find these ATMs in other areas.
Some regional banks are affiliated with convenience store ATMs, which makes it possible to withdraw money from a convenience store using your bank card. The ATM withdrawal fees are free up to three times per month.
If you live in a city outside of Tokyo, it would be a great choice to open an account with a regional bank.
New Types of Banks
New types of banks are financial institutions that conduct business that megabanks and regional banks do not. The Financial Services Agency in Japan uses this term.
These newcomers to the banking business include Lawson Bank (Japanese), which is launched by the convenience store chain, and AEON Bank (Japanese), managed by the Japanese retail giant Aeon Co. It also applies to online banks such as Sony Bank and Rakuten Bank.
Since there are no physical locations, the application and procedure is done online. There are various merits to these banks, such as free withdrawal fees and earning points while shopping online.
Banks Frequently Used by Non-Japanese Residents
Photo by pixta
We'll now introduce several banks that are preferred among non-Japanese residents.
Shinsei Bank
Shinsei Bank is known as an institution that is relatively easy for non-Japanese residents to open an account. In addition to making wire transfers and balance inquiries online, it also has physical locations.
The bank is affiliated with ATMs under Seven Bank, Lawson Bank, AEON Bank, and JP Bank. This makes it possible to withdraw money from anywhere in the country.
Rakuten Bank
The perfect choice for those who frequently shop on Rakuten Market—an e-commerce marketplace—is Rakuten Bank. By linking your Rakuten Bank account to your Rakuten Card (Rakuten Bank Card) for payments, you'll receive Rakuten points every month.
The bank is affiliated with many bank ATMs, which makes it possible to withdraw money from anywhere in Japan. ATMs of affiliated banks can be used free of charge up to seven times per month.
Unfortuantely, this bank does not have a physical location. Documents must be transferred when updating visa information, which makes the process slightly time-consuming in comparison to banks with physical locations.
Japan Post Bank (JP Bank)
JP Bank is managed by a subsidiary of Japan Post Holdings Co., the parent organization of the Japan Post. It's known to be a bank that is easy for non-Japanese residents to open an account with. ATMs are installed inside post offices and have no withdrawal fees. Money transfers, however, will be charged a handling fee.
Since there are post offices all over Japan, the bank's best feature is having the largest number of ATMs in the country. Although the ATMs can be used anywhere in Japan, be aware that they are inaccessible when the post office is closed. The post office closes at 17:00 on the weekdays and does not open on the weekends or national holidays.
Opening a Bank Account in Japan
Photo by pixta
A bank account is essential while living in Japan. Every bank has their own fees and features, so find the bank that best fits your needs and open an account.

Main image by pixta

The information presented in this article is based on the time it was written. Note that there may be changes in the merchandise, services, and prices that have occurred after this article was published. Please contact the facility or facilities in this article directly before visiting.